Looking for a way to raise the training bar and allow commanders to develop their warfighting creativity, Pacific Fleet has revived the interwar Fleet Problems.
When I returned to the Pacific Fleet nearly three years ago, it was clear we had become very efficient at training and deploying the fleet to meet the current challenges in the Central Command area of responsibility. A quick glance at a Composite Training Unit or Joint Task Force exercise schedule showed maritime interdiction operations, strait transits, and air wings focused on power projection from sanctuary. But despite the best efforts of our training teams, our deploying forces were not preparing for the high-end maritime fight and, ultimately, the U.S. Navy's core mission of sea control.
While in most cases deployers were able to demonstrate the elements of our essential warfighting tactics, at no point in the training cycle did they get to bring it all together. Further, individual commanders rarely if ever had the opportunity to exercise all these complex operations against a dynamic and thoughtful adversary. Commanders were busy following the core elements in our Optimized Fleet Response Plan (OFRP) training model, going from event to event and working their way through the list of training objectives as efficiently as possible. Rarely did we create an environment that allowed them to move beyond the restraints of efficiency to the warfighting training mandate to ensure the effectiveness of tactics, techniques, and procedures. We were not creating an environment for them to develop their own warfighting creativity and initiative.
Adding to my concern was the clear message from my intelligence team that our potential adversaries were investing in training that was ever more complex and challenging. We needed to raise our training bar. As fleet commander, I needed to know what we could do, exploring the art of the possible and testing our assumptions about fleet capabilities in a fight against a high-end adversary.
Our first thought was to revise parts of the predeployment training cycle. The OFRP, however, focuses on efficient generation of deployable forces. The more we looked, the more the OFRP process resembled a Swiss watch—touching any part tended to cause the interlocking elements to bind, to the detriment of the training audience. As a result, there was concern in some circles that adding free-play elements to the limited time in the training schedule would come at the cost of unit certification. Others contended it was unrealistic and unfair to ask units that were not yet certified to perform our most difficult warfighting tasks. These were real concerns.
It was two of my staff officers—Commanders Kevin McHale and Andre Wilson—who had the epiphany: work the problem after units depart on deployment. There would be no impact on the OFRP, which by then would have run its course. No one could object to the complexity of the task as the players involved would be trained and certified units. The fleet could focus them on whatever warfighting tasks seemed most critical, separate from a set training syllabus. Their boss, Captain Dale Rielage, became their advocate and consistent pest in my office, pointing out that what they were proposing was really a return to the interwar Fleet Problems.1 What sold me was that we owned the force, the fleet, the units, and the sailors, both the participants and the providers—and we owned Red. We only had to ask ourselves for approval.
With that, the new Fleet Problem series was born.

Expeditionary strike groups also playin the Fleet Problems, figuring out how to "fight to get to the fight" where Marines can be employed. Here, the amphibious assault ship Bonhomme Richard (LHD-6) and the underway replenishment oiler Rappahannock (T-AO 204) prepare to conduct replenishment at sea and vertical replenishment.
Nothing but Problems
The "problem" part of the Fleet Problem is inspired by several sources.
In some cases, we identified "problems" during our Global war games. Played at the operational level of war at the Naval War College, the Global series pits our fleet operational concepts (ConOps) against a live opposition force (OpFor) team. Invariably, each game identifies several key operational enablers employed by our forces. With the help of the Naval War College team, we capture that key moment—friendly force disposition, enemy situation, mission, and even the losses suffered on both sides—and use it as a point of departure both for our input to the Chief of Naval Operations' Integrated Analytic Agenda and for our Fleet Problems.
In other cases, as we considered how our ConOps would play out in reality, it became apparent there were warfighting tasks that were critical to success that we could not execute with confidence. This gap was not because deployers did not practice these tasks individually—the efficiency of the OFRP ensured they could—but because we as a force never practiced them together, in combination with multiple tasks, against a free-playing, informed, and representative Red.
In one case, during an exercise planning session, we discussed a critical operational tactic that is used routinely in exercises and assumed to be executable by the fleet. In the course of the brief, a lone voice said, "Sir, you know we can't actually do that." In the silence that followed I could see some in the room thought we could, while others were nodding in agreement that we could not. With that, we had the scenario for a Fleet Problem with the mandate to "go find out." We learned that the doctrine and assumptions in one area had removed the capability to implement key tactics in another. Having never performed the task together at sea, the disconnect never was identified clearly. It was not until we tried to execute under realistic, true free-play conditions that we discovered the problem's causal factors, leading to the ability to apply solutions.
In discussion with the staff, we frame the problem that is given to a unit or formation. For example, it is critical that we be able to operate carrier strike groups (CSGs) in areas of significant submarine threat. Our traditional approach to this challenge would be to create an antisubmarine warfare (ASW) exercise, tasking submarines to act as targets within a set geographic area. In a Fleet Problem, we instead would task the CSG to conduct a combat mission ("NLT 01100Z, conduct strikes on…"), giving it maximum flexibility in timing and mechanism. We then would create an environment rich in submarine threats. The CSG's mission would not be ASW, but rather conducting a core combat mission (strike) in support of the joint fight in a robust submarine threat environment.
Managing the submarine threat is the means to the end —strike. If you destroyed all enemy submarines and lost no friendly units but were unable to execute the mission assigned—strike—then Blue loses and Red wins. How the CSG commander manages that threat to accomplish the mission is not prescribed. Speed and maneuver? Go for it. Aggressive surface ASW? Great. Will the escorts sweep ahead or stay near the CSG? Air assets? Of course. How is that coordination going?
"Task success equals mission success" may hold true in theory as long as Red is constrained. But in my experience, rarely in the real world does the sum of the tasks successfully completed equal mission success.
It is important to note that there is no experimentation in the usual sense in Fleet Problems. We are not notionally employing systems and weapons that are not already deployed in the fleet. Each unit attacks the problem using what it has on hand (physically and intellectually) today. In the end, what plays out at sea is a commander developing and executing a plan based on my warfighting intent rather than ticking off a discrete schedule of individual training objectives.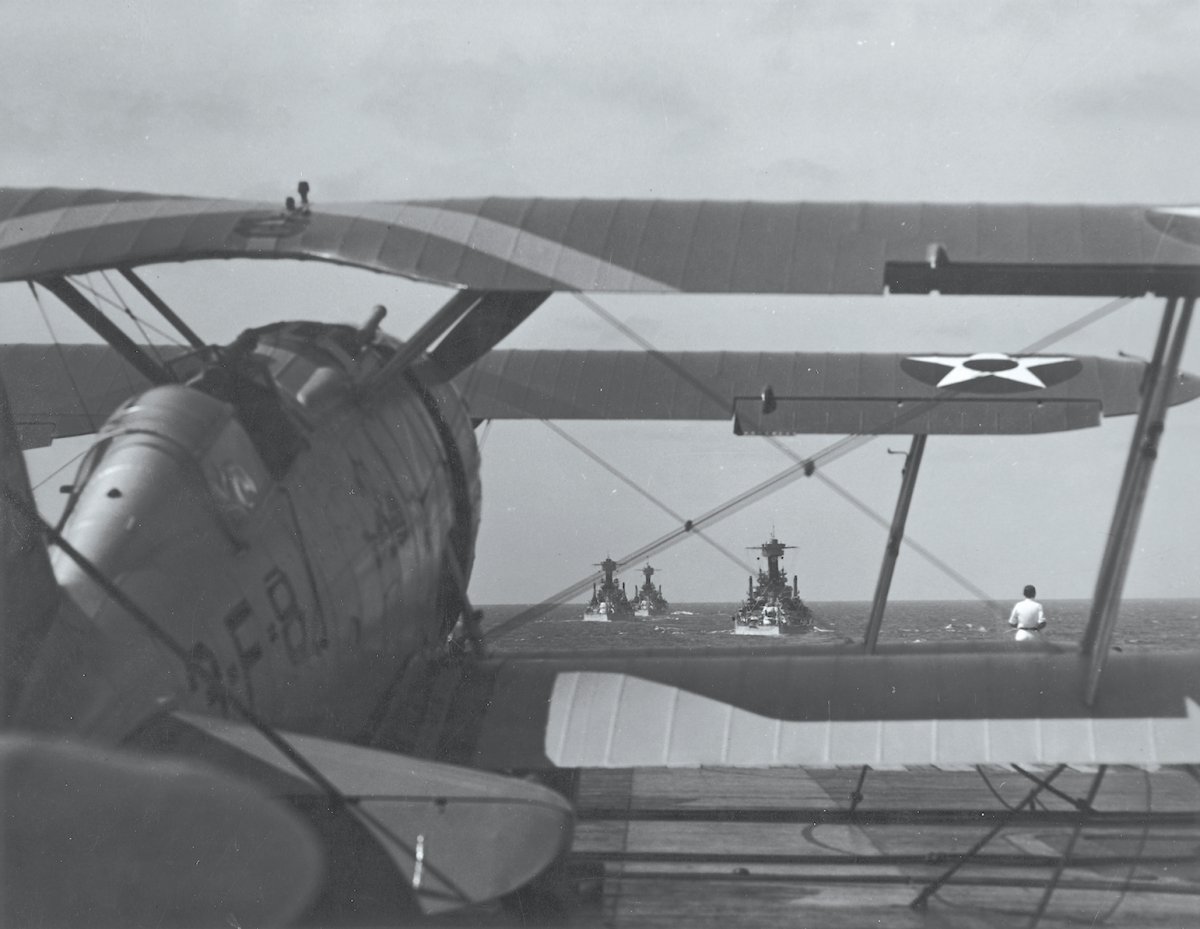 The next-to-last interwar exercise, Fleet Problem XX, took place in early 1939 and, in part, tested coordination between aircraft and destroyers for antisubmarine defense and various evasion tactics against attacking aircraft and submarines. Participating battleships are captured in this photograph taken from the deck of the USS Lexington (CV-2)
Failure as Success
As we prepared for the first Fleet Problem, we found we had a thornier challenge, one at the heart of our culture. If we presented an accurate—which is to say hard—problem, there was a high probability the forces involved were going to fail. In our regular training events, that simply does not happen at the rate we assess will occur in war. This is reflected in that in the OFRP training environment reps and sets are critical.
We have to guard against the natural byproduct of this training reality, which is aversion to the risk of failure that is associated with learning at the leading edge of knowledge. We had to convey to the operational leaders that failure during the Fleet Problem was not just tolerated but expected. Without pushing our operational art to the point of failure, learning would be subdued and subtle, not stark and compelling. High-velocity learning happens at the leading edge of knowledge, not at its core, and certainly not at its trailing edge.
This process was in many ways a trust exercise. Some teams clearly were uncomfortable, looking for the gouge on how the problem would go down. Many seemed astonished that the part of the order tasking them ("Here is my intent. Your charge is to develop the required tasks to achieve it.") often was less than a page long. After a couple rounds of the staff reiterating "Stop asking for the plan; plan your solution," each of the teams responded brilliantly.
Though tenuous at first, diligence, hard work, creativity, and aggressiveness have become the order of the day. Teams seem to genuinely enjoy the freedom to employ tools and skills limited only by their own capabilities and intellect. Just as with the interwar Fleet Problems, the only way to actually fail is to be so risk averse as to never risk an effective solution. Each commander has not only embraced but also expanded the scope of what even my staff originally had envisioned. No surprise to me, they have progressed from tenuous to tenacious in their approach to the challenges presented, transitioning from the restrictions of efficient operations to the critical application of effective operations.
Cue the Bad Guys
Having our team engaged and motivated was only part of the challenge. Posing a problem requires a thoughtful, empowered adversary. A year prior, Pacific Fleet had formed a Red team, the Pacific Naval Aggressor Team (PNAT), to support wargaming. The team's strength is a firm grounding in adversary doctrine and tactics. They were creative, often vexing, as adversaries, but always kept their actions within the realm of plausible adversary responses, tempered to ensure required training tasks were achieved. Over time, they had been successful enough to be called on to offer operational-level expertise to war games and Joint Task Force exercises. However, acting as control for a robust live OpFor was new ground.
OpFor is another area that required culture change. In training, forces playing OpFor are the first to be shortchanged. It is not uncommon to see Red significantly outnumbered by Blue, with much of the adversary being "notional." Notional adversaries, of course, do not interact, stress the players, or enable the same pain-filled life lessons as real adversaries. With this in mind, we have made providing forces for OpFor a priority. In our most recent Fleet Problem, the entire CSG was OpFor—an enormous investment that yielded unique and valuable lessons.
Commanding and Controlling
In a fight against a high-end adversary, we expect a challenging communications and network environment. Any Fleet Problem worthy of the name needs to re-create these issues. As we do, we reinforce the basic naval doctrine that mission command is the best offense against communications disruptions. We also relearn the truth that effective mission command requires significant work from up and down the chain of command.
To lay the groundwork for independent action in the fleet, my staff recently released the "Pacific Fleet Fighting Instructions." Inspired by the work of Admiral Hank Mustin in the 1980s (who was himself inspired by the work of Admiral Arleigh Burke), "Fighting Instructions" seeks to capture our overall design and intent for operations in the Pacific. With a problem to solve and these instructions in hand, commanders have the guidance needed to provide their own intent to their own forces. By design, meeting a Fleet Problem requires a high level of cross-talk and "What if" discussions within each team.
Closing the Loop
Learning only happens through feedback and reflection. Having told the operational commanders that I expected them to fail and learn, the Fleet Problem critique is a critical trust-building evolution. At the conclusion of each Fleet Problem, Rear Admiral Vic Mercado, the Pacific Fleet Director of Maritime Operations (DMO), along with Captain Rielage and Commander McHale and the core of the PNAT, travels to the players. There, usually on board, the team conducts the kind of debrief I learned to appreciate at Fallon. The players walk through the timeline and review each event from the sensor to the shooter and back again. They have been remarkably candid, "check the ego at the door" events in our best tradition.
Shortly after, the senior commanders, DMO, and PNAT debrief me in a very similar and candid manner. There always are lessons across many levels. Units identify specific errors in techniques or tactics. Commanders see the results of risk decisions, hesitation, and boldness. Understanding why commanders made certain decisions and what other possibilities they explored helps me and my staff better understand where the fleet is in terms of mind-set and how better to convey warfighting intent. I have a mandate to learn as well.
Each Warfighting Development Center participates, as does the Carrier Strike Group 15 staff, frequently accompanied by its commander. Altogether, they provide more than a dozen representatives who observe at each echelon of the operation, afloat and ashore. They do not conduct the operation, but the lessons they observe and learn feed directly into the fleet training enterprise. In one case, a Warfighting Development Center observer on board a carrier brought along a double-spaced version of a draft tactical memorandum. As the Fleet Problem unfolded, he annotated his draft, ultimately producing a document that reflected how his concepts played out at sea in a rigorous and realistic environment.
Red Learns, too
Multiple Fleet Problems have made our OpFor stronger as well. In each iteration, the players have upped their game. Where once the PNAT could count on easy kills against the fleet units, it must now bring real rigor and subtlety to the fight. Creating success using the other side's tools builds an appreciation and insight into their application that ultimately infuses intelligence analysis. Units playing OpFor also have found the experience an intense workout in real warfighting. Their emulation of adversary platforms and tactics creates an appreciation of adversary capabilities.
The first rule of Fleet Problem is . . .
After two years and more than six iterations, the reestablished Fleet Problem has never before been discussed in public. In that context, it is fair to ask why we decided to discuss the concept at this point.
First, we are convinced that the creation and implementation of the Fleet Problem series is the most significant change in fleet operations in the past several years and that the approach offers a battle lab for intensifying warfighting learning. In some forums, there has been open discussion about the fleet losing its warfighting edge. We see the Fleet Problem as a key element of ensuring that edge endures. Elements of it can and should be applied to other theaters and other problems.
Second, we need the entire fleet to be thinking in terms of solving these problems. We need to expose the lieutenant commanders, train the commanders, and test the captains in our highest level war­fighting tasks. The Fleet Problem does this and so much more. Junior sailors are learning that even simple mistakes can place an entire strike group at risk. Likewise, it is not uncommon for a junior sailor, empowered and acting on commander's intent, to be the key enabler for mission success. In some scenarios, we learned that the "by the book" procedure can place a strike group at risk simply because our standard operating procedures were written without considering a high-end wartime environment.
Aviators are returning to a true blue-water mentality. Surface units, isolated in communications and from their familiar common operational picture, are striking out with vengeance, to great effect, guided by the simple mandate to act on commander's intent. Creative solutions to Fleet Problems are being worked on the whiteboards in carrier intelligence centers and among the Blue/Green expeditionary strike group teams.
Miles to go
For all the success of the Fleet Problem series, there is much more learning that must occur. What we need to do to meet the high-end maritime challenges is hard, exquisitely so. No easy answers here. As a result, the Fleet Problems are hard by design and, as my staff has learned, hard to design. Every time we look to explore and better understand a new warfighting imperative we have to start at the most basic level and challenge existing assumptions.
From where we started with Fleet Problem XXIII centered on the Carl Vinson (CVN-70) strike group to our most recent Problems, I feel more confident in our ability to simulate the high-end fight and put our concepts and our units to the test. Whether we need to rewrite a planned maintenance system card to account for warfighting conditions, or have Warfighting Development Centers edit tactics, techniques, and procedures and tactical memorandums, Fleet Problems allow us to learn those lessons with bruised egos instead of combat losses.
Many credit the lessons learned from the interwar Fleet Problems with making the U.S. Navy a more lethal fighting force in World War II. Today we also are faced with rapidly evolving peer adversaries. The current Fleet Problems are taking their place as an essential tool to force the fleet out of its comfort zone and into high-velocity learning—to train the fleet for war.
1. Albert A. Nofi, "To Train the Fleet for War: The U.S. Navy Fleet Problems, 1923-1940," Naval War College Historical Monograph Series (Newport, RI: Naval War College Press, 2010); Craig C. Felker, Testing American Sea Power: U.S. Navy Strategic Exercises, 1923–1940 (College Station, TX: Texas A&M University Press, 2013); Captain Dale C. Rielage, USN, "Bring Back Fleet Battle Problems," U.S. Naval Institute Proceedings 143, no. 6 (June 2017).
---
Admiral Swift is the 35th U.S. Pacific Fleet Commander.