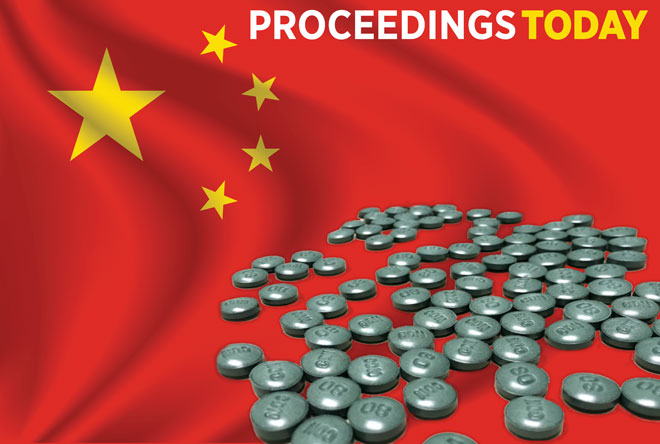 Two important documents published in December reveal that the United States is now in a new hot war with the People's Republic of China (PRC). This statement is based on the reality that, because of actions by the PRC, Americans are dying at an annual rate that is higher than during the entirety of the Vietnam War. 
The first document that reveals that the United States is in such a conflict is the President's new National Security Strategy (NSS), which boldly states ­"the illicit opioid epidemic, fed by drug cartels as well as Chinese fentanyl traffickers, kills tens of thousands of Americans each year."  The second was the announcement from the U.S. Department of Health and Human Services, Centers for Disease Control and Prevention (CDCP), National Center for Health Statistics (NCHS) that for the calendar year 2016 63,600 Americans died from drug overdose, nearly three times the rate in 1999. According to the NHCS, "the pattern of drugs involved in drug overdose deaths has changed in recent years," with the rate of death from synthetic opiods other than methadone (such as fentanyl and tramadol) having doubled from 2015 to 2016. According to the CDCP, fentanyl is now "the leading cause of overdose death in the U.S.," accounting for more than 19,000 of the 63,400 fatalities last year.  And by all appearances, the numbers for 2017 (which will be published in early 2019) are on track to be greater than in 2016.
While Beijing and apologists for the Communist Party of China (CCP) seek to place the responsibility for these deaths on the demand from an immoral and decadent American population, the fact remains Americans are being killed by a lethal drug that is being manufactured in, and transported from, the PRC. 
According to the U.S. Drug Enforcement Agency (DEA), China provides the majority of all the illegal fentanyl that is shipped to the United States. While most of the interdicted drugs have been through the mail or within shipments of heroin smuggled across the southern border, there is growing evidence of just how much fentanyl is being shipped by sea. 
For instance, Anne Arundel County Maryland reported nearly 200 people died in overdoses in 2017. Despite devoting increased resources to fight this influx, the county lost more lives to opioid overdoses than traffic accidents, homicides, and suicides in all of 2016.  Anne Arundel County is not Appalachia; it is an upscale country, home to the U.S. Naval Academy, the National Security Agency (NSA), and lots of high paying-government contracting jobs. Yet this county has been inundated by a wave of fentanyl from China that comes into the state through the Port of Baltimore. What is of concern is how much is coming by sea and how to deal with this influx, especially in view of the PRC's reluctance to support requests from the U.S. government to crack down on production and shipping of this deadly drug.
In October 2017, for instance, the U.S. Department of Justice announced the first indictment of two PRC nationals for illegally shipping fentanyl into the United States. The PRC's National Narcotics Control Commission (NNCC), the equivalent to the U.S. DEA, however, reported that the two individuals had not been arrested because it was unclear if they had broken any PRC laws and that the United States was at fault for having state-level marijuana legalization laws that are contributing to the increase in fentanyl abuse.
Whether or not this response is indicative of a purposeful PRC strategy to erode U.S. national health and security, illegal opioids from China are killing U.S. citizens.
What can be done?  Well, short of stopping and searching all container ships coming from the PRC, the U.S. Sea Services can do a few things today:
1.  Intrusive Leadership.  If there ever was a time for military leaders to get closer to their young servicemembers, it is now. In addition to drug testing, the more important effective course of action will be for leaders to personally educate their people about the exceptionally lethal nature of opioids like fentanyl. For instance, a recent bust in New York in December 2017 took in 196 pounds of this synthetic drug, enough to kill every person in New York City…eleven times over. It is so deadly, the CBP agents wear latex gloves and masks because ingesting just a few milligrams of this drug could kill them. The risk of death from opioid overdose is not like taking one too many drinks at the club or smoking marijuana and getting behind the wheel of your car (both of which are illegal). Servicemembers need to know how lethally volatile it is and that even just one trial use could end their lives.
2.  It's about National Security.  While we certainly owe it to our Sailors, Marines, Soldiers, Airmen, Coast Guardsmen, and their families to warn them about this plight, we need our senior leaders to take a stand and call attention to this issue in our multitude of mil-to-mil engagement activities. While it has been standard protocol for U.S. military leaders not to engage in contentious political issues when conducting international engagement events, the fact that the Commander-in-Chief has stated that this is a national security issue should impact how U.S. military leaders engage with their Chinese counterparts. Considerations should be made to introduce this issue as a talking point during future high-level dialogues. To the extent that there is no reduction in the inbound flow of Chinese fentanyl to our shores, then further actions like deferring the PRC's participation in events like the Rim of the Pacific exercise should be considered.
Seasoned experts have recommended that the ultimate solution for fighting the drug wars, especially this opioid crisis, is curbing demand. While limiting demand will continue to be a focus of effort for many, the message for the U.S. military is that we are now engaged in a drug war with China. It is a war we must fight to protect U.S. national security and our most precious resource—our people.
---
Captain Fanell served as a career naval intelligence officer whose positions included the senior intelligence officer for China at the Office of Naval Intelligence and the chief of intelligence for CTF-70, 7th Fleet, and the U.S. Pacific Fleet. He retired from the Navy in 2015 and currently is a government fellow at the Geneva Centre for Security Policy.
William Triplett was a former chief counsel to the Senate Foreign Relations Committee.  
For more great Proceedings content, click here.