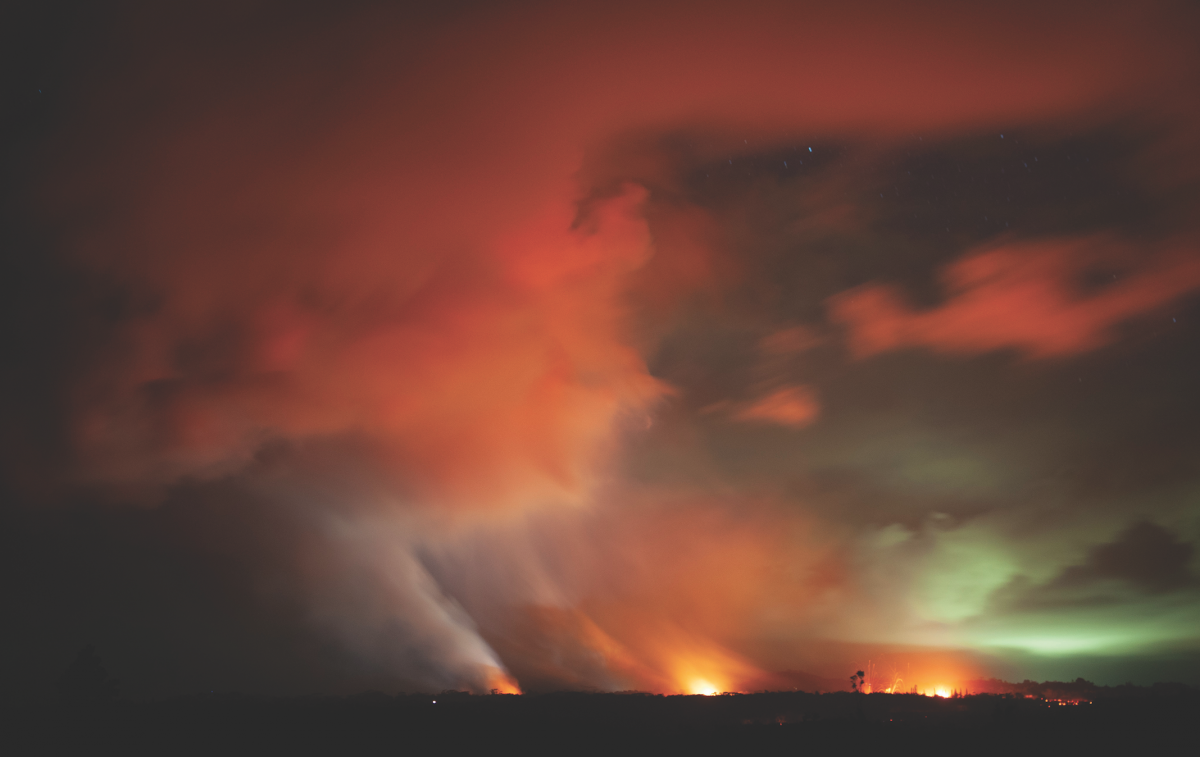 Three lava fissures erupting on the Kilauea volcano on 15 May. Photo by the U.S. National Guard
Kilauea is one of five volcanoes (two are inactive) on the Big Island of Hawaii. Kilauea is the most active, followed by its much larger neighbor, Mauna Loa, which last erupted in April 1984. Kilauea began oozing lava continuously in 1983, and its rather modest molten rock flow has been a reliable tourist attraction without posing a significant threat to people living in the area. 
Things changed suddenly in early May 2018 when nearly two dozen fissures on the volcano's flanks ripped open, pouring out large quantities of lava. In addition, there were steam-driven explosions in the caldera as the ground water table leached into it. Rocks weighing tons were dislodged and ash clouds were ejected upwards of 30,000 feet, making the immediate vicinity hazardous. By early June, hundreds of structures had been devoured, roads destroyed, and more than 5,000 acres covered by lava. 
While experts believe this activity may last for several months, there is little concern about this becoming a catastrophic event, such as the 1883 Krakatoa Island eruptions in Indonesia that demolished 70 percent of the island, killing 35,000 people.
To understand this, it is helpful to consider the science of plate tectonics. The Earth's surface is made up of eight major crustal plates that are in continuous motion. Along their boundaries they slide past each other, collide and in some places slide under others. Almost all major tectonic activity on Earth, such as earthquakes and vulcanism (as well as the creation and destruction of plates), occur along those boundaries. The geological process that formed the Big Island and powers up its volcanoes is called a "hotspot."
Hotspots are an exception—essentially aneurisms in the earth's core-mantle boundary. These weak points permit plumes of magma to penetrate the crustal plates on Earth's surface. Hotspots at the seafloor create subsea volcanoes; building upward, they ultimately become volcanic islands. Hotspots are stationary but the crusts above them are in motion and the result is a chain of volcanoes.
The Hawaiian Islands are a textbook example of this. The Big Island presently sits on top of the Hawaiian Plume that created it. At 400,000 years old, Kilauea is Hawaii's newest volcano and will eventually become dormant and ultimately extinct as the Pacific Plate moves to the west-northwest. 
Looking at seafloor topography, the Hawaiian Islands actually are seen as part of the mostly submerged Hawaiian-Emperor Seamount Chain that stretches 3,600 miles from the Big Island to the Aleutian Trench in Alaska.
There is a new Hawaiian island rising from the seafloor 22 miles southeast of the Big Island. This is Lo'ihi (Hawaiian for "long"), a submarine volcano that now rises 10,000 above the ocean floor. Still 3,000 feet below the sea surface, it is not expected to reach the surface for another 100,000 years.
There are more than 100 hotspots on the earth's surface with approximately 50 being significantly active. While most are on the seafloor, there are a few important ones on land. The massive Yellowstone caldera and the Iceland Hotspot are terrestrial examples of crustal changes created by massive magma plumes jetting from Earth's interior.
ν  Captain Walsh is a marine consultant and oceanographer. In 1960, he was one of the first two men to reach Challenger Deep on board the submersible Trieste.