Special operations forces from the United States, Republic of Korea, India, Indonesia, Peru, Philippines, and Japan conduct an airborne insertion during RimPac 2018. Credit: U.S. Navy
Started in 1971, RimPac 2018—currently underway in Hawaii through 2 August—marks the 26th exercise in the series. It is the world's largest international maritime exercise, with this year's event involving 25,000 naval personnel, 52 ships and submarines from 26 nations. Its primary goal is to provide a unique training opportunity to foster and sustain the cooperative relationships that are critical to maintaining the safety of sea lanes and security on the world's oceans.
While some aspects of RimPac 2018 are similar to past iterations, this year's offering includes several new developments.
China's Disinvitation
While several maritime powers of the Asia–Pacific region are participating, such as India and Japan, another maritime power is notably absent: The People's Republic of China (PRC). Like RimPac 2014 and 2016, the United States initially invited the PRC to participate in the exercise. The United States disinvited the PRC in May of this year, however, "due to the nation's continued militarization of artificial islands in the South China Sea," according to Pentagon officials. China's absence is a loss of opportunity on their part, but it is a strong signal that participation in RimPac requires adherence to international norms.
Presence of Southeast Asian Nations
RimPac 2018 also is significant which nations are participating. Among the 26 nations, there is an unprecedented strength from the Association of Southeast Asian Nations (ASEAN). Of the ten ASEAN member nations, seven are participating. Only Cambodia, Laos, and Myanmar are not.
RimPac gives ASEAN members an opportunity to promote security and stability in the Asia–Pacific region. ASEAN members might not be able or willing to conduct freedom of navigation operations (FoNOps) with the U.S. Navy through contested waters, but they are ready to exercise with the U.S. military and show solidarity in the world's largest maritime exercise. Vietnam's first-time attendance is significant in that respect, as well as the Philippines, which indicates to China that they have additional opportunities for hedging partnerships in the region.
Given the PRC's assertive behavior of island-building and militarization in the South China Sea, it is no surprise that three of the nations making first-time or upgraded contributions to the exercises (Vietnam, Malaysia, and the Philippines) have territorial and maritime claims in the South China Sea directly impacted by the PRC's expansive nine-dash-line claim.
Although the U.S. Navy regularly conducts FoNOps within boundaries declared by China around disputed islands, to date it has not been joined by Southeast Asian navies. In 2018, however, U.N. Security Council member countries France and the United Kingdom—both key RimPac 2018 participants—have increased their presence in contested waters, and France has homeported new ship acquisitions in its territories across the Pacific.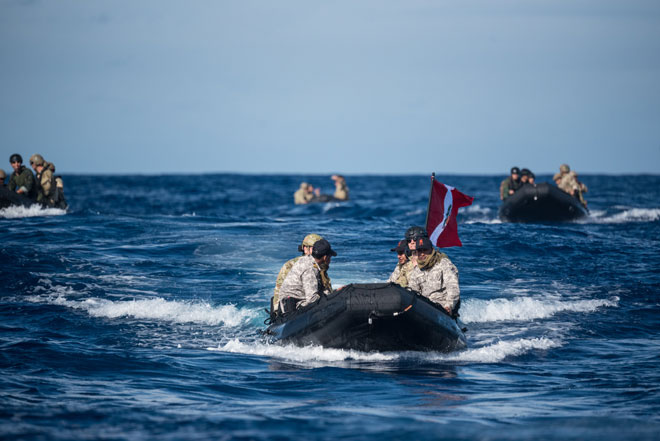 Special operations forces from the United States, Republic of Korea, Philippines, Indonesia, India, Peru, and Japan participate in a submarine insertion exercise during RimPac 2018.
Extending U.S. Influence
RimPac 2018 is demonstrating new, relevant, and creative ways that the U.S. military makes and sustains friendships. Making friends and extending influence was at the forefront of RimPac's opening ceremonies, as Vice Admiral John Alexander, commander of the US Navy's Third Fleet, told the Pearl Harbor assembly, "We work together, build relationships here, so later on . . . it's hard to turn down a friend." This year's RimPac dynamic features prominent roles for high-flying junior sailors, midgrade officers, and a tangible generational appeal to millennials—the corps of future leaders who the United States will want to remain connected with as they move up to leadership roles in partner navies.
This approach includes showing off partner nation capabilities, a forward-looking innovation exposition, and a heavy, savvy social media presence. As of 2 July, the RimPac Facebook page had 57,584 likes, the @RimofthePacific Twitter account had thousands following, and the RIMPAC 2018 Starts Now! YouTube channel had 744,000 likes.
Social media and internet presence are more than a minor or passing phase. According to recent U.S. strategic guidance, the principles of a "free and open Indo-Pacific" include the ideals surrounding a free and open internet across the region. Internet use in Southeast Asia has skyrocketed in 2018, with more than half of the population now using the internet, and the number of internet users around the region growing by more than 30 percent—or 80 million new users—in the past 12 months. Likewise, social media use in Southeast Asia also grew by 31 percent over the past year, with 72 million people using social platforms for the first time in the past 12 months.
In the past, a 40-day RimPac deployment to the United States was a lasting impression with many social events. Given the synchronized informational activities of RimPac 2018, it appears that the United States seeks to make the exercise a lasting connection with enduring social contact.
Integration of Land-Based Forces
Another new development with RimPac 2018 are expanded domains and capabilities being exercised. In previous iterations, the skill sets tested primarily were at sea. RimPac 2018 continues to involve all sectors of maritime security, including humanitarian assistance and disaster relief, amphibious operations, antipiracy work, targeting and live-fire exercises, mine clearance operations, antisubmarine warfare, and air defense operations. But what is new and noteworthy is the integration of land-based forces, operations, and information sharing into the greater maritime domain awareness picture and gains in total force projection and force multiplying capability between partners.
Consider these details of land-sea integration: This is the first year that the Army is a participant, with a naval strike missile (NSM) shot by the U.S. Army from a launcher on the back of a palletized load system (PLS). This marks the first time a land-based unit is participating in a RimPac live-fire event, according to Third Fleet. In addition, members of the Philippine special forces team conducted fast rope insertion and extraction training during the first week at RimPac—demonstrating land-to-sea capabilities. And members of the Australian Army and U.S. Marine Corps conducted live-fire training at Ulupa'u Crater Range Training Facility in Hawaii. All this activity was shared on the country-integrated watch floors to facilitate real-time information exchanges and exercise command and control. Likewise, the innovation exposition introduced future land-sea integration tools where representatives from the Royal Australian Navy, Indian Navy, Republic of Korea Navy, and U.S. Navy presented concepts such as land-to-sea radio-frequency identification tools, a shipboard disposal system, and a web-enabled base monitoring system.
A fully joint, ASEAN, and Allied-partner maritime picture serves to strengthen Asia–Pacific partnerships. This increased interoperability allows more flexibility for partnering in the future. Targeted to today's sailors, RimPac's approach will form lasting connections between exercise alumni and affiliates and strengthen maritime security in the Asia–Pacific. #RIMPAC2018 #CapableAdaptivePartners.
Fore More on RimPac 2018: 
Rim of the Pacific: Talk the Walk by Captain James E. Fanell, U.S. Navy (Retired) 
Pacific Mine Countermeasures Focus on International Cooperation by Ben Werner
---
Lieutenant Commander Cole is a Coast Guard Military Fellow at the Daniel K. Inouye Asia-Pacific Center for Security Studies in Honolulu, Hawaii.