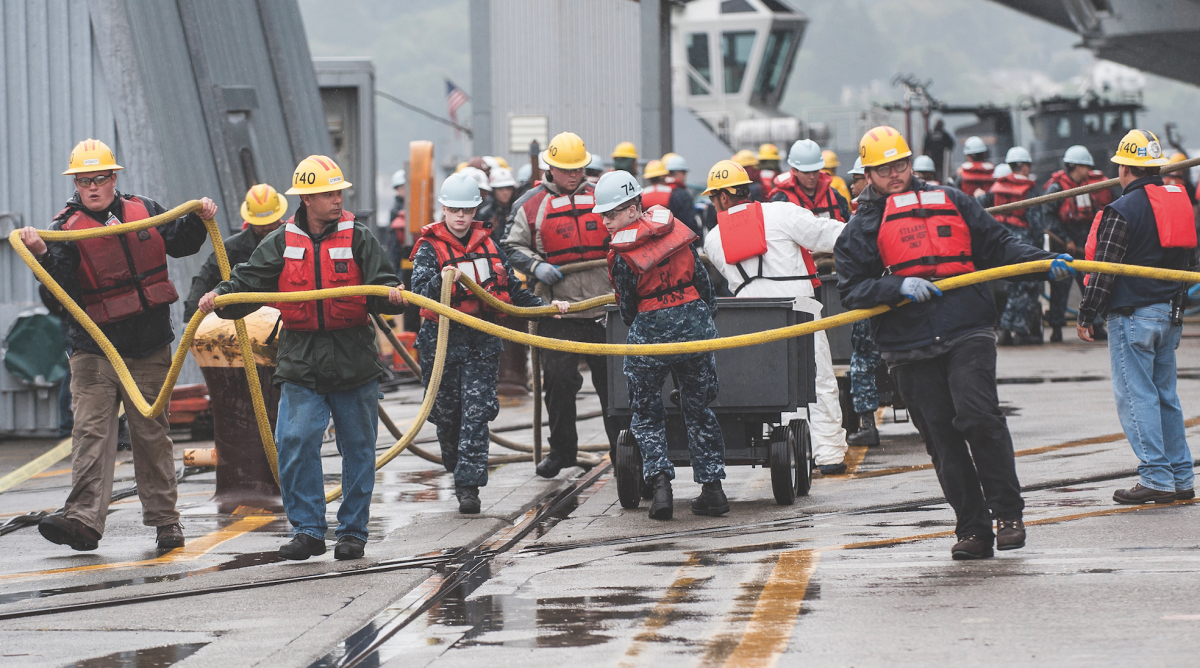 The Navy's 267,271 federal civilian employees make up 46 percent of its combined active-duty civilian employee team and perform missions critical to maintaining fleet readiness. And more civilians are coming. The 2018 Department of Defense (DoD) Budget Overview specifically requested an increase in civilian employees.1 Unfortunately, this influx will meet a significant hurdle: It currently takes the Navy 117 days on average to fill vacancies, a month longer than the federal government civilian hiring standard.2 The Navy's problem is structural, and a solution is critical. 
To delineate the problems facing the Navy's human-resources departments, it is necessary to first consider the hiring process. Competitive-hiring actions originate with a request from a hiring manager to an internal liaison employee, who forwards the request to a human-resources office (HRO). The HRO generates a request for personnel action and passes it on to the Office of Civilian Human Resources (OCHR), which then works with the hiring manager to post a vacancy announcement, generate a list of qualified candidates, and forward that list to the hiring manager for selection. Once a selection has been made, the HRO and OCHR work together to make tentative and final job offers, determine suitability and eligibility, and on-board the selectee.
This system is inefficient. It involves too many players making too many handoffs. When issues arise, such as requests for recruitment incentives or security clearance issues, the interplay among departments becomes convoluted and time consuming. 
In a violation of the principle of unity of command, there is no one Navy command or individual in whom authority, responsibility, and accountability for hiring actions are vested. When delays inevitably occur, the hiring organization complains to the HRO, which complains about the OCHR service center, which in turn blames the other two parties. This creates a high level of frustration for hiring managers with gapped positions—and for human-resources professionals working within this flawed system.
In his "14 Obligations for Management," Dr. W. Edwards Deming stresses the importance of breaking down organizational barriers to reach a result within the shortest timeframe.3 Deming's principles were used successfully by the Defense Logistics Agency (DLA) to create operations centers to handle the hiring process, place authority, responsibility, and accountability in one entity, and reduce the number of personnel performing duties similar to the Navy's liaison and HRO employees.
The results were significant: DLA's average time-to-hire dropped from 111 days to 62, well below the federal government hiring standard of 80 days, and large cost savings were achieved by reducing the number of human resources specialists involved in the process.4 Customer satisfaction rose significantly, employees were placed into positions and gaps were closed more expediently, and senior DLA leaders initially opposed to the change became strong supporters. 
Implementing a streamlined, more efficient model in the Navy will involve breaking some rice bowls and require the ongoing support of the Navy's senior leaders. But with the call for a greater number of civilian employees, the status quo no longer is feasible. With operational forces increasingly reliant on the civilian workforce, the time-to-hire process must be addressed immediately. It is unreasonable that so many critical civilian fleet support billets are gapped when a proven DoD solution is available for adoption.
1. United States Department of Defense Fiscal Year 2018 Budget Request (Office of the Under Secretary of Defense (Comptroller), May 2017), http://comptroller.defense.gov/Portals/45/Documents/defbudget/fy2018/fy2018_Budget_Request_Overview_Book.pdf.
2. Department of the Navy Q4 FY2017 Targets and Timelines Major Command Hiring Scorecard (OCHR, October 2017).
3. John Hunter, "Break Down Barriers Between Departments," The W. Edwards Deming Institute, 29 August 2016.
4. Jeff Neal, "Can the SECDEF-ordered Review of DoD Business Operations Make a Difference? Absolutely," ChiefHRO.com, 24 February 2017.
---
Mr. Chase is a 1984 graduate of the U.S. Naval Academy and the director of Civilian Human Resources for the Navy Secretariat, which reduced its average civilian time-to-hire from 107 days to 57 days during 2017.
Ms. Baxter is a special assistant to the Secretary of the Navy.