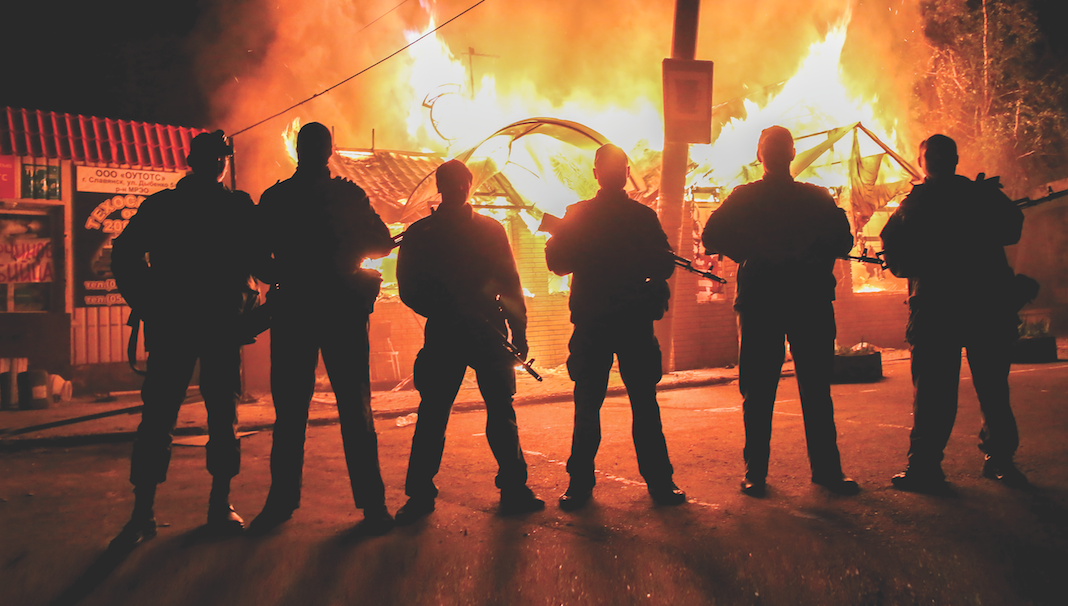 The Marine Corps must prepare to fight in electromagnetic darkness.
The edge the U.S. Marine Corps possessed in offensive electronic warfare (EW) before 2003 is gone, worn away in the years since by overreliance on nearly unmatched dominance of the electromagnetic (EM) spectrum during operations in Afghanistan and Iraq. Russia's continued development and use of EW poses a grave but not new risk to the United States in potential future conflicts. The Marine Corps must identify, plan for, and train to overcome its overall deficit in this vital area of conflict. Full denial of the EM spectrum is a likely eventuality in near-future conflicts. 
Not doing so will grant peers and near peers a capability that could dismantle and destroy the total warfighting system in the opening moments of a conflict. The new "Dark Battle," as Navy Lieutenant (junior grade) Daniel Stefanus noted in the April 2017 Proceedings, is the oncoming struggle U.S. service members will find themselves in when they attempt to operate effectively under total or near-total EM-spectrum denial for unspecified periods of time. Just as the Marine Corps has come to "own the night" by planning for and conducting realistic training at night, so too must it expand its understanding of and capabilities for operating and dominating in the new darkness. 
GAINING AN OFFENSIVE EW EDGE
The threat of EM-spectrum darkness is nothing new for the Marine Corps. As early as 1973, the threat posed by what was once called "radio-electronic combat" had been demonstrated, showing Headquarters Marine Corps (HQMC) the Corps' glaring deficiency in the then-new domain of EW. With the backing of the Soviet Union, Egyptian forces during the 1973 Arab-Israeli War employed advanced Soviet EW capabilities against the Israeli military. Within the first 30 minutes of the conflict, as then-Marine Captain Richard Stewart described it in the July 1980 Marine Corps Gazette, the Egyptians stripped their Israeli adversaries of "virtually all their radar and air-ground communication and most of their long-range communication." In the article, the Israeli artillery commander, Avraham Bar-David, explained:
We found that the [radio] monitors were located in the artillery fire direction centers. If we violated security and announced a location in the clear, enemy fire followed in less than ten minutes.
The Egyptian Army copied the Soviet system, embedding in each infantry division two to four radio-direction finding units, several mobile-radar and radio-jamming units with directional antennas, and mobile electronic-listening stations with crews trained to distinguish the electronic signatures of different unit types. This combination of EW with firepower spurred HQMC in the late 1970s to develop a similar system. 
Two systems ultimately were developed and implemented by the Marine Corps: command, control, and communications countermeasures (C3CM) and suppression of enemy air defenses (SEAD). These two complementary systems—one primarily using EW to suppress enemy tactical-control nets and target key ground control points with fires, and the other primarily targeting and suppressing antiaircraft gun and missile batteries, air defense radars, and air radio links—bolstered the Marine Corps' EW abilities and began to bring it back to parity with the Soviets.
The service refined its ability to combine fire with the electronic domain by approving in 1984 a survivable electronic-collection asset built onto the light armored vehicle (LAV) platform, the AN/MLQ-36 mobile electronic warfare support system (MEWSS). This increased the offensive abilities of Marine radio battalions and signals intelligence (SigInt) units by creating electronic attack platoons and units. The Marine Corps' reference publication on SigInt, May 2016's "Fundamentals," makes clear from its opening chapter that directing supporting arms by means of intelligence gathered on the EM spectrum is one of the fundamentals of the specialty.1
Iran claims to have tricked a Central Intelligence Agency RQ-170 Sentinel stealth drone into landing inside the Islamic Republic by spoofing global positioning system signals. Here, the drone is shown on display in Iran after its December 2011 capture. U.S. officials have acknowledged that Iran appears to have interrupted the drone's command-and-control system.
Advances in offensive EW capabilities increased significantly well into the 1990s. The MEWSS, for example, during Desert Storm/Desert Shield provided good enough tactical ground EW capabilities directly to infantry commanders (rather than through the Marine air-ground task force command element) that it warranted a product improvement program for several years after the war.2
The type of conflicts the Marine Corps faced shifted dramatically following the invasions of Afghanistan and Iraq once it was understood that both conflicts would be asymmetric in nature. No longer did the Marine Corps' ability to project its electronic will on an enemy seem necessary. Instead, Marines fighting in these conflicts tended to enjoy relatively secure access to the EM spectrum and needed only to rely on electronic protection (EP) measures already built into existing communication practices—frequency hopping on radios, limiting transmissions, and maintaining the use of radio call signs to avoid unmasking identities. When no threat of being denied use of the EM spectrum exists, these measures have proven to be adequate to ensure communication success. After more than a decade and a half, though, these basic measures have become nearly the only ones used operationally by Marines. 
Defensively, SigInt Marines worked to create EM "bubbles" around Marines as they operated in mounted convoys and patrols throughout both Iraq and Afghanistan by jamming potential cell and civilian radio signals used by insurgents to communicate and set off improvised explosive devices (IEDs).3
BUILDING ON SOVIET WAYS
For post-Soviet Russia, the focus remained squarely on countering the U.S. military and projecting influence into former areas of the Soviet Union. The Russian military carried on its predecessors' work in offensive EW systems and continued to develop and tailor them to respond to U.S. capabilities on display in Afghanistan and Iraq. In recent years, the U.S. military has begun to see glimpses of a clear Russian edge in EW. U.S. Army personnel sent to Ukraine in 2014 were surprised to find that the Ukrainian troops they were supposed to be advising ultimately taught the would-be advisors new EW techniques learned from hard fighting with Russian-backed separatists.4
The problem is not confined to Ukraine. Other countries have used Russian EW technology to good effect as well. North Korea has used Russian tools repeatedly to spoof GPS in South Korea, with potentially adverse effects on the democratic country's missile defenses.5 In 2011, Iran claimed to have used GPS-spoofing to redirect a U.S. RQ-170 Sentinel drone to land in Iran.6
The conflict in Ukraine demonstrated to the West the severity of the Russian EW threat. Sergey Sukhankin of the Jamestown Foundation notes that starting around December 2015, Russian-backed forces using Russian EW technology achieved "kinetic effects by delivering severe blows to Ukrainian critical infrastructure." The forces degraded command-and-control networks by "jamming radio communications, hampering the work of radar systems, and muting GPS signals."7 Ukraine reported that Russian-backed forces used portable ground-reconnaissance stations to identify moving targets for attack by artillery indirect fire. The forces also used ultrahigh-frequency (UHF) radio monitoring stations to track aircraft, and two separate types of automated jamming stations—advanced radio suppression systems designed to jam high-frequency (HF) and UHF radio channels to suppress both ground and air radio communication. Small unmanned aircraft systems (UASs) also reportedly carried cell phone–signal jammers.8 These are only the capabilities identified by Ukrainian forces and probably do not encompass all the EW capabilities in use by Russian-backed forces. They represent a clear threat.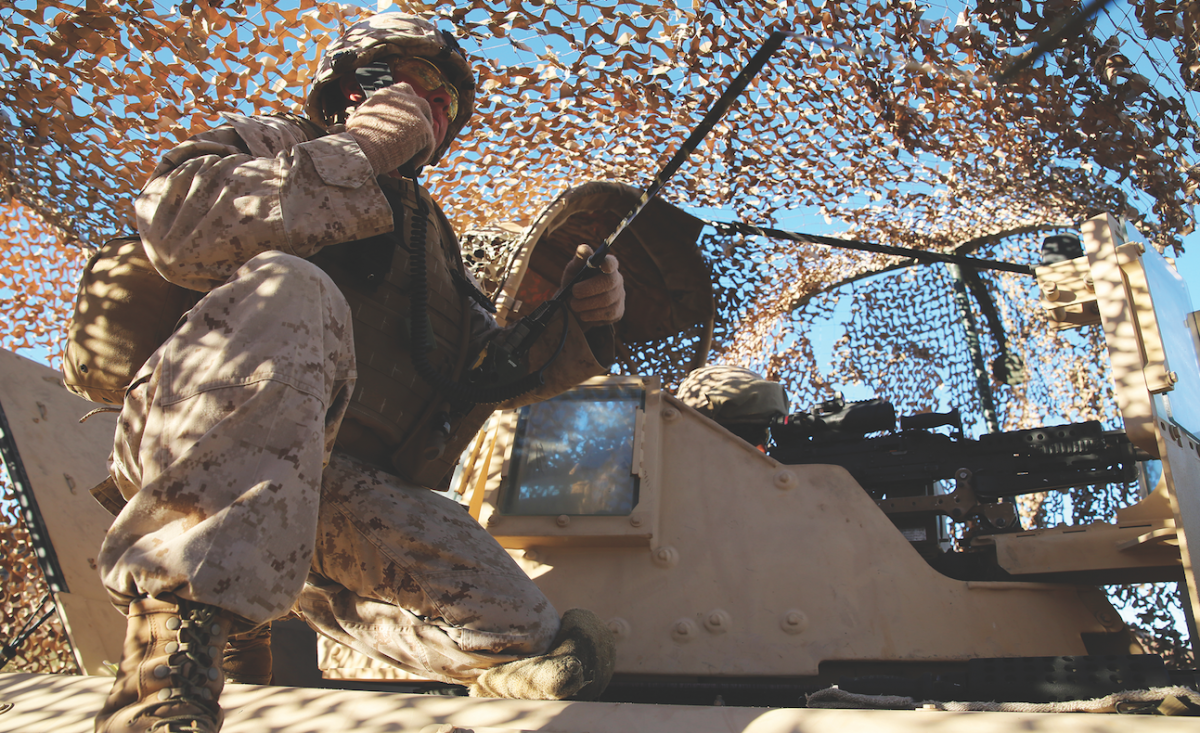 A Marine communicates an enemy position during an integrated training exercise (ITX) at Marine Corps Air Ground Combat Center Twentynine Palms, California. Future ITXs should incorporate simulated denial of most battlefield communications and electromagnetic-spectrum capabilities, the author argues.
MEETING THE EW DEFICIT
The Marine Corps has begun to tackle the issue of Russian EW overmatch. Commandant of the Marine Corps General Robert Neller noted in August 2016 at the Center for Strategic and International Studies that it has been many years since Marines have faced a near-peer. He said that this puts the onus on those who craft training to challenge Marines with communication-denied environments, the all-seeing eyes of enemy drones, and similar potential threats. 
General Neller went on to say that, despite facing a threat capable of fully denying Marines use of the EM spectrum, the Marine Corps must find a way to continue fighting without it. 
"You have to work through or be prepared for when it's not there," Neller said.9
The Commandant took note of one Marine Expeditionary Force headquarters group commander who ordered all communication gear quieted after setting up field headquarters for an exercise. General Neller commented that he had not seen this type of active EW posture regularly since he entered the Marine Corps in 1975.10
The Marine Corps possesses the doctrinal framework necessary to close the gap in offensive EW quickly. The doctrinal reference publication for SigInt, MCRP 2-10A.1, highlights the importance of electronic attack (EA), defined as the offensive use of the EM spectrum to deny its use to the enemy.11 Joint Publication 3-13.1, "Electronic Warfare," explains EA to be a type of fire, defining it as the use of EM energy to attack personnel, facilities, or equipment with the intent to degrade, neutralize, or destroy these enemy combat capabilities.12
To provide an overall framework for retooling ground combat units to focus on meeting sophisticated peer-level threats, the U.S. Army and Marine Corps early in 2017 released a white paper outlining the steps needed to meet these threats in the 2025–2040 timeline. "Multidomain Battle," as this concept is known, is meant to reshape thoughts on how to implement combined arms in the 21st century, not just across the domains of air, land, and sea, but also in the domains of space, cyberspace, and the EM spectrum. Multidomain Battle is about outmaneuvering sophisticated adversaries across "physical and abstract domains" simultaneously and is reliant on "creating and exploiting temporary windows of advantage, restoring capability balance . . . and, altering force posture to enhance deterrence."13 This concept offers broad brush strokes for ground units in both services to follow as they begin to pivot back to meeting this peer threat.
NOT QUITE CUTTING IT
As important as the doctrinal and conceptual frameworks are, they have not yet succeeded at shifting the Marine Corps toward meeting these threats. Captain Stewart in the Marine Corps Gazette noted that to meet the Russian EW advantage then was hard, and the Marine Corps needed realistic training under EM-denied conditions. He wrote:
There is considerable emphasis on operating in an EW environment during combined arms exercises at the Marine Corps Air-Ground Combat Center (MCAGCC) at Twentynine Palms, [California]. Although MCAGCC has not attempted to jam totally the frequency spectrum used by Marine forces, the selective employment of [electronic control measures] against key control nets . . . has been sufficient to force commanders to plan for and employ alternate means of communications.14
This type of realistic, operational EM spectrum–denial training undoubtedly was necessary in the early 1980s and remains a needed step today. It is likewise important for this type of training to become commonplace throughout the Marine Corps at key formational training such as Marine Combat Training, the School of Infantry, and The Basic School and reinforced in military occupational specialty and intermediate-level schools. 
From a doctrinal perspective, both the Marine Corps SigInt publication and the Joint "Electronic Warfare" document provide robust foundations but arguably do little to guide small-unit combat-arms commanders in day-to-day EW, and the Multidomain Battle concept exhibits the same shortcomings. The Marine Corps must develop tactics to guide how Marines under totally or near-totally denied EM-spectrum conditions are to continue fighting effectively. Close study of the lessons learned by Ukrainian forces over the past few years should guide discussion among SigInt and combat arms Marines. A Multidomain Battle–oriented doctrinal "playbook" for fighting units in the Marine Corps and Army must be developed to help these units fight through the EM darkness while their EW counterparts concurrently work to counter the effects of successful Russian EW.
Train the way you fight
The U.S. military today finds itself in a situation potentially similar to Israel's at the opening of the 1973 Arab-Israeli War, where a near-peer military could achieve quick and decisive overmatch using EW to bolster ground combat power and cause great damage. But as Israel showed, overcoming this adversity is possible. Despite their early losses, the Israelis ultimately defeated the Egyptian-led invasion in large part thanks to the speed at which conventional mechanized Israeli units were able to react to and outmaneuver their opponents. Had Israel combined its better-prepared conventional forces with stronger EW capabilities, it is not hard to imagine that Egypt's early success probably would have been limited.
Despite the U.S. military again falling behind a potential peer adversary at ground-based EW, the Marine Corps can take several steps to mitigate the problem. In the short term, Marine combat-arms and SigInt experts can develop tactical doctrine to be shared with small-unit commanders to test, alter, and master during field training. HQMC must emphasize continually to operational units the need to simulate EM spectrum–denied conditions during self-directed training. 
To ensure EW considerations become integral to all combat-arms leaders' planning, the subject should be introduced in entry-level Marine officer courses. The Basic Officer Course and Warrant Officer Basic Course at The Basic School in Quantico, Virginia, consist of more than 1,000 hours of instruction spread over six and four months, respectively. Though both courses are designed to teach new Marine officers the skills required to be rifle-platoon commanders, neither mentions EW as a subject or devotes any formal instruction on how to operate tactically in a communications-denied/degraded environment. Even a few hours of formal classroom instruction and field-exercise scenarios would give student officers a provisional understanding of EW and the need to be prepared to operate against an EW-capable force in future operations. 
Long term, the Marine Corps must incorporate realistic EW training into larger training exercises, such as the integrated training exercises (ITXs) at MCAGCC Twentynine Palms. Allowing Marines a venue to struggle through and overcome—or fail—in an EM-spectrum-denied environment will be vital preparation. Joint Exercise Solid Shield 1976 and the performance of 2d Battalion, 8th Marines, during this exercise can provide current ITX planners a template and would offer training units an example for how to fight in the face of sustained and significant EW friction. If combat-arms units are given the opportunity to train during an ITX with challenges EM spectrum denial, they likely will come away from that ITX with a desire to learn how to overcome such obstacles tactically on their own to dominate in battle.
1. U.S. Marine Corps, MCRP 2-10A.1 Signals Intelligence, MCRP 2-10A,1 Signals Intelligence, 2016.
2. Maj. Richart A. Stewart and Capt. Peter C. Reddy, USMC, "The MEWSS Product Improvement Program," Marine Corps Gazette, February 1993, 64.
3. Ibid.
4. Joe Gould, "Electronic Warfare: What US Army Can Learn From Ukraine," Defense News, 2 August 2015.
5. Dana Goward, "GPS Spoofing Incident Points to Fragility of Navigation Satellites," National Defense Magazine, 22 August 2017.http://www.nationaldefense magazine.org/articles/2017/8/22/viewpoint-gps-spoofing-incident-points-to-fragility-of-navigation-satellites.
6. "Iran's Alleged Drone Hack: Tough, But Possible," Wired, 11 December 2001.
7. Sergey Sukhankin, "Russian Electronic Warfare in Ukraine: Between Real and Imaginable,"Eurasia Daily Monitor, The Jamestown Foundation, 24 May 2017.
8. Ibid.
9. Megan Eckstein, "Marines Now Training to Battle Drones, Fight Without Comms," USNI News, 9 August 2016.
10. Ibid.
11. U.S. Marine Corps, Signals Intelligence.
12. Joint Staff, U.S. Department of Defense, Joint Publication 3-13.1 Electronic Warfare, 2012.
13. U.S. Army Training and Doctrine Command, "Multi-Domain Battle: Combined Arms for the 21st Century," 24 February 2017.
14. Capt. Richard A. Stewart, USMC, "Electronic Warfare: Realities and Readiness," Marine Corps Gazette, July 1980, 73.
---
Second Lieutenant Vercher attended Officer Candidates School in 2016 and commissioned into the Marine Corps in 2017. He graduated from the Basic Officers Course—The Basic School in Quantico, Virginia, in April and will be attending the Armor Basic Officer Course in October before being assigned as a tank officer in 1st Tank Battalion, MCAGCC, Twentynine Palms, California.