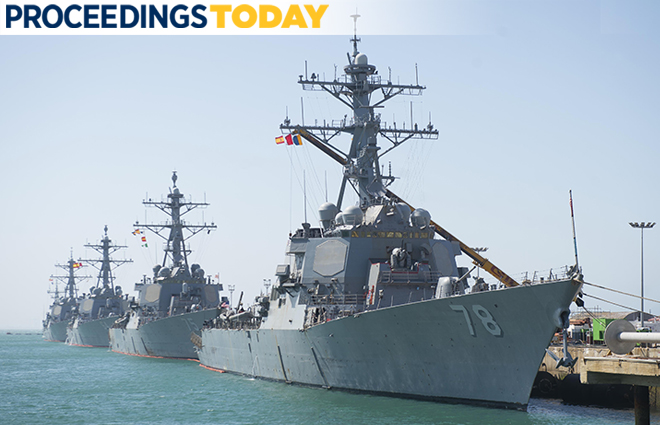 The Navy must increase the number ships assigned to Forward Deployed Naval Forces–Europe (FDNF-E) to meet the ever-increasing operational workload and allow time for maintenance and training. 
The four ships assigned to FDNF-E primarily are supposed to fulfill ballistic-missile defense (BMD) requirements as part of Operation Atlantic Sentry and Operation Sharp Sentry. At the same time, each has been called upon to conduct numerous theater antisubmarine warfare operations, focused collection operations, and Tomahawk missile strikes, as well as to participate in countless NATO exercises and port visits.
Once a relatively benign area of operation—compared to the Arabian Gulf or the South China Sea—the Mediterranean is now a contested sea with significant Russian Navy activity, Russian military operations in Syria, and a constant influx of refugees and migrants from the Middle East and Africa into Europe. While Iranian ballistic missiles were the original reason for the FDNF-E destroyers, the need to counter Russian influence, strike targets in Syria, and conduct other missions have increased the workload.
The guided-missile destroyers USS Carney (DDG-64), Ross (DDG-71), Donald Cook (DDG-75), and Porter (DDG-78) have been able to meet this tasking, but last summer's collisions in Seventh Fleet have shown the risks associated with too high an operational tempo. Increasing the assets available to FDNF-E would help alleviate the problem. 
An increase also would improve time for training and maintenance. I have witnessed an entire Mobility Navigation (MOB-N) certification—from the 1.0 administrative event through the 1.4 certification event—occur in just five working days (instead of over the typical period of several months) and an engineering light-off assessment take place while still receiving new work authorization forms during a maintenance availability. Neither seems like effective training or maintenance.
The surface navy has taken steps to correct training shortcomings, but Rota-based ships have been tasked frequently to complete training events while on an operational patrol. For instance, as the damage control assistant on one ship, I had to forgo critical drills for my Mobility Damage Control Warfare (MOB-D) certification because of conflicting operational tasks. More conflicts arose when I was instructed to meet qualification requirements before the United Kingdom-led Flag Officer Sea Training, a training event that we were not to miss. Stateside ships undergo lengthy maintenance availabilities followed by a dedicated training period to prepare the ship and train its crew before upcoming deployments. The current four-month, post-patrol layoff in FDNF-E is simply too short to allow for significant maintenance and effective training.
Numerous challenges certainly would face the expansion of FDNF-E. As guests of the Spanish Armada on Naval Station Rota, the Navy would require Spanish buy-in for any increase. Currently, the U.S. Navy occupies two of six berths on a single pier. With more U.S. ships, there would be less pier space for the Spanish in their fleet concentration area. Even with Spanish approval, significant infrastructure developments would be required, including increased shore power and refueling capabilities.
Logistics presents the most significant challenge. U.S. ships make do with limited on-hand resources and long supply-chain lead times, complicating efforts to maintain material readiness. A significant money and manpower influx would be required to maintain more ships and support the new crews and families. Forward Deployed Regional Maintenance Center Detachment Rota would require more port engineers, code-200 technical representatives, and code-300 shipboard supervisors.
A contract with ISEMER, a Spanish company that maintains ships for the Armada, and the establishment of a gauge calibration laboratory would significantly reduce material shortcomings. Base support services that provide for sailors and their families would need increased staffing and funding, including Naval Station Rota fire and emergency services, the hospital, base security, port operations, the personnel support detachment, base housing, and countless other entities and services. 
While there are myriad potential challenges, no obstacle is insurmountable. The Navy needs to find a way to give FDNF-E the resources it needs to meet an ever-growing mission set. 
---
Lieutenant Bedard commissioned through the Naval Reserve Officer Training Corps at Vanderbilt University. He served on board the USS Rushmore (LSD-47) in San Diego, California, and the Donald Cook (DDG-75) in Rota, Spain. He currently works at the Nimitz Operational Intelligence Center in Maryland. 
For more great Proceedings content, click here.