Forward-Deployed Naval Forces
(See pp. 111–112, May 2018 Proceedings)
The Naval review called out Forward-Deployed Naval Forces (FDNF) by homeport and by hull. Though FDNF—Japan ships in Yokosuka, Sasebo, Rota, Guam, and Saipan were all mentioned, the section for FDNF—Bahrain only included the ten patrol craft (PCs) that are homeported here. In fact, FDNF—Bahrain includes four mine countermeasures ships (MCMs) and four Coast Guard PCs as well. The MCMs provide Fifth Fleet the capability to combat the mine threat that exists in both the Arabian Gulf and the Gulf of Aden. 
I am confident that the omission of the MCMs was in error and I wanted to bring it to your attention. The current surface MCM force often is overshadowed by emerging technologies but continues to carry the full burden of this mission area for the surface fleet. 
—Lieutenant Jordan J. Stutzman, U.S. Navy, Executive Officer, USS Dextrous (MCM-13) 
Be Aces for All Seasons
(See M. Jbeily, pp. 48–52, June 2018
Proceedings)
Lieutenant (j.g.) Jbeily brings up many valid points as to how naval aviation must continue to evolve and harness the technology that quickly is becoming available. As a current strike-fighter squadron commanding officer, I am reminded on a daily basis of how much more information is presented to those aircrews today compared with 15 years ago, a testament to advances in our combat systems and lethality. 
Still, I disagree with the author when he says that the increased range of antiaircraft missiles and standoff engagements "diminishes the importance of prized fighter attributes such as speed and maneuverability." Even with our high-end systems, there isn't one fighter pilot I know who doesn't covet both of those things, and frankly, we have been missing the speed quotient since the F-14 was retired in 2006. 
I am puzzled every time I read an opinion that today's fighter pilots fear autonomous and/or unmanned aerial systems, as evidenced by the issue's cover text about them—"Deal with it." Many of my counterparts in the Tailhook Navy and I look forward to autonomous systems entering the fleet. I will welcome the day when a UAV can take over the inflight-refueling role that has wreaked havoc on Super Hornet airframes for the past 16 years. I also will welcome the same platform flying the surface surveillance coordination mission so that my squadron can focus instead on high-end fighter tactics or close-air support missions, both of which require practice and multiple reps given their very perishable skill sets. 
These high-end missions will require a human in the loop for many years to come. I assure Lieutenant Jbeily and others that fighter pilots do not fear autonomous and unmanned systems; we eagerly await their implementation so that we can focus on our more complicated mission sets.
—Commander Mark Swinger, U.S. Navy, Commanding Officer, VFA-192
WE CAN FIX THE SWO CAREER PATH 
(See M. Mullen and R. Natter, pp. 38–41, April 2018 Proceedings)
Professionalize the Surface Force 
(See T. Hontz, Proceedings Today, January 2018 Proceedings)
As a retired career surface warfare officer (SWO), I was shocked to learn of the USS Fitzgerald (DDG-62) and John S. McCain (DDG-56) collisions and the loss of 17 Navy sailors. Like others who have had the privilege of command at sea, I could not comprehend how these events could have occurred. Having read public reports of the official investigations, I was hopeful that the article by Admirals Mullen and Natter would offer real solutions to the larger, potentially Navy-wide SWO issues. I was disappointed, however.
The article is filled with the usual platitudes about making seamanship and warfighting the top priority and the expected solutions of more training and more time at sea. These already are driving good career people out of the Navy. Seamanship and warfighting always seemed to me the top priorities in the fleet, but perhaps it was something else on their watches. Although the admirals consider the executive officer–to–commanding officer fleet up a mistake—and accept some responsibility for it—they press ahead with the existing do-everything model for SWOs. The "fix" suggested is to do it more and longer. The model is wrong, and changing it is the core issue.
To promote "seagoing skills above all else," the SWO generalist philosophy must end. As Captain Hontz outlined in January, the U.S. Navy should emulate other navies that separate engineering and combat systems officers from the command path. The admirals advocate developing a "sixth sense" for seamanship; this will not happen by continuing to have line officers stand watches in engineering main control. Today's ships are complex and capable, and need specialized warfighting, engineering, and seamanship professionals to operate and fight them.
Let's not just increase sea time to do more with the same failing model. Rather, let's change the system to use our time better and focus on skill development.
—Captain Alan W. Swinger, U.S. Navy (Retired)
Tell the Navy's Story
During Chief of Naval Operations Admiral John Richardson's presentation at the Naval Institute Annual Meeting, the CNO was strongly critical about the Navy's lack of success telling the general public why the nation needs a powerful
navy. Study of the Navy's history and heritage can help.
Though there are many serious books on the subject of military and naval history, most are too academic for the average reader. Lighter—but accurate—material in smaller amounts is needed, especially for younger audiences. All of the advocates for naval history need a coordinator to better focus the application of efforts/material.
In a letter I received from Admiral Arleigh Burke in 1985, he told me that the Navy never has made effective-enough use of its history (and that's still true today). The Navy needs new technology, but it also needs its history. The naval heritage training manual, PERS 10600, published in1946 and reprinted by the Naval Institute in the book This is Your Navy, makes the case for sharing the service's heritage, noting:
 • It's a good story.
 • What you do today depends on what was done yesterday, so it gives us an idea of what today is all about.
 • It tells you things about the service you're in and why you're in it.
 • It serves as a reference bearing on your objective. History is a guide for the future.
I challenge the CNO, the Commandant of the Marine Corps, and the Department of the Navy, to attack this problem as we would any Navy/Marine Corps operation for the best needs of our Sea Services and the United States.
—Boatswain's Mate First Class and Honorary Chief Petty Officer John J. Nugent, U.S. Navy (Retired)
It's Not Just the Forward Deployed
(See J. Aucoin, pp. 12–15, June 2018
Proceedings)
Vice Admiral Aucoin's brilliant piece on the "Comprehensive Review" (CR) illuminated a continual shortfall in such investigations. As he pointed out, the CR focused on regional, tactical issues but not the whole-Navy problems that caused last year's tragic ships. While the fleet, type, and numbered-fleet commanders have their collective eyes on operational plans, the perspective in Washington should be larger. "The buck stops there" when it comes to systemic failures. 
The CR repeatedly mentions operational risk management (ORM) weakness, but the seeds of the surface navy's readiness problem began at the corporate level with severe budget cuts that reduced training to a minimum. The call for those budget cuts began with great intentions—to be more efficient and a better steward of national investment. However, lacking a Pentagon-level enterprise risk-management (ERM) framework, the surface navy was doomed for failure once the cuts were made. 
Today's demands for greater transparency puts a strain on strategic planning processes as officers on the office of the Chief of Naval Operations (OPNAV) staff struggle to explain their actions using old management tools. Uninformed decisions inevitably result. An ERM framework would offer Navy strategic planners guidance on how to better link risk with strategy-setting and day-to-day activities, fostering better decision-making while understanding the importance of culture (such as the "can-do" culture in surface warfare) in shaping those decisions.
—Rear Admiral Jim Shannon, U.S. Navy (Retired)
But will they fight China?
(See N. R. Nappi, pp. 44–49, May 2018 Proceedings)
From my perspective in New South Wales, Australia, Major Nappi has observed correctly that sovereign states operate in their own self-interest—none more so than the United States. But he has overlooked the impact of that on other nations' actions when considering the predictability of Asia-Pacific partners in joining a conflict against China. 
While the Middle East has dominated U.S. thinking and engagement, China has seized the opportunity to focus on its own backyard, taking advantage of the distraction to grow its presence and influence. As a result, its South China Sea claims have been challenged only belatedly and halfheartedly. It is reasonable that many nations adopted a wait-and-see approach to assess the response to these claims, opportunistically trading with China as the rising economic power while continuing to keep their military options open with the United States. 
The U.S. "pivot" to the Asia-Pacific region was a step in the right direction but pulling out of the Trans-Pacific Partnership left the region wondering what U.S. foreign policy would mean in an "America-First" world. With domestic politics altering longstanding U.S. foreign policy, it is not surprising that some Asian countries are moving into China's orbit, exploring potential partnership with the emerging local power rather than the seemingly ad hoc approach of the dominant global player. 
Partnerships work effectively when all parties understand the benefits that come with the commitments and tradeoffs necessary to make them successful. 
The United States taking its partnerships for granted simply ignores the increasing influence of China and underscores the importance of a stable and predictable major partner who in turn can fairly ask of its allies, "But will you fight China?" Where uncertainty or doubt prevail, countries will keep their options open and operate in their own self-interest.
—Adrian Johnson
Visualize Chinese Sea Power
(See J. Holmes, pp. 27–31, June 2018
Proceedings)
Professor Holmes has advanced several provocative assumptions in his assessment of Chinese naval strategy. 
He suggests that China's rapidly expanding fleet(s) are designed to be part of a much broader "long game" intended to establish terrestrial and maritime "Great Silk Roads" across Eurasia and its adjacent waters. These ultimately would grant Beijing economic, political and military ascendancy in this critical global power center. To ensure this objective, Beijing is creating a "Fortress China" to cover its back in immediately adjacent waters. An active, impregnable "offshore-waters defense" is being forged from all elements of the Chinese military, whose powerful weaponry can be projected hundreds of miles seaward. 
It is an intriguing argument and a plausible basis for Western counterstrategies, but it is also incomplete, grounded as so many strategic assessments tend to be on the narrow vision of bilateral competitors. In fact, the politico-military dynamic of East Asia is changing dramatically with the sudden rise of North Korea as a major international player in the nuclear-missile game.
Intriguing though not abundant evidence has accumulated that Chinese President Xi Jinping and North Korean Chairman Kim Jong-Un don't like each other very much. Pyongyang's newfound power status may well destabilize in the coming years the client-patron relationship that has long existed between the two countries. No one can be certain what games Kim is playing; but a united Korea with or without nuclear missiles might well constitute a counterweight to China's aspirations.
Nor can any appraisal of China's naval ambitions, either standing alone or as part of a broader vision, ignore the brute realities of geography. Seaward-looking China forever is hemmed in by a line of islands and archipelagos that stretches southward from Sakhalin to Indonesia. Any Chinese fleet, submarines included, must pass through the relatively narrow sea corridors between.
So long as Taiwan remains beyond Beijing's immediate orbit and the U.S. retains its historical ties with the nations of the region, any Chinese fleet on the wider ocean in a time of international crisis will find itself practically stranded and powerless.
This constraint on China's maritime power leads to an element that Professor Holmes does not ignore but does downplay: the critical role of naval allies. North Korea notwithstanding, Beijing has few regional friends at the moment. Taiwan fears invasion; Japan is engaged in long-time wrangling over the mineral- and fisheries-rich Senkaku islands. Beijing's aggressive sea-air buildup in the South China Sea has alarmed the Philippines, Vietnam, Malaysia, and Indonesia. India and China have longstanding tensions over Himalayan borderlands. Japan and India possess growing and powerful navies, and New Delhi is moving as aggressively as China to build formidable aircraft carriers.
The view from Beijing, then, may not be as promising as it appears from Western capitals. Hemmed in by geography, confronted by increasingly powerful and often suspicious neighbors, Chinese naval strategists cannot escape the realities of time and place, however optimistic they may appear. Possessing a young fleet with no real tradition and advanced weapons systems that may or may not work as advertised, China may not be as exuberant and expansive in its strategic vision as it seems.
—Lisle A. Rose, author of Assault on Eternity (1980) and The Ship That Held the Line (1994) from the Naval Institute Press
Taiwan Will Build Subs With U.S. Help
(See N. Friedman, pp. 90–92, June 2018 Proceedings)
"World Naval Developments" contains several errors. There is little or no threat of a Chinese amphibious assault on Taiwan. The island has strong defense air, naval, and ground forces. China's East Sea Fleet faces Taiwan, but the North Sea Fleet has the largest number of amphibious ships while the Navy's two marine brigades are in the South Sea Fleet. Certainly, these forces can be shifted and realigned, but their exercises indicate missions within those fleet areas.
Also, it is unlikely that a "larger" Taiwanese submarine force –perhaps four diesel-electric submarines—would force China "to divert resources to improve its antisubmarine capability, to keep their threat to invade Taiwan credible." China's antisubmarine efforts are oriented toward countering the large number of U.S. and possibly Russian nuclear submarines in the Pacific area. Another couple of diesel submarines operated by Taiwan in all probability would have no impact on China's resource allocation to its naval forces.
—Norman Polmar [Editor's Note: Mr. Polmar wrote the "U.S. Navy" Proceedings column from 1978–2016, the first regular column of this magazine.]
The U.S. Needs an Arctic Fleet
(See K. Eyer, p. 12, April 2018 Proceedings)
I agree with Captain Eyer that the United States has key national security interests in the 21st century Arctic, as well as important economic, environmental, and social interests. His assessment that the Navy should establish an Arctic Fleet and retune its organizational structure to respond to changes in the Arctic Ocean makes a lot of sense. 
His opening sentence, however, is somewhat misleading and requires qualification. The Arctic Ocean likely will become entirely ice free, but only for a period of time in summer. Current research suggests it may happen by mid-century. The key issue when this occurs is that only seasonal, first-year ice will remain; the multiyear sea ice that in the past has survived the summer melt will be gone. The Arctic Ocean will remain fully or partially ice-covered during winter, spring, and autumn. He is correct that there will be greater marine access throughout the top of the world and potentially longer seasons of marine navigation. 
Quantification of this access, however, remains challenging. For much of the year, the region will remain a hostile, unforgiving environment for all ships not ice-strengthened—such as most naval combatants. Deploying littoral combat ships or other naval ships through the Bering Strait and into the Arctic Ocean would seem to be problematic, though the northern reaches of the Norwegian Sea might be more feasible. 
The effective maritime presence of the United States in the Arctic Ocean in the coming years rests on two critical assets: nuclear attack submarines, the invisible frontline combatant for Arctic Ocean operations; and U.S. Coast Guard polar icebreakers, the visible naval, law enforcement, and sovereign presence of the U.S. in both polar regions. The Navy continues to conduct ice exercises, and I always am heartened to see domestic and international press coverage of U.S. submarines surfaced at the North Pole. These operations reconfirm a U.S. naval presence in the Arctic Ocean that began with the pioneering voyages of the USS Nautilus (SSN-571) and USS Skate (SSN-578) six decades ago. 
Robust acquisition of both nuclear
attack submarines suited for polar
operations and Coast Guard polar icebreakers is the only smart and logical way forward.
—Dr. Lawson W. Brigham, University of Alaska Fairbanks and Captain, U.S. Coast Guard (Retired)
Accept our Transgender Brothers and Sisters
(H. Haught, p. 16, June 2018 Proceedings)
Would Seaman Haught be as angry if her officer had announced that the Navy would be accepting people who believe they are Napoleon? After all, aside from the 18th century uniform (and demanding to be called "Your Imperial Majesty"), they would also be "individuals in the military [who] stood up and volunteered to defend our country while being ridiculed by those who are supposed to be their brothers and sisters."
Race, gender, and ethnicity are not at all the same as gender dysphoria. None of those characteristics interfere with a person doing his or her job. But a person who believes he or she really is Napoleon, despite all the evidence to the contrary, is suffering from severe mental illness. Just as a person who believes, despite the evidence of the chromosomes in every cell in his or her body, that he or she is really the opposite sex, is suffering from severe mental illness. Aside from such minor problems as anxiety and depression, transgendered persons attempt suicide eight times more frequently than the general population. We don't take people with flat feet into the military; how can we induct people with a much more serious mental disorder?
While we must have the utmost compassion for transgendered people, the armed forces simply do not have the capabilities or the resources to deal with the problems they bring with them.
—Mitchell R. Miller 
The Navy Needs "Backbones"
In one of my favorite episodes of Gomer Pyle, U.S.M.C., Sergeant Carter was looking for Private Pyle, and as usual, he was steaming mad. The corporals test was coming up, and it would
 reflect poorly on Sergeant Carter if his platoon did not have a high promotion rate. Everybody was heading to the test—except Pyle, who had ducked out on it.
Sergeant Carter finally cornered Pyle and demanded to know why he was avoiding the test. Pyle asked Carter if he remembered telling Pyle and his fellow recruits that the "private was the backbone of the Marine Corps?" "Yeah, so what?" sneered Carter, to which Pyle replied, "I like being the backbone."
I've always thought of that, because we had a Private Pyle on every ship on which I served. On one ship, Seaman Nelson was the man—pleasant, hardworking, and honest. Similar to Pyle, he liked being the backbone of the fleet, the deck seaman, and he was good at his job. He would have served at sea forever, chipping and scraping in the heat, manning the phone, or doing whatever was needed without a scowl or backtalk. Like Pyle, Nelson was not the smartest man in uniform but arguably was one of the most decent.
Sadly, Nelson, like many other backbones, got washed out of the Navy because of the up-or-out policy. While it makes sense to want the smartest sailors and Marines, the services lose talent by being too selective. At the same time, they close doors to a lot of good kids from bad circumstances who can become great members of society.
The military needs to reevaluate its up-or-out policies, as well as its entrance requirements. It should not lower its standards, but it should ensure that there is a place for people like Private Pyle and Seaman Nelson, guys who like being the backbone of the service.
—Commander Michael Collins, U.S. Navy Reserve (Retired)
Errata
•  In June's "World Naval Developments," because of our editing error two Taiwanese submarines were incorrectly identified as "ex-Dutch." The submarines were built in the Netherlands, but neither served in that country's navy.
•  In the Navy Flag list in the May Proceedings, on p. 128, an incorrect photo was used with the listing for Rear Admiral (lower half) Kevin M. Jones. The listing should appear as: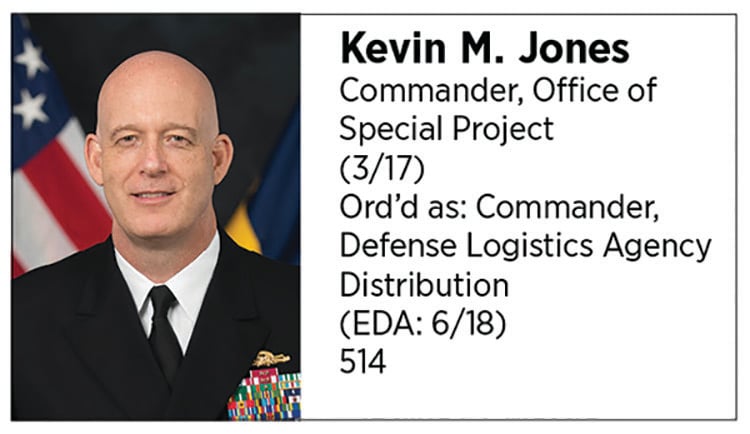 For more Comment & Discussion from July, visit www.usni.org/proceedings/july-18-discussion.