Fight Like a Girl: The Truth Behind How Female Marines Are Trained
Kate Germano with Kelly Kennedy. Amherst, NY: Prometheus Books, 2018. 304 pp. Notes. $18.
Reviewed by Captain David G. Smith, U.S. Navy (Retired)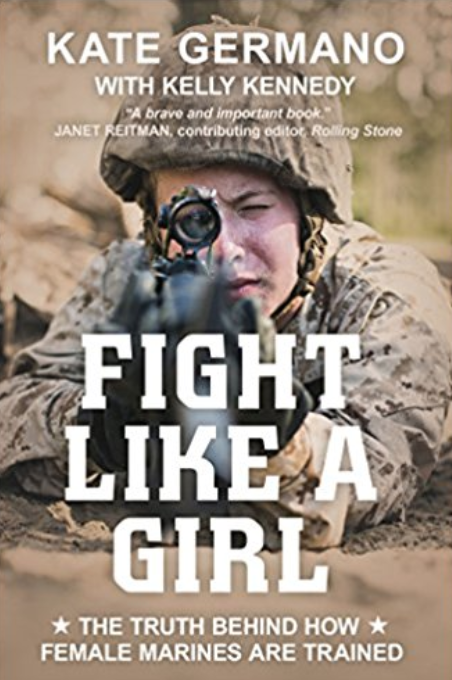 Recruiting slogans such as "The Few. The Proud. The Marines" highlight the Marine Corps' elite stature among the services, especially for the 92 percent of Marines who are trained to these high standards. The "other" 8 percent—female Marines—continue to train to lower standards and expectations that become self-fulfilling prophecies. 
Lieutenant Colonel Kate Germano's personal narrative as the Fourth Battalion recruit training commander exposes the dangers and inequities of the systemic gender bias inherent in gender-segregated military indoctrination.
The perception that women are not tough enough or cut out to be Marines starts in the recruiting process. Germano's experience commanding a large recruiting station provides an account of how women receive more waivers and are not held accountable for physical preparation for boot camp like men. As it turns out, accountability as a hallmark of leadership is a key factor in overcoming biases. 
Research shows that if the leaders' experience tells them they will not be held accountable for their actions and decisions (in this case related to selecting and preparing women recruits), then biases are more likely to influence their decisions. When recruiters perceive a recruit as not strong enough to meet standards because she is a woman, they lower their expectations, which also helps them meet recruiting goals. Unfortunately, this begins the vicious cycle where women are more likely to attrite from boot camp, are perceived as not as capable at boot camp, and ultimately are not trained to the standard of a Marine.
The authors provide a compelling data-driven argument showing that women have not been held to standards for more than 40 years. Not in any category of basic indoctrination training—academics, physical fitness, drill, or marksmanship—did women ever meet the same standards as men. While meeting physical fitness standards could be more challenging for women, there is no explanation for why women should not be on a level playing field for academics, drill, and marksmanship. 
As Germano addressed each of these four areas, she found lower expectations, bias against women, a lack of accountability for drill instructors, improper training, a lack of equitable resources, and unsupportive leadership were impeding women's ability to train to the Marine standard. By tackling each of these challenges, Germano and her battalion leadership were able to raise scores in every area to historical records in less than a year. 
For example, marksmanship scores for women historically were at a 67–72 percent qualification rate as compared to the men's 85–93 percent qualification rate. After addressing shooting coaches' beliefs that women cannot shoot as well as men because they are too short, cannot reach the trigger, cannot handle the stress, and are uncomfortable around guns, the women's scores rose to match those of the men.
One would think that this is great news for the Marine Corps, but as Germano explains, not everyone in the Marine Corps wanted women to succeed—especially in 2015 when the Marines were marshaling evidence to avoid integrating women into ground combat units. Ultimately, she believes she was relieved of her command because she was too strict in enforcing standards, holding her Marines accountable, and instilling a newfound sense of confidence and pride in the Marines she served that was perceived as a threat to the gender status quo. In what world do Marines get fired for being "too mean and aggressive"? 
While the Marine Corps may have purged itself of Kate Germano, she and others may be more effective in eliminating gender inequities from outside. 
Captain Smith has his PhD and is a professor of sociology in the Department of National Security Affairs at the U.S. Naval War College. He is the coauthor of Athena Rising: How and Why Men Should Mentor Women (Routledge, 2018). 
Radical Inclusion: What The Post-9/11 World Should Have Taught Us About Leadership 
General Martin Dempsey, U.S. Army (Retired), and Ori Brafman. Jackson, TN: Missionday, 2018. 175 pp. $18.
Reviewed by Rear Admiral Paul Becker, U.S. Navy (Retired)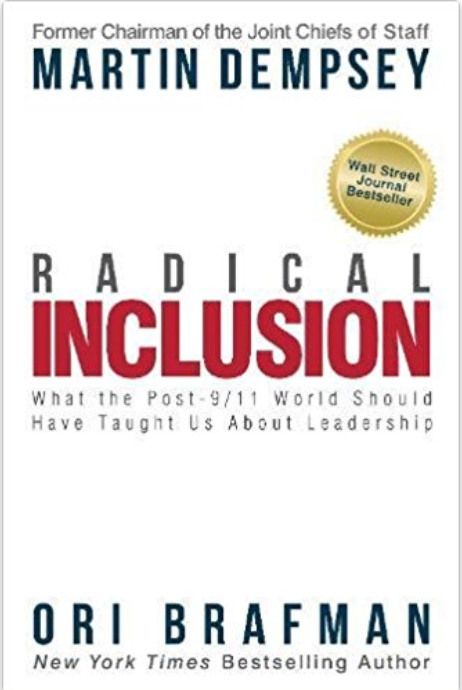 Leaders and those who write about leadership must be credible. These two authors are. They "walk the talk" of their book's title. One is a West Point warrior carnivore and former Joint Chiefs of Staff chairman. The other is a Berkeley Peace Studies vegan professor. Together they provide a compelling rationale why effective leading and learning in today's information-intensive environment must be a team sport. 
Moving a step beyond lessons from popular leadership books of the past several years, Radical Inclusion asserts that decentralization of hierarchal structures is not enough. Radical is used to underscore a different type of inclusive team concept needed for success today, and the urgency of implementing it to maximize modern teams' performance and productivity. Describing the modern information environment as having a "digital echo," where facts frequently are filtered and distorted, Dempsey and Brafman explain—through their own military and business experiences—how today's leaders need to compete for their teams' trust and confidence, make sense of disparate data, counter manipulation and bias, and take charge of an event's narrative by "listening, amplifying and including" inputs from those closest to ground truth. Within this "digital echo chamber," leaders are engaging others not just by sharing data, but also by sharing narratives derived from trustworthy sources that have an emotional context to resonate with the widest number of followers and have the greatest chance to influence. 
The authors mix engaging personal observations from Berkeley to Baghdad, which amplify their belief that the best chance for lasting team success is through "relinquishing control to preserve power." This paradox deserves attention because many leaders' fear of losing control often pushes them toward practices of exclusion instead of inclusion. In addition to addressing the strategic "Why?" and operational "How?" to radically include, the authors share six pragmatic principles as a framework to implement new practices (give memories, make it matter, learn to imagine, bias for action, cocreate context, expand the circle).  
The authors admit that in some organizations a shift to radical inclusion has the potential to be time-consuming and initially more challenging than traditional vertical business procedures. To address such concerns, they emphasize their recommendations are intended as pragmatic, instead of wholesale egalitarian changes. Dempsey and Brafman's  track record of successfully leading diverse organizations provides them standing to endorse such practices as an effective framework for organizational buy-in, participation with a purpose, and more efficient, enduring solutions to complex leadership problems. 
Radical Inclusion is a highly relevant, quickly readable book for modern leaders in the public and private sectors. It is a worthy addition to any service chief's or corporate board's reading list. 
Admiral Becker is a former director of intelligence (J2) for the ISAF Joint Command in Afghanistan, the U.S. Pacific Command, and the Joint Chiefs of Staff under General Dempsey from 2013 to 2015. 
The End of Grand Strategy: U.S. Maritime Operations in the 21st Century
Simon Reich and Peter Dombrowski.
New York: Cornell University Press, 2018. 238 pp. Appendices. Notes. Index. $30.
Reviewed by Captain Wayne P. Hughes, U.S. Navy (Retired)
In common usage, a military strategy establishes purpose in a war or conflict. For example, one of the best statements of purpose is in Rear Admiral J. C. Wylie's classic Military Strategy (Rutgers University Press, 1967). Wylie asserts that a strategy's aim is to control something. The difficult part is to know what to control to achieve a satisfactory conclusion. Also pertinent, Wylie says there are two kinds of strategies, sequential and cumulative. A sequential strategy is illustrated by the U.S. Navy's World War II sweep across the central Pacific in which each combat victory was necessary to take the next step. A cumulative strategy is illustrated by the series of battles against U-boats in the Atlantic in which no single incident was conclusive but the cumulative results won the campaign. 
Now come Simon Reich and Peter Dombrowski to make a clear distinction between grand strategy and strategy by assigning grand strategy the task of planning responsibly in both peace and war. Their new book, The End of Grand Strategy: U.S. Maritime Operations in the 21st Century, points out that since the collapse of the Soviet Union in 1989, U.S. unity of purpose in war has been lost. "Control" takes on new and different kinds of meaning. Often the appropriate task is to "contain someone," like drug and human trafficking, piracy, ISIS-type revolutions, and attacks by terrorists. Wylie's "cumulative strategy" fits these endeavors, except that defining an end-point or a satisfactory level of containment is next to impossible. 
The End of Grand Strategy should be widely read, first, to distinguish grand strategy from traditional strategy. Another new book, On Grand Strategy by John Lewis Gaddis (Penguin Press, 2018), fails to make the distinction. All of Gaddis's examples of poor strategy, include Xerxes's attempt to conquer Athens, King Philip II's failure with the Spanish Armada, and Napoleon's lack of appreciation for British sea power, are big wars with all the chips in the pot. His examples of successes also are big wars, for example, the leadership of Rome's Octavian and U.S. Presidents Abraham Lincoln and Franklin D. Roosevelt in wars terminating with evident victories. Gaddis's book is about strategy, not grand strategy.
The second reason to read Reich and Dombrowski is to see the difficulties 21st-century decision makers confront in preparing to fight. The U.S. Navy is especially challenged, because the same ships must adapt to a large set of contingencies. Moreover, in formulating strategies for major powers such as China and Russia, the same ships must be suitable in times of cooperation, competition, confrontation, or in different levels of conflict.
One message shared by both books about "grand strategy" is that failure often comes from treating purpose as a desire or wish rather than as an executable set of actions that must be carried out by forces adequate to the task. A strategy includes ends (a purpose), ways (campaign plans), and means (trained forces that achieve the well-defined end). Reich and Dombrowski illustrate this failure several times.
Here is a final observation I did not find in The End of Grand Strategy but one that is important in the contemporary strategic environment: the long-standing end of carrying war to "victory" or "unconditional surrender" has become suspect or even obsolete. Today, a strategy's aim almost always should be to establish what constitutes a satisfactory outcome rather than a clear-cut victory. A grand strategic goal should be expressed in terms of control that may take a long time to achieve and require great patience. I think Reich and Dombrowski have implied as much, and that is one more reason for reading their fine book.
Captain Hughes is dean emeritus of the Naval Postgraduate School in Monterey, California. 
The Ghosts of Langley: Into the CIA's Heart of Darkness
John Prados. New York: The New Press, 2017.  389 pp. $28.95
Reviewed by Lieutenant Commander J. D. Kristenson, U.S. Navy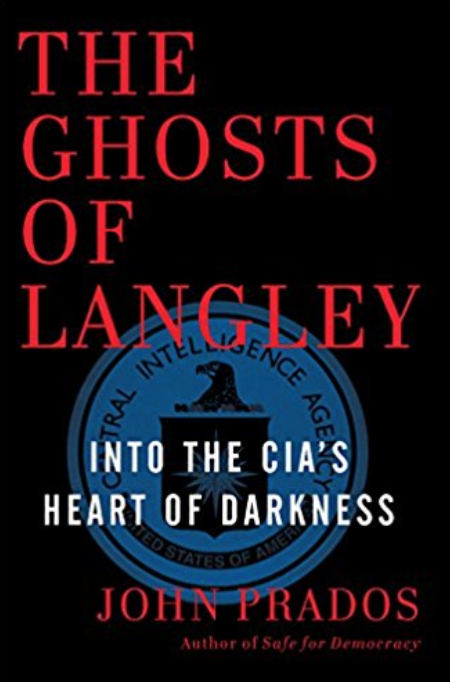 Ghosts of Langley is written as an account of the origin and evolution of the Central Intelligence Agency (CIA). The author, John Prados, has been writing about the CIA for more than three decades and knows more about its history than almost anyone alive today. His expertise comes from his ability to synthesize that knowledge into a compelling narrative on the DNA woven into the agency at birth, its troubled adolescence, and where it might be headed in the future.
As with any organization, the future of the CIA will be a product of its past. The National Security Act of 1947 barely mentioned espionage, much less covert operations. Congress created the CIA primarily to be an agency for coordinating intelligence: it did not endow the agency with the authority to conduct espionage. Its mission was to be explicitly "related to intelligence." There is no specific statutory authorization to any agency for the conduct of the type of "Cold War activities" that the agency led in Cuba, Guatemala, Nicaragua, and elsewhere. 
The author makes the case that the agency does in fact participate in policy making in so much as the CIA coups became an act of political terraforming. He takes measures to note that signature CIA operations such as covert action and systematic propaganda are not related to intelligence gathering—they are tools of war. Deceptions are a tricky business. Subterfuge misleads enemies, but it also cloaks faults and a habit of deep, even reflexive secrecy that became ingrained in agency culture. Prados makes clear the ways over the years in which Langley has erected a fortress of secrecy, complete with a high wall of sovereign immunity and a moat of executive privilege. He examines how nearly anything connected to national security became protected as intelligence "sources and methods," and how that shield has served to make public accountability of the CIA difficult, if not impossible. 
Prados notes the ways in which internal governance has proven elusive when the CIA's own inspector general lacks subpoena power. Each chapter is a case study of a key figure, a "ghost" from Langley's past. Prados examines how when Congress expressly limited U.S. government assistance to the Contras in Nicaragua through the Boland Amendment, the agency's collective instinct was not to consider complying, but instead to find creative ways around oversight and any limits on its ability to act. 
It is Prados's view that when the rules of the game changed under the new era of intelligence oversight, instead of contrition, Langley repeatedly offered defiance. Each time there is a push to increase accountability on spy activity, those within the agency seeking to avoid regulation pushed back. Ultimately, this work is an interrogation on the nature of accountability. The book challenges the reader to consider—how much can the darkness ever really be governed by the light?
Lieutenant Commander Kristenson is a career surface warfare officer and an Olmsted Scholar. He is serving as commanding officer of the USS Champion (MCM-4).
NEW & NOTEWORTHY BOOKS
By Captain William Bray, U.S. Navy (Retired)
The Age of Eisenhower: America and the World in the 1950s
William I. Hitchcock. New York: Simon and Schuster, 2018. 517 pp. Illus. Index. Biblio. $35. 
In the late 1970s, historians began embarking on attempts to more thoughtfully and fully measure Dwight D. Eisenhower's political, instead of military, life. William Hitchcock's new book is the latest in a line that lifts Eisenhower further from the ranks of underappreciated presidents (Ike is now worthy of his own age) and place him in rarer presidential company. Yet Hitchcock is no hagiographer. He has published three excellent books on post-World War II Europe, and with this effort he displays the careful diligence of a patient and thoughtful writer. At times he seems to overdo his assault on an intellectual elite of the mid-20th century United States that largely looked down on Eisenhower as a simpleton somewhat disengaged from the hard business of governing. But these are exceptions in an otherwise balanced and energetic text.  Hitchcock persuades by deploying an abundance of factually rich vignettes surrounding important historical events that bear far more of Eisenhower's imprint than his contemporary critics would have believed possible.
Promise Lost: Stephen Joyner, The Marine Corps and the Vietnam War
Dan Moore. Abingdon, VA:  Hidden Shelf Publishing House, 2016. 184 pp. Illus. Appendices. $16.95. 
For its author, Promise Lost is part tribute to a friend lost in combat and part personal catharsis. After retiring in 2014 following a long CIA career, Moore researched and wrote the book he always wanted to write, and in certain ways needed to write. He interviewed more than 100 of Joyner's friends, comrades, and family members, and was allowed access to nearly 50 letters Joyner wrote home from Vietnam. Moore and Joyner served there in different I Corps units until Joyner was killed 15 June 1968 leading a counterattack in the battle of Khe Sanh. Joyner is a heroic and tragic figure: the all-American boy from the quintessential working-class family, the blue-chip athlete (he played football at San Diego State for legendary San Diego Chargers coach Don Coryell), the authentic patriotic American motivated simply to serve his country. The chapters are short and the writing crisp, and as Moore takes us through Joyner's short 24 years, a sadness pervades at what could have been. These are the books the U.S. national security elite must never stop reading. 
Beyond the Beach: The Allied War Against France
Stephen Alan Bourque. Annapolis, MD: Naval Institute Press, 2018. 263 pp. Illus. Appendix.  Biblio. Index. $34.95.  
Some military historians are unsung heroes themselves for researching heretofore little-known yet very important and often unpleasant aspects of major U.S. military campaigns. In Beyond the Beach, Bourque carefully and exhaustively examines the Allied bombing campaign against occupied France that killed, by his estimate, more than 60,000 French civilians. This cannot simply be dismissed as the cost of doing business (collateral damage). In the five-year campaign, most intense from January to July 1944, the Allies targeted occupied French cities, harbors, bridges, and other logistics sites, aiming to make it harder for the Nazis to reinforce units absorbing the main Allied thrust of the Normandy invasion. The bombing campaign was extensive, methodical, and merciless. France, a nation the Allies were trying to liberate, lost more civilians to Allied bombs than Britain lost to German bombing. Through painstaking research, including in many obscure French archives, Bourque succeeds giving this tragic fact a more complete historical airing, while remaining objective as to whether the bombing was justified.
First to Go: The History of the USMC Combat Correspondents Association
Jack T. Paxton. Haworth, NJ: St. Johann Press, 2018. 285 pp. Illus. Index. $35.
This is the second edition of a comprehensive history of Marine Corps combat correspondents. The first was written and edited by Gary Cameron and published in 1987 under the title Last to Know, First to Go. Paxton's edition retains that version and carries the story forward through the war on terror. He concludes with a chapter on Leatherneck Magazine and the USMC Combat Correspondents Association, and a final chapter on the future of both the association and the combat correspondent as a profession. Forty-three Marine Corps combat correspondents have been killed in the line of duty, including two as recent as 2015 during a humanitarian operation in Nepal. A staggering 21 were killed in Vietnam, more than in World War II. First to Go will mostly appeal to Marines and former Marines, but it is also a good reference for civilian researchers and the public at large, where the image of a combat correspondent is overly informed by popular film portrayals. 
Captain Bray served as a naval intelligence officer for 28 years before retiring in 2016. Currently, he is a managing director in the Geopolitical Risk practice at Ankura.