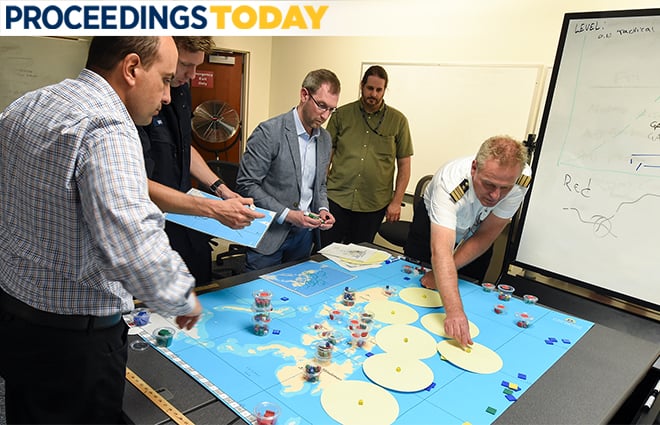 Secretary of Defense James Mattis declared that the United States must be "strategically predictable but operationally unpredictable" in the 2018 National Defense Strategy. Arguably, the U.S. Navy has become too predictable both in terms of where it deploys, what tools it deploys with, and how it operates once deployed.  Similarly, the way the Department of the Navy develops its budget is fixed and predictable in terms of how and to what it allocates resources. Former Vice Chief of Naval Operations Admiral Don Pilling once observed, "80 percent of OPNAV spends 90 percent of its time developing a POM [program objective memorandum] that changes less than 5 percent from the previous year's POM."  In other words, the Navy has created an operational and fiscal "mold" that is perfectly predictable.  The United States' strategic competitors, especially China and Russia, understand the mold, and they cleverly, adroitly, and quickly maneuver around and ahead of it.
Under Secretary of the Navy Thomas Modly and Vice Chief of Naval Operations Admiral William Moran directed the U.S. Naval War College (NWC) to tackle the problem and steer a way to "break the mold." To that end, NWC established a series of conferences and workshops to bring together senior and junior leaders to generate actionable recommendations that will make U.S. national security plans and processes less predictable to adversaries. Participants are challenged to shape and propose appropriate constructs and strategies to ensure U.S. and allied security in a future that remains unpredictable, dynamic, and more challenging than ever before.
The first workshop in the series was held recently with 59 participants selected based on their expertise in national defense issues; their leadership, operational, or analytical experience within the Department of Defense, Department of State, or other agencies or academic institutions; and their community reputations as creative thinkers. Working groups were given three stra­tegic planning tasks: (1) create a "porcupine defense" of Europe—undertaken in conjunction with Naval Forces Europe—focused on Russian aggression; (2) contain potential Chinese military expansion within the "first island chain" using "a mobile maritime plan that cannot be outflanked"; and (3) determine ways to rely more on special forces, cyber, and unmanned vehicles (UVs)—the "new triad." A fourth area for examination was how such options might be implemented. Groups were free to think broadly about redefining strategic-level guidance including the National Security Act and the Unified Command Plan. They also were asked to think of ways to reconstitute and regenerate forces in a military with a smaller, but highly ready, active-duty force and that might be dependent on a larger reserve or cadre component that could mobi­lize when needed. 
The workshop's initial recommendations encompassed overarching alternative strategy development, alternative operational planning and capabilities, acquisition and research-and-development reforms, and organizational and personnel policy changes. These included, but were not limited to: effecting institutional cultural shifts, expanding maritime strategy, streamlining strategic communications and information operations, increasing offensive cyber capabilities, enhancing military readiness across NATO members, and avoiding predictable deployment patterns.
The Naval War College is in the initial planning stages for a larger conference—"Breaking the Mold: 2"—that will held be in Newport from 23 to 25 October 2018. This conference will also include a "crowdsourced war game" and will expand on the first workshop's progress and findings, with the intent of incorporating an increased cadre of young, innovative thinkers to address the pressing strategic challenges.
The goal is to have a wide spectrum of representation to join the October conference. Wide, diverse participation is encouraged to continue the critical discussion and brainstorming that will yield actionable recommendations to make the Navy and Marine Corps a more lethal and unpredictable force in the coming decades. If there is particular interest in attending the upcoming conference, please contact NWC Professor John Jackson, [email protected] or 401-841-6515.
---
Rear Admiral Harley is the 56th President of the U.S. Naval War College in Newport, Rhode Island.
Captain Harris is a well-known and highly respected naval strategist, author, and frequent contributor to the U.S. Naval Institute. He served as a Fellow on the CNO Strategic Studies Group, and participated as the designated rapporteur for one of the four primary working groups that comprised the "Breaking the Mold" workshop. 
For more Proceedings content, click here.