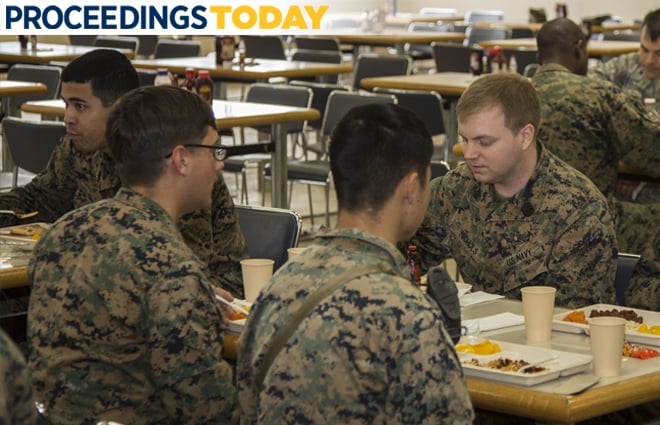 "Good morning, first sergeant. Is it all right if I sit here? Marines don't eat alone, right?"
The young lance corporal plopped his tray down on my table. It was Saturday morning, and my weekend routine with the Fleet Antiterrorism Security team (FAST) company in Bahrain usually included hitting up the breakfast buffet put on by Morale, Welfare and Recreation. For a couple of hours, I would read a book while gorging on made-to-order omelets, coffee, and a bonanza of fat pills.
I put down my book and said he was absolutely right. I never like seeing Marines by themselves. I have been pretty vocal about this and always am satisfied to see groups of Marines eating together.
The lance corporal and I talked while we ate, and the next thing I knew I was host to a table full of Marines laughing and joking as we shared a meal. Author Louis L'Amour said, "Nothing binds men together like sweat and gun smoke," but breaking bread together will do in a pinch.
A Marine alone is a bit unnatural in my mind. I do not mean Marines should never have time alone—I prefer to be left to myself sometimes, too. Inevitably, though, trouble follows the lone Marine. Marines who are with their buddies generally fare better when things go bad. Drunk driving incidents predictably happen to Marines who have been out drinking by themselves. Stumbling around drunk at 0300 is also how a single Marine ends up a victim. Suicidal thoughts usually besiege Marines prone to them when they are alone, without friends. I also have never heard of a squad of Marines marrying all the dancers at a strip club and giving them powers of attorney before deployment.
I always encourage Marines to hang out with each other by asking if any of them ever deployed to combat by themselves. The answer is no, of course. Then I ask why in the world would they let fellow Marines go alone to bars and clubs populated by local thugs who want nothing so much as to mount a Marine's head on their wall. I used to tell my troops if they see ten Marines in a fight with one guy, it had better become 11 to 1. Likewise, if ten bad guys are taking on one Marine, it better become ten against two.
If we never would let our buddies fight their enemies alone, why would we let them deal with any of their other problems by themselves? The Corps has not been successful for nearly two-and-a-half centuries because we are individual badasses. We win because we confront hazards together. 
In Bahrain, the FAST company commander, executive officer, gunnery sergeant, and I often ate breakfast together. On occasion, if I spotted a young Marine eating by himself, we would all sit down with him. Being under so much scrutiny certainly spices up the average mealtime. Pretty soon the word was out.
On this particular Saturday, the lance corporal brazenly asked to sit with me because of our collective efforts to combat the impact of the lone Marine. As their first sergeant, I always told them we were not strangers to each other and to act accordingly. We were the only company of Marines on the entire island, so I would ask the lone Marines where their buddies were. Once I saw two lance corporals sitting by themselves at two separate tables. I asked one why he was not at the other table. He replied that he did not know that Marine because they were in different platoons. I introduced them, then made them sit together and finish chow.
Some time ago all the Marine Air Group 13 sergeants major and master gunnery sergeants were having lunch together in the chow hall. We noticed a group of three Marines eating together in silence, each of them glued to their phones and not engaging one another. I submit that merely being "near" someone with your nose in your phone isn't the same as being "with" someone. Marines need to know that Snapchat and all other electronic clownery happening on line are not real life. They ought to put the phones down, look someone in the eye, and start a conversation. This was how human beings were meant to communicate and it is a lot less lonely.
I continually urge Marines to remain focused on their mission. This includes keeping an eye out for whatever hazards might befall their buddies, whether external or self-induced. Their conduct off duty will tell outsiders everything they need to know about how well Marines operate on the battlefield. On liberty, they need to remember that every predator is on the lookout for an easy mark. I encourage Marines to be wise and stick with their buddies.
Winston Churchill famously called depression a "black dog. He said, "I don't like standing near the edge of a platform when an express train is passing through. I like to stand right back and, if possible, get a pillar between me and the train. I don't like to stand by the side of a ship and look down into the water. A second's action would end everything. A few drops of desperation."
A few drops of desperation can be well-diluted in the cup of camaraderie. Each of us can take a second's action and be the pillar that stands between our buddies and the oncoming train. Making sure Marines do not eat alone is an easy way to keep them safe.
---
Sergeant Major Burke currently is serving as squadron sergeant major of the world's finest Marine Aviation Logistics Squadron 13 in Yuma, Arizona. He is a hard-core Black Widow. He can be found on Twitter at @AmericasSgtMaj.
For more great Proceedings content, click here.