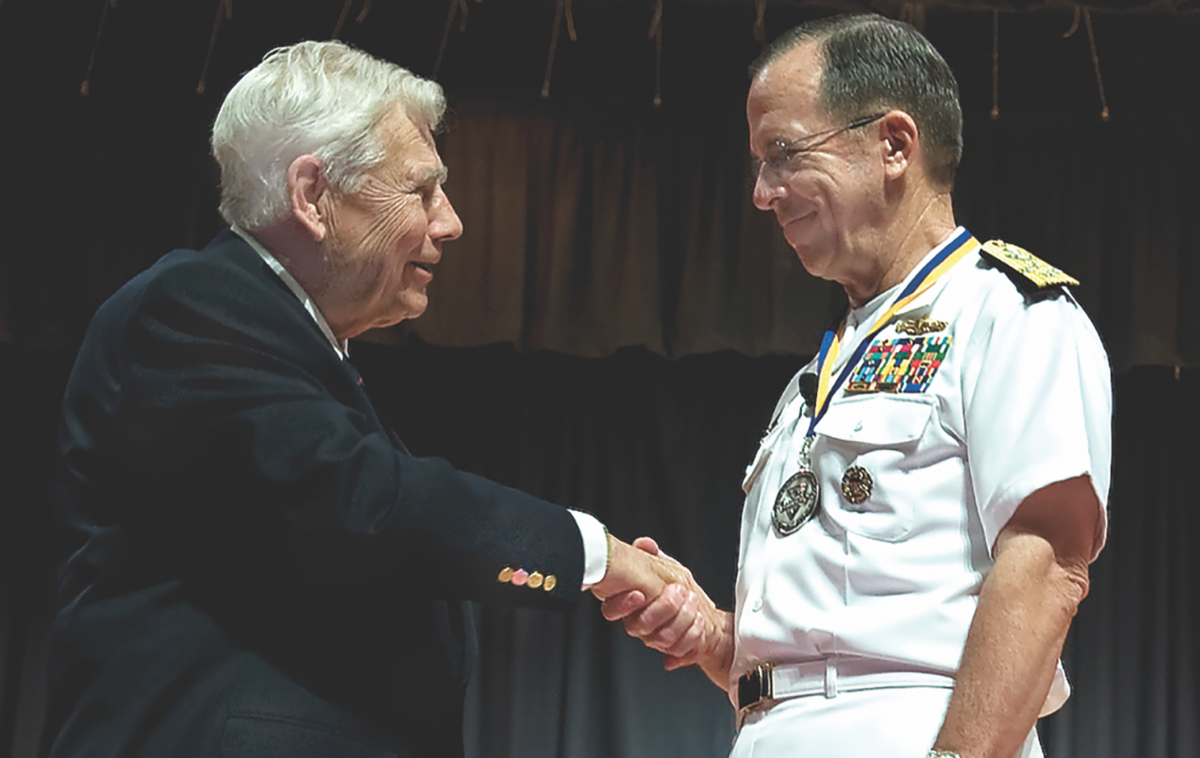 Lieutenant Commander Nelson sat down with retired Navy Captain Wayne Hughes, one of the foremost authorities on naval tactics, to talk about the future of the Navy, fleet tactics, and writing and reading as a naval officer. This is an edited version of their discussion.
Nelson: To start, do you see disconcerting trends in the naval profession today?
Hughes: We have been slow to reflect some changes going on, for example, that missiles can be fired from many kinds of small ships and from the land; that small platforms are harder to track and attack; and the rise in importance of robots of many kinds and descriptions. What I regret right now is the recent warship collisions, because they will distract the CNO [Chief of Naval Operations] from his desire to get the Navy to adapt faster in things such as cyber warfare, artificial intelligence, and unmanned systems.
Nelson: Do you have any initial thoughts on the recent incidents with the USS John S. McCain (DDG-56) and the USS Fitzgerald (DDG-62)?
Hughes: The only thing I'll say is that I had command of a mine sweeper as a junior lieutenant, and after that I had no fears about safe ship handling. There is a lot to be said for early command of a small warship. By giving small ship commands to junior officers the Navy got a chance to sort out who was a good seaman and leader and who was not, well before they commanded a destroyer or other valuable warship. We need more small combatants to train to fight in confined waters where the collisions occur.
Nelson: You've written many articles and essays over the years, but you probably are best known for your book Fleet Tactics [Naval Institute Press, 1986, 1999]. I understand there is a third edition coming out. What are the significant changes in fleet tactics for naval forces since the second edition?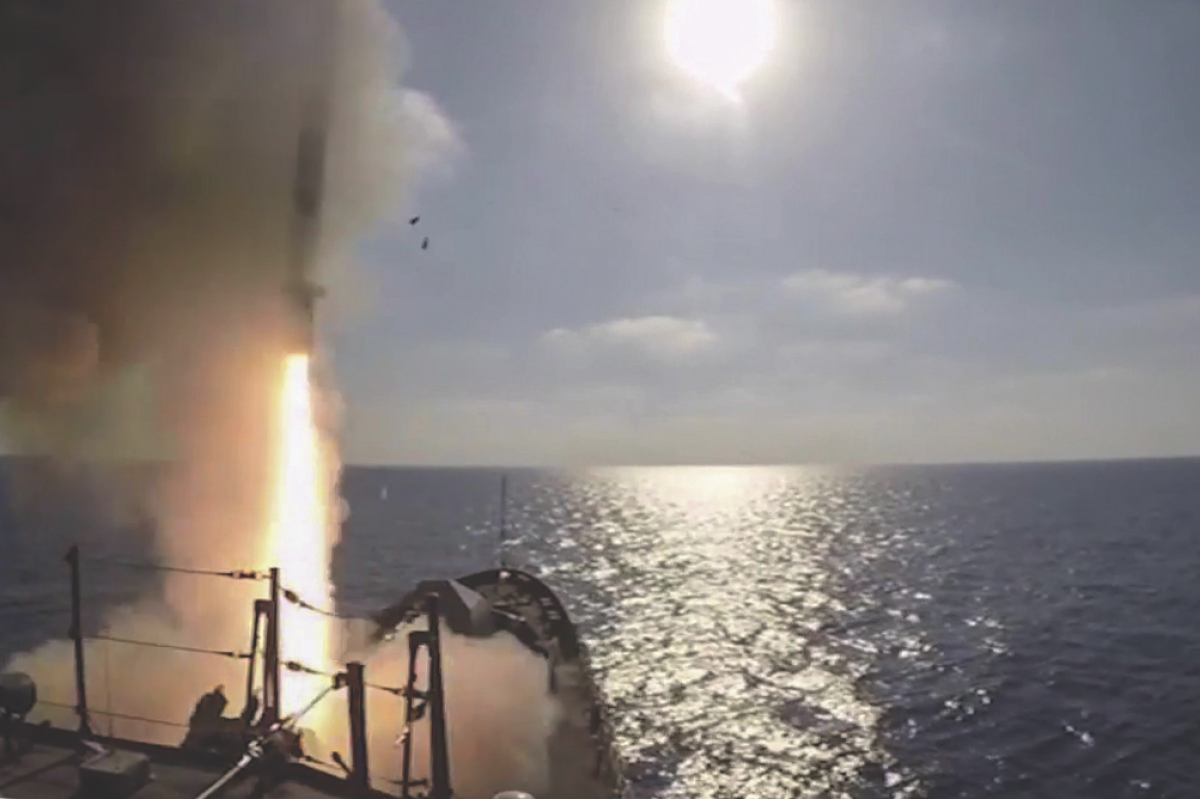 In his July 1981 Proceedings essay "Missile Chess," Captain Hughes discussed the role missile capacity might play in naval combat. Today, he says, longer-range missiles such as this supersonic Russian Caliber cruise missile, promote the value of deception in naval warfare. 
Hughes: The CNO encouraged this revision and he was right: we need to talk more about the growing importance of information warfare. So there will be more in the next edition about information warfare and how it is affecting fleet tactics. I also have added a chapter on the connections between combat tactics and the operational level of war in peacetime and campaign execution in wartime.
It occurred to me that we haven't fought a battle between warships since 1945. All our experience has been vicarious. We've had to study the Arab-Israeli war, the Pakistani-Indian war, and those are not of our doing, so all we can do is interpret what we see. On the other hand, we have conducted vital operations of many kinds over the past 70 years. We have supported operations on the land—of all kinds of intensities. One of the things we can be proud of is, in both high and low intensities, we have never lost a soldier while delivering ground forces around the world. I think that is significant.
Nelson: When is the new edition of Fleet Tactics coming out?
Hughes: Probably this spring. Recently retired Navy Rear Admiral Bob Girrier is now a coauthor, and he has been a big help with the new edition because of his recent fleet experience. We will retitle this edition Fleet Tactics and Naval Operations.
Nelson: Let's imagine a future where everyone has relatively inexpensive naval weapons that range in hundreds if not thousands of miles. What then is the most important thing to consider in a naval war? Scouting? Deception? Counter intelligence, surveillance, and reconnaissance? Something else?
Hughes: That's a cruel question. I think it takes a book to answer. I have thought about it a lot, and I don't see that anything has changed the long-standing key to success, which still is to attack effectively first. Two contemporary things are going on. The first is well recognized: in land/sea interactions, longer range, numerous missiles and scouting systems promote the value of deception.
The second is only now being attended to by our fleet, and that is the high likelihood that battles will be fought in littoral waters and cul-de-sacs such as the Baltic, Arabian Gulf, and South China Sea. This creates more opportunities for offensive operations and surprise attacks at relatively short range, by us as well as the enemy. That's what Vice Admiral Tom Rowden has been doing with distributed lethality and an offensive mind-set. Battles in places like the Aegean and eastern Mediterranean will look more like battles on both sides of a coastline—i.e., the littorals—or where the clutter is: islands, coastal traffic, fjords, fishing boats, all the things that complicate warfare in those regions. Maybe the best way to describe it is sea-land battles that include warships. This complicates the long-standing cornerstone of naval tactics that says "a ship's a fool to fight a fort" and what to do about it today. Nelson is supposed to have said it first, yet he lost and eye and an arm while fighting forts.
Nelson: Let's talk about your 1981 prize-winning Proceedings essay, "Missile Chess: A Parable." What was the crux of your argument in that piece?
Hughes: The main purpose was to show that many kinds of warships could carry different killing capabilities. It also described carriers as being like the queen—a piece with a lot of firepower, but if you lose the queen, you may lose the battle at sea or even the chess game.
In the missile age, which began in 1967 with the sinking of the Israeli destroyer Eilat with the SS-N-2, it has been possible to distribute missiles in many combatants. Thus, a pawn's fighting potential can be promoted by arming it with several missiles. In the game, the number of "missiles" is the number of captures a pawn or piece can make. Another thing "Missile Chess" shows is that once a chess man has expended all his captures or a ship has fired all its missiles, it is no longer a threat.
Nelson: I read that essay and I realized you were writing about distributed lethality in the early 1980s. Is that true?
Hughes: Yes, absolutely. Tom Rowden's father, Bill Rowden, was my classmate. And I think Vice Admiral Rowden has been working hard to implement distributed lethality. "Missile Chess" really was an early example of how missiles complicate chess play or ocean combat for sea control. The essay was republished in 2015 in the Naval Institute Press's Wheel Book on naval tactics.
Nelson: So what happened in the intervening years? You wrote about distributed lethality in the 1980s. Years pass, and it doesn't resurface until recently.
Hughes: I think what happened is when the Soviet Union collapsed we had to find a new role, and that role was projection. We could safely assume—or at least we got away with it—we could project power safely from sea. In that case, we did not have to worry about "missile chess."
Nelson: How would you rewrite that essay today if China, not the Soviet Union, were the red chess pieces?
Hughes: I think the main thing is the complication of a land-to-sea long-range threat. That takes a different approach from playing on a chessboard because a chessboard is nominally the uncluttered surface of the water where the battle is going on. "Missile Chess" may have to be rethought for the new environment.
Also, in the China seas we probably can keep the peace if we demonstrate the ability to deny movement of their trade at sea, and that means taking the offense. We can take the offense with a sea denial strategy. Offense is less expensive and sea denial is easier to do than sea control, because sea control requires you to be ever ready for an attack at a time of the enemy's choosing. We just have to intimidate the Chinese by a sea denial strategy so they can't conduct their trade, and they are a lot more vulnerable to the loss of trade than the Soviet Union ever was. So I'm fascinated by the idea of keeping the peace by showing the Chinese that we can execute a sea denial strategy in their home seas.
Nelson: I enjoy how you often use stories and analogies, and in "Missile Chess" you use a parable to make an argument and a nice epigram to begin the piece. As a prolific writer on military matters, what advice would you give to others who are trying to ensure their ideas reach an audience?
Hughes: You need to start early. There is nothing as important as writing early for publication. I was an ensign when Proceedings published my first essay. It was called "The Speed Characteristics of the Treaty Cruisers." In it I showed that, among the world's navies, it was best to get the most speed that did not require a big investment in the propulsion plant. As a lieutenant, I submitted my command qualification paper, and it was published. It was called "The Split Level Bridge" (May 1962), and it argued that a destroyer's combat information center should be close to the bridge so the commanding officer could move back and forth between them.
Nelson: If you were a carrier strike group commander or a fleet commander, what would you expect from your intelligence officer?
Hughes: I want my intelligence officer really to be an information warfare officer who knows how his information will be used in combat. That puts a big burden on that officer. The quantity of information has become so overwhelming that sorting it so the decision maker can use it in a time-constrained environment is a harder task than gathering it. We are flooded with information, and it is the sorting that is difficult. Computer technology can help, but it still takes an experienced warfare officer who can serve in this capacity who knows what the commander will need to fight and win—to attack effectively first—and gives it to him.
Nelson: You were once the executive assistant to the Under Secretary of the Navy. How was that job? What advice would you give to military aides today?
Hughes: You are referring to Jim Woolsey, who had been a congressional staffer and later was director of the Central Intelligence Agency. This was in the late 1970s. He was brilliant, and he chose me because we had complementary personalities. He tended to be electric, fast moving, and I was sort of a steady hand on the rudder for him. We thought the same way about what the Navy needed, but he was very suspicious of all admirals except Bill Crowe, who was then a rear admiral and who won his confidence immediately. A lot of my time was taken up helping our senior leaders in the Pentagon communicate with him more effectively.
I was disappointed that I never got to write any of his speeches. One of my favorite recollections is that Secretary Woolsey would often close a speech with what he called the three most unreliable statements: The check is in the mail. Yes, I'll still love you in the morning. And I'm from Washington, and I'm here to help you.
Nelson: How did Admiral Crowe, a future Chairman of the Joint Chiefs, win over the Secretary?
Hughes: Admiral Crowe had a certain amount of humility. Jim Woolsey was about to go to the Middle East, and Bill Crowe came into his office before the trip and said, "I'm going to give you the most complicated small problem that you've ever heard." He described a school in Bahrain where the concrete ceiling had fallen in. They had used sand out of Saudi Arabia for the ceiling, and it was so salty that it eroded the steel reinforcements. With many constituencies involved, accountability was going to be hard to determine. Everyone laughed when Crowe pointed out sand for repairs was going to have to be brought in, which reminded us of the old story of carrying coal to Newcastle.
Nelson: If you could choose five books to recommend to any naval professional, what would you pick, and why?
Hughes: I am biased by the selections for the Naval Institute's Classics of Sea Power made by Professor John Hattendorf and me. All of them are important, but one of the best is Military Strategy by Rear Admiral J. C. Wylie. Wylie asserted all successful strategies had one thing in common, which was to make a wise decision about what to control to achieve your objective. That is easy to say, but choosing what to control and sticking with it is the hard part. Years later Wylie wrote an unpublished book in which he illustrated control by showing how the elder Pitt won the Seven Years' War, first, by determining the Royal Navy must deny the sea to the French enemy, and second, by keeping the British economy sound through successful trade.
A personal favorite is Admiral Bradley Fiske's The Navy as a Fighting Machine. Fiske was the U.S. Navy's renaissance man. As a young officer he helped adapt electricity for all kinds of things needed to fight in the battleship era. Later, as a rear admiral, he foresaw the importance of naval aviation and patented an aerial torpedo design before aircraft power plants were strong enough to lift the torpedo. As Secretary of the Navy Josephus Daniels' aide for operations, Fiske worked with Congressman Richman P. Hobson, who had received the Medal of Honor for his actions in the Spanish American War. Together they created legislation establishing the office of Chief of Naval Operations behind the back of the Secretary. Best of all, Fiske was a creative tactician. His book shows in great detail how battleships should defeat enemy battleships in a fleet action.
Anything that John Arquilla has written is worthy. John is currently chairman of our Defense Analysis Department and is famous for anticipating the coming of cyber war. One representative book he coauthored with David Ronfeldt is In Athena's Camp: Preparing for Conflict in the Information Age [RAND, 1997].
A contemporary must-read is the recent book by Eric Dahl, Intelligence and Surprise Attack: Failure and Success from to Pearl Harbor to 9/11 and Beyond [Georgetown University Press, 2013]. Deception and surprise are important parts of information warfare. Dahl emphasizes intelligence and its limitations for both big wars and terrorist activities in irregular warfare.
Although the book is out of print, I think Brian McCue's U-Boats In the Bay of Biscay: An Essay on Operations Analysis [National Defense University Press, 1990] is a classic. After World War II intelligence was declassified in the 1980s, McCue used these files to show quantitatively the advantage of breaking the enemy code by determining how many attack days U-boats achieved in the Battle of the Atlantic during 24 critical months of 1942 through 1944. Roughly speaking, when the Germans could read reports of allied convoy routing, the number of attacks increased by about 30 percent. When the Allies could read Admiral Karl D?nitz's orders to his boats, convoy rerouting reduced the attacks by about 25 percent. When both were reading the others' communications, they canceled each other, and the attacks were about the same as if nobody had intelligence. McCue shows there are limits to the value of cryptanalysis even when it is effective.
In planning a campaign against China or Russia it would be wise for us to make plans two ways: first, with the expectation that security holds as expected, and second, assuming the enemy has broken our code and is reading our mail. In the second case, the operation may still be possible, but we surely will want to use a lot of deception and communicate less with hard-to-intercept commands.
I'd like to add one more book. My list does not include the real-life experience of an operational and tactical commander in the missile era. Admiral Sandy Woodward's One Hundred Days: The Memoirs of the Falkland Battle Group Commander [Bluejacket Books, Naval Institute Press, 1997] nicely fills that niche. Woodward describes the relentless pressure on a commander and the inevitable surprises that accompany modern battles at sea. An extract that covers the extraordinary circumstances surrounding the sinking of the Atlantic Conveyor by two Exocet missiles also can be found in the Naval Institute Press Wheel Book on naval tactics.
---
Captain Hughes is a professor of practice at the Naval Postgraduate School. On active duty he commanded two ships and a large training command and was aide to the Under Secretary of the Navy. At the Naval Postgraduate School for 33 years, he has served in the Chair of Applied Systems Analysis, as Chair of Tactical Analysis, and as Dean of the Graduate School of Operational and Information Sciences. Captain Hughes is author of Fleet Tactics and Coastal Combat (2000), Fleet Tactics: Theory and Practice (1986), and Military Modeling (1984) and a coauthor of A Concise Theory of Combat (1997).
Lieutenant Commander Nelson is a naval officer stationed at the Pacific Fleet Headquarters in Pearl Harbor, Hawaii. He is a graduate of the U.S. Naval War College and the Navy's Maritime Advanced Warfighting School in Newport, RI.