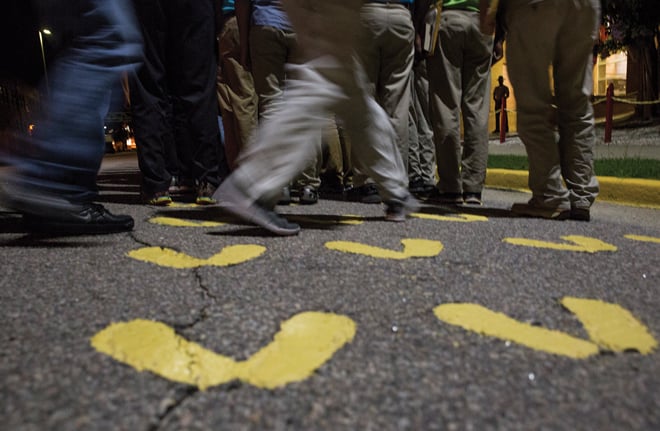 My military career has been defined by many examples of both positive and negative leadership that have all left indelible impressions. Though today I am an ensign in the Coast Guard, I began my service as a Marine recruit 15 years ago at Parris Island, South Carolina, stepping off a bus from Beaufort County Airport and onto those infamous yellow footprints, so neatly positioned in close-order interval, with 30 or so other naïve young souls about to cross the Rubicon. As we made our way into the looming recruit receiving building we passed under the large metal sign emblazoned with the words that would serve as our first greeting to this place: "Through these portals pass prospects for America's finest fighting force, United States Marines." Those words still make me pensive.
One of our first experiences there was meeting our drill instructors, the men who would become the masters of our collective universe for the next several weeks and, for many of us, our first interactions with leaders instead of managers. Those drill instructors epitomized the essence of leadership: strong, intrepid, and undeterred. They were crisp, clean, and stoic, and they marched everywhere they went with the precise timing of a cesium clock. They were hell-bent on instilling courage over fear and the importance of teamwork, unity, and esprit de corps. And rightfully so, since our very lives would someday depend on the teams on which we would find ourselves. I viewed these men with the same awe and wonder once reserved for the imaginary heroes and comic book stars of my youth. They seemed superhuman, unstoppable juggernauts who—amazingly—believed that we could become the same.
The second day, our platoon's senior drill instructor made his way across the immaculate squad bay, flanked by two individuals without a loose thread or unshined boot between them. They would come to be known to us as our "heavy hats," the drill instructors who would dole out the majority of our training and discipline. The senior drill instructor belted out words that ring in my ears as clearly now as they did on that hot South Carolina afternoon: "We will give every effort to train you, and will not give up on you, even after many of you have given up on yourselves." This has become my leadership touchstone: Give every fraction of yourself to the team and its cause, and leave the people you led stronger, more capable, and more prepared to face whatever challenges lie ahead.
Emerging from the chrysalis of our training, we came to discover that our new lives had just begun to evolve, as had our experiences of leadership. As a Marine, I found myself thrust rapidly, even haphazardly, into myriad teams and units conducting many years of asymmetrical warfare across two countries and two wars. All this movement highlighted voids in leadership positions and the various individuals who would attempt to fill them. Each was handed a heavy burden of responsibility in the most stressful of environments, and where some excelled, others—their characters laid bare—failed to prove themselves ready for or capable of effectively leading.
Those uneasy and ineffective leaders mocked and belittled their charges and showed recklessness in the face of known danger, with wanton disregard for their own lives and those of the service members whom they were supposed to lead. Hypocrisy and a lack of personal responsibility revealed so-called leaders of little integrity, low character, and sometimes limited intellect. These men and women created low morale, distrust, and frustration, and sapped our confidence in the mission assigned.
The people who excelled showed themselves to be thoughtful—intellectually, strategically, and personally. They dedicated time and attention to learning every detail of every mission or task assigned to the unit. This instilled confidence, and even a sense of ease in uneasy situations. They offered the same dedication to learning as much as possible about each individual service member, to gain insight into our individual strengths and weaknesses. Learning how to assuage the fears of subordinates is a little-known or talked-about function of an effective leader. One particular sergeant said to me, "Leading is a fine line, and if you're not constantly toeing that line of getting yourself in trouble for your people, then you're not doing your job." Those words resonated with me that night in the middle of the desert, and I will carry them with me for the rest of my career.
Leadership is not about the leader; it is about those being led. Especially in the military, this principle must stand first and foremost at the center of all that comes after. Leaders must be ready to cope with the adversities that might threaten the team. Leaders are the voice of the people under their charge.
Leaders are experienced members of teams, not autonomous thinking agents who dictate or delegate exclusively. They respect and incorporate ideas while keeping the overall spirit and direction of the mission in focus. They foster a culture of positivity and a lust for challenge and mission accomplishment. Even when mission goals seem abstract or difficult to grasp, effective leaders inspire a feeling of motivation, drive, and a desire to follow.
Different vantage points make leadership both appear and feel different. My flummoxed sergeant at a watch post in the Iraqi desert one night looked very different to me when I was a young Marine than he does now that I am an officer. Having earned a commission in a different service, I have the rare privilege of seeing things from both sides of the fence, as well as to view both those fences from the yard across the street. In the lower ranks a sense of ease exists thanks to the ability to abdicate decisions to higher-ups. Finding yourself as the one shouldering the accountability can be a sobering experience. As the adage goes, heavy is the head that wears the crown. In times of extreme peril, such as combat, the responsibility can be terrifying, a terror that grows in direct proportion to the number of people under your charge.
At the beginning of the American Civil War, President Abraham Lincoln wrote to Major General Ambrose Burnside, "No General yet found can handle the arithmetic, but the end of the war shall be at hand before he can be discovered."1 The President sought a leader strong enough to continue leading even in the face of so much carnage—"the arithmetic."
This truth is why the military expends so much time and so many resources to try to build successful leaders. But can a leader be built? The ancient Greeks are said to have believed that a hooked nose was a sure sign of a strong leader. The "great man" theory postulates that some people have inherited traits and qualities that make them better suited to leadership. These and various other theories once dominated thoughts on leadership, all having in common the assumption that desirable leadership traits are intrinsic and absolute—a persistent myth that pervades many schools of thought on leadership today. Many influential and iconic leaders throughout history seem to confirm it. Successful ones often demonstrate a great deal of charisma, creating the appearance that leadership is much more about personality than it is a personal and intellectual dedication to learning a skill. While charisma is indeed a useful quality in a leader, personality can only accomplish so much. Renowned leadership counselor George Ambler notes that the myth of inborn traits is very powerful, writing, "Look at the life story of a visionary leader and it is unlikely you will find much in the way of specific training for leadership. Thus far, most people who have succeeded as visionary leaders seem to inherently possess those qualities."2
Fortunately for those of us with straight noses, the preponderance of evidence suggests leadership traits derive much more from nurture than nature. Many of those given the responsibility of leading because of their perceived traits have fallen far short of the task, and many whose apparent readiness did not quite fit the mold have ended up being extraordinary leaders. This birthed many new schools of thought, most based in behavioral theory.3 Though numerous and varied, all at their core push the paradigm that leadership consists of a set of skills that can be learned by training, practice, and experience over time and that people can learn to be leaders in the same way they acquire and build any other skill. Most modern leadership training finds its genesis in this belief. It has been quite successful in beginning a leadership training revolution within the U.S. military.
Some people do have a higher aptitude for the specific skills that contribute significantly to a leader's success—intelligence, for example. Good leaders need enough intelligence to analyze situations effectively and choose the proper course of action among conflicting options. More important than general intellect, though, is high social intelligence. Dr. Ronald Riggio, whose work has been widely influential in the military over the past decade, argues that social intelligence in particular plays a major role in successful leadership. "Good leaders almost always have a solid understanding of social norms, processes, and situations," he wrote.4 Nearly every successful leader likewise possesses strong communication and interpersonal skills, though this does not mean that introverts, or even the socially awkward, cannot become great leaders. (More than likely, however, such people will find the path more challenging to negotiate.) All of this can be taught, or at least improved, through education and training.
The military and leadership are linked more closely in fact and perception than almost any other human activities, because of the almost constant presence of matters of life and death.5 My own experiences are a vivid reflection of those of most military members, whose lives have been molded by those who have led them throughout their careers. As the military moves forward and faces the challenges presented by a constantly shifting landscape of world situations, strong and adaptable leaders will become all the more crucial. We must focus on the critical importance of teaching and nurturing them. Those who are leaders and those who may still become them must embrace the effort and dedication it takes to become great.
---

1. William O. Stoddard, Inside Lincoln's White House in War Times (New York: Charles L. Webster, 1890), 179.
2. "Leadership Theories," www.leadership-central.com/leadership-theories.html#axzz4u6kPv6KP.
3. George Ambler, "Leaders Are Not Born, They're Made. Leadership Develops," www.georgeambler.com/leaders-are-not-born-theyre-made-leadership-develops/.
4. Ronald E Riggio, "Are You a Transformational Leader?" www.psychologytoday.com/blog/cutting-edge-leadership/200903/are-you-transformational-leader.Editor's Note: This essay won third prize in the 2017 Leadership Essay Contest, sponsored with Dr. J. Phillip London and CACI International.
Ensign Sargent is stationed at the Coast Guard's Command, Control, and Communications Engineering Center in Portsmouth, Virginia. As a Marine, he served in Okinawa, Japan, and deployed twice to Iraq in support of Operation Iraqi Freedom I and II. After leaving the Marine Corps, he enlisted in the Coast Guard and was stationed in Chatham, Massachusetts; Ketchikan, Alaska; Yorktown, Virginia; and Boston, Massachusetts. In