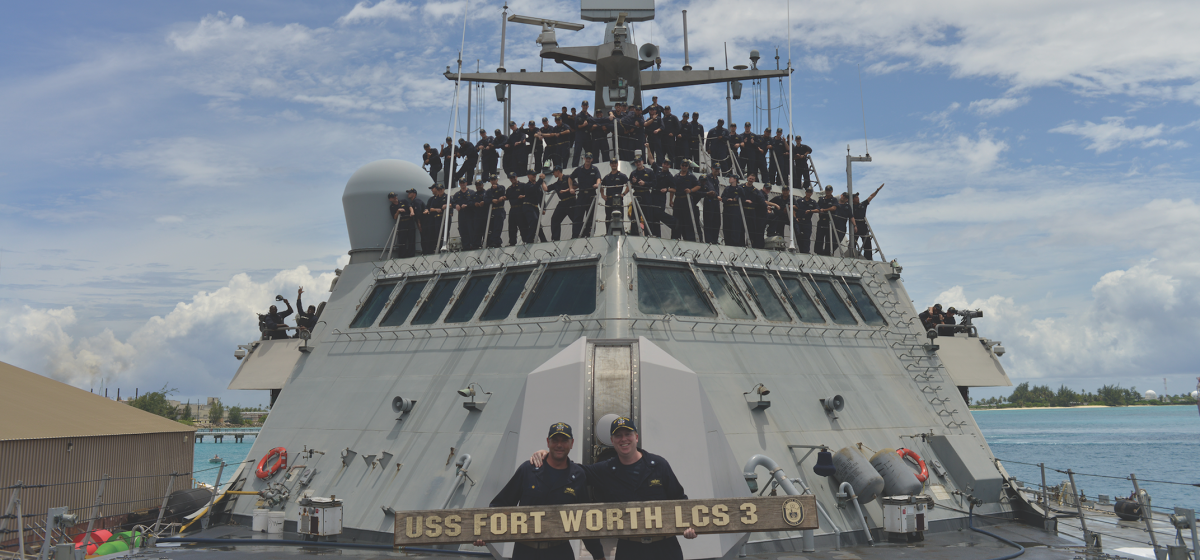 When I received orders as the commanding officer of pre-commissioning unit Milwaukee (LCS-5) Crew 111, our littoral combat ship (LCS) was the Porsche of warships, the Navy's newest, fastest, and most maneuverable. She was powered by two Rolls Royce jet engines and two Colt-Pielstick diesel engines, which provided more than 100,000 horsepower, rocketing the sleek 389-foot hull through the water at 50 miles per hour. With 8,900 sensors, increased automation, and a new manning concept, she required a crew of only 53 sailors, just one-third the size of previous warships of comparable size and complexity. From a sheer efficiency standpoint, I thought state-of-the-art technology plus innovative manning concepts would equal smooth sailing, correct?
Not so fast. Never before have I worked so hard as I did leading a brand-new crew on a brand-new warship to one of the best winning streaks in our new class of warship's young history. Cutting-edge technology is only as good as your weakest teammate. At the end of the day, even with thousands of sensors and increased automation, there was no replacing the human component in preparing our ship for success. 
As captain of this "start-up," charged with operating a high-performance warship and a minimally manned crew, I focused on three things above everything else: Vision, Values, and Culture. 
VISION
As with any new program, the Navy often had to make course corrections to get our young program on track, so much so we thought that LCS stood for "let's change something." Change is often difficult for people to handle, and without leadership vision, it is easy for a crew to become rudderless and lose focus. 
I went to great lengths to create a vision for the Iron Warriors' future, and at every opportunity I described in detail what victory looked like for us as we tackled inspections, training exercises, and mission accomplishment. While we were sensitive to the ever-changing and controversial nature of our class of warship, we were not paralyzed by it: having a clear vision allowed us to transcend challenges and made victories sweeter.
I challenged the officers to think well about the future, translate those ideas into purposeful action to shape the future, and evaluate the value of those actions. I charged them to understand the second and tertiary effects of their decisions. I was not a micromanager: I simply stated the objective to my team and challenged them to get after it. Without fail, my team exceeded my expectations, every time. 
Mission Statement
Our mission was to deliver a lethal, combat-ready ship, prepared to deploy anywhere, anytime. With a small crew and a complex warship, time was our most precious resource, and we could not afford to waste it on anything extraneous. Having this mission firmly engraved in our on-board culture gave us great flexibility to pivot when our orders changed.
VALUES
To achieve our mission, we needed to be strong and develop a deep level of trust unrivalled in the fleet. We invested a lot of time building strength and trust, our core values, and viewed them holistically.
Strong in Body
Sailing on an LCS is an endurance sport. Long hours, challenging work environments, and fewer shipmates meant we had to be in peak physical condition. So we got after it in the gym, taking our bodies to the limits. We even tackled the Navy SEALs' obstacle course. Our fitness directly impacted our operational effectiveness, as we were able to go that extra mile fighting fires, fixing gear, shooting guns, and trouble-shooting.
Strong in Mind
Doing more with less is not just a physical endeavor; it is an intellectual challenge. Our crew was hyper-intelligent, with far-reaching ideas. Seeking to leverage their intelligence, I became their advocate and focused on securing the resources they needed to make our vision a reality.
Strong in Soul 
Our ship had a good soul; it was something we could all feel. As such, we were honored to put our heart and souls into sharing our LCS experience with young people in poverty-stricken communities, both here and abroad, with the hopes of encouraging students to pursue degrees in science, technology, engineering and math (STEM) fields.
Trust
When crew members develop deep bonds, they will bleed rather than let down one of their shipmates. As their captain, I encouraged strong bonds across all levels for two reasons: I could not be in all places at all times, and the crew members would do almost anything to maintain each other's trust. Regardless of how jam-packed the schedule was, we allocated time and resources for activities that fostered building relationships outside of work, taking advantage of our homeport of San Diego, often camping on the beach and exploring the city as a crew.
CULTURE
Because we were building our team from the ground up, we needed to create a culture that reflected our values and supported mission accomplishment. Winning was important to us, and we were willing to work hard for it. I wanted us to be happy and humble.
Hard Working
When faced with the challenge of serving on a small-crew ship, some make the mistake of falling into the "woe is me" mindset, which leads to a victim mentality, low morale, and even lower performance. I never apologized for the amount of work we had to do, and I always reminded my team we were lucky to wear USN on our chests and sail our impressive ship. That said, I was sensitive to the demands placed on the crew members; we all recognized rest is a key factor in human performance.
As pre-commissioning crew, we established our work ethic from the very beginning as we gave maximum effort to master our seamanship and warfighting skills through rigorous training and certifications. We learned as much as we could from our more experienced sister crews. After a slight delay in the production of our ship, the USS Milwaukee (LCS-5), and having earned the trust and the confidence of the commodore, we were put in the operational rotation. We completed a demanding certification cycle on USS Freedom (LCS-1) in San Diego before earning the right to deploy to Singapore to take command and crew the USS Fort Worth (LCS-3). Never before have I seen so few do so much as my team did on the Fort Worth when we brought her back to life and sailed her home from deployment. And amazingly, we did it all with smiles on our faces.
Happy
Never underestimate how important humor is in mission accomplishment. Even in the tensest of circumstances, the crew members knew they had the freedom to have some fun. And once they started playing practical jokes on me, I knew we had achieved our objective of creating a happy culture.
Humble
Pride comes before the fall, and nothing can humble you like a warship. While winning was important to us, I was quick to remind my team that our work spoke for itself, and it was counter-productive and pointless to be boastful.
Winning
I wanted to win, and I wanted a team of winners. A hardworking, happy, and humble crew meant nothing if we did not have the wins to match. So we had a simple rule: celebrate the victories and learn from the defeats. I chose to celebrate each victory with a team huddle, highlighting the crew win in terms of how it positioned us among our peers and moved us closer to mission accomplishment. I presented a game ball to an "MVP" for that particular inspection, drill, or mission. Although these game balls had no value in terms of the sailors' professional advancement, they became cherished possessions. Moreover, we never shied away from losses, instead using them to give life to our motto, "Just as iron sharpens iron, so too does one warrior sharpen another."
A Final Thought 
Regardless of our military or business backgrounds, we are all in the business of human performance and are responsible for providing our teams with a clear vision of the future, establishing our core values, and building a culture that reflects our values and supports mission accomplishment.
---
Commander Brasseur commanded both the USS Freedom (LCS-1) and USS Fort Worth (LCS-3). He has more than 20 years' experience in the U.S. Navy, including commanding the USS Whirlwind (PC-11) in the Arabian Gulf in support of Operation Iraqi Freedom. Currently he serves as the N5 for Naval Surface and Mine Warfighting Development Center Sea Combat Division.