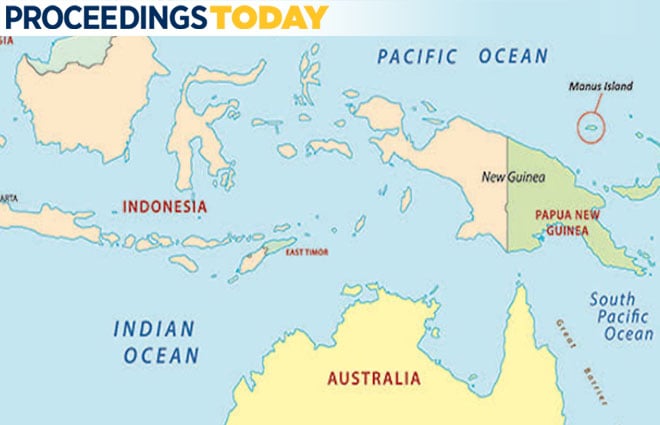 In November, U.S. Vice President Mike Pence announced at an Asia-Pacific Economic Cooperation event in Papua New Guinea (PNG) that the United States would partner with the Oceania state and Australia to develop a joint naval base on PNG's Manus Island. His remarks came amid talk of China extending its Belt and Road Initiative into the southern Pacific, including investing in and developing ports in PNG. Pence's announcement sparked much activity among the geopolitical commentariat, who watch closely every move by Beijing in what many consider "debt-trap diplomacy."
What has not been reported or written on as much, however, is the strategic military dimension of the Manus deal that could expand the island's Lombrum Naval Base currently used by the PNG Defence Force.  
Defending the Sea Lines of Communication
A former top Australian defense official, the late Arthur Tange, once said that strategy cannot be discussed without reference to geography.1 A glance at the map makes evident the military value of Manus, and this is why Australia is apprehensive about allowing China to develop and potentially use a port there.
Manus's commanding position north of mainland Papua New Guinea would allow China to regulate sea lines of communication (SLOCs) heading toward the eastern Australian seaboard and New Zealand. The 2,100-square-kilometer island also flanks the approaches to maritime east Asia. Indeed, prominent naval thinker Milan Vego maintains that "bases flanking friendly or enemy shipping routes . . . provide great advantages in both offense and defense in wartime."2
In addition, should Australia and the United States also acquire basing rights to Manus's Momote airfield as part of the joint deal, air forces of both nations could significantly assist their maritime counterparts in securing vital SLOCs, while also countering any Chinese People's Liberation Army (PLA) forces in the region.
Positioning to Provide Options
A U.S-Australia joint naval base on Manus is a strategic chess move to enable an additional line of operations for friendly forces. Vego maintains that "the possession of large numbers of bases offers significant advantages for deployment, maneuver, and redeployment of one's fleet forces. it is invariably a bad thing to rely on the use of a single major base in wartime, because then one's own forces use the same line of operation for both attack and retreat."3
In other words, having more naval bases yields greater options and strategic depth. This is especially important when considering the fact that U.S. forces in Japan—the hub of U.S. maritime power in the Asia-Pacific—are well within the PLA's striking reach. Guam is the only major U.S. naval facility in the region outside the first island chain, but it is still targetable by certain PLA long-range weapons systems and bombers.
Positioning U.S. naval and air forces, even if on a rotational basis, on PNG's Manus Island would force China to account for threats in the western Pacific that are too distant to reach from the mainland.
Geopolitical commentator Robert Kaplan contends, "Never provide your adversary with only a few problems to solve . . . because if you do, he'll solve them."4 In this context, this is especially the case. Indeed, another observer notes that "the Lombrum approach is simply applying to China what the PLA has done for itself in the South China Sea—it increases reach, creates more operational choices and complicates an adversary's planning."5 The centrality of Manus is also often appreciated in a "strategic triangle that spans from Guam west to the Philippines and south the northern Australian coast."6 This positional military advantage could be leveraged to support operations in the western Pacific.
Manus enables multiple lines of operations due to its geography. According to Vego, a "good naval base should provide more than one line of operations," because a "a base situated on an island or peninsula fronting the open sea usually offers multiple lines of operations."7 This describes Manus exactly, as one can see that the northern and northwestern approaches to the island, toward which friendly forces are likely to deploy, are largely open ocean and allow for greater freedom of action.
All that said, Manus is nearly 1,000 km farther than Guam to probable deployment areas in the East and South China Seas. In fact, according to longstanding principles of operational art, these same friendly forces would be weakened in the event of an attack on Manus, given that distance complicates attempts to provide support.
Manus Is More Secure Than Guam
Nevertheless, Manus is arguably safer than Guam from enemy attacks. Guam is some 3,000 km from China, but long-range weapons enable the PLA to hold the U.S. island territory at risk. For instance, the PLA Rocket Force's Dong Feng-26 intermediate-range ballistic missile, aptly nicknamed "Guam Express," can hit targets up to 4,000 km away.8 Furthermore, Guam is well within striking reach of the upgraded cruise missile-armed H-6K bomber that sports a combat radius of about 3,500 km.9
Manus is more than 4,000 km from China. This increases its security from conventional Chinese strikes, save for the possibility of cruise-missile strikes from Chinese submarines. And should Beijing establish itself in other PNG ports, any Chinese forces operating from them would pose a threat to the joint Manus facility. However, "a balance must be found between selecting a base that is close to the prospective theater of operations and one that is farther away but provides more security from enemy attack."10
Going Forward
The joint Manus naval base initiative will be a key item for Asia-Pacific defense analysts to watch. Manus served as a major Allied fleet base during World War II and was the springboard for the campaign to retake the Philippines from the Japanese. In late 1944, the island could host more than 260 warships, and its facilities rivaled Pearl Harbor's.11
At this stage, it is inconceivable that the dilapidated Lombrum Naval Base will develop into anything close to its World War II predecessor. A more likely prognosis is that it will become a "minor" base, "built to provide shelter for only a few ships . . . with limited capacity for ship repairs and other support functions."12 Many factors, including local sensitivities and U.S. and Australian budgetary concerns, will affect development. Seismic shocks in regional security could, however, override these considerations, which is why the joint agreement is a smart move in the ongoing chess game between China and the United States in the western Pacific.