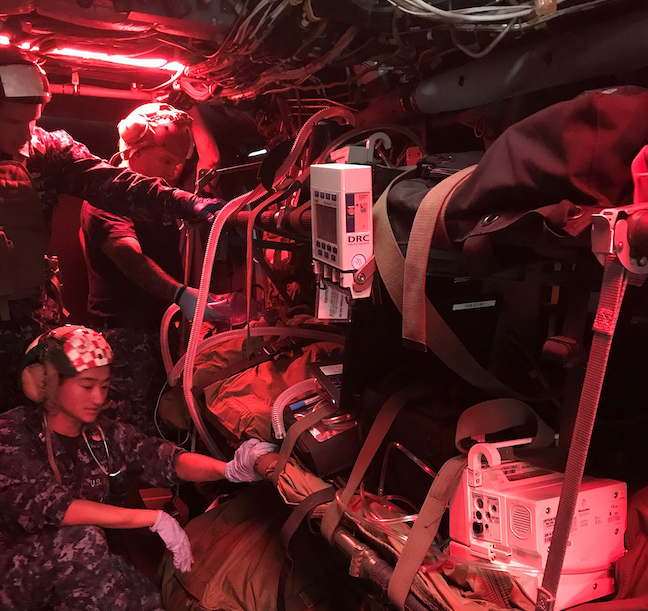 With up-to-date intensive curriculum in an immersive environment, simulations can improve medical readiness and patient outcomes.(Kit Lavell, Strategic Operations)
Survival rates from combat wounds in Afghanistan and Iraq over the past 17 years exceed those of all previous wars. The reasons are multiple, but a major contributor is rapid resuscitation and movement to surgical care in the "Golden Hour," the critical period after traumatic injury when medical intervention is most likely to be successful. In these two land-based conflicts, however, the military was able to use helicopters in a semipermissive air environment. Conditions in the next conflict may be less favorable. Contested blue water, heavily defended littoral spaces, rugged landscapes without air superiority, and long distances to life-saving care are to be expected. Is Navy Medicine prepared?
Naval warfare in today's environment likely will be more reflective of the mechanisms of injury of World War II than of the improvised explosive devices of Iraq and Afghanistan. Antiship cruise missiles, torpedoes, and mines will create explosions and fires in closed ship compartments. Results will be multiple, complex, polytrauma casualties including blast fractures, near drowning, severe hypothermia, and burns. Navy medical units and teams require immediate responsiveness to care for casualties presenting with this now unfamiliar constellation of life-threatening injuries.  
In the United States, Navy Medicine does not routinely care for trauma victims in emergency situations because significantly injured military personnel are transported directly to civilian trauma centers. Medical team training that focuses on care in austere environments, especially in disaggregated naval operations facing the tyranny of time and distance, is required to ensure the highest possible casualty survival rate. Hyper-realistic surgical unit/team-focused training is a significant advance in meeting this requirement.
Hyper-realistic surgical simulations follow the same five principles as the ground and air Combat Training Centers—realistic setting, allowed to fail, credible opponent, objective assessment, and chance to remediate. (See Table 1 on page 56.) Its techniques are based on the current and best medical evidence and practices, with a curriculum that can be quickly updated as casualty information and guidelines are shared, to ensure optimal treatment.   
Realistic Cases
The highest goal of any simulated training is to ensure the environment and situation are as close to reality as possible, so that "the first combat mission should be no worse than the last simulation."1 To that end, Hyper-realistic training provides "such a high degree of fidelity in the replication of battlefield conditions in a training environment that participants so willingly suspend disbelief that they become totally immersed and eventually measurably stress inoculated."2 Hyper-realistic medical training simulations use state-of-the-art special effects, role players, and construction techniques, including advanced medical manikins and the Human Worn Surgical Simulator known as the "Cut Suit." 
Worn by a human actor, the Cut Suit allows first responders and physicians to practice performing surgical and emergency procedures on patients with simulated traumatic, life-threatening injuries. The suit features realistic anatomy and can replicate pathologies and trauma injuries, along with lifelike hemorrhaging of blood vessels, that require life-saving surgery. Realistic complex trauma injuries can be replicated for multiple scenarios, allowing the skill of the surgeon and the trauma unit to be effectively and objectively evaluated.
The training is stress provoking, as proven by laboratory testing for changes in participants' salivary cortisol and alpha amylase levels. Each day, the curriculum scenarios become increasingly more complex, difficult, and critical, focusing on team concepts and culminating in a multivictim seriously injured mass casualty exercise. 
In addition to this habituation to stress, participation improves unit performance metrics.3 Objective measures of surgical training proficiency include time to recognize the problem, time to resuscitate, number of critical errors, blood loss, procedural accuracy, and team-based skills evaluated by subject-matter expert observers using standardized criteria. With Hyper-realistic surgical simulations, immediate remediation can occur. Post-
scenario video feedback and expert critiques are provided to participants, along with individual questionnaires and written tests. All team members, irrespective of professional training and rank, take the same written tests.
Realistic Settings 
Professional film studio techniques also create realistic settings, such as shipboard surgical platforms, a forward resuscitative surgical system, or an Army forward surgical team operating environment, and an actual nonflyable MV-22 Osprey fuselage or other rotary platform provides en route care scenarios. Today, Navy surgical teams focus on operating from aircraft carriers or casualty receiving and treatment ships, such as amphibious assault ships, but they must be able to operate effectively in any location. For example, disaggregated naval operations may require operating from the Spearhead-class expeditionary fast transport or land-based mobile platforms, including tent facilities. In the Asia-Pacific theater, the island hopping continuum of care concept could involve multiple ships or even atolls connected by a series of multiple transports, such as small boats, helicopters, or dedicated Air Force fixed-wing assets.  
Emphasis on Team
Currently, Navy Medicine pulls health-care unit/team members from hospital settings based on their specialty health codes and assigns them to a unit. It may send them to forward locations with training focused on their individual areas of expertise and operational matters (such as personal weapons handling and communication techniques) but with no unit/team training. Newly constituted multidisciplinary teams (surgeon, anesthetist, operating room nurse, surgical technician, etc.), however, must function as a unit at the highest capacity upon the first patient contact. 
The assumption is that the individual providers will quickly adapt and gain warfighting trauma knowledge or that critical information will be passed along through a poorly defined lessons-learned process. Unfortunately, health-care learning in a time-sensitive, high-stress environment often comes with increased patient morbidity and mortality, especially during initial hostilities.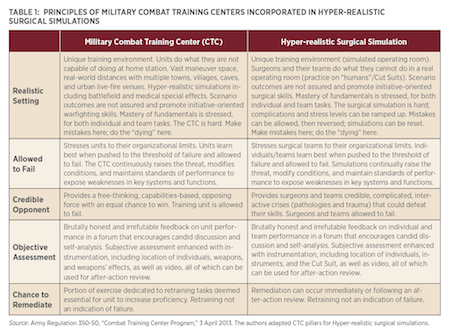 Hyper-realistic team-focused training can help close the training gap, especially in short-notice situations. Based on a multidisciplinary process-improvement initiative called Shipboard Surgical Trauma Training (S2T2) that trains fleet surgical teams in operational environments, the curriculum is designed to evaluate and improve all aspects of team-based skillsets across the continuum of care, from point of injury through in-theater resuscitative, surgical intervention, and en route care to follow-on facilities.
Team member communication also is evaluated in Hyper-realistic training. Poor team communication and systems shortfalls can lead to patient harm. Engagement by all health-care team members regardless of rank or specialty is essential. Everyone is obligated to voice concerns when witnessing deviation from established procedures or opportunities to ensure best possible patient outcomes.4
Hyper-realistic training uses the Team Strategies and Tools to Enhance Performance and Patient Safety (Team STEPPS). Originating in aviation safety communication techniques, TeamSTEPPS is aimed at optimizing patient outcomes by improving communication and teamwork skills among health-care professionals.5 It is based on the key principles of team structure: communication, leadership, situation monitoring, and mutual support.   
Hyper-realistic surgical team training reinforces Team STEPPS principles as surgical units are required to solve increasingly complex patient care scenarios. Team training efficacy can be correlated with patient outcome, team performance, long-term unit cohesion, leadership, and resiliency. Research suggests the use and development of novel intensive immersive simulation techniques can improve the management of complex combat trauma victims and team-based decision-making processes to reduce errors and maximize patient survival.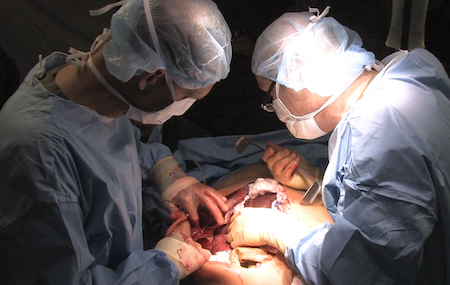 Combined with state-of-the-art special effects, role players, and construction techniques, the "Cut Suit" provides surgical teams a trauma situation as close to reality as possible. (Kit Lavell, Strategic Operations)
The Way Ahead
Because the majority of U.S. military hospitals are not designated trauma receiving hospitals, there are few opportunities for surgical teams to care for significantly injured patients. Civilian centers are not exposed to combat trauma or faced with the limited assets of combat environments, and thus are not realistically able to train units to a combat paradigm. And sending visiting civilian trauma-experienced surgeons to combat receiving hospitals can benefit the team in place at the time, but their instructed wisdom may not be conveyed to replacement units. Their arrival weeks after initiation of combat hostilities also will not benefit the initial casualties. 
Hyper-realistic team training can be a critical just-in-time or sustainment training that can be completed in five days for surgical teams, enabling rapid deployment into combat theaters. With realistic, up-to-date intensive curriculum in a realistic immersive environment, it can improve medical readiness and unit performance. Stress-inducing scenarios can identify opportunities for improvement in core competencies while establishing effective unit performance to improve patient outcomes. 
Future disaggregated naval combat operations will face the tyranny of time and distance, and Navy Medicine surgical units will require exceptional team-focused skills. Hyper-realistic training can help ensure the highest possible survival rate for trauma patients, especially in deployed austere settings. 
---
1. Military Combat Training Centers, U.S. Army Combat Training Center Directorate. The quote often is attributed to World War II Army General Paul Francis Gorman.
2. As defined by Strategic Operations, Inc., San Diego, CA.
3. A. J. LaPorta, J. McKee, and T. Hoang, et al., "Stress inoculation: Preparing Outside the Box in Surgical Resuscitation and Education," Current Trauma Reports 3 (2017): 135–43.
4. RADM Bruce Gillingham, LT Joshua Corbridge, and CAPT Howard Warner, USN, and CAPT Curtis Shaub and CDR Dick Hoffman, USN (Ret.), "Fleet Practices Are Driving Better Health Care," U.S. Naval Institute Proceedings 142, no. 10 (October 2016): 42–47.  
5. Martin A. Makary and Michael Daniel, "Medical Error—The Third Leading Cause of Death in the U.S.," The BMJ, 2016;353:i2139 (3 May 2016); and TeamStepps/Agency for Healthcare Research & Quality, resource page.
---
Captain Malone previously served as commanding officer, Medical Treatment Facility, USNS Mercy (T-AH-19). He recently retired as head of the Clinical Investigations Department at the Naval Medical Center San Diego and research program manager for Navy Medicine West Region. 
Captain Hoang  is a board certified general surgeon with combat trauma experience as a battalion surgeon,  surgical division head, and Fleet Surgical Team One Detachment officer in charge. Currently he is director, Medical Readiness Division, Naval Surface Forces, U.S. Pacific Fleet. 
Captain Dukovich previously served as commanding officer, Naval Health Research Center and Navy Medical Expeditionary Training Center, Camp Pendleton, CA. Currently, he is the scientific director, Clinical Investigations Department, Naval Medical Center San Diego.
Mr. Lavell served in the Navy from 1967 to 1975 and flew 243 combat missions in Vietnam. He is the author of Flying Black Ponies: The Navy's Close Air Support Squadron in Vietnam (Naval Institute Press, 2014) along with other military and technology publications. He currently is executive vice president of Strategic Operations in San Diego.