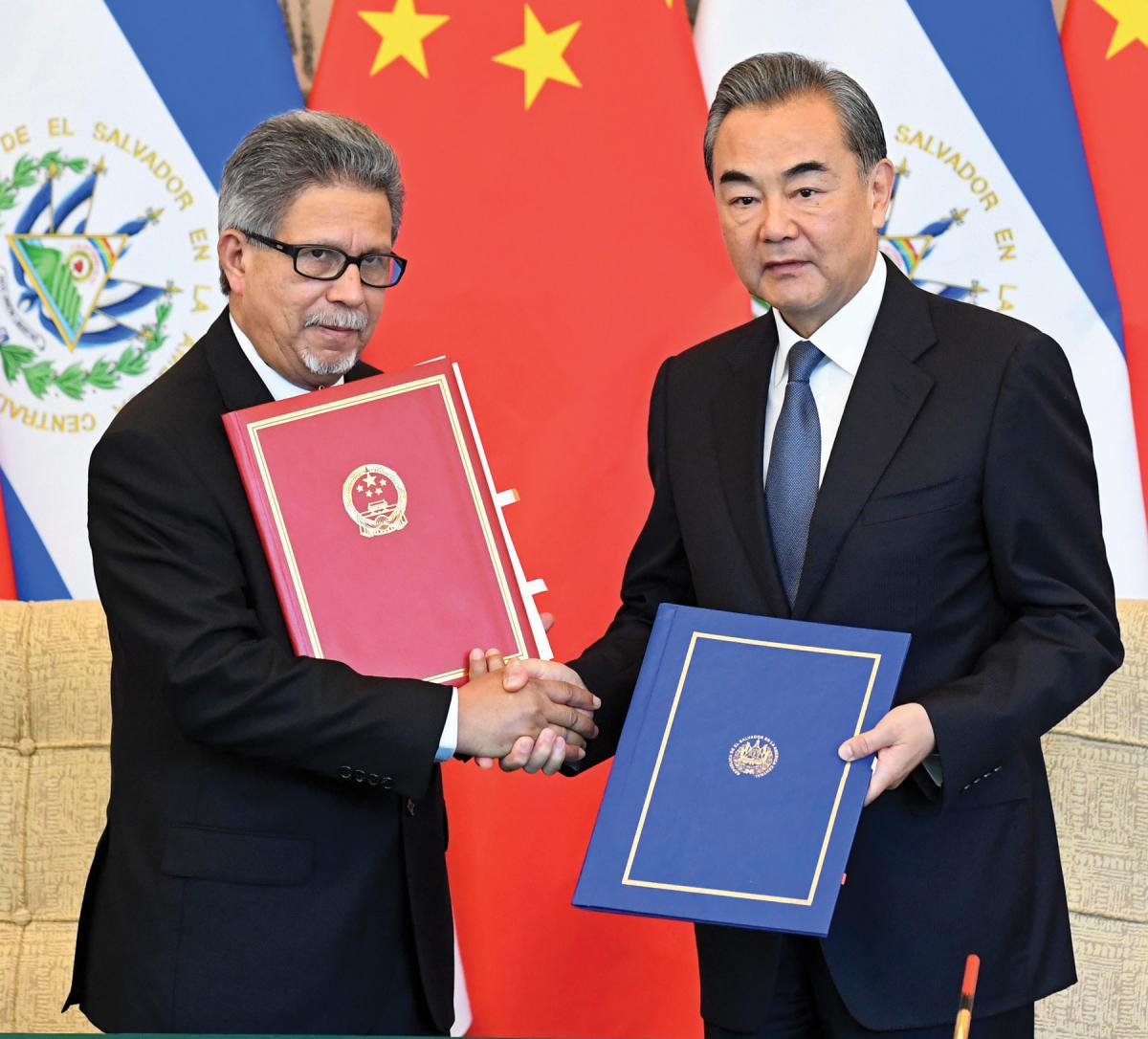 The El Salvadoran foreign minister and his Chinese counterpart exchange documents at a ceremony in August 2018 to establish diplomatic ties between the two nations after El Salvador severed ties with Taiwan. (Kyodo via AP Images)
In addition to the Taiwan Strait and the South China Sea, the great power competition between the United States and China is rapidly unfolding in the Western Hemisphere.
As China's Belt and Road Initiative (BRI) continues to pour money into infrastructure projects around the world, Latin America and the Caribbean have been no exception. China has distinguished itself as Latin America's "biggest lender and single investor," with more than 70 loans valued at approximately $140 billion since 2009.1 And money will continue to flow; China is seeking to increase direct investment to $250 billion by 2019.2 As noted in the National Defense Authorization Act, the BRI leverages "investment, infrastructure, and development projects . . . to gain access and influence" in key regions.3 China demands costly repayment for these investments in the form of diplomatic realignment, control of strategic ports, and military access.
One by one, states to the south of the United States' soft underbelly have shifted recognition from Taiwan to the People's Republic of China. In August, after Taiwan's refusal to pay for a massive port project, El Salvador broke diplomatic ties and turned to China, citing economic advantages.4 Only nine Latin American countries now are aligned with Taipei. Panama, which severed ties with Taiwan last summer, continues construction of the China-funded Colon Container Port on the Atlantic Coast. Other strategically located countries such as Guatemala and Nicaragua may be next to switch allegiances.
Often overlooked is the danger that China will use these ports for military purposes in the future. The BRI is a critical element to consider in the great power competition, and the United States must understand that when it comes to Chinese maritime infrastructure projects, there is no such thing as single-use. A 2015 article published in a journal associated with China's University of International Relations describes the concept of "first civilian, later military": As commercial ports are built, they are developed into "strategic support points" that can "assist China in defending maritime channel security and grasp[ing] key waterways." As these ports and associated supply chains mature, China then "establish[es] an economic development zone" with steel, shipbuilding, and mineral processing capabilities, preparing them ultimately to serve as strategic resupply hubs.5
By building new ports or developing existing ones as part of exorbitantly priced projects, China opens the door to their potential seizure. Debt trap diplomacy already has forced Sri Lanka to hand over control of the port of Hambantota, which, according to the "first civilian, later military" concept, eventually could become an overseas Chinese naval base. The United States must consider the serious implications of a sudden port seizure in Latin America, or at least a significant increase in Chinese naval presence in the region.
In The Art of War, Sun Tzu suggests attacking the enemy when he is unprepared, appearing where you are not expected. While the United States is distracted by the Chinese buildup within the Pacific's first island chain, China has rapidly and significantly expanded its influence in the Americas. As China continues to cultivate influence through diplomatic and economic overtures, the United States must ask itself two questions: Is it able to offer a better alternative to Caribbean and Latin American states? Is it prepared for Chinese activity in this region?
---
Lieutenant Scott is a 2011 graduate of the U.S. Naval Academy and has deployed as a surface warfare officer to the Seventh and Fifth Fleet areas of responsibility.
---

1. Mac Margolis, "Latin America Needs a China Strategy," Bloomberg, 14 December 2017, www.bloomberg.com/view/articles/2017-12-14/latin-america-needs-a-china-strategy.
2. David Dollar, "China's Investment in Latin America," Brookings Institute, January 2017, www.brookings.edu/wp-content/uploads/2017/01/fp_201701_china_investment_lat_am.pdf.
3. H.R. 5515, 115th Cong. (2018) (enacted).
4. Keoni Everington, "El Salvador Deal to Switch from Taiwan to China Could Include 'Military Base,'" Taiwan News, 21 August 2018, www.taiwannews.com.tw/en/news/3511492; Chris Horton, "El Salvador Recognizes China in Blow to Taiwan," The New York Times, 21 August 2018, www.nytimes.com/2018/08/21/world/asia/taiwan-el-salvador-diplomatic-ties.html.
5. Devin Thorne and Ben Spevack, "Harbored Ambitions: How China's Port Investments Are Strategically Reshaping the Indo-Pacific," Center for Advanced Defense Studies, 17 April 2017, https://c4ads.org/reports/.