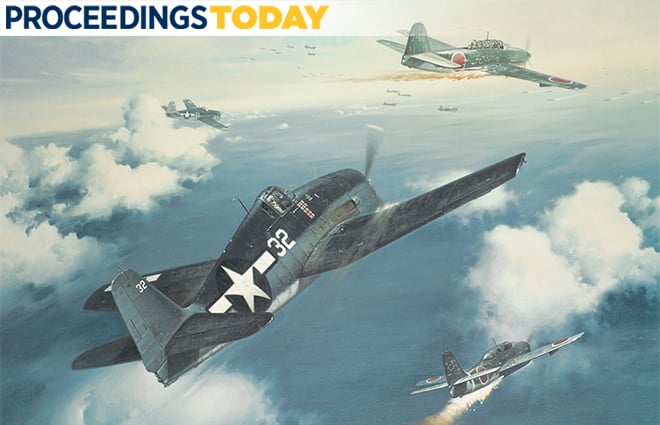 Some time ago I received a Christmas card from a great naval officer who announced his retirement. The news caught me off-guard because he was one of the true warriors: smart, logical, bold, and ferocious. He had experienced combat and demonstrated leadership at every rank from commander through rear admiral. I thought he was destined for three stars and certainly capable of jobs at the four-star level. After some discrete inquiries, I learned that he had not made the cut for the next star. Officers with more political polish—more politically correct—had been selected over him. That thought got some adrenaline going in this old warrior's brain.
Where have all the Navy's warriors gone? Where are the officers who have faced an enemy on the field of battle and shown throughout their careers the ability to outthink, outmaneuver, and outfight an armed foe? Where are those who have tasted the fear and thrill of combat and proven their martial skills? It seems to me that most of them are taking the path of my warrior friend and leaving the leadership of today's military to those who have survived the tortures of the political world.  Whether forced out or leaving for their own personal reasons, the stark fact is that the warriors are leaving.
I am not arguing that political skills are not important. The ability to engage nations tactfully in the military and political arenas is crucial to success. Yet even in peacetime where state dinners replace armored-flanking maneuvers, warfighting expertise must remain the primary focus of all military leaders. The warrior mentality must be entrenched firmly in military minds. The will to win must supersede all other thoughts.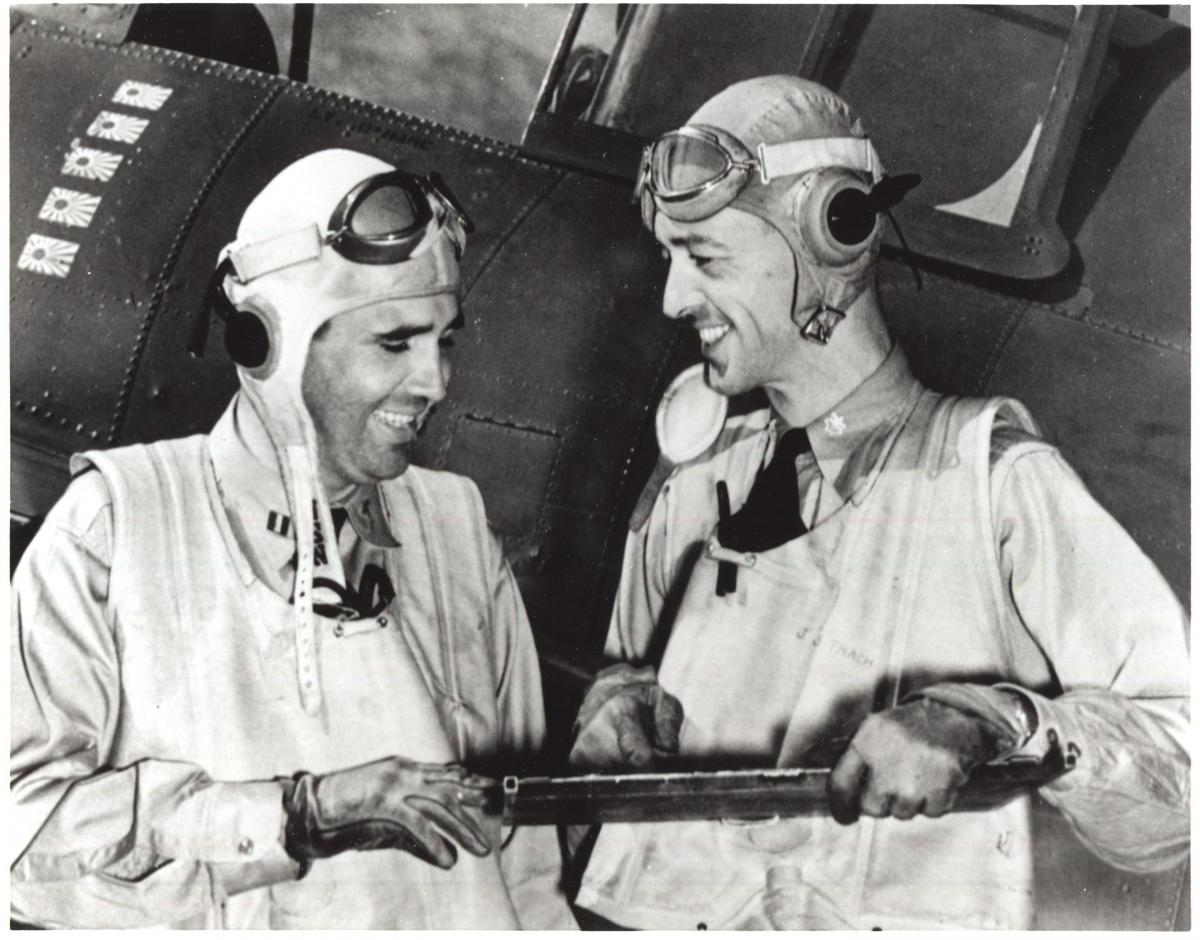 (Photo: Under the leadership of Jimmie Thach (right), Butch O'Hare (left) became one of the Navy's top WWII fighter pilots and earned the Medal of Honor. O'Hare later succeeded Thach as commanding officer of Fighter Squadron-3.) 
All of the United States' recent military successes—from Operation Desert Storm to the war on terror—were successful because of warrior leadership. From Stan Arthur to Bill McRaven, warriors always have made the critical decisions that spelled success for U.S. operations. A glaring exception was in Somalia where warriors led the operation but were given too much "rudder order" from politicians. Decisions that should have been made in the field were delayed or denied from above. The U.N. commander throttled the warrior leadership, and the result was "Blackhawk Down." 
Losing warriors in peacetime is a result of losing the best parts of our culture. What happened to the Navy's mandatory "happy hours?"  I am not talking about raucous inebriated parties. I remember squadron and air wing gatherings from 1600-1800, with spouses joining later and everyone having supper together in the O'Club. A whole squadron could gather outside the work place and build friendship, confidence, and trust in each other through the free exchange of ideas, experiences, and beliefs over a few beers. Warriors learn a lot about each other when everyone lets their hair down. Confidence in leaders or wingmen can be gained almost as much from socializing with them as from flying with them or standing watch with them. Conversely, as would happen on occasion, one also can lose confidence in an individual and determine that a shipmate is not reliable. Both points are important to longevity.
Does political correctness apply in war? My philosophy is that there is only one objective in combat—to win! Few rules exist outside the Law of Armed Conflict and the Geneva Convention. Hitting below the belt is not only legal, it may be required if you intend to emerge the victor.  Lying, cheating, and stealing are called "psychological operations," "deception," and "covert intelligence" in war, but they are lying, cheating and stealing nonetheless. "Nice guys finish last" is sage advice for warriors.
During the Cold War my generation hid aircraft carriers from concerted Soviet efforts to find us for days on end—while flying normal flight schedules. It started with a deception plan to keep their tattletale ships from following us. A scheme called "fast break" was developed during the Iranian Hostage Crisis by the USS Nimitz (CVN-68) carrier battle group. We unexpectedly stopped every transmission from the ship, including flight-deck radios, and went to full emissions control (EmCon). We fooled Soviet overhead sensors by using good intelligence. When aircraft launched, they flew on the deck for 50-75 miles and all popped up at the same location. It was interesting to watch the Soviet Navy Krivak-class frigates move to the pop-up position like mosquitos to a bug light. The radar picture from the E-2C Hawkeye showed them well beyond the horizon of the carrier.
My point is, we had an adversary, studied him, found his weaknesses, and constantly honed tactics to beat him. I am not sure that kind of thinking drives the Navy today.
I hope my view is not as bleak as what I see through eyes fogged by a warrior's premature retirement. But my concern is growing as more of those with warrior skills are leaving or being shuffled off to dead-end jobs to be replaced by the politically correct.
The primary mission of the military is not hand shaking or some other politically correct form of social interaction. Military personnel at all levels, of all races, and of both sexes should have a single focus: to engage the enemy on the field of battle and win. Win through superior strength, better technology, advanced tactics, military deception, superior intelligence . . . whatever it takes, but win!  There is no second place in war.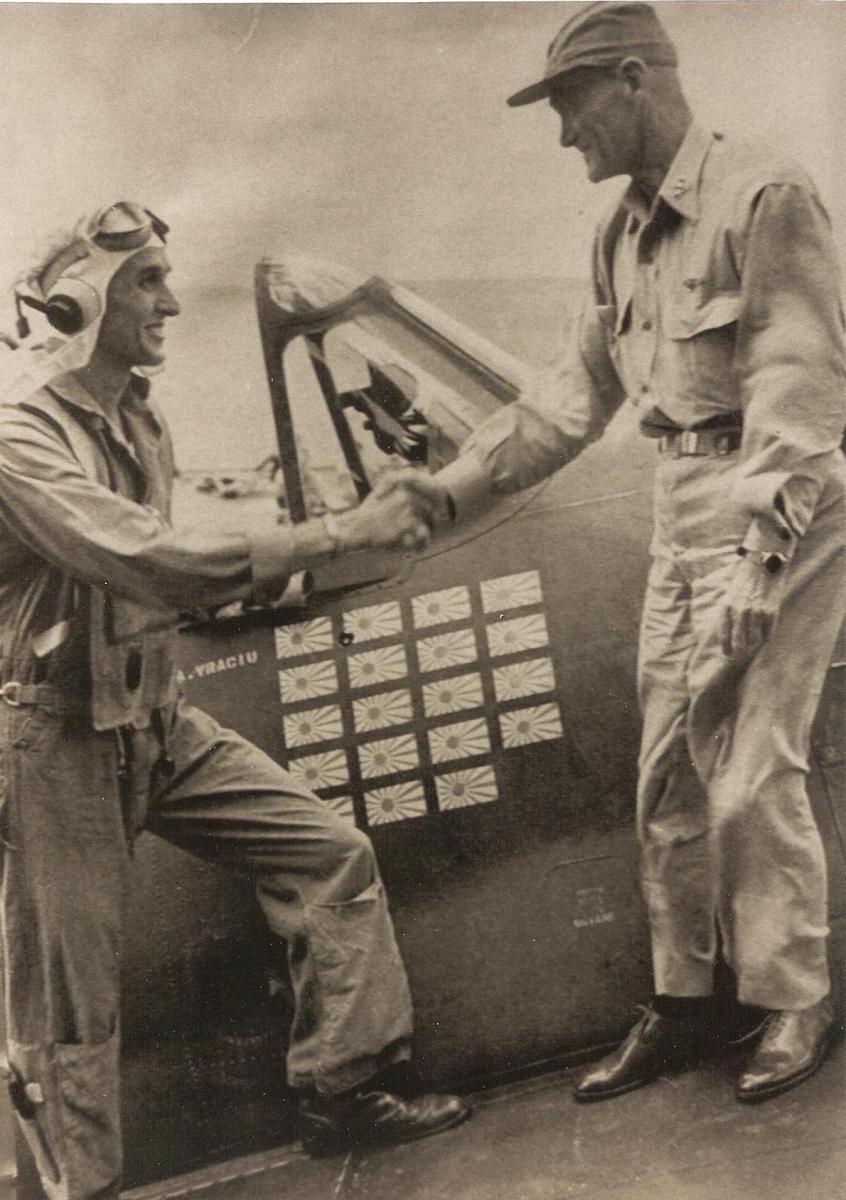 Photo: After shooting down six enemy aircraft during the Mariana's Turkey Shoot, LT Alex Vraciu was congratulated by Task Force 58 Commander, Vice Admiral Marc Mitscher. 
Looking back over my career a few things stand out. The greatest compliment I ever received as a commander was "You are a son-of-a-bitch to work for but if we go to war I want to go with you."  I learned to give people tough tasks that developed the will to win and the skills to accomplish same.
The work that Admiral Scott Swift is doing in the Pacific Fleet to bring back the "Fleet Problems" series of exercises is an example of the kind of bold thinking the Navy needs. Scripted exercises do not teach the Navy to win at all costs. Give Blue a mission and tell Red to defend. Then let the force commanders decide how to achieve their mission. Both Red and Blue will learn and become better warfighters.
In exercises, you can teach young warfighters the necessary skills to win in war. During one exercise, we had a Red submarine trailing the carrier. Maintaining 25 knots so he could not be quiet, we dragged him all over the exercise area. We kept two helos airborne. When the exercise "war" went hot, we conducted a full emergency crashback, spit the sub out the front, and dipped the two helos on it. It was not a realistic tactical scenario, but it did teach aggressiveness.
Every warrior has examples such as these, many even better, that demonstrate the will and daring to succeed in battle. The will to win cannot be overemphasized. Learning how to think boldly and use every advantage and trick to succeed is the edge our Navy needs.
The nation needs politicians—no doubt. But the military always must have steely-eyed, ruthless, bold warriors. Let's ensure we nurture enough of them to win when the need arises.
---
Admiral Macke was a single-seat naval aviator who flew A-4s, A-7s, and F/A-18s. He commanded at every level from commander to admiral. 
For more great Proceedings content, click here. 
Top Photo: Roy Grinnell's painting of the Marianas Turkey Shoot depicts LT Alex Vraciu in his F6F Hellcat on 19 June 1944. 
To read more about the WWII warriors pictured in this article, click here.