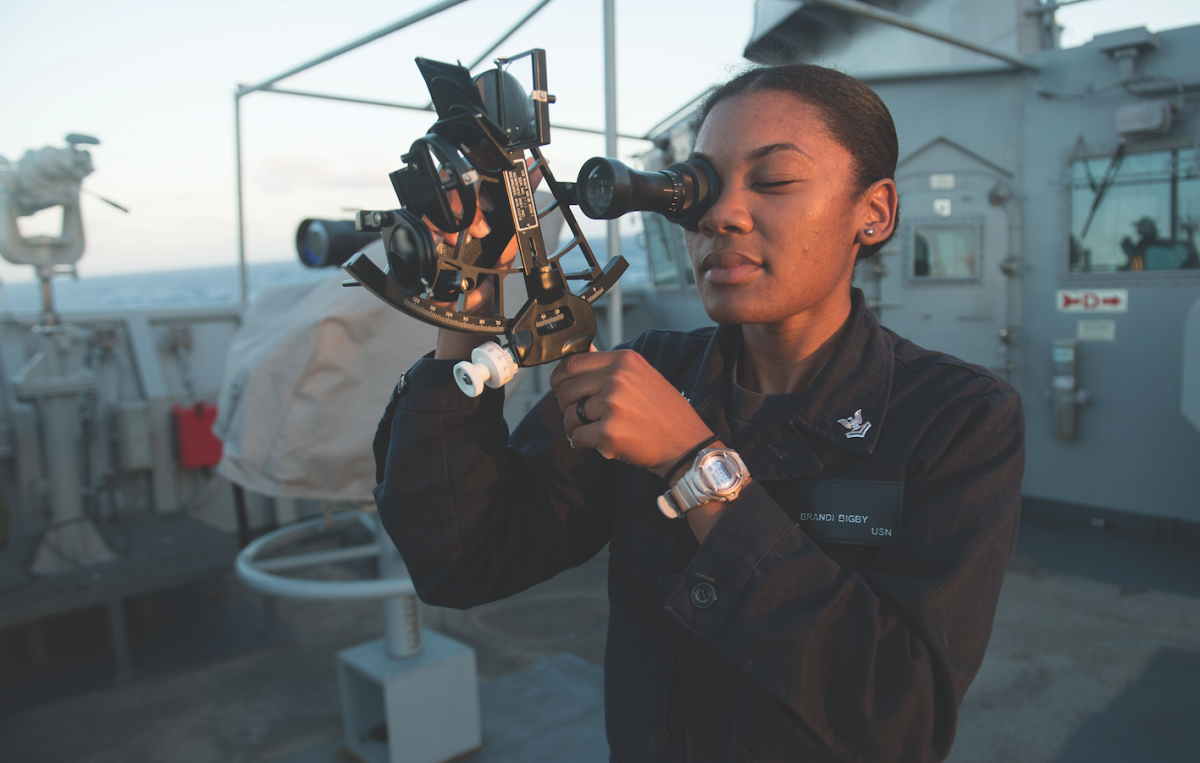 When electronics fail, the Navy must be able to fall back on analog equivalents—such as the marine sextant—to navigate, communicate, and fight. 
The next war will be analog, and the surface Navy is unprepared for it. Reliance on digital technologies is particularly acute in the realms of communications, propulsion systems, and navigation and has produced a fleet that may not survive the first missile hit or hack. Naval War College professor Jacquelyn Schneider has termed this the "capability-vulnerability paradox," observing that greater reliance on computerization yields deeper susceptibility to hostile disruption. But this paradox is even more complex, representing a perverse feedback cycle between policy and practice. Strategic decisions have hobbled the operator's ability to perform analog functions, and this tactical deterioration, in turn, has strategic repercussions.
As self-fulfilling prophecies go, few parallel the "Revolution in Military Affairs" (RMA), an ill-defined concept borrowed from 1980s Russian defense planners that entered the U.S. policy lexicon in 1992 through Andrew Krepinevich's paper "A Military-Technical Revolution." The term RMA is meant to be an objective classification, describing an era in which innovative technologies render previous force structures and doctrines obsolete. However, defense planners in the 1990s instead applied RMA in a prescriptive manner—that is, they assumed an RMA was ongoing and imagined ways to expedite it. New terms such as "network-centric warfare" enshrined this rush to embrace digital and information technologies.
In the world of surface-ship navigation, the fascination with automation and digitization—and concurrent budgetary constraints emphasizing reduced manning—graced the fleet with the Voyage Management System (VMS), Integrated Bridge System (IBS), "smart-ship" (an engineering control system), and a litany of other innovations. Many of these modernizing technologies, considered individually, greatly enhance fleet effectiveness in peacetime. There is little doubt, for example, that electronic charting paired with real-time GPS fixes provides a superior means of navigation. In aggregate, however, the reliance on computers and electronics presents a severe danger when the electromagnetic spectrum is denied, electronics fail, or internal networks have been hacked.
The problem is multifold. First, some modern technologies simply replace their analog equivalents, like gas turbines replacing steam propulsion. There is no way, in the absence of digital controls, to operate a gas turbine plant. For many other technological upgrades, analog equivalents remain, but the fleet is failing to maintain them, train sailors to operate them, and update relevant procedures to include them.
Few watchstanders, for example, can identify the purpose of the 1JV telephone circuit or where its jacks are located. The assumed casualty-control procedure for loss of an electronic communications "net" is simply to switch to another; local operating procedures rarely delineate the use or location of sound-powered phones. Meanwhile, off-ship communications have been gutted by elimination of the signalman rate, inadequate training, and failure to update calcified publications like the ACP-130 visual signaling procedures manual.
Navigation, that quiet background endeavor without which missiles cannot be launched or guns fired, is similarly teetering one casualty away from disaster. For a loss of GPS, you switch to another; for a loss of a VMS console, you switch to another. But what happens in a total loss-of-power casualty? Wait until the 30-minute batteries on the GPS and VMS wind down, then switch to a laptop version—also battery-powered. The assumption, of course, is that help will be on the way.
In peacetime, it may well be. On my last deployment, a patrol craft in the Arabian Gulf suffered a GPS casualty, half-heartedly attempted to establish a celestial fix, and had to be rescued by a guided-missile destroyer (DDG). But what will happen when the DDG is busy protecting the strike group? The Navy belatedly has begun to teach celestial navigation, although it might not matter, as many ships maintain no paper charts.
Ships that cannot navigate or make way through the water, and whose crews cannot communicate, cannot fight. New toys are not the answer; old ones are.
n Mr. Panter is a PhD student in international relations at Columbia University. Previously he served as navigator of the USS San Jacinto (CG-56) and in various billets on board the USS Bataan (LHD-5), completing two deployments to the Fifth and Sixth Fleet areas of responsibility.