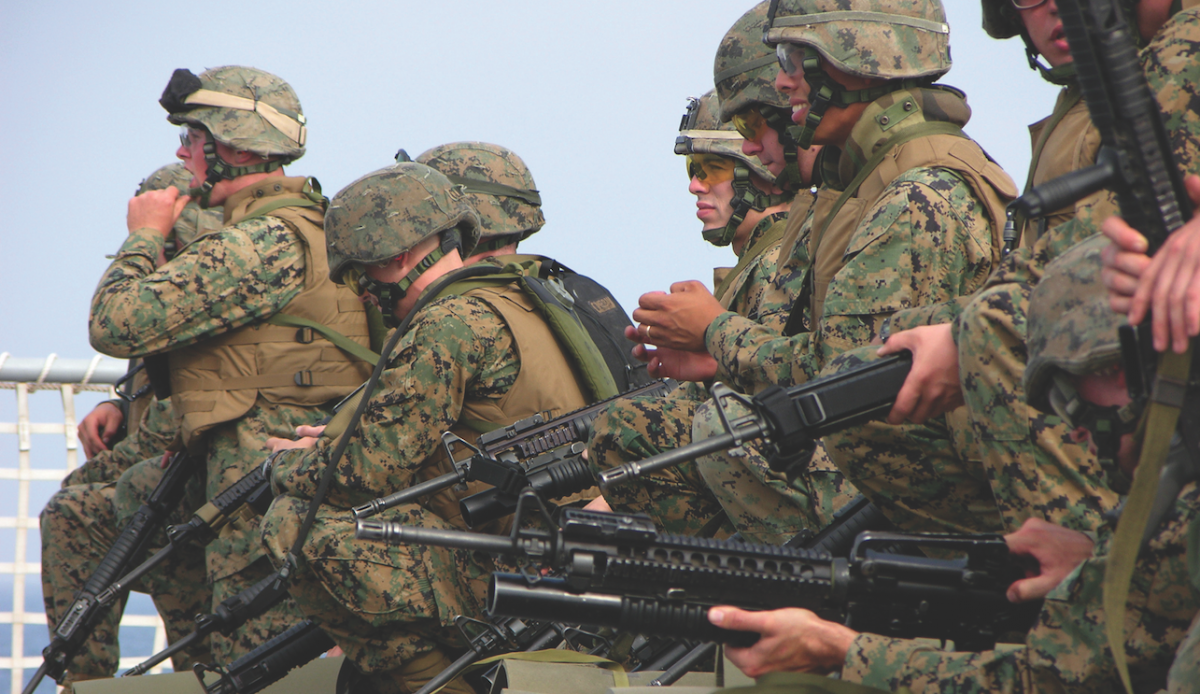 The Marine Corps' Performance Evaluation System (PES) rates Marines against their peers through marks populated onto "master brief sheets" used by promotion boards. The marks often tell a story—a Marine's performance is either below average, average, or above average when compared with others. The process eliminates the need for dissecting individual reports to discover what a Marine's overall performance value is, since raters rank Marines in order from best to worst.
As efficient as this system is, it has one critical shortcoming: PES is entirely reliant on the opinions of senior-ranking officers. How effective is this Marine at leading? How will this Marine lead others as a captain? Is this Marine prepared to assume the additional responsibilities associated with being a gunnery sergeant of Marines? The answers to these questions are often found in the reporting senior (RS) and reviewing official (RO) comment sections of an individual Marine's fitness report.
Boards scan these short word summaries looking for clues amid certain buzz words: "must promote," "select for com-mand," and "promote ahead of peers," for example. Well-crafted "section I" comments provide boards with a word picture—a narrative recounting the Marine's performance during specific reporting periods (as perceived by their RS and RO). But what about the opinions of those who worked for this Marine? What about that captain's staff sergeant? Or that Marine private first class (PFC) who sits in the corner of her lieutenant's office every day? What do they think? Does it matter?
Some will argue that it is the reporting senior's responsibility to take these opinions into account. After all, how can one objectively evaluate a Marine's effectiveness without considering how one interacts with his or her Marines? An entire page of the fitness report denotes the importance of this already—the section appropriately labeled as "leadership.">
But do commanders see everything their subordinates do? Do they really know how well their lieutenants are leading their platoons, or their motor transportation non-commissioned officers are leading their sections? How are subordinate commanders leading their companies or their regiments?
The truth is reporting seniors do not always know what is going on in those offices, watch floors, and hangar bays after they leave. Some reporting seniors are pressed for time, some are geographically separated from those they evaluate; the best that some can hope for is to catch glimpses of their Marines performing their duties—by observing the early morning physical training formations when they drive into work, visiting the hangar bay during a gear inspection, or touring the barracks late at night.
Leaders are endowed with special trust and confidence to do things the right way, to navigate their relationships, to manage effectively. After all, the worst thing senior Marines can do is micromanage their subordinates. Subordinate leaders need space.
But it is in that very space that toxic leaders—the ones who will do anything to get ahead—can thrive. As Marines, we all know who they are. They are the ones who fail to plan, who keep Marines up at all hours of the night for frivolous reasons, who are not experts in their military occupational specialties, and who always shift the blame to someone else. Toxic leaders often fail to listen to their subordinates, belittle their Marines, and take credit for work they never did. And, unfortunately, some of these individuals keep getting promoted.
Years ago I ran into a former corporal of mine who left the service to enroll in college. We caught each other up on where our former battalion members were and what they were doing. From this former corporal I found out that Sergeant "Q"—the Marine who I thought was the best, most sincere Marine in my unit—was, in fact, the worst. He was a bully; he hazed his subordinates; and he lied to me about everything. Subsequent meetings with other Marines from that company confirmed this: Sergeant Q was a toxic leader. Viewed from above, from my perspective as his commander, Q seemed to be a tough, results-oriented Marine. Viewed by his peers and subordinates, however, Q was a different man. I wanted to believe that they were wrong. Their descriptions did not fit the Sergeant Q I knew, so they must have been mistaken. Yet after multiple Marines described him in unglowing terms, I began to wonder, "How did I get it so wrong?"
Over the years, I have met and worked with and for other toxic leaders. They disparage their subordinates incessantly, yet transform into seemingly competent, benevolent leaders when their supervisors are around, only to morph into authoritative tyrants shortly thereafter.
I know the signs all too well because I was one of them. I was a hostile, self-centered, and malevolent lieutenant amid a sea of other lieutenants at The Basic School, where all new Marine officers are trained for six months. I was receiving the results of a peer assessment, dubbed the "spear eval" because it was known to damage to a young student's ego and reputation. It required everyone to use three words from a pre-determined, long list of adjectives to describe the character of our fellow students.
Many of my peers chose the same words—sarcastic, condescending, and arrogant—to describe me. I was surprised. Seeing those words was painful, but the assessment prompted me to change my attitude and demeanor. It also made me realize that not all toxic leaders know they are toxic. Similarly, not all reporting seniors know when Marine leaders under them are disingenuous and ineffectual. So how can the Marine Corps fix these knowledge gaps?
The answer is quite simple. The Corps should implement a 360-degree evaluation system to ensure Marines are evaluated not just by their superiors, but also by their peers and subordinates.In the meantime, all Marine leaders can ask their subordinates what they think about each other and the leaders in their unit. You can use informal surveys or just pull Marines aside to ask them how things are going. You may be surprised at what you hear, but these opinions will help you better assess the performance and leadership qualities of the Marines you lead.
---
Major Schick is an intelligence officer with 2d Marine Division in Camp Lejeune, North Carolina. He recently returned from a nine-month tour as a police advisor to the 505th Afghan Zone Police in Helmand Province, Afghanistan. He has written for the Marine Corps Gazette and authored a story in the anthology Stories That Need To Be Told.