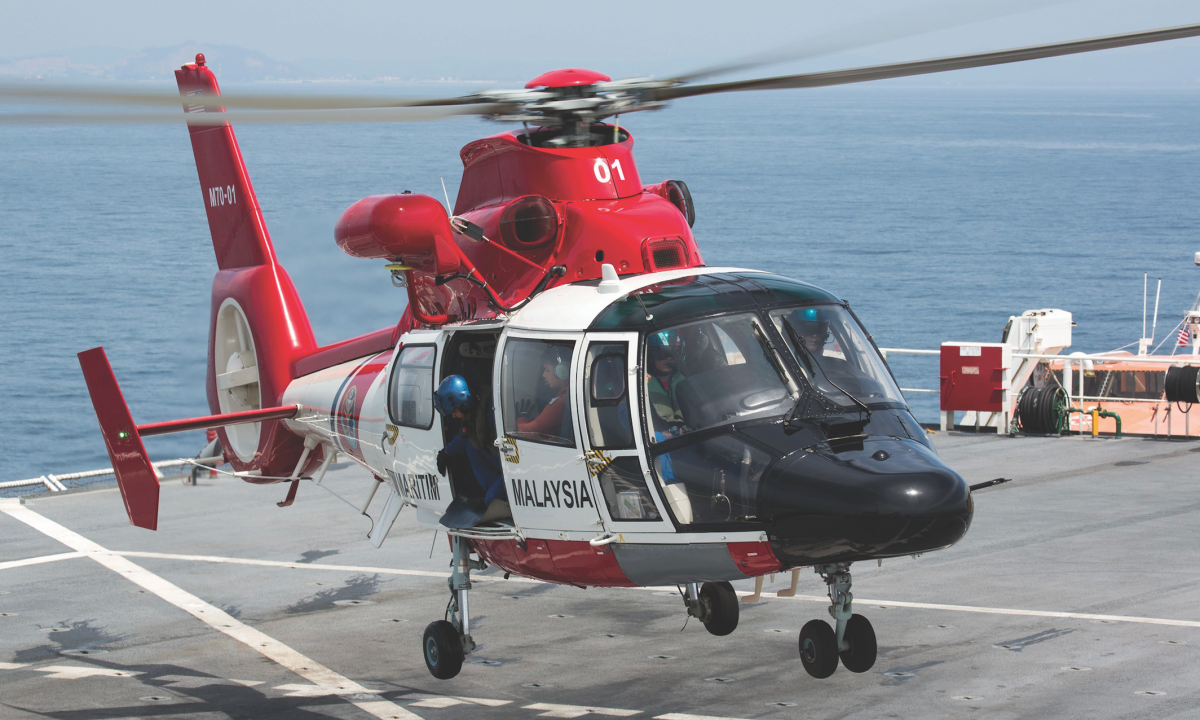 The Malaysia Coast Guard, also known as the Malaysian Maritime Enforcement Agency (MMEA), is that nation's 24/7 civilian maritime law enforcement and search-and-rescue organization. Located in the prime minister's department, it is not part of the Malaysian armed forces except during time of war. MMEA's motto is "Mengawal, Melindung, Menyelamat," which translates as "Guard, Protect, Save."
MMEA can trace its origins to an April 1999 study commissioned by the Malaysian government on the establishment of a law enforcement agency. The Malaysian Cabinet approved the establishment of the MMEA on 21 August 2002, but the service did not become operational until enactment of the Maritime Enforcement Agency Act of 2004 on 15 February 2005. In 2017, MMEA vessels added the name Malaysia Coast Guard to their hulls while retaining the name of MMEA. According to service officials, this was done to brand the MMEA to Malaysia's neighbors and global partners as a coast guard and not just a national marine police force.
MMEA's top position has been held by Director General Datuk Seri Zulkifli Abu Bakar since 1 June 2017. Prior to joining MMEA in 2005, he served as a law officer in the Royal Malaysian Navy. His senior leadership team consists of a deputy director general (operations), deputy director general (logistics), and deputy director general (management). Top priorities for the new director general include career development for MMEA personnel, recapitalization of the service's aging fleet of vessels, which currently range from 30 to 50 years old, and construction of additional shore facilities.
According to its official website, the functions of MMEA include:
• Enforcing law and order under federal law
• Conducting search and rescue
• Preventing offenses in the Malaysian Maritime Zone
• Lending assistance in criminal matters at the request of a foreign country as provided under the Mutual Assistance in Criminal Matters Act 2002
• Performing coastal and air surveillance
• Preparing a platform for service and support for relevant agencies
• Establishing and managing maritime institutions for training
• Ensuring maritime safety and security
• Controlling and preventing ocean pollution
• Preventing piracy and illicit trafficking of narcotics on the high seas
• Reporting to the Malaysian armed forces during emergencies or war
To perform these myriad functions, MMEA has a small fleet of vessels and aircraft. The service's end-strength is approximately 5,000 officers and personnel, who are considered civil servants despite having military ranks and insignia.
MMEA is administratively divided into five regions: Northern, Southern, Eastern, Sabah, and the Sarawak. While MMEA currently operates out of the same base as the Royal Malaysian Navy, it is building two new bases in Pahang and Sarawak.
MMEA also operates the Maritime Enforcement Coordination Center and the Sultan Ahmad Shah Maritime Academy (AMSAS). Opened in March 2013, AMSAS brands itself as a prestigious global maritime center dedicated to enhancing the training of Malaysia's maritime professionals and a center of excellence for maritime training. In 2016, the United States delivered RM25 million ($6.4 million U.S.) to bolster AMSAS's maritime training program.
MMEA shares many similarities with the U.S. Coast Guard, from its myriad functions to the recapitalization of its aging fleet. MMEA is an up and coming coast guard in the region and one to keep an eye on in the years ahead.
---
Mr. Dolbow is editor of The Coast Guardsman's Manual 11th edition, published by the Naval Institute Press, and a senior acquisitions editor for professional development books at the U.S. Naval Institute.