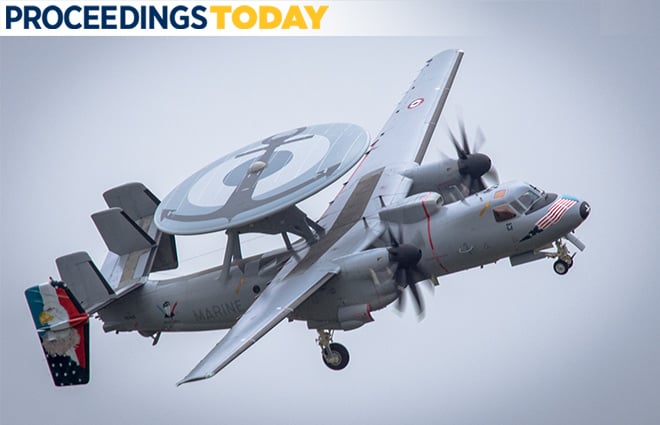 Beginning this week, the skies of Norfolk and Virginia Beach, Virginia, will resonate with the noise of the jet engines of naval aviation. However, the sound will be not just the familiar "melody" of the FA-18 Hornets and Super Hornets but also the roar of the French Rafale, the multimission combat aircraft of French Naval Aviation. A French Navy E-2C Hawkeye—identical to its U.S. counterparts—also will add its voice to the recognizable humming of the U.S. Navy Hawkeyes. This deployment is called "Chesapeake Mission 2018."
This mission will resemble a friendly French invasion: the French Navy carrier air wing, composed of some 350 sailors, 12 Rafale fighter aircraft and 1 E-2C Hawkeye will deploy for eight weeks, from 4 April to 25 May, to Naval Air Station (NAS) Oceana and NAS Chambers Field. The Rafales belong to squadrons 11F, 12F, and 17F based at NAS Landivisiau, in Brittany, France, and the Hawkeye hails from squadron 4F based in NAS Lann-Bihoué, also in Brittany.  While operating in the United States, these aircraft, their aircrew, and their ground crew will be integrated in the U.S. Navy's Carrier Air Wing Eight (CVW-8).
Following a month of tactical training of increasing complexity and intensive field carrier landing practice, the French air wing will embark for two weeks on board the USS George H. W. Bush (CVN-77) with CVW-8.  Together the two air wings will conduct carrier qualifications and advanced tactical training, including live fire drills. For the first time, French Rafales will be launched from a U.S. Navy aircraft carrier with live ordnance under their wings that came from the U.S. ammunitions stock.
This deployment is driven partially by routine maintenance for France's only aircraft carrier—the Charles DeGaulle. Every ten years she must undergo an 18-month overhaul. During that time, French pilots and naval flight officers lose their currency in the specialized environment of flying from an aircraft carrier at sea. That is why the French Navy has sought the assistance of the U.S. Navy--to ensure its aircrews can maintain their skills of "flying behind the boat."
A similar but more limited deployment took place in 2008. Then six French Rafales and two Hawkeyes were deployed to the same U.S. bases for a month and took part in a joint task force exercise.  At the time, only the Rafales embarked on board the USS Theodore Roosevelt (CVN-71).
This time, the U.S. Navy did not just invite French Naval Aviation to take part in an exercise—it went one step further. Chief of Naval Operations Admiral John Richardson offered to his French counterpart, Admiral Christophe Prazuck, to make available a U.S. aircraft carrier for this special bilateral training.
The benefits of Chesapeake Mission 2018 exceed the value of the aeronautical (carrier qualification) and tactical (multi-warfare domain flights) currency training. The mission takes on a strategic dimension by demonstrating the interoperability of our two navies and the capability of the French Navy to integrate its carrier air wing seamlessly into a U.S. Navy carrier air wing on all levels (aviation, human, logistics, maintenance, combat information systems, command and control).
The French aircraft are crossing the Atlantic as this is written. The Hawkeye will fly north, via Iceland, escorted by a French Air Force A400 M for logistical support and a French Naval Aviation Falcon 50 for search and rescue. The Rafales will cross the Atlantic directly in two waves of six aircraft, refueled in flight by two French Air Force KC-135s and escorted by another search-and-rescue Falcon 50. To celebrate this deployment and the strong ties between our two navies and our two countries, the French Hawkeye has donned a French-American color pattern which should please Americans! This Hawkeye's squadron, 4F, which I had the honor to command, is celebrating its 100th anniversary this year and is the oldest unit in French naval aviation.
Chesapeake Mission 2018 is a demonstration of the high level of trust that exists between the U.S. Navy and the French Navy. As of today, ours are the only two navies in the world with operational aircraft carriers equipped with catapults and arresting landing gear.  The trust between our navies has been built through numerous combined operations conducted throughout the world, U.S. and French service members engaged side-by-side, fighting the same threats, as brothers in arms.
---
Captain Roux de Luze is a career naval aviator in the French Navy and currently is serving as the naval attaché at the Embassy of France in Washington, D.C.
Photo: French Navy E-2C Hawkeye with special paint scheme for deployment to the United States. Courtesy French Navy. 
For more great Proceedings content, click here.