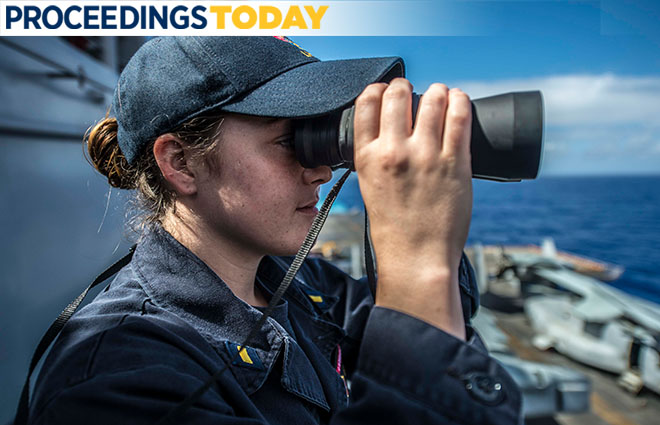 In the wake of the collisions of the USS Fitzgerald (DDG-62) and USS John S. McCain (DDG-56), commentators have decried the lamentable state of training, readiness, and watchkeeping of the surface force that precipitated these events. Although I have been critical of the Surface Navy's training for junior officers, we would be well advised not to waste our righteous indignation on "the surface community" and instead use our anger to motivate us to further develop ourselves as professional mariners and naval officers. To mitigate the risk of future mishaps and collisions, junior officer watchstanders—the individuals actually at the conn—must humbly look at their own abilities, rigorously prepare and develop themselves, and proactively train their watch teams to be prepared for any eventuality.
As a recent article articulated, almost anyone who has stood a bridge watch has experienced an uncomfortable, ambiguous situation that could have turned out poorly.  Despite this, readers with afloat experience also are likely familiar with the smug "Monday morning quarterbacking" that accompanies wardroom mishap case-study training. Typically, the ship's navigator will describe the background and timeline leading up to a previous ship's collision or grounding and invite comment from the officers assembled. Generally, a consensus will arise that so many errors in judgment and so many critically obvious mistakes were made that it is inconceivable that a similar mishap could occur on board USS Squared Away.  Similar conversations certainly are happening from afar concerning the Fitzgerald and John S. McCain collisions.  We must remember that the officers on those ships likely felt confident about their own abilities and displayed equal incredulity at others who had experienced accidents.
Prudence dictates that, no matter how competent a watch-stander might think him- or herself to be, he or she approach the profession with humility. Lives are on the line every time we operate.  No one officer has all the answers—not the hot-running division officer who qualified faster than his peers, not the outstanding department head who was top of her class at Newport, not even the salty commanding officer who has spent the better part of his career at sea. We all make mistakes and are susceptible to implicit biases and failures in perception. At the individual level, we must understand and accept this fact and implement sufficient controls to mitigate our biases and errors.
After having dispassionately assessed one's own talents and shortfalls, it is critical to work rigorously to improve on personal and watch-team levels.  For those who have the privilege to be at sea today, the exigencies of the service may not allow for deliberate contemplation prior to your next watch, but even a conscious commitment to do the simple things right can pay dividends.  As officer-of-the-deck, re-commit to memory the procedures for your watchteam in various casualty and emergency situations.  Challenge your watch team to talk through or simulate a scenario, conditions permitting, once a watch.  To engage your team, use a stop-watch to time how long it takes to complete all the steps involved in responding to an emergency.  Keep a log and set realistic goals for improved performance.  Upon meeting a goal, treat your watch team to a trip to the ship's store, then set an even higher bar to work toward.  If you notice some rare down time in your ship's schedule, work with the operations officer to schedule drills to challenge your watch team.  If you still are working toward your qualifications, ask questions when things are slow on watch.  Memorize and practice executing the steps needed in potential emergencies. Take nothing for granted, and realize that every time you assume the watch you could be called upon to respond to an emergency. Make sure you and your watch team are as ready as can be.
For those assigned ashore or in a training pipeline, learn the theories and fundamentals of your profession. Make a point to read germane works.  Open Bowditch (The American Practical Navigator), a Naval Ship's Technical Manual, Rules of the Road, or any number of technical and professional publications with the explicit purpose of returning or reporting to sea duty a more learned officer. Set a realistic goal to work through a professional publication a quarter or to become proficient in traditional charting methods. Buy and use commercially available software (see www.shipsim.com and www.matrixgames.com) that simulates ship-handling or basic naval combat to keep yourself as proficient as possible. If feasible, take up recreational sailing or small boating as a hobby and work toward earning available civilian credentials. Upon returning to sea duty, the requirements of your job afloat will leave little time for formal study, so lay the groundwork ashore so that you quickly can become a training asset to your team.
Every mishap, collision, or grounding is the immediate responsibility of the watch team on deck, regardless of whose picture ends up on the evening news after being relieved. Junior officers who lead the Navy's watch teams should use the recent incidents for motivation to strive for a greater level of personal professionalism and increased competence. We must challenge ourselves to be the most competent mariners and naval officers possible to be prepared to be the watchstander who prevents a collision or grounding. Although clichéd, we would be well served to take humbly to heart that most venerable Law of the Navy, "On the strength of one link in the cable, Dependeth the might of the chain." 
---
Lieutenant Cordial is a surface warfare officer who graduated from the University of Notre Dame in 2011. He completed his division officer tours on board the USS Iwo Jima (LHD-7) and the USS San Jacinto (CG-56), making two deployments to the Fifth Fleet's and Sixth Fleet's areas of responsibility.  In 2014, he earned the Commander Naval Surface Forces Atlantic Junior Officer Shiphandler of the Year Award.