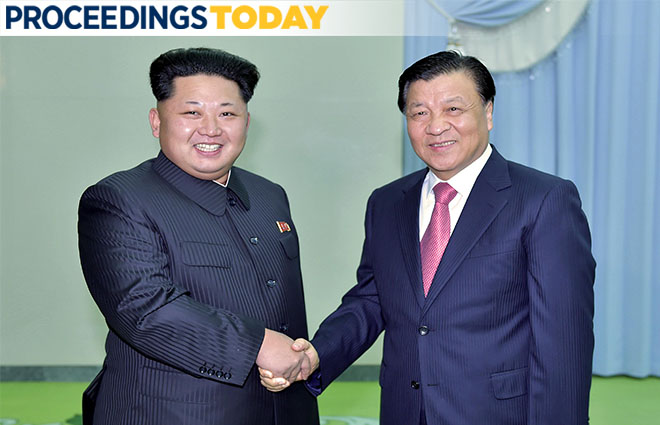 Is the Trump administration's decision making on North Korea based on deliberate U.S. strategy, or is it being formed ad hoc, through reaction to the strategies being employed against us? It appears that senior leaders are reacting. 
North Korea is using a "first-punch" strategy. As Nikki Haley, U.S. Ambassador to the United Nations, said, North Korean leaders are "begging for war." They want the United States to deliver the first blow in a conflict. Why? This will bring China to North Korea's defense.
The way to defeat such a strategy is to expose it to scrutiny. Several stratagems and subplots underlie the first-punch strategy.
Here are some crucial facts underlying the situation: 
·      In 1961, The People's Republic of China (PRC) ratified a Sino-North Korea treaty, Article 2 of which obligates China both to attempt to prevent war and to support war on behalf of the Democratic People's Republic of Korea (DPRK). The treaty can only be altered during five-year anniversaries. It was celebrated and reaffirmed by both leaders in 2016, so it will remain binding "as is" until 2021.
·      China recently stated it will not support North Korea in the event of a DPRK first strike, but it will uphold the treaty in all other cases. During an April meeting, Chinese President Xi Jinping apparently informed President Donald Trump that Korea is historically Chinese.
·      China is massing troops and conducting airborne and special operations exercises at the DPRK border. 
·      China has been marketing internally that a war with the United States is brewing. 
China is making official statements that appear to support the U.S. and U.N. positions, but those are a ruse. China knows that the DPRK will not strike first, which is why it has confidently proposed the "freeze for freeze" to stimulate negotiations. 
For years, China has acted against international efforts to contain the DPRK, and regularly "undertakes necessary measures to oppose any country or coalition that might attack" the DPRK, as Article 2 of the treaty stipulates. North Korea is neither reckless nor bent on self-destruction. They believe China will fully support them if the United States attacks first, and the United States would be less likely to continue a war with People's Liberation Army troops present.  
China does not want a nuclear DPRK. China does want to have nuclear control on the Korean Peninsula. It might also conclude that its presence in Korea could reduce U.S. presence in the region and hasten a unified Korea more friendly to China. China's fortification at the border is meant for a quick invasion, not simply for control of a mass exodus as the Chinese officially claim. The PRC has more important national interests on the peninsula than merely managing refugees. China could declare an invasion as necessary for peace and self-defense, and explain it internationally as helping to establish nuclear stability. Beijing would signal Pyongyang privately that the border crossing was in keeping with the treaty.
As a result, it is possible to conclude that China is employing stratagems against both the DPRK and the U.S. for its own national interests.
The evidence is clear: The Chinese have a binding treaty to support the DPRK, and they are massing troops at the border. North Korea will not punch first. The North Koreans believe the reason China has amassed troops on their doorstep is that PRC forces will step into the breach, providing support on day one of a U.S. attack. China's actual intentions could be long-term occupation with vassal concessions from North Korea, and a resulting reduced U.S. footprint in the region. 
The inflection point to all of this is the DPRK's belief in PRC support. The best counterstrategy for this situation is to expose Chinese strategy, drawing attention to the Sino-North Korea treaty. If the DPRK understood that no PRC support would flow in a conflict, its leaders might be inclined to negotiate with the United States and its allies. China should suspend immediately the North Korea treaty—claiming it to be null and void based on nuclearization—and offer a formal renewal only upon Pyongyang's compliance with U.N. resolutions.
Failure to expose the strategies employed against the United States will continue to yield escalatory rhetoric and actions intended to lead the United States into combat. Strokes of kindness and threats of fury both cause a loss of face to North Korea, and neither is more helpful than silence. If the escalation from Pyongyang fails to generate a U.S. military action viewed as our "first punch" then we should expect some other precipitous events (e.g., the Gulf of Tonkin incident) that could further elicit a U.S. call to arms. The United States should tread carefully, especially during any naval operations near the Korean Peninsula.
---
Commander Capen has studied Chinese strategy extensively. He served as the regional lead in the Office of Net Assessment and on the OSD Red Team. In addition, he has written formal reports to Congress, testified on regional Sino-U.S. maritime issues, and participated in many Track I and Track II visits throughout Southeast Asia. 
See also "Wei-chi: The Game of War," USNI Proceedings, August 1999.
Photo caption: North Korean leader Kim Jong-Un (left) with Liu Yunshan of the Central Committee of the Communist Party of China in Pyongyang, Democratic People's Republic of Korea, in October 2015. (Photo by Li Tao, Xinhua News, distributed by Alamy Live News.)