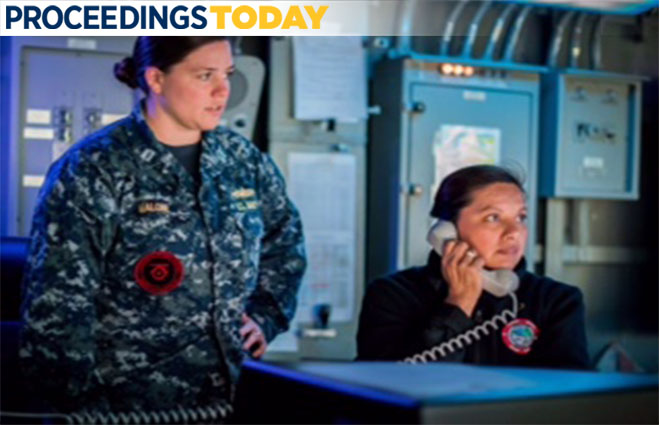 On three separate dates in October 2016, the USS Mason (DDG-87), USS Nitze (DDG-94), USS San Antonio (LPD-17), and USS Ponce (AFSB[I]-15) came under attack while operating off the western coast of Yemen, near the Strait of Bab-el-Mandeb. While all four ships were not always operating together as a group when the attacks took place, the Mason was present on 9, 12, and 15 October. In each case the Mason, positioned to respond in defense of the group and herself, fired salvos of Standard missiles, Evolved Sea Sparrow missiles, and electronic countermeasures.
In the years preceding the establishment of the Warfighting Development Centers, the surface warfare community did not have a single organization that could cull lessons from combat and then coordinate the effort to achieve high-velocity learning not only in the fleet and school houses, but also across the engineering and acquisition communities. In June 2015, the establishment of the Naval Surface and Mine Warfighting Development Center (SMWDC) closed this gap. As the organization responsible for advanced tactical training, the development of doctrine and tactical guidance, operational support, and capability assessment/experimentation/requirements within the surface force, SMWDC is situated to lead the effort to learn as much as possible from the attacks and then implement necessary changes.
Following the October attacks, Admiral Phil Davidson, Commander, Fleet Forces Command, through Vice Admiral Thomas Rowden, Commander, Naval Surface Forces, tasked SMWDC to provide an assessment of the events in the Red Sea using three objectives:
►   Evaluate combat-system performance and watchstander actions.
►   Review pre-deployment training and existing tactics, techniques, and procedures (TTPs).
►   Provide recommendations for high-velocity learning based on gaps identified through the assessment.
Most important, with this tasking came direction to ensure the ships' crews knew they were not being investigated. Our assessment was not an investigation; rather, it was a method for extracting valuable lessons from ships having engaged in combat to increase the surface community's warfighting effectiveness.
Partnered with the Naval Surface Warfare Center and the Program Executive Office for Integrated Warfare Systems, SMWDC reviewed event reconstructions generated from data from the Aegis weapons system (AWS), video recordings, and shipboard logs. Concurrently, our team traveled overseas to conduct ship visits and interview watchstanders, which provided a more detailed understanding of the conditions encountered during that seven-day period in October—including factors that influenced operator recognition and watchstander mindsets during the attacks.
Next, the SMWDC team reviewed the ships' training before deployment and the TTP on which that training was based. All of the ships involved in these events had undergone tailored training designed to prepare watchstanders for the Fifth Fleet's area of responsibility. The Nitze, Mason, and San Antonio successfully participated in a live-fire missile exercise designed to replicate the conditions they most likely would encounter in theater. Further, our review of the TTP used during training and on deployment confirmed the ships had up-to-date and relevant resources. The team did find several areas where the TTP and other tactical doctrine and guidance could be improved by including new lessons derived from our analysis.
The assessment confirms how these ships performed. The first and perhaps most significant lesson emerged from observing the impact of the Red Sea littoral environment on combat-system performance during an actual engagement. Until the events in October, the best understanding of environmental impact on system performance had come from computer simulations and live-fire exercises in the less-challenging conditions in the Virginia Capes or Southern California operational areas. Second, we identified specific areas where SMWDC can improve firing-point procedures, refine the Aegis ship self-defense system (SSDS) and SPY radar doctrines, and provide increased threat-specific training to increase battlespace and maximize depth-of-fire for shipboard weapons. The third lesson derived from assessing crew endurance. Until now, little had been understood about how stress and uncertainty affect sailors in our newest and most capable warships in combat.
Since the study concluded, Surface Warfare Advanced Tactical Training and live-fire exercises have been updated to keep pace with the real-world threats faced by U.S. ships. We have updated our AWS, SSDS, and SPY radar doctrines to account for environmental impacts to system performance previously unobserved during a live Standard missile engagement. SMWDC teams have visited every deployed and soon-to-deploy ship to ensure each has the latest TTP, training, and combat-system configuration recommendations. Ashore, the Radar Systems Controller Enhanced Course has been restored as a critical tool to ensure our SPY radar operators are prepared for what they will face in theater. In addition, SMWDC has built a case study from these events that is being included in the curricula of tactical training schoolhouses across the fleet.
In the longer term, we are working to field several planning instruments previously reserved only for the schoolhouses. The first of these tools have arrived in the fleet to deployed or soon-to-deploy ships; the remainder will be delivered throughout upcoming training cycles. Further, SMWDC is working alongside the technical and acquisition communities to develop improved future planning methods designed to address the dynamic environments everywhere the Navy deploys. These attacks highlighted which critical updates are required for the performance models that will underlie the development of future weapons and sensors, and for investment in new technology. One example is the need for increased data extraction and recording capacity for timely post-mission analysis ashore. This will ultimately contribute to threat identification, event reconstruction, and improved defense design while enabling high-velocity learning.
In today's world of threats—from near-peer to non-state actors—tactical excellence demands a deliberate approach. We must learn faster, measure progress, implement change, and gauge success to ensure our surface forces and the entire Navy are prepared to fight and win.
---
RDML Wade is the Commander, Naval Surface and Mine Warfighting Development Center in San Diego.  At sea, he commanded the USS Firebolt (PC-10), USS Preble (DDG-88), and Destroyer Squadron 28.
Lieutenant Baker is a surface warfare officer who served division officer tours on board the USS Leyte Gulf (CG-55) and USS Truxton (DDG-103). He is currently the flag aide to Commander, Naval Surface and Mine Warfighting Development Center.
---
Photo caption:
Warfare Tactics Instructor (WTI), Lieutenant Lisa Malone of the Naval Surface and Mine Warfighting Development Center (SMWDC), provides tactical training to the crew of the USS Theodore Roosevelt (CVN 71) during a Group Sail training unit exercise. LT Malone is an Integrated Air and Missile Defense Warfare Tactics Instructor. (U.S. Navy Photo by Seaman Bill M. Sanders)
---
Read more from Proceedings Today.