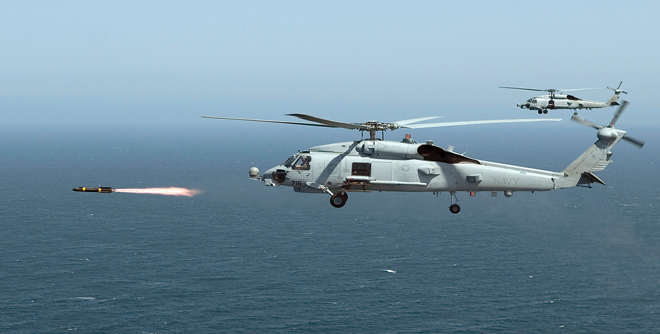 As the U.S. Navy embraces the concept of distributed lethality, new weapon systems and tactics are showing up across the fleet.1 Littoral combat ships (LCSs) have demonstrated a bolt-on antiship cruise missile (ASCM) and a mission package with Hellfire missiles. The long-range antiship missile (LRASM) has been tested by the Air Force and will be fitted to the F/A-18E/F, F-35, and possibly configured for vertical launch from surface combatants. The cooperative engagement capability (CEC) offers multiple options for engaging the enemy, and even the Army and Marine Corps may be getting into the ship sinking game.2 Despite all this distributed lethality work, there is a surprising—if if not glaring—gap in antisurface capabilities: the MH-60R.
Flying from carriers, cruisers, LCSs, and destroyers, the MH-60R (referred to as the "Romeo") is one of the most "distributed" combat assets in the Navy, with primary mission areas of antisubmarine and antisurface warfare. It is only logical to increase the offensive punch of this capable helicopter with a long-range, fire-and-forget antiship missile.
The Romeo carries torpedoes, crew-served weapons, Hellfire missiles, and the advanced precision kill weapon system (APKWS), which are laser-guided rockets that are lethal against submarines and small or lightly armed vessels. It even has a robust sensor suite—including electronic support measures (ESM) and an inverse synthetic aperture radar—for over-the-horizon (OTH) targeting at ranges exceeding 100 nautical miles. The Romeo, however, has no long-range antiship weapon that can take advantage of its long-range targeting data.
When operating with the carrier air wing, Romeos can find and fix a target and provide that information directly to an F/A-18 through a Link-16 track or a bearing and range from some known point. When providing targeting for cruisers and destroyers, the Romeo can use the same methods, as well as "Hawklink," a unique datalink that can transfer all sensor data (radar, ESM, forward-looking infrared, and acoustic) back to a Hawklink-capable ship. The system is designed to have the helicopter act as an extension of the ship's own sensors.
The Romeo provides excellent antisurface warfare (ASUW) targeting data, so would it not make sense to put an OTH ASUW weapon on it? There will not always be an F/A-18 ready for an antisurface strike. Arming the Romeo with a serious antiship missile will add to the Navy's distributed lethality and complicate enemy maneuver and actions. A surface action group (SAG) could remain covert if its organic Romeos were capable of handling larger threats. In addition, antiship missiles launched by fixed-wing aircraft or surface ships could be complemented from another direction by antiship missiles from helicopters.
The Hellfire missile, with its laser-guided precision, is ill-suited to take on a large surface combatant because of its short range (only 4.3 nm) and relatively small payload. The former SH-60 Bravo carried the fire-and-forget Penguin antiship missile with an 18-nm range, but the Penguin was purchased in limited quantities, the order was never renewed, and it left U.S. Navy service some time ago. Fortunately, helicopter-launched antiship missiles are not uncommon throughout the world, and there is an array of weapons waiting for some funding, testing, and fielding on the Romeo.
For the shorter range engagements, there is the British Sea Skua with a 13.5-nm range or its potential replacement, the Sea Venom with a range "more than" 11 nm.3 But for the purpose of distributed lethality, the Navy needs to be able to engage capable surface combatants, and longer range missiles should be considered. Though payload is always a concern, helicopter-launched OTH missiles are not uncharted territory for much of the world. Two available helicopter weapons for comparison are the Israeli Delilah cruise missile and Kongsberg's Naval Strike Missile (NSM).4 The Delilah weighs in at just over 400 lbs, boasts an impressive 135-nm range, and has a high cruising altitude. For such a light weight, options to carry multiple missiles on the Romeo could easily be explored. The NSM is much heavier at just under 900 lbs and has a range of greater than 107 nm. It also has the advantage of being designed for antisurface warfare, has a sea-skimming profile, and was the bolt-on missile launched from the USS Coronado (LCS-4.) The purpose of this article, however, is not to pick a missile but to identify the gap and offer possible solutions.
Potential physical challenges to arming the Romeo include the weight of the weapon and shipboard storage. Assuming the heaviest case of a 900-lb missile, there is already precedent with such weight on the Romeo. The Penguin missile weighed more than 860 lbs. The APKWS digital rocket launcher weighs more than 830 lbs, and a fully loaded auxiliary fuel tank weighs in excess of 1,000 lbs. Each of these external stores affects weight and drag, but with proper preflight planning does not hinder mission execution.
Missile storage on board a cruiser or destroyer is available in the torpedo magazines, where the Romeo's lightweight torpedoes and Hellfire missiles are stored. These magazines provide easy access to the flight deck for loading. Though space is always at a premium, the payoff for such a longer range weapon is worth removing a few Hellfire missiles.
Like every other capability in the U.S. military, adding a long-range antiship missile to the Romeo requires funding. But the chance to bolster the Navy's offensive capability is not an opportunity to pass up.
One key aspect of distributed lethality is: "The more capable platforms the adversary has to account for, the more thinly distributed his surveillance assets will be and the more diluted will his attack densities become. The more distributed our combat power becomes, the more targets we hold at risk and the higher the costs of defense to the adversary."5
The MH-60 Romeo will continue to be a key aircraft for the U.S. Navy well into the 2020s. Adding a long-range antiship missile will significantly enhance its role in distributed lethality.
---

1. VADM Thomas Rowden, RADM Peter Gunataotao, and RADM Peter Fanta, USN, "Distributed Lethality," U.S. Naval Institute Proceedings 141, no. 1,343 (January 2015).
2. Sam LaGrone. "PACOM Commander Harris Wants the Army to Sink Ships, Expand Battle Networks," 21 February 2017, news.usni.org/2017/02/21/pacom-commander-harris-wants-army-sink-ships-expand-battle-networks.
3. MBDA Missile Systems. Sea Venom/ANL, 20 April 2017, mbda-systems.com/maritime-superiority/sea-venom-anl.
4. Defense Update, "Delilah - The IAF Loitering Missile," 14 June 2009, defense-update.com/20090614_delilah-loitering-missile.html. and Kongsberg, Naval Strike Missile – NSM, 15 February 2017, Kongsberg Defense, kongsberg.com/en/kds/products/missilesystems/navalstrikemissile.
5. VADM Thomas Rowden, RADM Peter Gunataotao, and RADM Peter Fanta, USN, "Distributed Lethality," U.S. Naval Institute Proceedings 141, no. 1,343 (January 2015).
Lieutenant Commander Blind is an MH-60 Romeo pilot currently serving as the operations officer in Helicopter Maritime Strike Squadron-77.