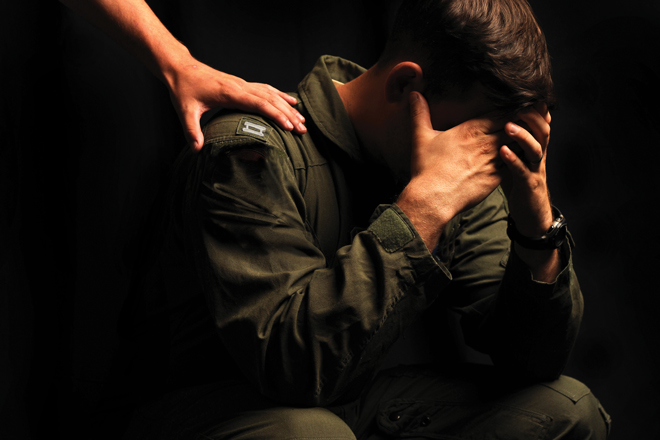 The hardest thing I have done while in command of a deployed unit is tell someone that a member of his or her family has died or is seriously ill or injured. After I delivered the tragic news from the first American Red Cross message, I observed to my command master chief (CMC) that notifying a sailor of the death of a loved one was not covered in the commanding officer's training track. After the third such message arrived, I resented my increasing familiarity with the process. After the sixth message, I decided to share what I have learned.
The vast majority of prospective commanding officers are good men and women who, being devoted to the welfare of their sailors, could figure this out on their own. That said, I believe in the value of learning by proxy and offer the following recommendations:
• Even with limited shipboard connectivity, you are racing against the clock. You want your sailor to hear this news from you first rather than find out about the loss of a loved one while checking email. Do not underestimate how quickly bad news travels. Rearrange your schedule to optimize the odds your sailor will learn of a family member's death or serious illness in a controlled environment where assistance can be offered immediately.
• Based on the sailor, determine who else should be in the room. Do you bring in both the executive officer and the CMC? Should a chaplain be present or on standby if requested by the sailor? Is there a deployed resiliency counselor? Does the sailor have a close, supportive relationship with a trusted member of your command? At a minimum, have at least one additional person in the room, for support and to answer the phone or the door while you stay focused on the sailor.
• Pick the right room—preferably one that offers privacy and access to an outside telephone line.
• Be brief and then be quiet. A sailor who has been directed to report to the skipper's stateroom on deployment is probably expecting bad news. Minimize the amount of time the sailor has to imagine the news. Know what you are going to say before the sailor arrives; let him or her sit down; and then deliver the news.
• Expect unique expressions of grief. Your sailor may become emotionally numb, scream, or even collapse. Depending on your personality, you may find the experience deeply uncomfortable.
• This is not about you. Your level of comfort does not matter.
• Give your sailor time to process the news, then offer him or her help and resources. If you need to wait 15 minutes for your sailor to calm down enough to talk, wait 15 minutes. Offer access to a phone line, chaplain, or counselor—if available. Bottom line: allow your sailor to assert some measure of control in determining what he or she needs, provided you are confident the sailor is not a risk to him/herself in any way.
• Understand your options, and do not over promise. Prior to getting under way, discuss your intentions to deal with major life events, such as a death in the family, with your immediate superior in command and ensure your command understands your emergency leave policy. Depending on your operating area and operational requirements, getting a sailor home in time for funeral services may be impossible. Getting your sailor home at all might be difficult. A sailor may be emotionally devastated by the loss of a family member. Do not couple that devastation with disappointment by promising something you cannot deliver.
• Debrief with the other people in the room after your sailor leaves. Even if this is the only time you have to do this in your career, the same may not be true for your executive officer or CMC. Talk openly about what was handled well, what was not, and how you could improve the process.
• Develop a follow-up plan. Your responsibility extends beyond initial notification and encompasses a continuum of support for your sailor. How often will someone check in on him or her while at sea? How often will the sailor check in with the command if able to return home?  
There is nothing you can do as a commanding officer that makes telling someone their loved one has died or is seriously ill less heartbreaking. There are ways, however, to prepare yourself and the future commanding officers in your wardroom. Develop and discuss your plan before you have to execute it. On what will be one of the worst days in your sailor's life, you owe him or her your best.
Commander Clarity is the commanding officer of Electronic Attack Squadron-131, employing EA-18G Growlers. His writing has been published in Proceedings, The Best Defense, and Small Wars Journal.