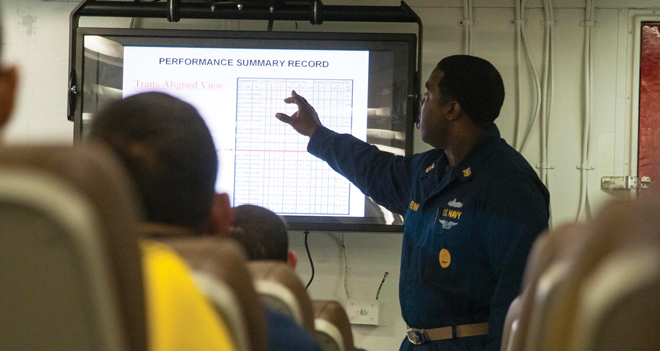 Hey, Master Chief, what do I have to do to get promoted?!" As a command master chief, I hear this question a lot. Petty officers ask how to get promoted to chief. Chiefs ask how to get promoted to senior and master chief. During the past several years I have come to realize there are two important pieces to the answer to this question. The first is to acquire and demonstrate the professional knowledge, expertise, leadership traits, and experience that will merit promotion. The second piece is to make sure your evaluations document your knowledge, expertise, leadership, and impact in a way that will convince a selection board to promote you.
To be promoted to chief and above, sailors must seize moments of opportunity throughout their careers; they should not waste effort searching for special ways to write an evaluation. Evaluations are important, but the focus should be on providing relevant, hard-hitting data. The scoring system on selection boards is straightforward; data, not style, equates to points. Sentence fragments and bullets are your best friend.
Before writing an eval, you need to know how to prioritize your efforts. A sailor's ability to perform the primary duties of his/her rate and rating is more important than anything else. Chiefs are expected to be technical experts within their fields and develop the expertise of their sailors. The first bullets on any evaluation should discuss how the sailor performed his/her job within their primary duties assigned, and how he/she led others to do the same.
Selection Board Precept and Convening Order
Before a sailor can develop an effective evaluation plan, he/she must understand the selection board precept and convening order and how these documents guide the board. The precept and convening order forecast what the board is looking for when grading and determining the best-qualified candidates. You can find the precept and convening order on the Navy Personnel Command website within the active-duty enlisted boards section.
Read the previous year's precept and convening order and ensure evals are written toward the primary areas of focus. If it is not in the precept or convening order, it will not be considered for promotion. A good example is a sailor's community service or community involvement. If the precept and convening order do not list community service or involvement as elements to be considered, they will not be, and there is nothing to gain from spending time writing about either.
Primary Job Requirements
Every billet in the Navy is paid for with the expectation that the sailor filling it will be capable of performing the associated rating requirements. As a leader and technical expert, senior enlisted members must master their technical skills while leading and developing other sailors. Mastering technical skills is part of your rating. You are expected to perform at a high level in line with Navy-wide expectations and your command's mission and objectives. Leading other sailors is your rate. It is your job as a leading technical expert to train and develop the sailors under you to obtain the highest qualifications possible. In addition, chiefs are expected to train and develop junior officers.
Leadership
The most important attribute that demonstrates readiness for promotion is leadership. It is critical, therefore, to highlight leadership ability and accomplishments on your evaluation.
Position of Authority: This is block 29 of a chief's evaluation and sets the expectation for the reviewer. Do not overcomplicate it. State the number of sailors you led, breaking out E-6 and below from E-7 and above, what your sailors did, and how it affected the command/mission. Write the bullet in a way that all master chiefs of your community will understand.
Programs: When you support a command program or policy, it is easy to create opportunities to lead and produce results. Even if you are not the overall program leader, you can demonstrate leadership and impact as an assistant. You can lead training for your program team and the intended audience; lead administratively on reporting requirements; lead evolutions before and during inspections; implement changes to the program; or lead focus groups to determine if the program is effective.
Leadership within the Chiefs' Mess: Senior chiefs and master chiefs are expected to be able to lead and develop chief petty officers. The best way to demonstrate readiness for E-8/9 is to perform at that level and capture the effects in your eval. E-7/E-8 leadership numbers are extremely important for advancement to senior chief or master chief. Here are two leadership opportunities within the mess:
• CPO 365 is one of the Navy's principal programs for preparing sailors to enter the chiefs' mess and rejuvenating current chiefs. Phase 1 presents several opportunities, including weekly training, physical training, team-building, and heritage integration. Be involved in the program as a leader and contributor. Bring new ideas into Phase 1 to keep it fresh, and document your impact in your eval. Capture the number of sailors, chiefs, and events you led. A statement like, "Led 4 SCPO, 12 CPO, & 31 FCPO to execute training/PT events" is effective. Phase 2 also brings opportunities of which you must take advantage.
• CPO mess or CPO Association officer positions (mess president, vice president, secretary) are great ways to demonstrate leadership. The key is what you do with your position (functions, events, policy, morale, training, etc.). How many chiefs did you lead for these events, and what was the outcome? Do not limit your opportunities if you are not voted into a position. You do not have to do a lot of different activities; just leading a few things well speaks volumes.
Sailorization, Mentorship, and Command Impact
These areas should be your next line of effort in an evaluation. Those who aspire to be chiefs, senior chiefs, and master chiefs must look for opportunities to lead, mentor, and develop sailors and positively impact their commands. Sailorization is the continuous process of turning a person into a well-rounded, professional sailor. When acting in this role, and writing about it in evaluations, it is important to think about having a big impact, including command-level or even claimancy-wide impact.
You must challenge first-class petty officers and chiefs to professionally develop the sailors under them. Job-related qualifications, courses of instruction, command-delivered training, civilian certifications, Navy enlisted classifications, warfare qualifications, advancement, college, professional military education, retention, blue jacket, junior sailor, and sailor of the quarter—all of these are powerful professional development tools. Chiefs also should work on junior officer development through officer qualifications, wardroom training, CPO 365 participation, junior officer mentorship, and program management.
Career Development Boards (CDBs): Selection boards are looking for CDB numbers and how a candidate's mentoring and guidance as a leader have helped develop sailors. This eval bullet captures impact on the command and on development of sailors. "As LCPO, led 35 sailors and conducted 28 CDBs; resulted in 230 completed COIs, 5 NECs awarded, 9 enrolled in USMAP, 12 college classes completed, 17 IAT2 certs, 2 adv to CPO, 3 adv to E-6, 5 adv to E-5, 1 adv to E-4, and 98 percent retention."
Professional development of sailors through command programs and policies is essential. Whether you are part of a team or the program manager, you can educate and enhance the sailors around you. Many sailors feel they have to be in charge of a program to stand out for a selection board. While being the lead provides opportunity to shine, so can simply being a member of a team. Figure out which programs at your command need attention and commit to one. Challenge yourself by assisting a team with which you have no experience. Request a letter of designation as an alternate or assistant. Work with the program manager to enhance the program. Make sure your efforts can be documented toward sailor development, mission readiness, or program readiness. Do not just follow the required annual training schedule; schedule additional training if your command needs it, but make it fun and memorable. Multiple training sessions strengthen the message, provide the opportunity to show bigger impact, and enhance readiness.
Some programs greatly benefit junior sailors. Examples include Armed Services Vocational Aptitude Battery test improvement classes for junior sailors who want to strike into a new job field or petty officer indoctrination. Teaching a class will allow you to have an impact on a large number of sailors. As you promote to senior chief and master chief, you can expect a significant increase in your involvement in command programs and policies. Start familiarizing yourself now with the wide array of programs the Navy will expect you to implement and maintain when you become a chief petty officer.
When we promote sailors to first-class petty officers, we challenge them with more responsibility. It is their responsibility to embrace their new authority and grow into the leaders the Navy needs. It is their chief's responsibility to push them to think more about the command as a whole and sailors outside their division. We challenge all new first-class petty officers to get involved in the Navy's mission. They need to learn how readiness affects mission and, in turn, how readiness is affected by command programs and policies.
Putting all this advice into practice is easier than you might think if you use a plan that lines up with mid-term counseling and eval debriefs. Spend 12 months invested in a program then move on to a new one the following year. Make this plan immediately upon advancement to first class. Identify a program with which you want to start (preferably one with which you have no previous experience) and complete the program training requirements before you receive your first E-6 mid-term counseling.
At the start of the evaluation period, you should be a contributing member of a command program team. From there, spend six months devoted to program improvement. By mid-term counseling, you should have a healthy command impact/sailorization bullet with supporting data that will continue to grow over the next six months. For the last six months, support or lead the team and close out the year strong. Approach mid-term counseling with your relief identified and your plan to set him or her up for success. Many evaluations fail to capture how a sailor improved a program or whether he or she turned over a successful program. Make sure you improve your program constantly until you complete the turnover.
One important lesson from recent selection boards is if you have a collateral duty listed in block 29, you should state the impact you had in the write-up. It is also helpful to take on new collateral duties periodically. This will set you up to succeed as a new senior chief or master chief with diverse experiences.
Mentorship. Too many E-6s and chiefs do not have mentors. Some are not geographically located with their mentors. Master chiefs do not get to the top without good mentors: they typically have several. Seek people in your local area who have achieved the goals you have set for yourself and ask them to be your mentor. Having mentors inside and outside your chain of command provides balance. Those inside will be privy to the leadership discussions taking place that pertain to you. Outside mentors provide insight and perspective beyond the lifelines of your current command. Mentorship is a challenging two-way commitment, but without it your chances of advancement beyond first class or chief are greatly diminished.
Chiefs' Mess Involvement
A chief's rank carries unique responsibilities. Senior and master chiefs are expected to lead and develop the chiefs' mess. One's actions in the mess must be documented. This will provide selection board members the confidence to justify selecting you. You can be the best leader in your division, platoon, or department, but if you cannot lead in the mess it may be hard for the board to select you. Here are ideas to focus your efforts:
• CPO 365 Phase 1. Be able to document more than just "actively participated in weekly 365 Phase 1 training." Facilitate. Manage the schedule. Develop creative training scenarios or events involving teamwork between the first class mess and the chiefs' mess. Do not forget the wardroom and the importance of building comradery with the officers as well. Document the number of FCPOs, chiefs, and officers you trained and mentored, and elaborate on how they grew from your contributions.
• CPO 365 Phase 2. Fully participate every year. Dedicate as much energy and attention to Phase 2 as you do to sailors and programs. As a member, ensure your contributions are substantial. As a committee lead, document the number of CPO/SCPO/MCPOs on your committee and how you affected the process. Maximize point potential by stating what you did and how many people you led and developed. If you have an opportunity to be the chair, take it.
• Chiefs' Mess Functions. Regular mess events are prime opportunities to demonstrate leadership. Examples include hail- and-farewell outings, physical training events, social events, community relations projects, team-building events, and retirement of a fellow chief. Do not wait for another chief to lead functions. Present ideas to the mess and inspire them.
This advice may seem overwhelming, but you do not need to overachieve in all areas. Members of a selection board understand that every command is different as are opportunities. Set goals. Pace yourself. Look for opportunities to lead others and impact your command's mission and readiness. Learn what others across the waterfront are doing.
Each year when you get your evaluation debrief or advancement results ask yourself, "Did I do everything I could?" If the answer is yes, you know you gave it your all, and your command and sailors are better off. If you did not receive the results you wanted, ask your leaders and mentors for feedback and be ready for honest answers and criticism. Advancement is not a reward for hard work; it is the Navy's recognition that you are an expert at your level and ready to lead at the next higher level. As you get promoted, think about what the new level of responsibility means to you, the sailors around you, your command, and the Navy. How are you going to harness your new position and guide your sailors to develop and execute a plan that will ensure the success of those following in your footsteps?
Master Chief Reynolds is the command master chief for Helicopter Sea Combat Squadron Three in San Diego, California.