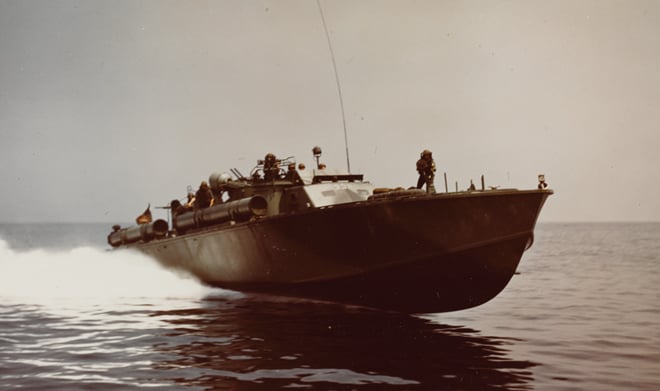 PT boats filled an important need in World War II in shallow waters, complementing the achievements of greater ships in greater seas. This need for small, fast, versatile, strongly armed vessels does not wane.
—John F. Kennedy
Our potential adversaries know the U.S. Navy's current surface fleet composition, its impressive capabilities, and its stark limitations. They have armed and organized accordingly. Operating in contested area-denial environments against a wide array of conventional and unconventional threats, our capital warships of the Cold War–era must be augmented by new capabilities and new platforms to control the seas and fulfill the Navy's obligations around the world. A small, fast, maneuverable platform capable of fielding advanced and deadly antiship missiles would correct a number of crippling deficiencies in the Navy's current surface force structure. Such a platform would drastically increase the offensive firepower of the surface force, free capital warships to do capital jobs, preserve early command, and best of all, could be implemented quickly and cost-effectively, creating an incredible bang for the buck.
Reliance on the Carrier
Admirals Rowden, Gumataotao, and Fanta's 2015 Proceedings article, "Distributed Lethality," was a wake-up call for the Navy.1 At a time of increased instability around the world, these Navy leaders recognized that the post-Cold War power-projection surface Navy was ill prepared to meet current and emerging threats. The Navy had concentrated its offensive firepower on one platform, the aircraft carrier, and had relegated its surface combatants to carrier escort duty. Enjoying the peace dividend after the fall of the Soviet Union, we drastically cut back from President Ronald Reagan's 600-ship navy and focused on air-defense capabilities, as aircraft posed the primary threat to our carrier-centric naval posture.
In the intervening years, old, new, and potential foes have watched and learned. They have regrouped and rearmed, while in our complacency we have allowed our swords and cutlasses to dull. Our cruisers and destroyers today offer no more offensive surface capability than they did in 1991. Harpoon missiles were introduced to the fleet in 1977 (and the Navy stopped installing them in 1998), the 5-inch Mk45 gun in 1971.2 Our ships are armed with only land-attack and surface-to-air interceptor missiles that, while possessing an antisurface capability, are lethal to the thin skin of a missile or aircraft but not the hardened decks and bulkheads of a warship. These shortfalls have led to an embarrassing surface warfare doctrine: "Protect the carrier; it'll get the bad guys for you." Our adversaries have realized this tremendous shortcoming and have followed Sun Tzu's advice to "avoid your enemy's strength, attack their weakness."
The offensive firepower of the fleet rests in the concentrated and fearsome capability of our aircraft carriers. Though the escorts bring the carrier strike group's offensive land-attack missiles, their low speed and inorganic targeting systems make them woefully unsuited for the dynamic environment of a mobile "shooting war" against a near-peer adversary. War game after war game has revealed that any opposing force needed only eliminate the aircraft carrier; all other surface ships were of little concern.3 The United States cannot afford to build warships the enemy can ignore. Every platform, from our largest amphibious assault ships to our smallest missile boats, must threaten the enemy. At the most fundamental level, a warship exists to sink enemy ships. Any ship that is not prepared to go in harm's way and emerge triumphant has no place in this Navy.
Distributed Lethality Embodied
A squadron of fast, nearly impossible to detect missile boats (or PMs for "patrol missile" in traditional Navy naming convention) would increase dramatically the threat faced by an adversary. No longer could the enemy predict which ships it has to worry about and which it need not. The threat axis no longer would originate from the carrier.
With each PM presenting essentially the same antiship threat as a destroyer or cruiser, the potential enemy would be forced to distribute (thereby weakening) its forces and efforts over a wider area. Sharing data provided by the highly capable search radars of the destroyers and cruisers through tactical data links, the PMs themselves would not need costly and sophisticated targeting systems to accurately engage the enemy. A networked surface action group of one destroyer and four PMs would present a squadron equivalent to a carrier strike group's escorts in surface combat firepower, yet through passive emissions control and shared targeting information, would appear to the enemy as a single destroyer. In a passive sensor mode, the PMs would become nearly invisible in our modern electronic warfare world. With missile ranges far beyond line-of-sight, they could stay hidden beyond the horizon but fully engaged in the fight.
Using existing U.S. naval bases in strategic areas, as well as those of our allies, would allow the PMs to have an immediate impact on regional security in a number of contested environments. Organized in squadrons of eight, PMs based in strategic locations such as Singapore, Bahrain, Japan, Crete, Cyprus, Sweden, Germany, Egypt, Israel, and South Korea, to name a few, would form a persistent, effective, and lethal U.S. naval presence while enjoying a small footprint with few resource demands.
Let Capital Ships Do Capital Jobs
The PMs' advantages go beyond augmenting front-line combatants in battle. They also could serve in traditional patrol and escort roles, relieving destroyers and cruisers from these distracting though important duties. With a surface force largely consisting of high-end, high-tech warships, mundane patrol and escort functions unavoidably fall to the Navy's most expensive and capable ships. For example, during the 2014 Fifth Fleet deployment of the George H. W. Bush (CVN-77) strike group, one of the nation's newest and most capable warships, the USS Truxtun (DDG-103), was detached from her air-defense duties 12 times to escort various submarines and amphibious assault ships transiting the Suez Canal.4
Modern warships are designed for blue-water operations, and placing them in shallow, constrained environments leaves them vulnerable. In addition, the constant danger of collision or grounding meant the Truxtun's four enormous gas turbine engines were online and ready at all times, at a tremendous cost in fuel. A PM could conduct this mission with greater maneuverability, more available firepower, and fewer personnel, all while running diesel engines designed for low-speed efficiency. The Navy wins at both ends of the transaction since the destroyer that would have been escorting would be free to fulfill the high-end duties she was built for and the same patrol mission would be fulfilled at much lower cost.
Further increasing their value, PMs could be stored in the well decks of existing amphibious landing ships. This would allow for easy long-range transport, as well as on-demand escorts and as-needed antisurface firepower. No longer would escorts have to meet the amphibious landing ship at the mouth of a canal or dangerous choke point; the amphib herself could launch heavily armed escorts then recover them after the evolution is complete.
Preserve Early Command
Command at sea is the highest aspiration of a naval officer. All aspects of a naval officer's career, from midshipman training to each sea and shore duty assignment, are designed to prepare him or her for eventual command of a warship. In previous times, with a larger and more diverse surface fleet, command could be earned by a lieutenant (junior grade), as in the case of the famous PT boats of World War II. Destroyer escorts (DEs), vital for maintaining the safety of commercial shipping lanes and submarine hunting, were commanded by lieutenants. As ship size, capability, and role in the order of battle increased, so followed the requirements for the commander's rank and experience.
Since the end of World War II and the shift in our naval forces to all high-end combatants, the number of early command ships has withered to aging minesweepers and patrol coastal craft. According to a recent Proceedings article, "where once 58 percent of our ships were captained by junior officers, today 92 percent of Navy ships are commanded by commanders and captains."5 These are highly sought after positions that attract the Navy's best and brightest officers. Studies consistently find command to be the most rewarding assignment of a career; but with the slow transition of our fleet, that reward has come later and later, if at all.6 This has hurt morale and officer retention and has lowered the overall level of vital command experience in the Navy.
Just as we need to distribute the lethality of the surface force, the Navy needs early command to distribute the valuable tactical and leadership experience that only command can instill. With the littoral combat ship (LCS) designed to combine the minesweeping and patrol missions into one commander-command platform, the days of early command in the U.S. Navy may be over. By investing in the new PM platform, we are investing not only in our people, but also in our future.
Bang for the Buck
Fiscally speaking, the missile boat "punches above its weight" in the sense that it would offer the same modern offensive firepower as a capital warship at a fraction of the price. There is no such thing as something for nothing, and the Navy would have to sacrifice in other places to afford this new platform. Thankfully, the sacrifice required is small compared to the added capability. Existing surface warfare platforms, such as the Ticonderoga (CG-47) and Flight I Arleigh Burke (DDG-51) classes, approach a surface fight with up to eight antiship missiles. These ships cost approximately $2.3 billion each and are manned by a crew of approximately 300 personnel.7 Early estimates for PM prices are in the realm of $15 million, meaning that for the price of one destroyer the Navy could buy 153 PMs.8 With PM manning rated at 6-12 personnel, the same destroyer could provide crew for 25-50 PMs.9 The Navy would have to build just one fewer destroyer (or better yet, four fewer LCSs) to massively increase the firepower of the fleet.
Using existing technology exclusively, the PM simply combines elements already in production. Choosing from a number of proven domestically produced patrol and law enforcement patrol boat hulls—for example the new MK VI patrol boat already in the Navy's expeditionary warfare inventory—the Navy would have to install only the currently in-development offensive antiship surface warfare increment 2 antisurface missile and cooperative engagement capability tactical data links to make this concept a reality. With no need for costly and time-consuming ground-up research-and-development programs, the Navy could field this new PM in record time and still enjoy the benefits of the exhaustive and expensive testing regimens already completed.
This platform not only would complement existing force capabilities, it also would take them forward. The PM would complicate the battlespace. It would vastly increase the firepower of the fleet. Potential adversaries no longer would enjoy the luxury of concentrating their strength against our weakness. In the current dangerous global environment, faced with numerous challenges in multiple maritime domains, we must distribute and increase lethality to control the seas. The way to answer this call for fire is with a new hard-hitting patrol missile boat. Now let's fire for effect!
---

1. VADM Thomas Rowden, RADM Peter Gumataotao, and RADM Peter Fanta, USN, "Distributed Lethality," Proceedings 141, no. 1 (January 2015).
2. "AGM-84 Harpoon," Janes Defence, https://janes.ihs.com.libproxy.nps.edu/Janes/Display/1306852. "MK45 Single 5 in L/54 Gun Mount," Janes Defense, https://janes.ihs.com.libproxy.nps.edu/Janes/Display/1495996.
3. The author cites personal experience serving as opposing force commander during the Naval Postgraduate School's Distributed Lethality Wargaming Week.
4. The author cites personal experience serving as fire control officer in the USS Truxtun (DDG-103) from 2014 to 2016.
5. LT John Tanalega, USN, "Invest in Initiative," Proceedings 142, no. 12 (December 2016).
6. Tanalega, "Invest in Initiative."
7. "GAO Report on Flight III Arleigh Burke Guided Missile Destroyer," USNI News, 8 August 2016, https://news.usni.org/2016/08/08/document-gao-report-flight-iii-arleigh-burke-guided-missile-destroyer.
8. MK VI Patrol Boat, U.S. Naval Technology, www.naval-technology.com/projects/mk-vi-patrol-boats/.
9. MK VI Patrol Boat, U.S. Naval Technology, www.naval-technology.com/projects/mk-vi-patrol-boats/.
Lieutenant Janigian graduated from the U.S. Naval Academy in 2011 with a bachelor's in international relations and the Naval Postgraduate School in 2017 with a master's in national security studies. At-sea tours include service as gunnery officer in the USS Chancellorsville (CG-62) and fire control officer in the USS Truxtun (DDG-103). Currently in the Anti-Surface/Anti-Subsurface Warfare Tactics Instructor training pipeline, he hopes to one day early-command a U.S. Navy patrol missile boat.