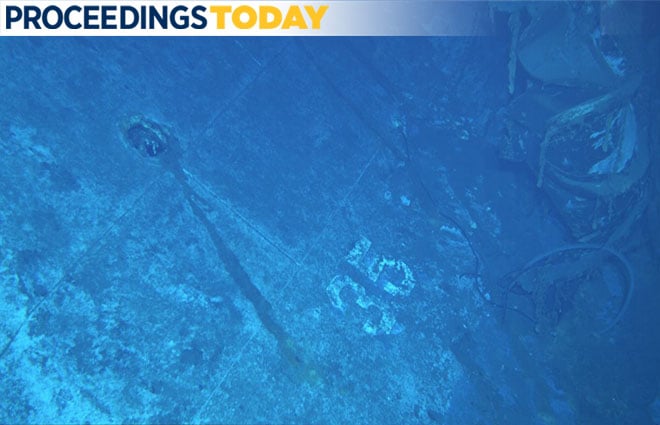 (Photo: Wreckage of the Indianapolis discovered on the sea floor in August. Credit: Navigea LTD.) 
The exact number of men who survived the sinking of the USS Indianapolis (CA-35) has been for decades a small controversy—small, that is, unless you were the forgotten man.
In 1945, the Navy concluded 316 men survived the Indianapolis's final voyage. The survivors themselves, however, were adamant that 317 sailors, Marines, and officers lived. They told me so again and again, as I spoke with more than a hundred of them over 11 years in interviews that eventually would become the documentary USS Indianapolis: The Legacy.
(Photo: Survivors of the Indianapolis after being rescued coming home.)
So who was right?
Last year, with the help of my research assistant, Dawn Vladic, I began working to find an answer. With the ship's final muster roll lost to the sea, we consulted the Navy's official final sailing list, dated October 1945, as well as a roster created by Katherine Moore, wife of the Indianapolis's first lieutenant, Lieutenant Commander Kasey Moore, who was lost at sea. More than a dozen nonfiction books—including Only 317 Survived, published in 2002 by the survivors themselves—featured their own versions of the list. 
We combed through all these lists—nearly 1,200 names—multiple times. Starting with one of the most common theories for the inconsistency, we looked into the four men who survived until rescued but passed away shortly afterward. While this was another tragic outcome of the ordeal, it was not the issue. In every list, these men were documented as deceased and not included in the final survivor numbers. 
We then crosschecked each name among the various lists and cataloged every inconsistency. This yielded a list of two dozen men. At this stage, the vast majority of disagreement among the lists amounted to nothing more than misspelled names. Still, when those were eliminated, six men remained.
These six discrepancies fell into multiple categories. For example, one man had officially changed his name. His old name appeared on the Navy's final sailing list, while his new name appeared on the list compiled by the survivors. In other cases, a man's name would appear on one final sailing list but not on the others. When this occurred, we used Fold3.com, an online collection of U.S. military records, and Ancestry.com to check World War II muster rolls, birth records, and death records. 
One by one, Dawn and I troubleshot each discrepancy. Only one name funneled out at the end: Radio Technician Second Class Clarence William Donner.
Son of Charles Donner and Ruth Cole, Clarence was born 2 August 1919, in Big Rapids, Michigan. He was listed on the Navy roster among those men lost at sea in August 1945—but he also was listed in several books as a survivor.

We had to dig more. 
After crosschecking Clarence's service number (952-60-19) and Social Security number, it became clear that he not only was a survivor, but also went on to serve on the USS Chimariko (ATF-154) until his discharge from the Navy in July 1946.
We had our answer. For nearly three-quarters of a century, Clarence was incorrectly listed as lost at sea. Moving him to the correct side of the ledger makes the tally of Indianapolis survivors 316 + 1, or 317.  The total number lost at sea decreases to 879, and the final crew total, including passenger Captain Edwin Crouch, comes to 1,196 men.
We tried on three occasions to share this research with the Navy, but even as recently as the discovery of the Indianapolis's wreck by the Paul G. Allen expedition, the Navy had not yet changed its official records. For the public record, though, I want be sure the world knows that Clarence William Donner went on to live a full life and passed away on 1 February 2002 at the age of 82. 
Clarence was not lost. And now, he's not forgotten.
---
Sara Vladic is a filmmaker and a member of the Producers Guild of America. She is, with Lynn Vincent, coauthor of the forthcoming book, INDIANAPOLIS: The True Story of the Worst Sea Disaster in U.S. Naval History and the Fifty-Year Fight to Exonerate an Innocent Man (Simon & Schuster, May 2018.)