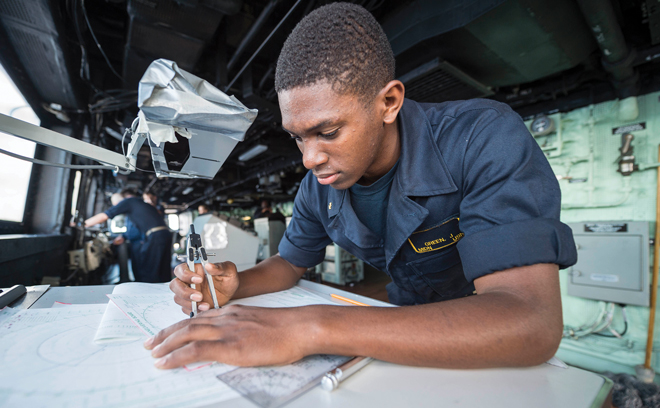 The Naval Academy has produced many great Navy and Marine Corps military leaders. All the midshipmen receive the same high-level leadership education and training. So why do some junior officers develop into better leaders than others?
Having been around many Navy leaders in my youth, I learned to appreciate that leadership development is a life-long journey, not a destination. Those who succeed possess the qualities to do the following: actively search for knowledge on their own, observe and learn from proven leaders, seek the most challenging positions in which to apply and develop their skills, and pursue feedback to improve on mistakes and capitalize on successes.
One of the best ways to learn about leadership is to become a voracious reader. Chief of Naval Operations Admiral John Richardson spoke to the important role reading plays in good leadership in his recent Proceedings contribution "Read. Write. Fight." He wrote, "Reading can teach us the fundamentals of our business."1 Leaders are expected to be experts in their fields. It is impossible to accomplish this without reading on a regular basis.
Knowledge gained through reading enriches observations and experiences. Reading opens a window into how good leaders acted in difficult situations and informs us of their opinions on leadership. Books such as Michael Shaara's The Killer Angels give readers front-row seats to learn from the failures of great leaders like Robert E. Lee. Good leadership development requires that examples such as these be examined and remembered.
Reading opens the mind to new knowledge and creative problem solving. Books such as Thomas E. Ricks' Making the Corps (a look into how the Marine Corps trains its new recruits) and critical thinking books such as James C. Collins' Good to Great (a study about what it takes to make the leap from mediocrity) provide insights into how aspiring leaders can connect two unrelated ideas into innovative problem solving. Reading a wide range of books offers a wealth of knowledge. Two recently retired Naval Academy graduates—Admiral James Stavridis, U.S. Navy (Retired), former Supreme Allied Commanders Europe; and General John Allen, U.S. Marine Corps (Retired), former Commander, Central Command—often speak about the importance of reading. There seems to be a strong correlation between good leaders and the numbers of books they read.
Mentors play an important role as well. There are two forms of mentoring: direct and indirect. Direct mentorship involves face-to-face relationships that provide first-hand insights. Ideally this should happen on a frequent basis, as a direct mentor is someone who can discuss important aspects of daily leadership issues. Mentors can provide first-hand accounts of the challenges of leadership in a given situation and reveal innovative ways to overcome and excel in the face of adversity.
Indirect mentorship, like reading, is an observed kind of learning. Everyone is exposed to effective and ineffective leaders, and much can be learned from both. Indirect mentorship requires developing leaders to note all leaders' tendencies and the ways they approach leadership challenges. The effective implementation of indirect mentorship involves emulating good leaders' admirable qualities while understanding what distinguishes them from the mediocre leaders.2 Aspiring good leaders emulate how their mentors lead while honing their own distinct styles.
Implementing lessons in the crucible of experience is another element in leadership development. In the beginning of his article "What Is Leadership, Anyway?" Joshua Rothman expands on the idea that real leadership development takes a lesson in the "school of hard knocks." Rothman contends, "For leadership to exist, a leader must cross paths with a crisis . . . . Without an answering crisis, a would-be leader remains just a promising custodian of potential."3 Real leadership crises provide hands-on opportunities to discover what works and what does not. To become a good leader, one must make a habit of seeking out daunting leadership opportunities. By taking jobs that might expose them to potential physical and career risks early, aspiring leaders can develop on a faster pace than others. As experience increases, new crises and leadership challenges become less daunting. History teaches us that experience breeds confidence, and confidence breeds success.
Finally, developing leaders should pursue feedback and use it to become stronger. Constructive criticism inculcates one of the most important elements of leadership—humility—at an early age. Accepting feedback, particularly negative comments, while maintaining a positive mindset teaches us to be both secure and humble. This feedback loop forces leaders to forget their egos and openly admit their flaws to themselves.
The key is to get the right kind of feedback from the right people and implement it into a constantly developing leadership style. Like mentorship, feedback can be both indirect and direct. The primary way to receive indirect feedback is to take a critical look at the trajectory of the organization's mission accomplishments. Although there likely are other factors, if an organization's performance is improving, a clear link can be drawn between the actions of the leader and the success of the organization. The reverse is also true.
Direct feedback, much like mentorship, involves day-to-day advice received from people who have witnessed developing leaders in action. How and from whom the feedback is collected is important. Good leaders do not solicit inputs from everyone in their command. Rather, the best feedback is gained from sampling of inputs from seniors, trusted peers, and competent chiefs and senior noncommissioned officers (NCOs).
Superiors can provide quality feedback based on overall performance in comparison to the rest of a command. Peers struggle though the same problems on a day-to-day basis and can provide constructive criticism when going to a superior might be unnecessary and consulting a subordinate would be unprofessional. Meanwhile, drawing on the experience of talented enlisted professionals should not be squandered. Senior enlisted leaders have vast amounts of experience and know good leaders when they see them. It is important to have honest, open, and professional conversations with these professionals.
The Naval Academy does well in touching all four elements of leadership growth. Its required reading about leadership provides midshipmen the opportunity to acquire baseline knowledge as well as to learn about the naval services' historic leaders. The Naval Academy also establishes a clearly developed mentorship process in which midshipmen take on both the roles of mentors and mentees. Summer cruises provide experience in the fleet and exposure to real fleet leaders. Future officers also gain experience through numerous leadership billets, ranging from plebe summer squad leader to company, battalion, and brigade commander. Finally, the feedback loop is reinforced throughout the Brigade of Midshipmen, from company officers and senior enlisted to midshipmen.
Our leadership institutions, such as the Naval Academy, provide excellent launch pads for good leadership development. The disconnect, however, between those who develop into great leaders and those who do not is based on what happens after the umbilical is cut between young leaders and these "launch pads." Exceptional leaders never are satisfied with their development. Being good is never good enough. Whenever there is an opportunity to read something new and different, observe leaders in action, gain additional experience through collateral duty, or address any flaw, growing leaders attack it with a sense of urgency.
Those who strive to be exceptional leaders understand that innate talent and prior knowledge are not enough to be the best of the best in terms of leadership. As former UCLA basketball coach John Wooden put it, "It's what you learn after you know it all that counts."
---

1. Adm. John Richardson and Lt. Ashley O'Keefe, "Now Hear This - Read. Write. Fight," U.S. Naval Institute Proceedings, vol. 142, no. 6 (June 2016), 10-11.
2. James C. Collins, Good to Great: Why Some Companies Make the Leap—and Others Don't (New York: HarperBusiness, 2001).
3. Joshua Rothman, "What Is Leadership, Anyway? Shut Up and Sit Down," The New Yorker, 29 February 2016, www.newyorker.com/magazine/2016/02/29/our-dangerous-leadership-obsession.
Midshipman Winnefeld is a member of the U.S. Naval Academy Class of 2018.