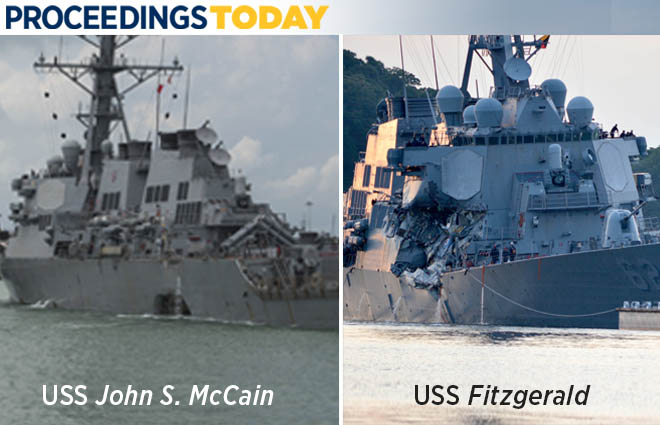 We do not yet know the causes of the USS John S. McCain (DDG-56) and USS Fitzgerald (DDG-62) collisions that resulted in the death of 17 sailors. It is likely, however, that technical failure played little or no role.
Despite some differences (John S. McCain was hit on the port side, Fitzgerald on the starboard), the similarities are many. The automatic identification system (AIS), which publicly transmits ship position, course, and speed, indicated that both merchant ships had been on essentially steady courses and speeds for the hour immediately preceding each collision. Each collision occurred on the midwatch (0524 and 0130, respectively), during good visibility, and with the captain absent from the bridge. In both cases the merchant hit the Navy ship, which likely means the warship was crossing ahead of the merchant.
In neither case were significant navigational system degrades present, although it has been reported that the John S. McCain suffered a steering casualty just before the collision.