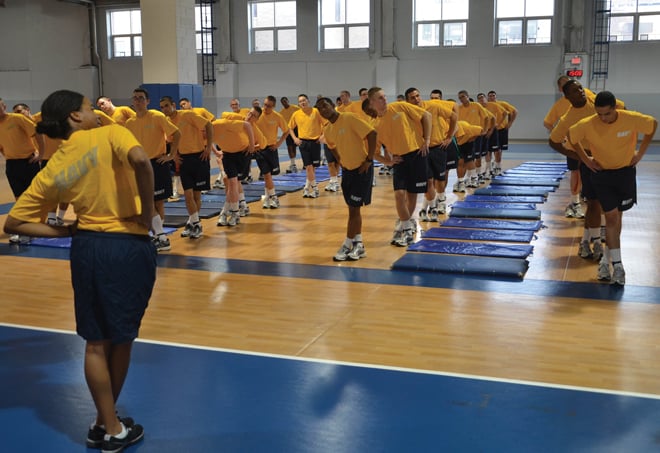 Toughness, sacrifice, and a willingness to pay the ultimate price to protect the liberties and freedoms of the United States are critical to success on the battlefield. Chief Petty Officer Stephen Bass displayed such a warrior mentality during a special operations rescue attempt in Afghanistan of two Americans, one presumed to be gravely injured.
Chief Bass, a Navy SEAL, overcame small arms fire, indirect mortar fire, rocket-propelled grenades, and mines to enter the fortress where the captives reportedly were being held. He attempted twice to rescue the captives but was forced by heavy fire to retreat. After one of the captives was rescued, Chief Bass was determined to rescue the other prisoner. He "moved forward another 300-400 meters into the heart of the fortress by himself under constant enemy fire," and when he ran low on ammo, he used weapons from dead enemy forces to continue his rescue attempt. Only after verifying the position and condition of the captive did he withdraw.1 His actions helped ensure the freedom of one American and the posthumous repatriation of another. Chief Bass was awarded the Navy Cross in 2003 for "his outstanding display of decisive leadership, unlimited courage in the face of enemy fire, and utmost devotion to duty."
Sailors need to look to heroes such as Chief Bass for inspiration to become true warriors. The Navy must harden the Recruit Training Command (RTC) boot camp, provide more physical training time, and instill more discipline and order at working commands to restore the warrior mentality epitomized by Chief Bass.
From my view, the Navy's boot camp was soft. The physical training was easy; at times, we barely broke a sweat. The curriculum generally consisted of cleaning horizontal surfaces, folding clothes a certain way, making a rack in accordance with military standards, and learning to discern different insignias to respond to authorities with correct verbiage. Much of what we learned could have been taught, practiced, and memorized in a day or two, including when and how to salute, how to record a log during watchstanding, how to fold uniforms and pin bars, how to shine boots, and how to march. Instead, these activities and others were practiced daily for close to two months. Tedious, middle school–level learning evolutions took up the bulk of boot camp. There should be more frequent, practical evolutions such as the firefighting, damage control, and line handling that are used almost daily on a ship.
Most Sailors go to the fleet, so it would make sense to groom them earlier than A-school for future job requirements. Training at RTC is inadequate. My fellow seaman recruits and I spent a lot of time goofing around, acting immaturely, and finding ways to make the days fly by. Most of us were astounded by the lack of physical and mental challenges. The instructors' threats did not get to us, and after just a few weeks one instructor quit and the other two switched to a buddy-like approach. How can the Navy produce tough, gung-ho, sharp Sailors with a weak start at RTC? It should harden Sailors in the first eight weeks with demanding physical training, install more evolutions like "Battle Stations," and allow more direct and fierce contact between instructor and student.
A soft boot camp will produce soft Sailors. Some individuals arrive at their commands and disrespect authorities, gun deck work, sneak away from the job to rest or fool around, and do not display teamwork or perseverance. Most of these personnel shortcomings will not receive a captain's mast, but rather a simple, stern conversation resulting in a "Roger that" followed by a return to the same poor attitude and workplace violations. But, why not? If a Sailor is not going to get a disciplinary review board or a serious remediation, he or she might as well go back to a comfortable way of working that fits his or her schedule and standards, not the Navy's.
To make matters worse, physical training time in the Navy is limited. Many ships have only one organized command physical training (PT) event per week, or possibly none, because of operational, certification, and planned maintenance requirements. Without daily, effective workouts Sailors tend to stray from exercise. Yet, because of the hard work and physical labor Sailors put into the job, they may eat a lot to satisfy hunger and fight the fatigue caused by a 14-hour working day. This leads to more calories consumed than calories expended, causing unhealthy weight gains. After-work hours should not be spent at the gym; that time is for family and other activities to balance work and personal life. The Navy needs to implement more physical training time to keep its Sailors healthy and fit, which will help them be ready to answer our nation's call.
Workplace order and discipline also need to be instilled to produce more effective, productive, hard-working Sailors. Like anywhere else, communication and organization play critical roles in improving the atmosphere in the Navy. It is difficult to work and accomplish tasks when coworkers are not on the same page or meeting goals. Tools and materials necessary to complete jobs disappear or are mysteriously moved because work spaces are not organized; paperwork is not squared away or put away properly; or the word does not get passed efficiently; leaving some people uninformed and in disarray. Leaders need to demand more efficient organization, which will allow better communication.
Our culture is becoming too indulgent, entitled, and lazy. Too many Sailors are failing schools, becoming depressed, and receiving honorable discharges early to go back to their old lives unblemished and free. Sailors spend hours on general military training, man hours that could be used for hands-on training, planned maintenance systems, or weekly work.
That said, I am proud to be in the U.S. military and part of the finest Navy in the world. We patrol and control the sea, assist in neutralizing global threats, and produce the finest special operations force in the world. If we look at the actions of warriors such as Chief Petty Officer Bass, we can redirect our work ethic and patriotism to better our Navy. Hardening boot camp training, providing Sailors with more physical training time, and instilling more discipline and order at working commands will produce more toughness. The Navy needs to restore the warrior mentality by calling on every Sailor to take action, remember the reason he or she signed up, study our enemies, and better the naval profession.
---

1. Otto Kreisher, "Coronado SEAL Awarded the Navy Cross," Copley News Service, 1 November 2003, www.shadowspear.com/vb/threads/coronado-seal-awarded-the-navy-cross.2148/.
Fireman Horton is a rescue swimmer/fireman on board the USS New York (LPD-21). He holds a bachelor's degree in marketing/management from Hillsdale College, where he also played Division II football. This article won third prize in the Naval Institute's Spring Enlisted Essay Contest sponsored with Textron Systems.