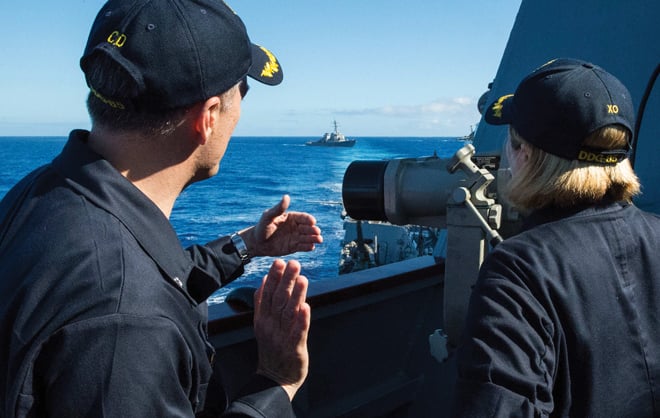 For the most part, executive officers, or XOs, are actually captains-in-waiting. They have been selected for command, and when an incumbent commanding officer (CO) departs, an XO ascends. Understanding this, it has been much asked of late: "Where was the XO when the USS Fitzgerald (DDG-62) suffered her collision at sea?"
While this is a worthwhile question, it begs what is perhaps a more important one: What was the dynamic between the CO and XO in the Fitzgerald? This is the heart of the matter, because what may not be understood by all is that despite the fact than an XO may be qualified for command, he or she cannot reasonably take an active role in the affairs of the bridge without the CO's expressed invitation. The bridge is, by tradition and practice, the CO's domain, where he or she reigns alone. None dare tread on this prerogative.
Was the XO in the Fitzgerald invited to involve himself in the bridge watch? Was he welcomed to learn, lead, and become comfortable on the Fitzgerald's bridge? We don't know; we may never know. The truth of the relationship between any command's CO and XO is often subtle and beyond easy expression. It is possible the XO was made to understand that the administrative load of the ship was his primary responsibility, and the bridge was the CO's. Historically, this is not uncommon in ships.
Removing the Fitzgerald from the equation, it is the CO's obligation to prepare those serving under him or her for their next level of responsibility. And it is an unwise for any CO to fail to aggressively train the XO for the pinnacle of naval, professional responsibility—command at sea.
In the pursuit of this, it is the CO's responsibility to hand the reins of command to the XO, even though this may be more easily said than done. Many COs believe the following: "I have served many years to earn this massive responsibility, and I alone shall bear it." Or, "I'm going to be held personally responsible if anything goes wrong in my command, and by God, it will be my hand on the tiller." As for the XOs, it is often the case that they arrive as the ship's number two with a woeful lack of recent bridge experience. Many XOs have spent their department head tours standing watch somewhere other than the pilot house, and so they may not have conned a ship since they were very junior officers. Perhaps not surprisingly, these may be reticent to risk embarrassment on the bridge.
Collected experiences tend to tie themselves together in the subconscious. With enough experience, a person may be able to quickly reach critical and correct conclusions in an almost inexplicable manner. This is known as "heuristic knowledge." No matter how competent or seemingly prepared an XO is, it is essential that a CO contribute to an XO's heuristic experience. After all, it has been demonstrated that a CO's "gut feelings" are typically based on something real and ignored only at one's peril.
An XO will fleet-up to command possessing two key tools—a satchel full of experience and a 50-gallon drum of luck. When the satchel is empty, the XO will be forced to rely on the luck. The problem is that the luck drum has no sight glass. Consequently, he or she can never tell whether it's full or empty. This is why it is imperative for a CO to get his or her XO to the bridge a lot. That satchel needs filling, and there is always room for more.
Captain Eyer served in seven cruisers, commanding three Aegis cruisers: USS Thomas S. Gates (CG-51), Shiloh (CG-67), and Chancellorsville (CG-62).