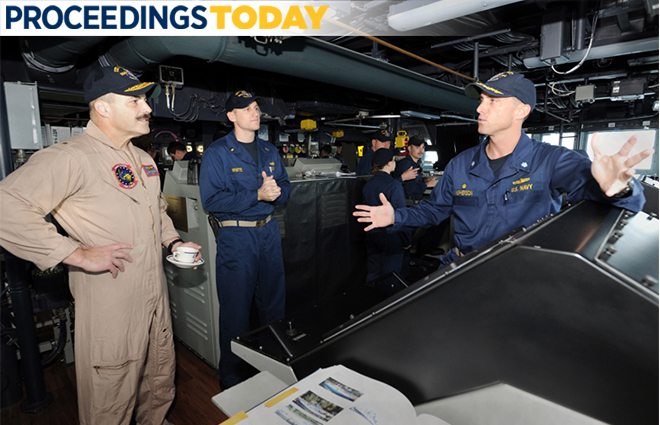 There are many useful and necessary discussions ongoing about the state of readiness in the Navy's surface fleet. One piece in a solution could be borrowed from naval aviators: keep detailed individual log books.
While serving in command of a destroyer, my new strike group commander, Rear Admiral Mark Guadagnini, started his tour asking why surface warfare officers (SWOs) do not keep log books. The cheap answer was that our professional requirements were different than those of an aviator—pier landings for a ship cannot be graded as arrested landings for aircraft. Ship evolutions are a team sport; aviation logs are for individuals.
Admiral Guadagnini asked me (in the manner a flag officer asks a commander) to begin keeping logs for my officers during an extended under-way period. We had to be creative about what to measure, because there only was one planned unmooring/mooring and no under-way replenishments (unreps).
We tracked contact reports made, radio hails, deck-landing qualifications—anything where a metric could be applied. Little of what we measured mattered or was useful in determining a watchstander's effectiveness. The value was in the second- and third-order effects that came from discussions with my watchstanders. That was when I discovered how much or little bridge experience my department head tactical action officers had in their division officer tours. I realized my officers had no idea how many special evolutions they had done—nor could I recall the same for myself. I also realized that if I did not make sure they were capable bridge watchstanders as department heads, a decade or more would pass between their last sea details as a division officers and their next in command.
Over the course of a project—one I did not want to do—I became an advocate for SWO log books. Admiral Guadagnini was right: individual log data would be useful for SWOs, even if my ship's initial collection experiment was largely a failure. We should measure things that matter, and use the data appropriately. The numbers of unreps or pier landings should not factor into promotion or command selection decisions, but it would help quantify a SWO's relevant experience. Log data should be relevant, tailored by ship class, easily entered, portable with the officer, and be used by the individual SWO, training officers, and commanding officers to identify areas where additional training, practice, and development are needed.
When I realized my department heads lacked bridge experience, for example, I asked them to be special evolution officers of the deck. I knew they needed additional time on the bridge, but I had no idea what their base of experience was, other than "not enough." We have to know where we are before we can plot an effective course change. Log books would greatly enhance SWOs' understanding of their own experience (and inexperience). Logs also could become items of personal pride in the SWO profession as young officers ask for opportunities to conduct unreps, moorings, and straights transits—much the way aviators boast of their flight hours and "traps" on an aircraft carrier.
---
Captain Bodvake retired in 2016 after 26 years of active duty. He commanded the USS Momsen (DDG-92) and Destroyer Squadron 22, and was the Director of the Command At Sea (N75) Course at Surface Warfare Officers School in Newport, Rhode Island.