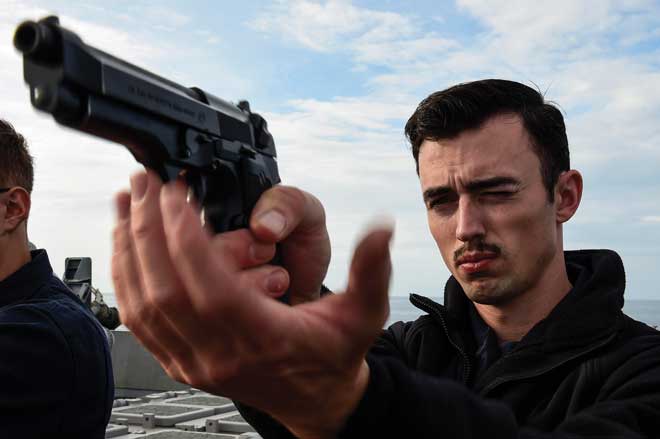 Secretary of the Navy Richard Spencer's first order of business should be making the Navy/Marine Corps team more lethal—and he can do it at zero marginal cost. Specifically, he should issue direction implementing section 4 provisions of Department of Defense (DoD) Directive 5210.56, "Arming and the Use of Force," permitting Navy Department personnel to carry firearms to defend themselves. The lives and morale of the Fleet depend on his resolute leadership on this issue. Sailors and Marines should not suffer as unwillingly unarmed prey for another Naval Operational Support Center Chattanooga terrorist attack, another Navy Yard massacre, or more Fort Hood butchery.
As a component head, the Secretary of the Navy is an "arming authority" under the directive, tasked with establishing requirements for "personnel who will be designated as the official that may permit the concealed or open carry of privately owned firearms on DoD property for personal protection purposes." To date, the Department of the Navy has failed to issue any guidance, hewing instead to the status quo and the restrictions of Office of the Chief of Naval Operations instructions preventing on-base carry of personal firearms, leaving most Sailors and Marines (even well-trained, combat-tested, and state concealed-carry permit holders) unarmed and vulnerable.1 That decision may prove to be negligent rather than conservative.
Permitting carry of private weapons serves two key goals recognized by both DoD and Congress:
Increasing the lethality and toughness of personnel against terrorist attacks
Reducing sexual assault in the military through deterrence and/or lethal force
The Islamic State already has published "kill lists" of military personnel. While military installations are protected by armed guards, such protections are not infallible, as demonstrated by the pier-side shooting on board Naval Base Norfolk on 24 March 2014. Only the heroic actions and sacrifice by Master-at-Arms Second Class Mark Mayo stopped the slaughter that day. More important, U.S. Code, which precludes carry on Navy Department installations, de facto infringes the Second Amendment rights of members of the military who live off base and must commute.
Moreover, bemoaning a permissive culture of sexual assault in the military and then denying Sailors and Marines the ability to defend themselves smacks of hypocrisy. We train female service members how to operate warships and howitzers to defend our nation, inform them how to report a sexual assault, but preclude them from carrying a firearm on base for self-defense.
Implementation of DoD Directive 5210.56 would not provide carte blanche to all troops who wish to carry. Arming authorities are directed to consider age, criminal and disciplinary history, and demonstrated competence through official or "credible" training, and also should account for state concealed-carry permits and the Law Enforcement Officers Safety Act. In short, authority is delegated to the proper level, using specific and consistent guidelines to promote equity in practice.
John Paul Jones said "I may sink, but I'll be damned if I strike!" Implementation of DoD Directive 5210.56—signed almost a year ago—is not a panacea against terrorist and criminal threats, but it gives potential victims a fighting chance.
---

1. OPNAVINST 5530.14E CH-2, "Navy Physical Security and Law Enforcement Program," revised 23 September 2014, states that "personal firearms shall not be possessed, used, introduced, transported, or stored on board a Navy installation, to include a joint base where the Navy is the lead Service, on-base Bachelor Quarters, on-base temporary lodging facilities, and on-base military housing areas (including on-base Public-Private Venture [PPV] housing) without first obtaining prior written approval of the installation commanding officer (ICO)."
Commander Whipps is a Navy Reserve officer currently assigned to the Pentagon. He is a graduate of Georgetown University's Walsh School of Foreign Service and Harvard Business School.