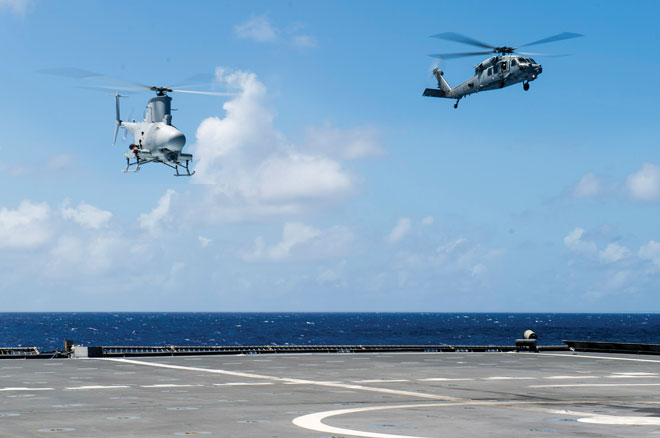 Helicopter sea combat squadrons have the only established capability to combine manned and unmanned aircraft operations in the fleet. Here an MH-60s from HSC-23 prepares to land on the USS Coronado with an unmanned MQ-8B Fire Scout. Photo by US Navy
In the modern Navy that increasingly favors networked sensor coverage, advanced weaponry, increased range, and increased persistence from its aviation assets, how does the helicopter sea combat (HSC) community stretch its capabilities to contribute meaningfully to the naval warfighting needs of the future? The unsettling answer likely will not lie in manipulations of the existing MH-60S weapon system, but instead in the investment in a future, combined manned/unmanned weapon system yet to be designed.
Many talented minds are developing 10- to 20-year plans to ensure the continued contributions of the HSC community within the bounds of current and projected capabilities of the MH-60S. In parallel, however, and with the sundown of the MH-60S on the horizon in 2035, current HSC aircrew and leaders must ensure that the direction the community heads for 2040 and beyond is aligned with the future warfighting needs of the Navy. Over the next 25 years, HSC might choose to embrace the myth of the Phoenix and lean into the death of manned rotary-wing aviation—at least partially—to invest in the total rebirth of the community.
In suggesting innovations, we must return constantly to the existential question for all naval aviation communities: "How can we better align ourselves to do what our bosses care about?" Unfortunately, many near-term solutions dead-end with the shortcomings of the MH-60S, especially when compared to its smarter and better-looking sister, the MH-60R. Even after Lieutenant Commander Mike Silver and I wrote "Distributed Lethality: The Future of the Helicopter Sea Combat Community," a long list of mid-life upgrade suggestions for the MH-60S, at least some junior officers in the HSC community accused us of merely "trying to out-Romeo the Romeos" or advocating for "LAMPS 2.0."1 One operational commander put it more directly: "Gentlemen, you can only put so much lipstick on a pig."
While some amount of lipstick for the aircraft will help, HSC needs to understand that expectations for the MH-60S near- and intermediate-term service-life assessment and extension programs likely will not result in the type of sensor coverage, weapons employment capability, range, or persistence that Navy strike groups increasingly desire. Solutions closer to a longer-term substantive shift for HSC capabilities include the networked equipment upgrades suggested in "Distributed Lethality." Still other possibilities could have an even larger impact: combined manned/unmanned vehicle pairings featuring Level of Interoperability (LOI) 3, 4, or 5 offer a path for the community's sustainable future.2 But as long as HSC is in a relationship with the MH-60S, we may not be able fully to address certain core, deployability-related shortcomings such as the inability to put an MH-60S with external weapon systems into a cruiser's or destroyer's hangar.
The time to focus on HSC's life beyond the MH-60S is now. While HSC continues to lead naval aviation in innovation and leans forward on meaningful improvements, the community must maintain its long-term edge in rotary-wing aviation in 2040 and beyond. HSC must emulate the mythical Phoenix bird to ensure that when the MH-60S dies, the community will rise with the correct replacements.
Beyond 2040, it is likely that the only naval aviation future involving manned helicopters, whether HSC, helicopter maritime strike (HSM), or "other," almost certainly will revolve around the movement of people and things (search and rescue, logistics, humanitarian assistance, disaster relief, and special operations). All else (airborne mine countermeasures, antisubmarine warfare, antisurface warfare, electronic warfare, etc.) can and should be performed by more-capable unmanned platforms.
HSC already dominates the few manned helicopter missions likely still to exist in 2040. Whatever acquisition programs ultimately stem from the Future of Vertical Lift (FVL) and Joint Multi-Role (JMR) programs over the next decade probably will give us a peek at our future manned platform. Unrecognized by many, however, is that HSC also is positioned well to control the remaining, unmanned rotary-wing mission sets as the only naval aviation community already meaningfully invested in operational unmanned aircraft systems (UASs).
HSC should lead the pivot toward a combined manned/unmanned future in rotary-wing aviation. HSC should redouble its efforts to shape its community structure around a superior, combined manned/unmanned combat system for 2040 that exceeds the performance capabilities of the MH-60R/S team in every quantifiable way. This notional combination offers the best possibility to meet strike group commanders' requirements.
HSC should be asking the following questions:
• How can the HSC community position helicopter pilots and aircrew to become experts in UASs?
• What might a future expeditionary manned/unmanned squadron look like with respect to personnel and materiel?
• What investments are required—now—in UASs and their integration with manned platforms?
• What kinds of things can the community do to ensure that the next generation of UASs and manned helicopters bring the right capabilities to the fight?
The MQ-8B/C Fire Scout is a stepping stone to the expeditionary, long-range, high-endurance UAV of 2040. Potentially surprising to some is the reality that future UAVs deployed from littoral combat ship, cruiser, or destroyer flight decks almost certainly will need to transition from purely rotor-borne to fixed-wing flight in order to provide the persistence realized in systems such as the MQ-1 Predator and MQ-9 Reaper.3 While future vehicles may physically look and fly differently, today's helicopter pilots still will be needed to provide their operational expertise and valued experience, no matter the platform.
HSC should mobilize our brightest minds, embrace the death of much of manned rotary-wing aviation and rise like the Phoenix from its ashes to develop the combined manned/unmanned combat system that will change the way that the Navy uses its rotary-wing assets.
---

1. LCDR Mike Silver, USN, et al., "Distributed Lethality: The Future of the Helicopter Sea Combat Community," cimsec.org/distributed-lethality-future-helicopter-sea-combat-community/31055.
2. LOI 3 allows for control of an unmanned aerial vehicle's (UAV's) sensors; LOI 4 allows for maneuvering a UAV in flight and controlling its payload; LOI 5 allows full control, including landing and launching an UAV.
3. For more info on this concept, see DARPA's "TERN" project, www.darpa.mil/program/tern. Author's note: The author wishes to acknowledge Lieutenant Commander Thomas McCurdy, U.S. Navy, and Lieutenant (junior grade) Sophia Recca, U.S. Navy, for their contributions to this commentary.
---
Commander Moore serves as the maintenance officer for the award-winning, Forward Deployed Naval Forces' squadron HSC-12. He has deployed operationally, both sea and shore-based, throughout the Pacific theater, for seven of the past ten years. He has flown more than 2,700 hours in the H-60F/H/S, and is an air combat training continuum level IV division lead and dedicated special operations support tactical level III combat-qualified pilot.