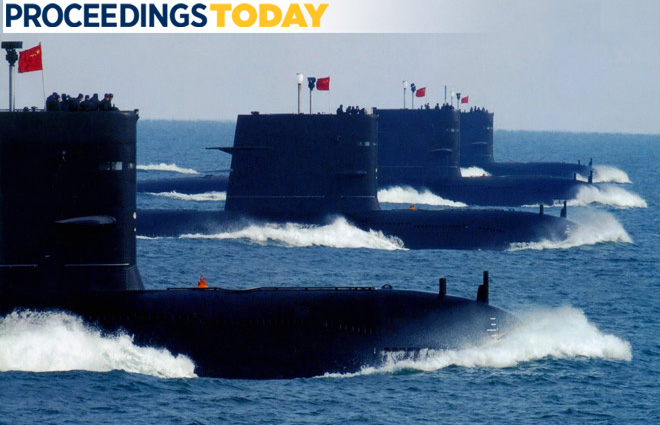 Recent statements from a former and a current senior Navy official reminded me of the 1967 Aretha Franklin classic ballad "Respect" as it pertains to U.S. respect for the military capabilities of the People's Republic of China. 
Retired Navy Admiral Dennis Blair—former Commander, U.S. Pacific Command, and Director of National Intelligence—speaking on 4 April at the Navy League's Sea-Air-Space conference, said China has "not developed the maritime and air superiority that would undermine American deterrence and our treaty commitments." He went on to suggest that the People's Liberation Army Navy (PLAN) has "not developed the capability to take and hold Taiwan, the Senkakus, or the South China Sea." Then on 26 April, current U.S. Pacific Command Commander Admiral Harry Harris boldly stated in testimony before the House Armed Services Committee that comparing Chinese and U.S. submarines is like "comparing a Model T with a Corvette."
What are we to make of these types of comments?
Are they accurate? Not entirely . . . and certainly not for long.
Will some members of Congress use such assertions to undercut the Navy's 2016 Force Structure Assessment that calls for 355 ships? Possibly.
Do these types of statements from senior and seasoned experts exude the sense of urgency that would compel Capitol Hill to appropriate and allocate the funding required to rebuild the U.S. Navy to 350 ships, the minimum baseline recommended by two independent bipartisan commissions? Will they help Congress and the President understand that our security planning is hostage to existing budgeting constraints and that our fleet numbers should be much higher given China's projected 500-ship navy in 2030? I think not.
The imperative to respect the PLAN is not confined to the budgeting process. It also relates to the missions Chinese naval forces are charged with accomplishing. For example, we know the PLAN did not build its submarine force to engage and destroy U.S. submarines. Rather, they were built primarily to engage and sink our carriers and surface ships. They also have other missions, such as gathering intelligence, supporting special operations forces, and mining, to name a few. So likening them to Model Ts misses the point. Sometimes a Model T is all that is required. Are Chinese submarines capable of sinking U.S. Navy aircraft carriers and other warships? The answer is a resounding yes.
Recall the effectiveness of the North Korean Yono-class midget submarine (SSM) with outdated technology and a poorly trained crew that sank the Republic of Korea Navy corvette Cheonan, killing 46 South Korean sailors, in March 2010. What did it matter that the Yono SSM was less capable than a U.S. Navy Virginia (SSN-774)-class submarine? It did not matter at all.
One also could question these statements in terms of quantity versus quality, given that the PLAN submarine force uses "wolf pack" tactics. Does one Virginia-class submarine have the same capabilities as six PLAN Yuan-class air-independent-propulsion boats? Obviously no.
Recent statements by Chief of Naval Operations Admiral Richardson that the Navy must "capture a sense of urgency to maintain our place in the world" are encouraging. Statements of bravado that lull us into a false sense of security, however, can be ruinous to our national security interests. They demonstrate an inconsistency and a lack of respect for China's intentions and PLAN threat. 
It is well past time to get serious about the threats China presents to the United States in Asia. Underestimating these threats is guaranteed to undermine the sense of urgency needed to revitalize our badly deteriorated Navy and likely to encourage China to continue its increasingly brazen provocations and hostile actions in the East and South China seas.  
R-E-S-P-E-C-T is key to the U.S. Navy's success in the increasingly unstable Asia-Pacific region.
---
Captain Fanell served a career in Navy intelligence and retired from active duty in 2015. His last billet was Director of Intelligence and Information Operations for the U.S. Pacific Fleet.
Photo credit: SinoDefence