To the Brink of Armageddon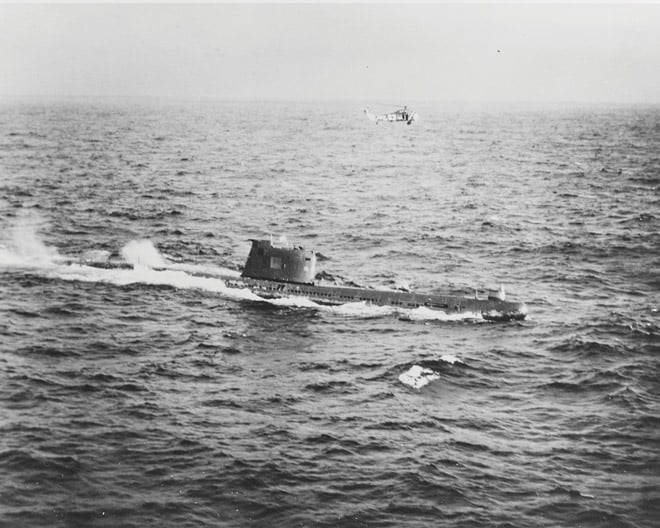 National Archives

In October 1962, when U.S. reconnaissance overflights revealed that the Soviet Union was installing offensive, nuclear-capable missiles in Fidel Castro's Communist Cuba, President John F. Kennedy and his advisors quickly concluded this was unacceptable and that some kind of action was required. But the problem facing the President was made complex by the realization that confrontation between these two superpowers ran the very real risk of escalating into a nuclear exchange—the dreaded "World War III."
Seeking something less than overt combat actions—which were being pressed by many of his advisors—that nonetheless would send a strong message of resolve, Kennedy opted for a combination of limited power projection and deterrence. Foremost in this strategy was the implementation of a naval blockade (calling it a "quarantine" in a semantic maneuver to make it less an "act of war" in diplomatic parlance).
Designated Task Force 136, 12 destroyers were fanned out along a great arc that provided the initial "trip wire" of the quarantine. This picket line was backed by the carrier USS Essex (CV-9) and five more destroyers. More than 30 additional ships—including several attack carriers—formed a strike group, designated Task Force 135, that would go into action if needed.
The rules of engagement called for an intercepting destroyer to take up a position close aboard an approaching ship, and to hoist international signals meaning "heave to immediately" while also attempting to communicate by radio and loudspeaker. Each destroyer had a Russian linguist embarked to facilitate the process.
If the intercepted ship failed to stop, the destroyer was authorized to fire warning shots across her bow. If she still refused to stop, the destroyer was to attempt to disable her with minimal damage—i.e., attempt to shoot out her rudder. If attempts to board were resisted, the destroyer was to destroy the ship.
If a Soviet submarine were detected, it was to be forced to the surface, using practice depth charges if necessary. To say that the potential for disaster loomed large is a bit of an understatement.
Fortunately, both sides seemed acutely aware of the potential danger, and for the most part, level heads prevailed. While tension was constant throughout the crisis, one of the most dangerous moments occurred when a Soviet submarine captain came close to bringing on the dreaded World War III.
Detected and "hounded" by U.S. destroyers, Captain 2nd Rank Valentin Savitsky's diesel submarine B-59 was running out of air and her batteries were running out of charge. Unable to communicate with Moscow, and with members of his crew passing out one after another, Savitsky began to lose his composure. Unknown to the Americans at the time, Soviet submarines were equipped with a nuclear torpedo, and the harried captain ordered the weapon to be prepared for firing. With the nuclear torpedo loaded into a launch tube and armed to fire, Savitsky ranted, "Maybe the war has already started up there," adding, "We're going to blast them now! We will die, but we will sink them all."
Fortunately for Savitsky—and the world—the stressed captain calmed down and opted to peacefully surface his boat. As they emerged from the depths, the Russians found a jazz band playing on deck on one of the destroyers, which likely eased some of the tension.
What became known as the Cuban Missile Crisis ended when the Soviets agreed to remove the missiles from Cuba. While many factors contributed to the successful outcome of the crisis, a key element was the President's ability to ante up a credible naval force that could serve on the front line, combining strength with restraint as two superpowers went to "the brink" and back.
Lieutenant Commander Cutler is the author of several Naval Institute Press books, including A Sailor's History of the U.S. Navy and The Battle of Leyte Gulf, and is the U.S. Naval Institute Gordon England Chair of Professional Naval Literature.