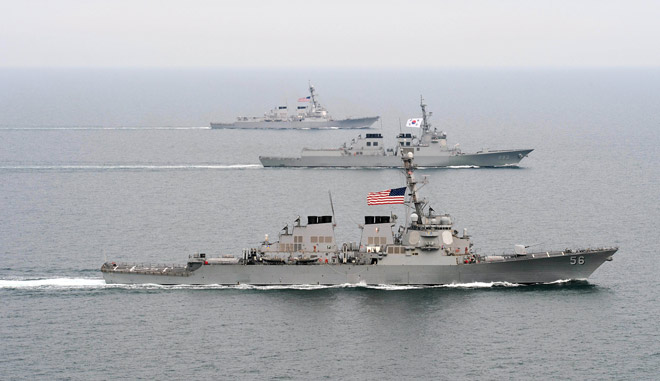 U.S. Navy (Declan Barnes)
 
Start at the "High End" with Aegis Ballistic Missile Defense
Globalization—the integration of the political, economic, and cultural activities of geographically separated peoples—is at the core of today's accelerated global integration and has brought heretofore unimagined prosperity to the world.1 The relative security of the global commons, coupled with the unimpeded flow of trade across the world's oceans, has undergirded this prosperity. While this free flow of goods among countries and continents is something many take for granted, navies ensure the rule of law on the oceans and protect the ships that carry the bulk of the trade between nations.
More than a decade has passed since then-Chief of Naval Operations (CNO) Admiral Michael Mullen unveiled the concept of a 1,000-ship navy at the International Seapower Symposium in Newport, Rhode Island. In introducing his idea, Admiral Mullen stated, "As we combine our advantages, I envision a 1,000-ship navy—a fleet-in-being, if you will—made up of the best capabilities of all freedom-loving navies of the world."2 Later renamed the Global Maritime Partnership, the concept caught on as other nations also came to realize that no single state had the assets to ensure security on the seas or even to respond adequately to lesser threats, from piracy, to criminal activities at sea, to natural disasters.
Today, the nation's maritime strategy, "A Cooperative Strategy for 21st Century Seapower" (CS-21R), has carried this concept forward and renamed it "the global network of navies." Admiral Mullen's call for a 1,000-ship navy came at a time when the U.S. Navy was faced with a declining number of ships. That decline has accelerated, and as the nation most invested in the security of the world's oceans, the United States needs a global network of navies now more than ever. As CNO, Admiral John Richardson points out in "A Design for Maintaining Maritime Superiority," the Navy needs to "expand and strengthen our network of partners. . . . Prioritize key international partnerships through information sharing, interoperability initiatives, and combined operations; explore new opportunities for combined forward operations."3
This national imperative is recognized outside U.S. Navy lifelines. Indeed, as Tom Friedman wrote in an op-ed in The New York Times, "America's ability to build coalitions is as vital today as the exercise of its own power."4 Importantly, other maritime powers want to partner with the United States to form a strong global network of navies to deal with some of the unintended consequences of globalization—including the threats on the global commons. As the international team of authors of the book You Cannot Surge Trust point out, in the decade since Admiral Mullen proposed a 1,000-ship navy, the imperative to form naval coalitions to deal with a wide range of crises and contingencies has taken on increased emphasis. Indeed, they note that naval operators increasingly want to work with trusted foreign colleagues in a combined force.5
The World's Only Existential Threat
While globalization has had extensive beneficial effects, one of its most serious downsides has been the worldwide proliferation of ballistic missile technology, and the concomitant spread of the means to produce weapons of mass destruction (WMD). More than 30 countries deploy ballistic missiles today, compared with only nine just a few decades ago. Potential enemies possess both ballistic missiles and weapons of mass destruction, and today's rogue leaders view WMD as weapons of choice, not of last resort.6
The total number of ballistic missiles outside the United States, NATO, Russia, and the People's Republic of China has grown by more than 5,000 weapons since 2007. The United States' deployed military forces and many U.S. allies are now within range of hundreds of launchers and thousands of missiles. The threat crosses strategic-, operational-, and tactical-level boundaries. Most worrisome to U.S. defense planners, as well as to an increasing number of U.S. allies and partners, has been the threat posed by rogue nations such as North Korea and Iran.7
North Korea's nuclear weapons ambitions are well known, and its potential delivery systems are increasingly robust. North Korea's ballistic-missile force includes the short-range Scud C and medium-range No Dong missiles, some of which have been transferred to other countries. No Dong ballistic missiles can reach Japan and South Korea, holding at risk U.S. bases throughout the region. North Korea also continues to develop a new intermediate-range ballistic missile capable of reaching Guam and the Aleutians. The "peaceful" launch of an Unha-3 rocket raised concerns that Pyongyang had tested a ballistic missile with a range of some 6,200 miles and a payload of about 3,000 pounds.8
Iran's ballistic-missile development also poses a threat to U.S. interests and friends. During its Great Prophet exercises, Tehran launched numerous ballistic missiles, some of which were capable of striking U.S. bases in the region, as well as Israel, the Arabian Gulf states, and Turkey. Iran's launch of a solid-fuel, 1,300-mile, medium-range ballistic missile demonstrated its capability to strike targets as far away as southern Europe. And with the successful launch of the Safir space launch vehicle, Iran demonstrated technologies that are directly applicable to the development intercontinental ballistic missiles.9 The threat from these developments takes on new urgency when juxtaposed with Iran's WMD program—notwithstanding the recent nuclear deal with the United States.
Iran and North Korea are not alone in leveraging potential ballistic-missile employment. China is developing a strategy of denying access to the western Pacific based in part on the operational-level use of ballistic missiles. As underscored in one Naval War College Review article, "China seeks the capacity to find U.S. aircraft carriers roughly a thousand miles from the mainland and to attack them with homing ASBMs [antiship ballistic missiles]."10 The most prominent aspect of this threat is China's development of the world's first "carrier killer" ballistic missile, the DF-21D, and more recently, the 3,400-mile-range DF-26, the so-called Guam-killer missile.11
Perhaps most perniciously, these nations—as well as others—have demonstrated a willingness to export their ballistic missiles and WMD to other states, as well as to non-state actors. Thus, as opposed to the Cold War, when the United States and the Soviet Union faced off against each other and the threat of mutually assured destruction kept both superpowers from using these weapons, some entities possessing ballistic missiles with WMD today may be immune to the worry of retribution. This leaves the United States and its allies and partners with little recourse but to have the capability and the capacity to shoot down ballistic missiles in flight.
Ballistic Missile Defense
More than three decades ago, President Ronald Reagan asked whether ballistic missiles could be destroyed before they reached the United States or its allies, thus catalyzing efforts for a national ballistic missile defense. In the ensuing years, under the stewardship of this U.S. Missile Defense Agency and its predecessor organizations, the United States has built and fielded a robust national defense against ballistic missiles.
To counter the most pressing threat—states already possessing WMD-armed ballistic missiles—the United States has fielded an initial national-level ballistic missile defense system (BMDS), integrating land, sea, air, and space elements. The first priority of the BMDS implementation strategy—establishing a limited defensive capability against North Korean ballistic missiles—has largely been achieved with Patriot Advanced Capability 3 (PAC-3) batteries, the Ground-Based Midcourse Defense system, the forward-deployed AN/TPY-2 radar, and Aegis BMD ships for long-range search, cueing, and engagement.
The same year that President Reagan announced the nation's new ballistic missile defense policy, the U.S. Navy commissioned the USS Ticonderoga (CG-47), the first of what is to become a fleet of more than 80 Aegis warships. The Navy's contribution to U.S. ballistic missile defense, built around the Aegis weapon system, has become increasingly important. The Aegis BMD system has been integrated with fleet and joint force warfighting standards and BMDS command, control, battle-management, and communications elements. Aegis BMD interoperates with ground-, air-, and space-based sensors and other in-theater assets, including the Terminal High-Altitude Area Defense (THAAD) system.12
Since the first Aegis BMD intercept test in January 2002, the Missile Defense Agency and the Navy have enjoyed great success: 35 hits against 42 shots, including intercepts of two targets by two missiles during a single test.13 The success of Aegis—and especially its BMD capability—has not been lost on other nations. Increasing numbers of navies now employ Aegis ships and many of them field BMD capability—forming the foundation of a nascent Aegis BMD global enterprise.
Aegis BMD Global Enterprise
During the past decade, nations in Europe and Asia have increasingly looked for a means to counter emerging threats to their territories and forces, presenting new possibilities for a combined, coordinated, Aegis BMD global enterprise.14 The potential for such an effort was highlighted in a report by the Independent Working Group on Missile Defense. It recommended limiting fixed ground missile-defense deployments in favor of expanding theater/regional defenses centered on sea-based missile defenses (along with Aegis Ashore, land-based SM-3 missiles, and THAAD system radars). The report recommended, "Equip additional U.S. vessels with the Aegis antimissile system. Encourage U.S. allies equipped with Aegis/SM to do the same."15
The diffusion of Aegis BMD capability abroad is occurring quietly. Governments that have made naval force-structure investment decisions based primarily on inwardly focused national interests have discovered that their investments also enable them to combine their resources in collective defense. As a Ballistic Missile Defense Review acknowledged:
Other allies already own or are working with the United States to acquire specific capabilities, such as naval vessels equipped with the Aegis defensive system, that could be adapted to include a missile defense capability. . . . Allies do not view the specifics of the missile threat in the same way, and do not have equal resources to apply to this problem, but there is general recognition of a growing threat and the need to take steps now to address both existing threats and emerging ones.16
This effort to create a broad Aegis BMD enterprise builds on the current participation of allied navies in the Aegis program. The U.S. foreign military sales relationship with Japan has expanded to relationships with Australia and Korea, and now includes a commercial connection with several other nations in Asia and in Europe. Other states have expressed interest in acquiring the Aegis weapon system and Aegis BMD. Importantly, countries acquiring the Aegis system are stipulating that the systems they buy must have the capability of adding BMD in the future.
Nations that would likely partner with the United States in a global network of navies are increasing their capability and capacity with Aegis BMD:
• The Japan Maritime Self-Defense Force operates four Kongo-class destroyers and two BMD-capable Atago-class destroyers. These warships enable Japan to meet the tenets of its New Defense Program Guidelines, which call for six Aegis BMD-equipped ships to defend the country from missile attacks.17
• South Korea has announced plans to build six 5,600-ton KDX-IIIA Aegis-equipped destroyers beginning in 2019 to complement its three Sejong the Great KDX-III Aegis destroyers.18
• Australia is building three Hobart-class air warfare destroyers equipped with the Aegis weapon system, each of which has the capability to field BMD in the future. The Royal Australian Navy is also looking to add Aegis BMD capabilities to its next-generation air warfare destroyer.19
• Several NATO navies—Spain, the Netherlands, Germany, Norway, and others—have expressed substantial interest in joining a broader naval BMD architecture.
• Other nations, such as Saudi Arabia and Brazil, have expressed interest in the Aegis combat system and in joining a global Aegis BMD enterprise.20
• The European phased adaptive approach is under way, with the first ground-based Aegis BMD system in place in Deveselu, Romania. Future sites are planned, and the United States is in active talks with the Gulf Cooperation Council––Saudi Arabia, Kuwait, Bahrain, Qatar, the United Arab Emirates, and Oman––to field a Mideast Aegis Ashore capability as these nations acquire greater missile defense capabilities.21
These activities—and others like them—have increased the number of Aegis BMD systems fielded by nations either allied with, or friendly toward, the United States. In addition, other allied and potential partner nations have missile defense capabilities that are compatible with Aegis BMD and that can integrate in a cooperative missile defense enterprise. Continued U.S. leadership is needed to enable the global network of navies to deal with the existential threat of ballistic missiles armed with WMD.
What the United States Must Do
A robust Aegis BMD global enterprise will not occur without continued U.S. leadership to nurture what are, to date, disparate efforts and knit them together. Among the steps the United States must take:
• Continue to fund U.S. Navy Aegis BMD as a matter of priority. As Commander Bart Denny pointed out in his Proceedings article several years ago, while Aegis BMD is the most successful component of the national BMDS, it must compete for funding with other components of that system, as well as with other U.S. Navy priorities.22
• Help allied and potential partner nations acquire Aegis BMD capability. This can be achieved by incentivizing the national and international industry partners that produce major components of Aegis BMD, as well as by giving priority to foreign military sales cases that provide Aegis BMD capabilities to allies and partners.
• Co-develop components of an Aegis BMD global enterprise with allied nations. The current U.S.-Japanese cooperative effort to co-develop the SM-3 Block IIA missile is a prime example of a mutually beneficial arrangement with both nations providing unique know-how.23
• Continue to include allied and partner nations in Aegis BMD exercises and expand the number and scope of these events. Japan has been the nation most active in a series of Aegis BMD flight tests, but others, like Spain and the Netherlands, also have participated. Much more can and should be done, such as including Aegis BMD firings in major naval exercises such as RIMPAC and NATO's annual BALTOPS.
• Continue to field the phased adaptive approach in Europe, and build on current exploratory talks with Asian and Middle East allies and friends to field Aegis Ashore in those theaters—to include both Aegis BMD warships and fixed shore sites.
• Prioritize investments in breakthrough technologies—such as high-energy lasers—that could dramatically increase the probability of kill against ballistic missiles.24
A year ago, Admiral Richardson addressed the Center for a New American Security annual conference and noted: "Multinational coalitions are active around the globe and are solving unique challenges that single nations and bilateral partnerships alone cannot fix." In his expansive remarks, the CNO offered examples of current naval exercises and agreements that are contributing to the vision of a global network of navies, such as the emerging U.S.-Japan-Republic of Korea trilateral partnership to deal with the North Korean ballistic missile threat. At the same event, then-Secretary of Defense Ashton Carter singled out this relationship as one that helps "coordinate responses to North Korean nuclear and missile provocations." This initiative is gaining momentum. As reported in USNI News, in response to further North Korean threats, Japan and South Korea pledged to enhance their cooperation in ballistic missile defense.25 In December 2016, Japan announced a substantial increase in defense spending, including a significant rise in spending for missile defense upgrades.26
There is no more propitious time for the U.S. Navy to lead the way in stitching together a robust Aegis BMD global enterprise to protect our nation, our forces forward, and our allies and partners from the threat of ballistic missiles armed with weapons of mass destruction. With U.S. Navy leadership, this opportunity to shape a "high-end" partnership under the auspices of a global network of navies may well be the sine qua non of international defense cooperation to address the challenges brought on by globalization.
---

1. A comprehensive treatment of the impact of globalization on the United States in general and on U.S. and coalition militaries and navies is provided in two publications by the National Defense University's Institute for National Security Studies: Richard Kugler and Ellen Frost, ed., The Global Century: Globalization and National Security (Washington, DC: National Defense University Press, 2001); and Sam Tangredi, ed., Globalization and Maritime Power (Washington, DC: National Defense University Press, 2002).
2. "A Global Network of Nations for a Free and Secure Maritime Commons," Report of the Proceedings of the 17th International Seapower Symposium, 19-23 September 2005.
3. "A Design for Maintaining Maritime Superiority" (Washington, DC: Department of the Navy, January 2016).
4. Thomas Friedman, "More Chopsticks, Please," The New York Times, 11 May 2014.
5. Gary Weir, ed., You Cannot Surge Trust (Washington, DC: Naval History and Heritage Command, 2013), www.history.navy.mil/content/dam/nhhc/research/publications/Publication-PDF/You_Cannot_Surge_Trust.pdf.
6. George Galdorisi and Scott Truver, "The Global Maritime Partnership and the Aegis Global Enterprise: Australia at the Crossroads of the 'Maritime Century,'" Headmark (journal of the Australian Naval Institute) (June 2011).
7. Brad Hicks, George Galdorisi, and Scott Truver, "The Aegis BMD Global Enterprise: A 'High-End' Maritime Partnership," Naval War College Review (Summer 2012).
8. Choe Sang-Hun, "North Korean Missile Said to Have Military Purpose," The New York Times, 23 December 2012.
9. LT GEN Ronald L. Burgess Jr., Director, Defense Intelligence Agency, Annual Threat Assessment, Statement before the Armed Services Committee, U.S. Senate, 16 February 2012, www.dia.mil/public-affairs/testimonies/2012-02-16.html, and Burgess, Iran's Military Power, Statement before the Armed Services Committee, U.S. Senate, 14 April 2010, www.dia.mil/public-affairs/testimonies/2010-04-13.html.
10. Marshall Hoyler, "China's 'Antiaccess' Ballistic Missiles and U.S. Active Defense," Naval War College Review (Autumn 2010). Hoyler notes the crucial role of Aegis BMD in addressing the threat of Chinese ASBMs.
11. Eric Hagt and Matthew Durnin, "China's Antiship Ballistic Missile: Developments and Missing Links, Naval War College Review (Autumn 2009).
12. "Aegis Ballistic Missile Defense," Missile Defense Agency, accessed at: www.mda.mil/global/documents/pdf/aegis_tests.pdf.
13. "Missile Defense Agency Fact Sheet: Aegis Ballistic Missile Defense Testing," accessed at [email protected]
14. John Morton and George Galdorisi, "Any Sensor, Any Shooter: Toward an Aegis BMD Global Enterprise," Joint Force Quarterly (October 2012).
15. Independent Working Group, Missile Defense, the Space Relationship & the Twenty-First Century (Washington, D.C.: Institute for Foreign Policy Analysis, 2009), xiii.
16. U.S. Department of Defense, "Ballistic Missile Defense Review Report" (Washington, D.C.: February 2010), 32.
17. Summary of National Defense Program Guideline, www.kantei.go.jp/foreign/kakugikettei/2010/summary_ndpg_e.pdf.
18 Brad Hicks, George Galdorisi, and Scott Truver, "The Aegis BMD Global Enterprise: A 'High-End' Maritime Partnership," Naval War College Review (Summer 2012).
19. Edward Feege and George Galdorisi, "Australia at the Nexus of 21st Century Power: Keeping Aegis BMD Options Open," Asia Pacific Defence Reporter (May 2012).
20. "Euronaval 2010: Saudi Arabia Ponders BMD Capability for New Frigates," Jane's Defence Weekly, 28 October 2010; and Richard Burgess, "Program Progress Report Given at Surface Navy Symposium: Aegis Baseline Re-Definition," Seapower, 11 January 2012.
21. George Galdorisi and Scott Truver, "The U.S. Navy is Leading Ballistic Missile Defense," U.S. Naval Institute Proceedings, vol. 139, no. 12 (December 2013).
22. Bart Denny, "Put the Navy in the Lead," U.S. Naval Institute Proceedings, vol. 134, no. 7 (July 2009).
23. "Govt Sets Terms for Missile Interceptor Transfer," Yomiuri Shimbun, 29 July 2011,www.yomiuri.co.jp/.
24. George Galdorisi, "A Potent One-Two Punch," U.S. Naval Institute Proceedings, vol. 142, no. 3 (March 2016).
25. Sam LaGrone, "North Korean Threat Pushing U.S., Korea and Japan Closer in Ballistic Missile Defense Cooperation," USNI News, 17 November 17.
26. Alistair Gale and Chieko Tsuneoka, "Japan Increases Defense Spending," The Wall Street Journal, 22 December 2016.
27. William Stevens and Allan Westcott, A History of Sea Power (New York: George Doran Company, 1920).
28. Thucydides, History of the Peloponnesian War, trans. Richard Crawley (New York: Barnes & Noble Books, 2006) and Victor Davis Hanson, A War Like No Other: How the Athenians and Spartans Fought the Peloponnesian War (New York: Random House, 2005).
29. E.B. Potter, Sea Power (Englewood Cliffs, N.J.: Prentice-Hall, 1960).
Captain Galdorisi is a career naval aviator who began his writing career in 1978 with an article in U.S. Naval Institute Proceedings. He has written 13 books, including the New York Times best-seller, Tom Clancy Presents: Act of Valor, and the Naval Institute Press book, The Kissing Sailor, which proved the identity of the two principals in Alfred Eisenstaedt's famous photograph. His latest book project is a reboot of the best-selling Tom Clancy's Op-Center Series. The next book in the series, Tom Clancy's Op-Center: Dark Zone, will be released this month.