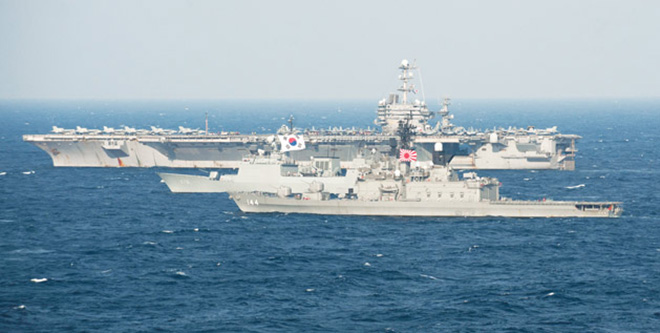 U.S. Navy (Paul Kelly)  The George Washington (CVN-73) steams with destroyers from Japan and Republic of Korea.
The high seas are free from claims of sovereignty and therefore uniquely conducive to international cooperation. A warship in these waters is subject only to its nation's jurisdiction yet can travel alongside warships of neighboring states and far-flung friends to confront security threats around the globe. Such cooperation has proven highly effective in regions throughout the world, and the international community should harness this cooperative potential particularly in the Asia-Pacific, before the region's security threats escalate to armed conflict.
International maritime coalitions have proven their effectiveness. In Central Command, the multinational task forces and carrier strike groups of Combined Maritime Forces (CMF) have worked together to combat terrorism throughout the Middle East. Operation Enduring Freedom in Afghanistan began with joint strikes from U.S. and U.K. cruise missiles and carrier-based aircraft and soon expanded to include Italian, French, and Dutch vessels.1 In 2011, Operation Odyssey Dawn against Muammar Gaddafi's regime began with U.S. and U.K. naval forces firing Tomahawk cruise missiles.2 French, U.K., and Royal Canadian Air Forces then flew coordinated sorties across Libya while a multinational naval coalition enforced a blockade. Today, 62 countries have joined the U.S.-led coalition against the Islamic State of Iraq and the Levant (ISIL) in Operation Inherent Resolve.3
Through information sharing and joint deployments, a multinational coalition also has fought maritime piracy off the Horn of Africa. The NATO-led Operation Ocean Shield "helps to deter and disrupt pirate attacks, while protecting vessels and helping to increase the general level of security in the region."4 NATO works with the European Union's Operation Atalanta, CMF's Combined Task Force 151, and independent deployers from China, Japan, and South Korea, with support from Australia, Colombia, New Zealand, and Ukraine. In June 2016, Chief of Naval Operations Admiral John Richardson noted piracy off the Horn of Africa is "pretty much eliminated for now."5
The CMF and NATO maritime coalitions are models regional combatant commands can build on to tackle other international security problems, most notably within U.S. Pacific Command (PACOM). PACOM's area of responsibility stretches from the west coast of the United States to the west coast of India, encompassing 36 countries and the vast majority of the waters of the high seas.6 Increasing trilateral and multilateral cooperation will be critical for maintaining regional stability.
The U.S. "rebalance" to the Asia-Pacific thus should include a rebalance to multilateral naval operations. For defense of peace and stability in the Asia-Pacific region, international forces should be brought to bear. Specifically, PACOM should lead the establishment of its own Combined Maritime Forces, patrolling the seas of the Indo-Pacific and deterring state-sponsored aggression through multinational task forces. An international naval solution is not only sufficient but also necessary to maintain security for international trade and counter the increasing likelihood of armed conflict in the Asia-Pacific.
Maritime Trade
With international trade comprising approximately 42 percent of global gross domestic product, more than 90 percent of which travels by sea, maritime security is vital.7 Free and secure sea lines of communication (SLOCs) in international waters are protected under the 1982 U.N. Convention on the Law of the Sea (UNCLOS) and essential for maritime trade.
Despite its inability to ratify UNCLOS, the United States has been the primary guarantor of Asia's open seas for the past 70 years. U.S. protection of SLOCs in large part facilitated the economic rise of Japan, Korea, China, and the broader Asian continent following World War II. This U.S. security presence in international waters of the Asia-Pacific was and remains the U.S. Navy. However, the United States should not provide this security unilaterally. Fiscal and geopolitical realities require that other nations contribute.
Troubled Waters of the South China Sea
Recent years have seen rising economic fortunes in Asia bring more fervent territorial claims. Seemingly both encouraged by economic success and to ensure continued economic growth, several Asian nations are demanding rights to ocean features far from their historical shores. Bilateral territorial disputes exist from the Sea of Okhotsk through the Sea of Japan and down to the East China Sea. Yet the hotbed of territorial discontent lies in the South China Sea. China, Taiwan, and Vietnam all have claims in the Paracel Islands, some 200 nautical miles from Vietnamese shores. Farther south, Brunei, China, Malaysia, the Philippines, Taiwan, and Vietnam claim various islets and reefs that comprise the Spratly Islands. According to UNCLOS, these disputed features entail certain economic rights in their surrounding waters. With an estimated 11 billion barrels of oil and 190 trillion cubic feet of natural gas deposits underneath the South China Sea,disputed features are a source of potential riches and strategic military basing—as well as national pride.8
The security issues of the South China Sea, however, are reason for greater concern than control of individual islands and atolls. As political analyst Robert Kaplan writes, the South China Sea is "Asia's Cauldron" for its potential to brew regional disputes into armed conflict.9 The central source of this regional disruption is China.
The People's Republic of China appears to be in the midst of a larger, strategic effort to alter the international status quo by expanding its maritime boundaries. Beijing is executing this strategy primarily by redesignating international waters as Chinese and challenging countries that lay claim to ocean-borne features within supposed "Chinese seas." These efforts are Beijing's attempts to build "facts on the ground" that alter the legal status quo to align with a Chinese vision of the maritime future.
_______________________________________________________________________________________________________________________________
China Claims Its "Southern Sea"
Beijing is undergoing a political and publicity campaign to declare the South China Sea as Chinese alone. With no legal standing under UNCLOS—which China ratified in 1996—Beijing appears to seek unilateral control over these 1,400,000-square miles of ocean. In the infamous 2009 memorandum and map of the "nine-dash line," the Chinese delegation to the United Nations wrote that "China has indisputable sovereignty over the islands in the South China Sea and the adjacent waters, and enjoys sovereign rights and jurisdiction over the relevant waters as well as the seabed and subsoil thereof."1
The nine-dash line depicts not only the waters near the Paracel and Spratly Islands as Chinese, but also nearly the entire expanse of the South China Sea. The line hugs the Vietnamese and Philippine coastlines, heading down past Brunei toward Singapore. In July 2012, China formally created Sansha city in the Paracels, which it says "oversees Chinese territory in the South China Sea." 2 More than endangering the $5 trillion in international trade that transits the sea annually, Beijing's declaration seems an attempt to nullify the UNCLOS-defined exclusive economic zones (EEZs) that extend out 200 nautical miles from the several nations bordering the South China Sea.3
This Rock Is My Rock
China also challenges other nations' territorial claims in the South China Sea, not always peacefully. After Chinese troop and People's Liberation Army-Navy incursions onto South Vietnamese–controlled islands, the 1974 Battle of the Paracel Islands resulted in the deaths of approximately 53 Vietnamese and 18 Chinese combatants.4 China has since dominated the Paracels, although Vietnam maintains its claims. China and Vietnam clashed again in 1988 in the Spratlys, with the loss of about 60 Vietnamese sailors.5
More recently, China has sought to expand control against states unable to enforce their claims. The 2012 standoff at Philippine Scarborough Shoal—about 120 miles from Subic Bay, Philippines, and nearly 500 miles from Chinese shores—quickly devolved from illegal Chinese fishing in the Philippine EEZ to blatant territorial seizure by nearby Chinese naval and coast guard vessels. The overwhelming presence of Chinese fishing boats and coast guard cutters led to Philippine ships leaving the area, inadvertently ceding the shoal to China. Beijing added one more claim to its count without a shot fired. Moreover, the world watched without reaction beyond mitigated censure. The effort was so successful that pundits in China now use it as a paragon of Chinese expansion. Called the "Huangyan Island Model"—the Chinese name for Scarborough Shoal—the events are lauded by Chinese websites for "protecting Chinese maritime rights" with "on-scene enforcement," aggressive diplomacy, and military forces at the ready.6
Beyond seizing land, China has begun creating its own. China has built seven islets in the past few years, several of which are heavily defended.7 This militarization stretches from airfields and surface-to-air missiles on the Paracels' Woody Island to major Chinese construction projects at the Spratlys' Mischief Reef and Fiery Cross Reef. Beijing denies the new outposts are for military purposes, but open-source satellite imagery proves otherwise. Ironically, China vehemently opposes the innocent passage and international-water transits by U.S. warships near these artificial islands, permitted under UNCLOS.
China's excessive maritime claims and territorial expansion in the South China Sea are aimed at building precedent and physical justification to alter the international status quo. U.S. military analyst Robert Haddick defines China's strategy as "salami slicing," or "the slow accumulation of small changes, none of which in isolation amounts to a casus belli, but which can add up over time to a significant strategic change."8 These changes are testing the will of the United States and of the broader international community.
---

1. CML/18/2009, Permanent Mission of the People's Republic of China to the United Nations, 7 May 2009, www.un.org/depts/los/clcs_new/submissions_files/vnm37_09/chn_2009re_vnm.pdf.
2. "Q&A: South China Sea dispute," BBC News, 27 October 2015.
3. Bonnie Glaser, "Armed Clash in the South China Sea: Contingency Planning Memorandum No. 14," Council on Foreign Relations, April 2012.
4. "The World: Storm in the China Sea," Time, 4 February 1974.
5. "Q&A: South China Sea dispute," BBC News, 27 October 2015, http://www.bbc.com/news/world-asia-pacific-13748349.
6. "Huangyan Dao Moshi" in Chinese pinyin, Baidu Baike, http://baike.baidu.com/view/8579609.htm.
7. Derek Watkins, "What China Has Been Building in the South China Sea," New York Times, 27 October 2011.
8. Robert Haddick, Fire on the Water: China, America, and the Future of the Pacific (Annapolis, MD: Naval Institute Press, 2014), 77.
_______________________________________________________________________________________________________________________________
Asia-Pacific Combined Maritime Forces
International navies should respond to this regional instability by establishing a U.S.-brokered Asia-Pacific Combined Maritime Forces. This CMF and subsidiary task forces would maintain peace through guarantees of collective self-defense to all members and combined naval patrols of the region. In particular, the CMF could help stabilize the South China Sea by (1) designing a force that incorporates South Korean, Indian, and Australian forces deep into the U.S.-Japan alliance; (2) building maritime capacity through "places not bases" and with forward-leaning states such as the Philippines and Vietnam; and (3) embracing multilateral institutions that stand for international maritime law.
Collective Self-Defense for Asia
Sustaining a deployed international naval presence in the Asia-Pacific will rely on U.S. bilateral alliances, most notably with Japan. The Japanese government's recent reinterpretation of Article Nine in its constitution now allows for the country to operate "collective self-defense," facilitating expanded operations with the United States that protect the security of Japan.10 Washington and Tokyo should lead the development of the Asia-Pacific CMF to counter belligerent states that undermine stability in East Asia—in effect expanding "collective self-defense" to peaceful nations in the region. The immediate focus for these stability operations should be the East China Sea and South China Sea, before armed conflict emerges.
Rather than relying on bilateral exercises, U.S. and Japanese ships should routinely deploy and patrol together in the East and South China seas. The tight-knit alliance has proved itself in times of crisis, such as the bilateral response to the 2011 Fukushima tsunami/nuclear disaster and the continued cooperation to counter North Korean provocations. The Japan Maritime Self-Defense Force deploying its ships alongside the U.S. Navy's to patrol the East and South China seas would provide a much-needed sense of coordinated security. U.S. and Japanese defense forces could further accelerate cooperation by forming a clearer common operational picture of the region with shared intelligence from maritime patrol and reconnaissance aircraft and satellite imagery.
The U.S.-Japan alliance already has expanded to other Indo-Pacific partners, building the foundation of a truly multinational CMF. South Korea, a steadfast U.S. ally, recently set aside deep historical animosities to join U.S.-Japanese forces on issues such as ballistic missile defense (BMD) against North Korea, including a groundbreaking trilateral BMD exercise in 2016. Admiral Richardson called the burgeoning relationship "another step in this network of partners that is advocating for this rules-based structure out there to manage growth and move this in a direction that continues to be non-confrontational, non-conflict."11
India is another key player. Japan first participated in the annual U.S.-India naval exercise Malabar in 2007 and became a permanent Malabar member in 2015.12 Former U.S. Secretary of Defense Ash Carter described the U.S.-Japan-India relationship as "starting to provide real, practical security cooperation that spans the entire region from the Indian Ocean to the Western Pacific."13 The 19-ship Malabar 2016, hosted in Sasebo, Japan, is testament to the potential of this trilateral cooperation, geographically spanning the Indo-Asia-Pacific as an international force for maritime security.
Down under, the Royal Australian Navy has increasingly come north to transit and patrol the seas of East Asia. Australia was part of the brief 2007–2008 U.S.-Japan-India-Australia Quadrilateral Security Dialogue, before Australian Prime Minister Kevin Rudd backed out as a result of Chinese pressure.14 Fortunately, the multilateral cooperation is back with a 2015 Japan-Australia-India trilateral defense meeting, hailed as "a welcome development and addition to the region's security network" by Carter.15
Building Regional Capacity
U.S. military presence also is augmenting regional capacity in the Asia-Pacific. Approximately 60 percent of U.S. naval forces will be in the Pacific by 2020.16 The new littoral combat ship is deployed rotationally to Singapore, and the U.S. naval presence in Yokosuka, Japan, is expanding to nine guided-missile destroyers by 2017.17 In addition, Washington will deploy 2,500 Marines to new facilities in Darwin, Australia, while the U.S. Navy's Third Fleet deploys more warships to join the Seventh Fleet in Asia-Pacific waters.18 With talk of U.S. forces returning to Subic Bay, the former U.S. Navy base has joined the list of "places not bases" for U.S. and partner warships to visit and use for logistics.
Regional states—notably the Philippines, Singapore, and Vietnam—have direct interest in a peaceful South China Sea. Tokyo and Washington both have committed to building the regional capacity of these states, most significantly in the Philippines. Tokyo and Manila signed defense agreements in 2016 that include military equipment transfers from Japan.19 Although willpower sometimes exceeds firepower in regional defense capabilities, states such as the Philippines, Singapore, and Vietnam still could augment CMF task force deployments by providing their own warships to join patrols and help uphold international maritime law.
Multilateral Institutions
An Asia-Pacific CMF would need to engage regional multilateral institutions, primarily the Association of Southeast Asian Nations (ASEAN).20 ASEAN and the broader East Asia Summit are apt venues for a CMF to develop collective security agreements and voice regional security concerns. U.S. naval engagement already includes the Cooperation Afloat Readiness and Training (CARAT), a nine-country exercise series between the United States and most ASEAN members.21 These Southeast Asian navies have trained with the U.S. Navy in CARAT since 1995 and should join the task force to patrol the region's seas as a multinational maritime coalition.
States of the European Union—ardent supporters of international law and those with historical ties to the region—should join the regional patrols. Their lack of direct, vested interest in sovereignty disputes in the South China Sea contributes to a more balanced CMF. British, French, Spanish, and Dutch navies in particular should participate to uphold rules-based international order.
This concept of a truly international security body in the Asia-Pacific is not without precedent. Formed in 1954, the Southeast Asian Treaty Organization (SEATO) was a collective security agreement that lasted 20 years on a mandate to counter communist aggression from Mao Zedong. Although the only Southeast Asian members were the Philippines and Thailand, nations joined from around the globe, to include Australia, France, New Zealand, Pakistan, the United Kingdom, and the United States.
Conclusion
Multinational naval forces are effective in dealing with an array of maritime security threats, including in the Asia-Pacific. China is invited to participate in regional security in accord with international law and has participated in international maritime security efforts, most notably counterpiracy operations in the Gulf of Aden. But despite its ratification of UNCLOS, China has not respected the agreement, endangering regional security and the SLOCs that China itself relies on for trade. An about-face in Beijing's maritime behavior is unlikely to occur without collective regional maritime pressure.
The Asia-Pacific Combined Maritime Forces could be a meaningful source of needed security in the region and perhaps convince Beijing that disrupting the status quo is antithetical to Chinese interests. The CMF could lead an international maritime coalition to help ensure that the waters of the region reflect the peace of the past 70 years, not the maelstrom prior.
---

1. "Naval vessels from five nations sail in parade formation for a rare photographic opportunity at sea," U.S. Navy, 18 April 2002, www.navy.mil/management/photodb/photos/020418-N-1587C-030.jpg.
2. "Gunfire, explosions heard in Tripoli," CNN, 20 March 2011.
3. "Here's how the US is leading the fight against ISIS," Business Insider, 22 January 2016.
4. "Counter-piracy operations," North Atlantic Treaty Organization, 9 June 2016, www.nato.int/cps/en/natohq/topics_48815.htm.
5. Megan Eckstein, "Richardson, Carter, Biden Highlight Importance of Global Maritime Partnerships," USNI News, 20 June 2016.
6. "Headquarters, United States Pacific Command Fact Sheet," www.pacom.mil/Portals/55/Documents/pdf/USPACOM%20FACT%20SHEET%20v3.pdf.
7. The CIA World Factbook 2013 (New York: Skyhorse Publishing, 2012), 2013 GDP figures.
8. "Territorial Disputes in the South China Sea," Council on Foreign Relations, 23 June 2016, www.cfr.org/global/global-conflict-tracker/p32137#!/conflict/territorial-disputes-in-the-south-china-sea.
9. Robert D. Kaplan, Asia's Cauldron: The South China Sea and the End of a Stable Pacific (New York: Random House, 2014).
10. Linda Sieg and Kiyoshi Takenaka, "Japan takes historic step from post-war pacifism, OKs fighting for allies," Reuters, 2 July 2014.
11. Eckstein, "Richardson, Carter, Biden."
12. VIvek Raghuvanshi, "Japan to Join Malabar as Permanent Participant," Defense News, 13 October 2015.
13. Eckstein, "Richardson, Carter, Biden."
14. John Lee, "PM may trump Rudd in managing China," The Australian, 21 April 2011.
15. Eckstein, "Richardson, Carter, Biden."
16. "The U.S. Navy, China's Navy, and Future Maritime Strategy: Remarks by CNO Adm. Jonathan Greenert," The Brookings Institution, 5 November 2014, www.brookings.edu/blogs/brookings-now/posts/2014/11/us-navy-china-navy-future-maritime-strategy-cno-jonathan-greenert.
17. "U.S. Navy's Overseas Force Structure Changes Underscore Commitment to the Asia-Pacific," U.S. Navy, 16 October 2014, www.navy.mil/submit/display.asp?story_id=83905.
18. Jared Owens, "US to Seek to Boost Military Presence in Darwin," The Australian, 12 August 2014; and "Adm. Swift's Pacific Surface Action Group All Hands Call," Commander, Pacific Fleet, U.S. Navy, April 2016, www.cpf.navy.mil/leaders/scott-swift/speeches/2016/04/pacific-sag-all-hands.pdf.
19. Renato Cruz de Castro, "The Philippines and Japan Sign New Defense Agreement," Asia Maritime Transparency Initiative, 15 March 2016.
20. Original members are Indonesia, Malaysia, the Philippines, Singapore, and Thailand. Membership has since expanded to include Brunei, Cambodia, Laos, Myanmar, and Vietnam.
21. Beginning in 1995 with Brunei, Indonesia, Malaysia, Singapore, the Philippines, and Thailand, CARAT expanded between 2010 and 2012 to include Bangladesh, Cambodia, and Timor-Leste.
Lieutenant Quirk is a surface warfare officer stationed in Pearl Harbor, Hawaii. He also is a Young Leader and nonresident WSD-Handa Fellow with the Pacific Forum CSIS. He previously lived in Beijing, China. His essay was the third prize winner in the 2016 International Navies Essay Contest, sponsored by Leonardo Finmeccanica.