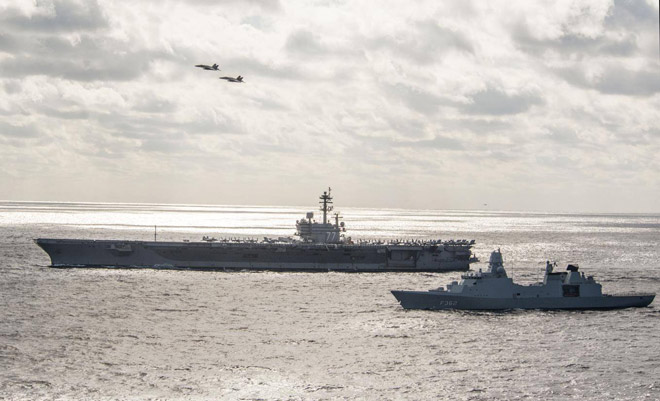 This year, Proceedings asked the commanders of the world's navies, "What is your nation's most difficult maritime challenge and how could the U.S. Navy better partner with your Navy to tackle this challenge?" The answers we received span the gamut from high-end warfare threats to terrorism to over-exploitation of ocean resources and everything in between.
Admiral Sir Philip Jones, First Sea Lord and Chief of Naval Staff
We are living in a data-driven age, which is shaping the opportunities and challenges for the Royal Navy and our allies. Our adversaries, conventional and unconventional, are already exploring the boundaries of sophisticated information warfare in a way that is greater in scale, speed, and agility than anything we can currently muster. We need to be ready to fight in the virtual realm as much as the physical realm; and we must do so quickly, otherwise we will be left further behind, or worse, overwhelmed.
Equipment is part of the solution. Warships are ideally suited as platforms for offensive and defensive cyber capabilities. The F-35B Joint Strike Fighter is a remarkable data gathering tool, and the rise of autonomous maritime systems and distributed networks of sensors offers even more possibilities. Yet however capable the technology, it is nothing unless we have the skills and aptitude necessary to grasp and dominate the information opportunity. Last year, I visited Fort Meade to meet with representatives from U.S. Fleet Cyber Command. I was struck by their determination to recruit the right people for cyber-warfare duties, many of whom do not conform to the usual military stereotypes. The United Kingdom is also seeking to recruit talented individuals from diverse backgrounds for our own Cyber Reserve.
The Royal Navy has initiated an information warfare program to develop the capabilities required for the future, including intelligence exploitation and cyber warfare. We are also exploring the role artificial intelligence could play to enable rapid decision making in complex, fast-moving warfighting scenarios. This spring, the Royal Navy's Exercise Information Warrior will introduce examples of these capabilities into our largest biannual warfighting exercise. Our aim is to identify existing options that can be delivered quickly into the hands of operators but also to establish a lasting network of partners from academia and industry who can work with us to deliver capabilities in the future.
But we can't do it alone. Many of the Royal Navy's most significant military operations are conducted in partnership. Together, we must develop the physical infrastructure, such as connectivity and bandwidth, necessary to share information quickly and securely between navies and across different domains. We must also exercise the common capabilities, skills, and instincts necessary to analyze and exploit information for military effect in an integrated, multinational operating environment. For these reasons, I look forward to continuing to explore the challenges of the information age with our friends in the U.S. Navy and Marine Corps, and alongside all our close partners in maritime operations around the world.
Turkey
Admiral Bulent Bostanoglu, Commander Turkish Naval Forces
Turkey is a nation with great maritime history and traditions. The Turkish Navy is blessed with personnel devoted to the nation's commitments and the naval profession.
Today's world faces a number of risks and security-related uncertainties. The stunning speed of technological change and the budget and resource constraints are the main problems challenging the Turkish Navy. The security of the eastern Mediterranean, Aegean and Black seas, and the sea lanes of communication beyond always have been of great importance for Turkey, which lies at the epicenter of several geopolitical, religious, and economic systems. In addition, dynamic developments in the region expose Turkey to new threats.
In the Aegean Sea and eastern Mediterranean, lasting disputes on delimitation of maritime jurisdiction areas have become more evident, and the political transitions in the Middle East and North Africa have diversified the risks within the region. Furthermore, the Black Sea is vulnerable to the effects of global geopolitical competition between Russia and the West.
The maritime domain is becoming more complicated and competitive in terms of energy and natural resource exploitation and transportation, making littoral nations neighbors regardless of the distance between them. Therefore, the Turkish Navy has expanded its traditional area of interest beyond our immediate surrounding seas. In this context, the Turkish Navy has worked to counter illegal migration and prevent piracy and hijacking at sea. Moreover, the Turkish Navy has supported intense counter­terrorism efforts.
Today's security environment necessitates building and sustaining a naval force capable of confronting all forms of traditional and asymmetrical threats. Rapid technological advancements of our adversaries and budget limitations challenge the Turkish Navy every day. To overcome our resource constraints, we are reducing the cost of operations and maintenance by applying a dynamic maintenance and repair concept. We monitor operational readiness levels using automation and efficiently operate an inventory control system. We are investing in cost-effective solutions that use current technology and our national shipbuilding/design capability for new platforms. These efforts benefit from personnel trained systematically and tasked in research centers. We are also using decision-support systems for modernization projects. We are constantly aiming for a well-trained and well-equipped, deterrent, and interoperable Navy that can protect our sovereign rights and maritime interests under every condition and support combined joint operations.
Given this scope, cooperation with the U.S. Navy is mainly carried out under the reciprocity principle. We hope this cooperation—mainly in technology, experience, education, and information sharing domains—will increase in the future.
Sweden
Rear Admiral Jens Nykvist, Chief of the Swedish Royal Navy
Sweden is a maritime nation with nearly 1,700 miles of coastline, located in a region of great geostrategic interest because of its proximity to Russia. The Baltic Sea—one of the world's busiest—has unique environmental and hydrographic conditions. At any time there are approximately 2,500 ships moving in the Baltic, and the flow of shipping is of great importance to every nation bordering the sea, including Russia. (Forty percent of Russian trade goes through the Baltic Sea.)
The Swedish Navy's and the rest of our military's main task is to provide a credible deterrent against those who wish to coerce or attack Sweden. Deterrence is built on assured military fighting power, reinforced by close coordination with other agencies, states, and multinational organizations, making it clear that an attack on Sweden would be very costly for any aggressor.
The Swedish Navy achieves deterrence through high readiness levels, high-quality equipment, and highly trained personnel. We conduct sea control operations including sea surveillance, protection of shipping, and protecting our territorial waters and national interests in the congested and shallow Baltic Sea. To increase our Navy's deterrence, additional platforms would be desirable.
Defending our long coastline demands large numbers of naval platforms with significant endurance. For this reason, it is important for Sweden to work together with other states and organizations. Finland and the United States are two of Sweden's most important naval partners. Besides maintaining a naval presence in the Baltic region, U.S. Navy cooperation in submarine and antisubmarine warfare and command, control, communication, computers, and intelligence is of the utmost importance. Through combined exercises in the Baltic Sea, Sweden can help the U.S. Navy enhance its capability to operate in confined and shallow waters.
In 2016, Swedish Defense Minister Peter Hultqvist and then-U.S. Secretary of Defense Ashton Carter signed a statement of intent that sets out our strategic resolve to increase cooperation and improve the efficiency and effectiveness of our defense efforts.
Spain
Admiral Jaime Muñoz-Delgado, Chief of Naval Staff
Nations can no longer work alone in the face of today's maritime challenges. This global maritime century has pointed out how international cooperation and mutual understanding among navies will be key for success.
Spain is a maritime nation with national interests worldwide, located in a strategic geopolitical position, as the southern boundary of Europe with Africa and between the Atlantic Ocean and the Mediterranean Sea, with the choke point of the Strait of Gibraltar.
Spain's Navy contributes actively to counter the myriad new challenges of today's world, such as illegal trafficking of goods, arms, drugs, and persons. We also must be prepared to conduct conventional military operations for deterrence, crisis management, and defense purposes.
Maintaining the necessary balance between low- and high-end capabilities is fundamental to keeping our options open in an unpredictable future. The Spanish Navy, therefore, comprises a balanced fleet with multipurpose ships, all built at Spanish shipyards with Spanish technology.
During the past decade, the Spanish Navy has steadily increased its contribution to global maritime security, focusing not only on our home waters but also in a number of distant theaters. In the Mediterranean Sea, we are committed to NATO Operation Sea Guardian, and we are one of the main contributors to the European Union's Operation Sophia to counter illegal trafficking of migrants. In the Horn of Africa, Spain has become the main force contributor to Operation Atalanta. The Spanish Navy also strives to project stability in the Gulf of Guinea, deploying ships that contribute to naval regional capacity building, in partnership with the U.S. Navy for the past ten years.
Throughout 2016, Spain commanded the Standing NATO Maritime Group One in the Baltic and North seas. We also contribute to NATO's ballistic missile defense operation by providing air defense to the U.S. Navy destroyers based in Rota, Spain. And in 2017 we will continue to deploy ships to the Standing Naval Forces, including providing the command ship for Striking Force NATO and an amphibious ship for the special operations command for NATO's Response Force Exercise.
The Spanish Navy's most difficult challenge is to apportion resources and operational commitments to preserve maritime security while maintaining the capabilities and skills to conduct effective conventional naval operations, either nationally or within allied or coalition frameworks.
The high degree of cooperation we have achieved with allied and friendly navies must not be taken for granted. We will continue to partner with the U.S. Navy to foster our mutual understanding of maritime threats, strengthen bonds, increase interoperability, share commitments, and integrate our combined capabilities.
Serbia
Captain Andrija Andric, Commander of the Serbian River Flotilla
The national security strategy of the Republic of Serbia and the doctrine of the Serbian Armed Forces prioritize the following security challenges: terrorism, organized crime, proliferation of weapons of mass destruction (WMD), natural and man-made disasters, and radiological and biological contamination. These problems can threaten security on and astride the big rivers in the Republic of Serbia, jeopardizing people's lives and health or damaging critical infrastructure. The Serbian River Flotilla is trained to address these security threats and provide assistance to civil authorities.
Serbia's economy is dependent on its river system. The Danube is an international navigable river from the Black Sea to the North Sea, and much of our commerce moves on it. The Iron Gate hydroelectric power stations on the Danube and newer, smaller hydropower plants on other rivers throughout the country provide a significant portion of our electric power. We are concerned about terrorism and organized crime on and astride navigable waterways, mainly on the Danube, which presents a potential terrorist target and a pathway for proliferation of WMD and illegal trafficking.
The Serbian River Flotilla would welcome U.S. Navy advice and assistance in addressing security threats on navigable waterways. Working with the United States would enhance the River Flotilla's capability to ensure a stable security environment, and most of all, safe and secure national and international river traffic. The U.S. Navy could help us deal with the following threats:
• Organized crime. We face the challenges of illegal migration through Serbia along the Danube, as well as smuggling of people, weapons, and narcotics along inland navigable waterways. U.S. Navy training and mentoring in the field of illegal migration control and anti-smuggling operations would be most helpful. Serbia would be interested in acquiring special operations craft such as those operated by U.S. Navy riverine warfare units.
• Proliferation of WMD. U.S. Navy training on WMD and dangerous material transport control procedures on inland navigable waterways would be invaluable.
• Disaster relief and consequence management. The River Flotilla has the mission to deal with the consequences of natural disasters, technical-technological accidents, radiological and biological contamination, unexploded World War II ordnance in rivers and lakes, and sunken vessels. U.S. Navy diver training, dive equipment, and explosive ordnance disposal training and equipment would significantly improve our capabilities in these areas.
The River Flotilla recognizes terrorism as the main security threat on our waterways. We are mainly concerned with terrorist actions against river ports and port facilities in big cities such as Belgrade, but we are also concerned about acts of terrorism against vessels and other facilities built on waterways. The River Flotilla needs equipment for riverbed search and training on procedures to prevent terrorist actions against ports and facilities.
While Serbia's River Flotilla is a small force, we face security challenges that affect the security not just of our nation, but all of Europe. It is important that we work collaboratively with our neighbors, and we welcome training, equipment, and technical assistance from the U.S. Navy in helping us become an even more capable force.
Pakistan
Vice Admiral Zafar Mahmood Abbasi, Deputy Chief of Naval Staff (Operations)
The Indian Ocean is one of the most discussed regions among the global maritime community. It draws international attention for numerous and disparate reasons. It is a reservoir of energy resources; there are security challenges; and it is a focal point of human, economic, and environmental issues. The states dotting the region and along its rim interact as neighbors and competitors. Outside powers wield influence here for their own economic and strategic interests. Their presence also underlines the importance of maritime security to sustaining the global economy.
Our nation is largely dependent on seaborne trade, so ensuring maritime security and order in the North Arabian Sea remains a core task of Pakistan's Navy. The China-Pakistan Economic Corridor (a $50+ billion infrastructure project to connect ports, roads, railways, and more between Pakistan and China) will result in a large increase in maritime activity in the North Arabian Sea, increasing the responsibilities of the Pakistan Navy. 
Our maritime security challenges emanate both from the conventional and nonconventional domains. Of special concern is the nuclearization of the Indian Ocean region and the massive arms buildup in our neighborhood, which threatens strategic stability. In the non-conventional domain, maritime terrorism, piracy, narcotics trafficking, arms proliferation, and human smuggling threaten our maritime security. Balancing the responses to these threats—along with other national obligations—constitutes our most difficult challenge today.
The Pakistan Navy believes in collaborative maritime security. We have been collaborating with the U.S. Navy since 2004 to ensure maritime security and stability in the region. Our ships and long-range maritime patrol aircraft have been regularly participating in Combined Task Force (CTF) 150 since 2004 in support of maritime security operations and in CTF 151 since 2009 to counter piracy in the Horn of Africa. The Pakistan Navy also has played a key role in support of shared global maritime interests and intends to continue to do so with renewed vigor. The scarcity of means—especially of surface ships—could become a restraining factor in the future, however.
Acquisition of U.S. ships, submarines, and aircraft historically has contributed in bridging our capability gaps and strengthening our Navy. U.S. Navy capacity-building efforts can support Pakistan's Navy in meeting the challenges of maritime security in future.
We believe the oceans are a common heritage of mankind and navies the world over have a collective responsibility in securing the maritime domain. Being cognizant of our responsibilities as an important regional navy, we will continue to contribute toward ensuring maritime order at sea for the economic prosperity of the region and the world.
Norway
Rear Admiral Lars Saunes, Chief of the Royal Norwegian Navy
Russia has reestablished its bastion defense and introduced new weapon systems in all dimensions. It is quite clear that Russia's intention is to push forward into the North Atlantic, challenging the sea lines of communication (SLOC) between North America and Europe.
These sea lines have been challenged before—in both World Wars and in the Cold War—and they were critical for the survival of Europe. All three times, an extensive allied effort was required to secure the life lines between the two continents. It seems too many people in high-ranking leadership positions have forgotten what used to be "core business" only 25 years ago, namely, sea control in the North Atlantic. The security policy situation of today makes this particularly worrisome. Norway and Europe are still just as dependent on sea control in the North Atlantic as we used to be.
Russia is now building capabilities in all dimensions, including long-range precision-guided missiles and air defenses. In the near future, we can expect Russia to add long-range hypersonic missiles to its arsenal. New Russian stealthy submarines are pushing into the North Atlantic and the Arctic, adding an extra dimension to the challenges on the surface and in the air.
NATO has been busy with other problems and conflicts over the past 25 years, including Kosovo, Afghanistan, and Libya. As a result, we are lagging behind the growing Russian military threat. We are not prepared fully to face the threat from modern missiles, and our ability to conduct area antisubmarine warfare (ASW) operations in the North Atlantic is significantly reduced.
In historical terms, the new Russian challenge could be referred to as the fourth battle of the Atlantic. The only solution to overcome these challenges is to reestablish unity of command and effort within the alliance. It is clear that NATO's transatlantic link must be strengthened. Antisubmarine warfare in the North Atlantic is only coordinated among nations, and NATO is fully dependent on national commands to handle the threat.
The alliance needs to reestablish and demonstrate a unity of command within this important warfare area to bring all ASW assets from multiple nations to bear. We must raise the level of deterrence to avoid a military conflict with Russia. Reestablishing such a command structure in the North Atlantic is complicated and demands attention from the United States. The designation of Naval Striking and Support Forces as the Maritime Component Commander for the NATO Response Force this year is a promising start.
Mexico
Admiral Vidal Francisco Soberon Sanz, Secretary of the Mexican Navy
To Mexico, an imminently maritime country, the sustainable exploitation of the immense natural resources of our seas and the protection of maritime communication routes are fundamental for national development. The Mexican government devotes great effort to fostering commercial fishing, tourism, and recreational and research activities in the maritime sector, which includes building and modernizing our port infrastructure.
In support of these objectives, the Mexican Navy must guarantee national and international law enforcement, both in security and maritime port protection environments. That is why the Secretariat of our Navy simultaneously carries out two fundamental roles through the Mexican Navy: as a Navy, it guarantees the nation's sovereignty and exterior defense of the country, and as a Coast Guard, it maintains rule of law and law enforcement in the maritime and port environments. In addition, the Mexican Navy collaborates with navies from friendly nations and with various international organizations, looking for innovative strategies to deal with new threats and thus preserving maritime security within our national waters and exclusive economic zone (EEZ) and as part of global efforts.
Without a question, our most important maritime challenge is to stop the illegal activities of transnational criminal organizations, such as the trafficking of drugs and chemical precursors, human smuggling, poaching of marine species, weapons smuggling, piracy, and terrorism. Strengthening our response capability in those areas where we exert the state's maritime authority and carry out maritime police functions is a top priority for the Mexican Navy.
Developing strong cooperation with our regional neighbors and partners is also key to facing the myriad challenges at sea. This is why it is imperative to identify common challenges and work collaboratively, share experiences through training and naval exercises, and develop more and better coordination mechanisms. The North American Maritime Security Initiative (NAMSI), which began in 2008, brings the Mexican Navy, U.S. Coast Guard, U.S. Northern Command, and Canada's Navy and Coast Guard together to confront these challenges.
The Mexican Navy hopes to continue to build on NAMSI's success and cooperation with the U.S. and Canadian Navies and Coast Guards.
Republic of Korea
Admiral Um Hyun-seong, Chief of Naval Operations
Since the division of the Korean Peninsula, the Republic of Korea Navy (ROKN) has been deterring and responding to North Korea's continuous provocations at sea. However, the intensity and methods of North Korean provocations, including the sinking of the South Korean corvette Cheonan (March 2010), the shelling of Yeonpyeong Island (November 2010), and its submarine-launched ballistic missile (SLBM) test (August 2016), are becoming bolder. North Korea's increasing nuclear weapons capability has emerged as the gravest threat to South Korea and the stability of the Pacific region. North Korea is developing nuclear weapons and associated delivery systems and miniaturizing warheads to overcome the shortfalls of its conventional weapons. If North Korea successfully fields SLBMs, it will acquire a second-strike capability, increasing its provocative nuclear audacity. As North Korea poses a growing threat to northeast Asia and to global peace and security, ever-closer cooperation between the ROKN and the U.S. Navy is necessary to meet and deter or defeat the threat.
The Republic of Korea plans to respond to nuclear and missile threats from North Korea by independently constructing the Korean Tri-Axis System. Our system consists of three parts. First, the Kill Chain preemptive strike system would enable the ROK to carry out a strike against an imminent threat. The Korea Air and Missile Defense (KAMD), of which our new Aegis destroyers (Korean Destroyer Experimental [KDX]-III Batch IIs) are integral, would allow us to detect, track, and engage ballistic missiles. The third element is the Korea Massive Punishment and Retaliation program, which would give us the ability to retaliate after an attack. We are in continuous consultation with our U.S. partners to bolster our extended deterrence commitment and detect, disrupt, defend, destroy (4D) execution capability. We also continue to improve our combined exercises, including Key Resolve, Foal Eagle, Ulchi Freedom Guardian, and bilateral ballistic missile defense detection and tracking exercises. Furthermore, the ROK has diversified its international peacekeeping and maritime security cooperation efforts, including participation in the Proliferation Security Initiative designed to neutralize North Korean nuclear threats and prevent nuclear proliferation.
Despite impressive collaboration, the urgency and risk of North Korea's nuclear and missile threats demand expanded ROK-U.S. cooperation, including the sharing of situational awareness in the Korean theater of operations, ballistic missile defense technology, and information, and personnel exchanges between the ROK and U.S. navies. In particular, the ROKN must learn to conduct multi-platform antisubmarine warfare with performance-enhanced submarines, maritime patrol and reconnaissance aircraft, and networked subsurface surveillance systems to enable maritime 4D operations against ballistic missile submarines. ROK-U.S. information sharing on North Korean submarine capabilities and combined ASW exercises with the U.S. Seventh and Third Fleets will greatly enhance the ROKN's ASW capabilities.
The benefits of our market economy and the development of liberal democracy in the Republic of Korea today are owed to the firm cooperation with partners who share these values. Despite countless North Korean threats and provocations, our economy and democracy have been defended by the robust ROK-U.S. alliance. The future depends on the ROK and U.S. navies further solidifying our ongoing security cooperation efforts. We must continue to foster interoperability and strategic and tactical information sharing so that the ROK-U.S. alliance can play a crucial role in regional and global peace and stability.
Japan
Admiral Yutaka Murakawa, Chief of Maritime Staff
The Japanese 2013 National Security Strategy states: "Japan is a maritime state that achieved economic growth through maritime trade and marine resource development." Maintaining "open and stable seas"—based on the fundamental principles of the rule of law and freedom of navigation—is essential for peace and prosperity. Japan's most difficult maritime challenge is any threat to these two fundamental principles of international order. Assertions or actions that are incompatible with existing international law lead to uncertainty and tension in the Indo-Pacific region. Such tensions raise the risk of military confrontation and put the global commons in jeopardy.
Japan's 2013 National Defense Program Guidelines states: "The Japan-U.S. Alliance and bilateral security arrangement functions as a public good that contributes to the stability and prosperity of not only Japan but the entire Asia-Pacific region and the broader world." The Japan Maritime Self-Defense Force (JMSDF) takes pride in the strength of our relationship with the U.S. Navy and sees it as the core of the alliance that helps ensure maritime security in the region.
The JMSDF-U.S. Navy partnership is indispensable to the alliance's deterrence and response capability. The JMSDF will continue to expand and enhance a broad range of cooperative activities and capabilities with the U.S. Navy, including combined training and exercises, sharing intelligence, surveillance, and reconnaissance information, mutual logistics support, defense equipment and technology development, and combined tactics development. We continue to improve our combined high-end training and exercises and strengthen our role in joint/combined operations. Improved logistics cooperation is one of the near-term challenges in JMSDF-U.S. Navy cooperation. We must strengthen the linkage between operational cooperation and logistical cooperation between our navies.
To further enhance regional maritime security, Japan strives to increase the frequency and quality of our bilateral/ multilateral partnerships. Through these relationships we promote the importance and value of the JMSDF-U.S. Navy partnership. This partnership promotes multilateral cooperation as demonstrated in counter-piracy operations, ballistic missile defense, and multilateral exercises like the Western Pacific Mine Countermeasures Exercise.
As Prime Minister Shinzo Abe mentions frequently, the Japan-U.S. alliance is the cornerstone for regional peace and security.
Italy
Admiral Valter Girardelli, Chief of the Italian Navy
Following the daily news, one could get the impression that land is the center of life on earth. Indeed, people live on land, and societies develop and thrive on land. Often people forget that two-thirds of the planet is covered by water, and the seas play a crucial role in defining the global order, its political and security issues, and economic opportunity. By looking for causes rather than chasing effects, mankind would realize that our feet—and overall our destinies—are wetter than we may imagine. The most difficult maritime challenge today is, therefore, educating the public to the importance of the global maritime commons and teaching them about the security implications of the seas.
The United States has a deep understanding of the need for effective naval forces to protect and promote its national interests. Other regional and emerging powers, especially in the Indo-Pacific area, also understand the importance of a strong navy. They understand the value in investing in the maritime domain. The seas are such a crucial global common—driving growth and progress—that transnational criminal and terrorist organizations increasingly exploit this "free space" to pursue their interests.
Today's complex and interrelated global maritime arena calls for a comprehensive partnership approach among nations and navies—through global, regional, and subregional cooperative initiatives—and for a preemptive, rather than reactive, posture to defuse potential triggers for tensions and crisis.
Based on this vision, the Italian Navy is fully engaged in NATO and the European Union, and we are involved in several bilateral and multilateral initiatives in the "Wider Mediterranean," a geographical space featuring two big arcs of instability, from the Atlantic to the Indian Ocean, through Africa, Europe, and the Middle East. An effective security policy for this turbulent region must emphasize the inherent cross-domain characteristics of navies, like the U.S. Navy is doing with its joint concept for access and maneuver in the global commons.
Indeed, surface fleets, together with submarines, naval aviation, amphibious components, and naval special forces, enhanced by the wide net of maritime support and logistics, can play a crucial role as enablers of modern military operations. By acting at sea and from the sea, with their wide range of hard- and soft-power options, navies bring scalability, flexibility, and versatility, such as early entry and exit operations, as well as capacity-building activities aimed at preemptively stabilizing potential crisis areas.
The U.S. Navy, with its strong power projection and sea control capabilities, has global reach and is a model for Western navies, like ours. But the U.S. Navy also needs partners. I am keen to grow the links connecting our navies in numerous areas: from common operational engagements to training activities, from procurement to research and doctrine development, from staff talks to naval symposia. We must work together to educate the global public about the importance of the world's oceans, and we must operate together to address security problems that confront the seas and that come from and across the seas.
Greece
Vice Admiral Nicolaos Tsounis, Chief of the Hellenic Navy
Greece is inextricably intertwined with the sea. It is the cradle of our existence, ideology, progress, and polity. The eastern Mediterranean and its approaches are the broader areas of national interest, while the Aegean and Hellenic seas provide our nation's strategic depth. In addition, the Hellenic Navy's presence on the broader world's oceans can be required when national interests and commitment to allied solidarity dictate.
The rather erroneous and dangerously soothing estimation at the beginning of this century that the eastern Mediterranean had lost its strategic weight is no longer credible. While global focus and competition have shifted to the east, the need for naval presence has not diminished in our neighborhood. Our part of the world never lost its importance as an epicenter of dynamic balance where multiple forces—political, strategic, cultural, financial, social, and ideological—converge.
In such an environment where classic threats remain or become stronger and more diverse, new threats, challenges, and competitions have arisen. At the same time, a prolonged fiscal crisis restrains our nation's resources, but the Navy must remain efficient, resilient, battle worthy, and operationally sharp on both high- and low-end tasks. The Hellenic Navy's capabilities provide value for our allies, as they can contribute to peace and stability in the broader region.
Experts understand that the most demanding task in building a Navy is to create a naval culture in your sailors, a way of thinking and acting, a naval psyche that fills and dominates ships, units, and infrastructure, without which even the most sophisticated ships and equipment are just machinery. The Hellenic Navy possesses that naval psyche, but it needs additional material resources.
If able to provide us with more resources, the U.S. Navy would strengthen this ally—one who shares common interests and world view in terms of freedom, progress, and democracy. The U.S. and Hellenic navies can benefit mutually from training together, both as part of larger NATO exercises and through bilateral events. As all strong alliances have mutual benefit as a connective tissue, I emphasize that assistance to the Hellenic Navy would free U.S. Navy resources for other theaters, making such cooperation a strategic investment with real benefits.
Greece requires a navy capable of dealing with a diversity of threats—ranging from terrorism to illegal migration, destabilizing civil wars to proliferation at sea, and deployments of foreign naval powers to illegal maritime smuggling. Greece always has treasured its freedom and faced up to stronger opponents. Our resources always have been restricted. But this condition has made us resourceful, adaptive, perseverant, focused, and fierce. Working and training with the formidable U.S. Navy can only make us better able to meet today's maritime challenges.
Germany
Vice Admiral Andreas Krause, Chief of the German Navy
Following national reunification in the 1990s, Germany started to participate in international crisis management operations. Since then, the German Navy has become one of the most constant and reliable contributors of ships and capabilities to NATO and European Union operations, and the only ally to provide assets to all Standing NATO Maritime Groups. At the same time, however, the German fleet has decreased in size.
Perceiving herself surrounded by NATO allies and a benign and stable environment, Germany cashed in on a peace dividend after the Cold War. Any significant threat seemed far away.
This perception proved to be illusory. Not only has the global security environment deteriorated, demanding ever more effort in international crisis management and conflict resolution closer to our borders, but the Russian annexation of Crimea and occupation of eastern Ukraine brought the threat of violent border shifts back to Europe, putting defense issues back in the national focus.
The German government's 2016 Defense white paper puts collective and homeland defense on par with international crisis management. As part of this paradigm shift, the white paper identifies the security of the high seas as a vital interest in a time when freedom of navigation, as developed over the past two centuries and codified in the United Nations Convention on the Law of the Sea, is increasingly under pressure. To meet these challenges, Germany has substantially stepped up defense expenditures, and this commitment will be sustained over the coming years. As a result, for the first time since 1990, the German Navy will grow in size and capability.
The German Navy must be able to persevere against highly capable military opponents at the northern flank of the Alliance and simultaneously contribute to international crisis management operations in the Mediterranean and beyond. Our solution is to increase the fleet, regain offensive capabilities, develop innovative approaches to manning, training, and supporting the fleet, and intensify multinational cooperation.
Already under procurement are a squadron of NH90 Sea Lion helicopters and the new four-ship, 7,000-ton F-125 frigate class, the first of which will enter service this year. Our eight P-3C Orion aircraft will be re-winged, giving them a service extension that will last into the 2030s. Pending parliamentary approval is a six-ship class of 7,000-ton ASW-focused multirole combat ships and five additional antisurface corvettes (based on the proven K130 design) that are land-attack capable and optimized for operations in confined and shallow waters. Our three F-124 air-defense frigates will receive a ballistic-missile-capable sensor suite. Based on German-Norwegian cooperation, a third batch of two U-212-class air-independent-propulsion-equipped submarines will bring our submarine force to a strength of eight state-of-the-art fuel-cell-driven boats. The two fleet oilers will be replaced in the same timeframe. Other programs, such as the Sea Lynx replacement and the renewal of mine countermeasure capabilities, have received funding in principle but are not yet under procurement.
The F-125 class of frigates is the role model for the German Navy's intention to build and maintain its future fleet. Specifically designed to deploy uninterrupted for up to two years, the ships will provide increased operational availability. The multi-crew system, implemented for the first time with a vessel of this size, will allow rotating crews and thus more predictable deployment schedules for our personnel. We aim to improve the Navy's stance as an attractive employer to better compete with civilian employers in a tight labor market. This approach requires reshaping the German Navy's training and service-support organization. Pier-side training and simulation facilities for synthetic training, crew accommodation, maintenance and support crews have already demonstrated their value in our submarine force and will be introduced to the entire fleet.
Today's security challenges will not be mastered by any one navy alone. We will continue to rely on our oldest and closest strategic partners: the British Royal Navy, to which we entrust combat readiness training of our surface combatants; the French Navy, with plentiful exchanges and reciprocal training; and most prominently, the U.S. Navy, which continues to set the pace of technological and doctrinal development. Participation in U.S. carrier group work-ups and deployments with our air-defense frigates and submarines, as well as combined development of tactics, techniques and procedures, are crucial for the further development of our fleet. Cooperation with the Royal Netherlands Navy has enormous growth potential and is one of our focus areas.
Our mutual challenge will be in the North Atlantic and the Baltic. We see a Russian submarine threat increasing in numbers and capabilities, sophisticated antiaccess/area defense capabilities, and a willingness to test NATO's resolve. Regional deterrence, credibility, readiness and resilience are required. Today Germany is not a border state in a bi-polar world, but rather at the center of a united Europe. All nations bordering the Baltic Sea, except Russia, are either NATO allies or European Union member states. Our geostrategic position requires us to keep the sea lines of communication to the Baltic open and to prevent any nation from denying us and our partners the freedom of navigation.
The Baltic Commanders Conference, established by the German Navy two years ago, provides a forum to address common challenges and come up with practical solutions and initiatives. As a result, the Polish and German navies have already united their submarine operating authority at the German Maritime Operations Center. The German submarine training center will grow into a multinational institution for European conventional submarine cooperation. Danish and other Baltic navies make use of German facilities for damage control training. The new Baltic maritime component command, co-located with the German Navy Headquarters in Rostock, will be open to officers from partner navies and be able to command and control combined maritime operations.
The German Navy is ready to take on growing responsibility in its own neighborhood, in crisis management along Africa's coasts with allies and partners, in defending freedom of navigation, and peacefully resolving disputes. Coming challenges will be met by a more capable, modern German Navy, operating with strong partners.
Finland
Vice Admiral Veijo Taipalus, Commander of the Finnish Navy
The Baltic Sea region traditionally has been perceived as a secure environment for trade and cooperation. The outbreak of the Ukraine crisis in 2014 put Europe in a situation where traditional territorial defense has once again become a national concern. Heavy cuts in European defense budgets over the past several decades make it unlikely that western European nations could rely solely on their own defensive capabilities to meet threats such as those that have plagued Ukraine for more than two years. Finland has not reduced the size of its military, and our highly effective conscript system allows us to produce credible wartime units that fulfill our defense needs and respond to different threats. Still, we must cooperate internationally and build military partnerships to ensure collective defense.
Finland is cooperating with the U.S. Navy in several areas. We share a common interest in the command-and-control arena, weapon systems, unit training, and in numerous international exercises. A major part of our cooperation with the U.S. Navy is in the areas of research, development, testing, and evaluation. This cooperation has been important to the successful development of the propellers for our Squadron 2020 corvettes. Squadron 2020 is the next major acquisition program for the Finnish Navy, and it consists of four corvettes to be manufactured in Finland and likely equipped with U.S. combat systems.
A growing area for operational cooperation with the U.S. Navy will be in the Arctic, where Finnish experience and know-how should be beneficial for the U.S. Navy. The Arctic region is growing increasingly accessible for more nations and military presence in the region is expected to grow.
Finland also can offer the U.S. Navy expertise in the areas of mine warfare, hydroacoustics, and maneuverability in Arctic conditions. In addition to Finland's northern climate, we also have appropriate facilities to provide navigation training in icy conditions.
Technological innovation and long experience developing equipment for year-round operations, in temperatures fluctuating between -50 degrees and +140 degrees Fahrenheit, are areas where Finland can provide strong support to the U.S. Navy and other NATO navies to enable and build a strong mutual partnership in the coming years.
Denmark
Rear Admiral Frank Trojahn, Chief of Danish Naval Staff
The Kingdom of Denmark has always been and will continue to be a maritime nation. The Danish merchant fleet is one of the world's largest, serving around the globe. Freedom of navigation is crucial, underlining the importance of a blue-water-capable navy. Today's complex global security environment presents us with significant challenges to the north, to the east, and to the south, which can only be met with steadfast allies, a strong transatlantic link, and through strong relations.
The Royal Danish Navy is a steadfast ally and partner of the U.S. Navy. Our close cooperation in international operations and common equipment—like the Harpoon, Evolved SeaSparrow Missile, 5-inch Mk45 guns, and Mk41 vertical launch system—are testament to this.
Currently the Danish Iver Huitfeldt-class frigate HDMS Peter Willemoes (F-362) is deployed as part of the U.S. Navy's George H.W. Bush carrier strike group. This deployment will further improve interoperability between the U.S. and Danish navies, raise the performance of our frigates to a higher level, and provide us with an in-depth appreciation of U.S. Navy doctrine, tactics, procedures, and standards.
Later this year our government will release a new national defense plan that will cover from 2018 onward. As part of this agreement, we are considering adding area air defense (AAD) and ballistic missile defense (BMD) capabilities to our frigates. The Peter Willemoes' cooperative deployment with the U.S. carrier strike group is providing an opportunity for the Danish crew to experience these mission areas alongside our U.S. Navy brethren. The Danish Navy will capitalize on this experience as we adopt AAD and BMD capabilities in our fleet.
The transition from our aging Lynx helicopters to the new Seahawk MH-60Rs is well on track. By mid-2017 MH-60Rs will be fully operational in Danish, Greenland, and Faeroe Island waters. By the end of 2017, the Danish MH-60Rs will be ready to deploy in international operations. Cooperative deployments will give us valuable knowledge of how to operate the Seahawks, maximizing their impressive performance.
These are just a few areas that highlight the strong cooperation between the Royal Danish and U.S. navies. There are many more, and there are also areas that can be further explored. Combined operations in the vast Arctic could be one area where our navies could improve domain awareness and optimize our common knowledge and scarce resources.
Denmark will continue to be a determined and close partner, and I would like to thank the U.S. Navy for its commitment and never-failing support.
Chile
Admiral Enrique Larrañaga Martin, Commander-in-Chief of the Navy
In the international system, we frequently see conflicts caused by countries trying to extend their influence over maritime spaces with vital resources or in adjacent areas. In this context, the United States has increased its presence in the Asia-Pacific region, shifting its focus to an area of crucial importance to Chile's trade. In fact, Chile has a privileged position with a coastline facing one of the regions with the most rapid economic growth in the world—the Pacific Rim. In this region, more than a barrier, the sea has become a link between nations.
Since our influence over this transoceanic area is limited, to ensure the prosperity of our maritime nation, we must join forces with other friendly navies and countries with which we share a common vision. We also must build a naval power capable of achieving a sufficient degree of sea control to maintain stability in areas of vital interest to Chile, deterring any potential threat. With these tasks in mind, our main challenges are to develop our maritime and naval capabilities and actively support cooperative initiatives to achieve international maritime security. These initiatives include diverse international agreements on maritime safety and security, the Western Pacific Naval Symposium, the Asia-Pacific Heads of Maritime Safety Agencies Forum, and exercises like Rim of the Pacific (RIMPAC), where the Chilean Navy's participation and responsibilities have grown steadily over the years.
The U.S. Navy is a powerful ally of Chile that continues to assist us in facing these challenges by helping us achieve greater interoperability, improving safety of life at sea, and increasing maritime and naval surveillance and sea control. All this can be demonstrated in the development of human and material factors, from the strengthening of preparation, training, and tactics, to access to equipment and systems necessary to satisfy our new operational demands. Above all, our two navies always will see each other as complementary and essential partners.
Canada
Vice-Admiral M.F.R. Lloyd, Commander Royal Canadian Navy
The Royal Canadian Navy (RCN) currently is conducting its most comprehensive fleet modernization in our peacetime history, poised to welcome three new classes of ships in the next decade.
To facilitate such changes, we are realigning our business management practices ashore through the greater use of industry-leading business intelligence tools. We are redeveloping how we track and use taxpayers' dollars, allowing us to identify and eliminate inefficiencies sooner, and to ensure funds are reallocated to where they can best be used. We also are transforming education and training for our sailors, embracing distance and e-learning technologies and greater use of simulation to enable sailors to train closer to where they live.
At sea, we are making the most exciting advancements with a new operational strategy we call "generating forward." The RCN generates forces forward by deploying warships and submarines abroad to train and conduct trials, rather than limiting our force-generation activities to our coastal waters. When they are already at sea, our ships have the people, tools, skills, and flexibility needed to respond quickly to support Canada's priorities in any region, and to provide the government with defense and security options. Our ships' capabilities can be augmented as needed while deployed to meet specialized tasks.
For a relatively small fleet, the RCN is seeing remarkable success through generating forward. For example, HMCS Windsor (SS-877), a Victoria-class submarine, took on NATO tasking in a real-world operational patrol following a 2016 NATO antisubmarine exercise in the Norwegian Sea.
Later in the year, HMCS Vancouver (FFH-331), at the request of the New Zealand government, assisted in the relief effort following a devastating 7.8 magnitude earthquake that struck New Zealand's South Island. The Vancouver served alongside the U.S. Navy and other partners.
Through institutionalizing this "generate forward" concept, we will continue to strengthen our relationships, most notably with of our most important ally, the U.S. Navy. We see increased opportunities for our ships and submarines in the coming years, especially in the Indo-Asia-Pacific theater—a relatively new operating area for Canada—where we will continue to draw on the experience and mentorship of the U.S. Navy in that region.
Brazil
Admiral Eduardo Bacellar Leal Ferreira, Commander of the Navy
Brazil's biggest maritime challenge lies in surveillance and protection of our "Amazonia Azul," or "Blue Amazon," a concept that comprises an open sea area equivalent in size and resources to the world-famous Brazilian Amazon rain forest. Our seafaring knack stems from an extensive EEZ, endowed with immeasurable natural wealth, vast oil reserves, intense international trade by sea, and the strategic importance of the South Atlantic.
The Brazilian Navy recognizes that the security of such a significant area and the country's maritime interests require permanent presence at sea, with the support of precise, useful, and relevant information, acquired and processed by reliable systems, to guide its activities and increase its efficiency. We have been concentrating our efforts in a steady renovation of our assets and in research and development of indigenous technology, with special focus on the development and construction of submarines. In terms of training, we have been conducting and participating in many exercises, as well as in joint, combined, and peacekeeping operations around the world.
Regarding maritime domain awareness, it is noteworthy to mention the role of the Brazilian Navy's Maritime Traffic Control System, which exchanges real-time information with 23 other partner nations. In the near future, we hope to expand this system, adding sensors and equipment that will comprise the Blue Amazon Management System, designed to monitor our EEZ and our vast search-and-rescue (SAR) area of responsibility.
Combining surveillance and protection in the open ocean, we endeavor to protect our maritime interests, which include providing the security of our sea lines of communication and safeguarding our national rights over the resources within the Blue Amazon. To accomplish our goals, we need the assistance of partners who have strong ties of friendship and cooperation with the Brazilian Navy. The U.S. Navy can play a key role in the areas of capability-building, exchange of experiences, and consistent support of our initiatives.
Australia
Vice Admiral Tim Barrett, Chief of Navy
Australia is responsible for an area of the world's oceans twice the size of our landmass. This vast jurisdiction places great demands on our small Navy.
Last year, the Australian government released its Defence White Paper—to explain how Australia is investing in capabilities to strengthen Australia's security in an increasingly complex, strategic environment. The Australian Defence Force will be undergoing a major modernization to enhance the potency, range, and capacity of our maritime capabilities. For the Royal Australian Navy, this will include the next generation of submarines, surface warships, surveillance aircraft, and support vessels. It represents the most significant recapitalization of our navy in modern times.
Australia also recognizes its responsibility to the global commons. With ever-increasing regional and global interdependence, no country can act alone to solve the challenges to security—either across each other's regions or globally.
Part of Australia's long-standing contribution to regional security has included a robust program of engagement with countries in and around the South China Sea. The Royal Australian Navy is heavily engaged in bilateral and multilateral exercises, port visits, surveillance operations, and ship transits in support of furthering regional stability.
We have strong economic ties with China, defense ties with several Southeast Asian nations, a strengthening relationship with Japan, and a close and enduring alliance with the United States. The concept of working together to provide good order and security at sea is not new. But cooperation increasingly is becoming our normal mode of operation. Our maritime security architecture is shaped and reinforced by regional maritime forums that build cooperation, agreement, security, and stability. No nation can afford to act alone in ensuring security and stability. We must look to those things that unite us as we work together to advance good order and observance of legal norms at sea.
Argentina
Admiral Marcelo Eduardo Hipólito Srur, Navy Chief of Staff
Mankind needs to know and use the sea for survival. Now, more than ever, the sea needs our navies to ensure security, stability, prosperity, and sustainability. Demographic growth, globalization, and an amazing technology revolution impose unprecedented pressure on natural resources for energy, food, minerals, and biodiversity applications. Economic constraints and opportunism affect compliance with national and international regulations in extraction operations at sea, thus affecting safety, security, and sustainability. Increased human activity, unsafe vessels, and unsafe procedures increase the probability of collisions, mishaps, or incidents, thus creating new levels of risk to human life and the environment. Failed states, fundamentalist behaviors, and international organized crime project insecurity into and from the sea in the forms of piracy and terrorism.
Maritime lines of communication are threatened, which leads to increased insurance and transportation expenses, thus affecting trade and economic development. Global warming is exacerbating natural disasters all over the world, thus disaster assistance and humanitarian relief are needed on logistic scales that only our navies might provide in a timely and suitable fashion.
Today's strategic environment presents growing risks to security and stability. Uncertainty is rising, camouflaging future conflicts and crises. Clues and signs are needed to foresee upcoming trouble at sea, onto the sea, and from the sea. Strategic maritime surveillance and control provide data, information, and knowledge that become essential for decision making.
Never before has maritime domain awareness been more meaningful and had such a pivotal importance in maritime security. A globally shared, recognized maritime picture is a paramount requirement for security and stability at sea. Awareness, intelligence, and knowledge provide alert for strategic "coming about." To control the seas, presence is required. Our navies need to be able to deploy and remain at sea for long periods of time to observe, understand what is happening, act, and achieve complex goals.
The Argentine Navy faces growing challenges regarding the protection of its national interests at sea and compliance with the obligations of our country with the international community. The sustainability of natural resources and ecosystems is at the stake in the South Atlantic, especially around the fragile ecosystem of the Antarctic continent. Unregulated and uncontrolled fishing grows at a pace driven by the food demands of a rising global population. The protection of life at sea poses demanding and growing challenges. Maintaining search-and-rescue (SAR) situational awareness requires constantly monitoring 5 million square miles in half the Atlantic, south of the 38th parallel, including Antarctic waters. Planning, coordinating, and executing a SAR operation 1,000 nautical miles or more from shore is not uncommon and is a challenge for our Navy.
Argentina strives to be a responsible, committed partner of the international community to contribute to peace and stability around the world. Hence, being able to deploy forces overseas, where and when needed, is a new mission requirement and a challenge for the Argentine Navy.
The U.S. Navy and the Argentine Navy share a history of cooperation and interoperability aimed at contributing in the common areas our countries share with the international community. Our sailors "learned the ropes" from the U.S. Navy, ranging from maritime surveillance to antisubmarine warfare and amphibious operations through courses, personnel exchanges and more than 50 years of the UNITAS and Solid Step Exercises and now the new Panamax Exercise series.
The Argentine Navy needs to improve its maritime patrol, surveillance, and control capabilities to protect its national interests and better contribute to global security and stability at sea. Accessing and sharing data and information are high priorities. Long-range maritime patrol aircraft must provide constant presence and help build situational awareness and provide commanders actionable information. Maritime surveillance, whether by aircraft or ships at sea, must become the cornerstone of a global international strategy to build maritime domain awareness and enhance security and safety at sea. We are taking steps to enhance cooperation with the U.S. Navy in these areas. Moving forward, we would like to see globally shared maritime domain awareness as an obligation of the international community.