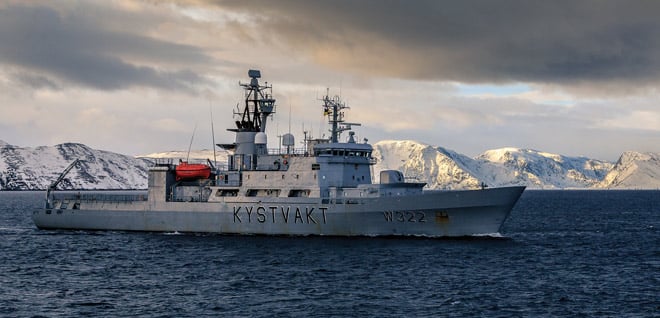 The Norwegian Coast Guard shares many similarities with the U.S. Coast Guard. It is a "multimission, military, maritime service" that has not gone unnoticed by senior U.S. Coast Guard leaders.
In a recent interview with Proceedings, Vice Admiral Karl L. Schultz, Commander, U.S. Coast Guard Atlantic Area, remarked, "The Norwegian Coast Guard is similarly structured to its [U.S.] counterpart as a military force with law enforcement authorities, and search and rescue capabilities. The U.S. Coast Guard is honored to have an exceptionally close relationship with the Norwegian Coast Guard. In fact—along with our other colleagues in the North Atlantic Coast Guard Forum—we consider the Norwegian Coast Guard to be an essential partner as we carry out our statutory missions in the North Atlantic, especially fisheries inspection and enforcement."
Although Norway has a proud maritime history dating back to the Vikings, the modern-day Norwegian Coast Guard was founded as part of the Royal Norwegian Navy on 1 April 1977. Today, it is led by Commandant Commodore Sverre Nordahl Engeness and is organized into the Outer Coast Guard and the Inner Coast Guard. The motto of the Norwegian Coast Guard is "Ever Present." This is no small feat given Norway's nearly 2 million square kilometers of waters—seven times larger than its landmass.
Currently, the Norwegian Coast Guard has a fleet of 14 vessels homeported in Sortland, Northern Norway. According to the service's official website, "They are operated through a dual-crew concept, resulting in an operational pattern with more than 300 sea days for each vessel a year." That surface fleet is augmented by a small fleet of eight helicopters. The Coast Guard has no fixed-wing aircraft of its own but operates several leased aircraft flown by private contractors.
The Norwegian Coast Guard plans to modernize its surface fleet with the acquisition of three new vessels with ice-breaking capabilities. At a cost of 2 billion Norwegian kroner ($232 million U.S.), they will replace the aging Nordkapp-class patrol vessels in the 2022–23 time frame. The modernization program has the full support of Norway's Prime Minister Erna Solberg and Defence Minister Ine Eriksen Søreide. Solberg declared, "It is no need to argue that the Coast Guard is essential. It is a part of Norway's ability to take care of large coastal areas and we do need an updated and good fleet to continue that job."
Missions of the Norwegian Coast Guard include:
• Fishery inspections
• Customs and excise inspections
• Search and rescue
• Limited law enforcement
• Shipping inspections
• Environmental protection
• Border control
These missions are performed by approximately 750 personnel.
Like the U.S. Coast Guard, the Norwegian Coast Guard also deploys overseas. From 1990 to1991, KV Andenes deployed to the Persian Gulf in support of the international coalition that was formed to oust Iraq from Kuwait. In 2014, she deployed for escort vessel duties in support of U.N. efforts to remove Syria's stockpile of chemical weapons.
The partnership between the U.S. and Norwegian Coast Guards goes beyond common statutory missions, overseas deployments, and participation in international forums like the Arctic Coast Guard Forum and the North Atlantic Coast Guard Forum.
According to Vice Admiral Schultz (who is of Norwegian descent), "Some of the U.S. Coast Guard's many heroes are Norwegian, including five Gold Lifesaving Medal recipients, Ingar Olsen (1893), Niels Nilsen (1906), Ole Ericksen (1913), John Alfsen (1913), and George Olsen (1919); World War I hero Coxswain Jorge Pedersen (Navy Cross Medal); and World War II heroes RADM Severt Olsen (Bronze Star Medal) and Captain Niels Peter Thomsen (LORAN station builder; Legion of Merit). Recognizing the strength of our collective maritime professionalism and expertise, I have every expectation that the bond between the U.S. and Norwegian Coast Guards will continue to remain strong."
Mr. Dolbow is editor of The Coast Guardsman's Manual, 10th edition, published by the Naval Institute Press, and a senior acquisitions editor for professional development books at the U.S. Naval Institute.
Photo credit: Norwegian Coast Guard