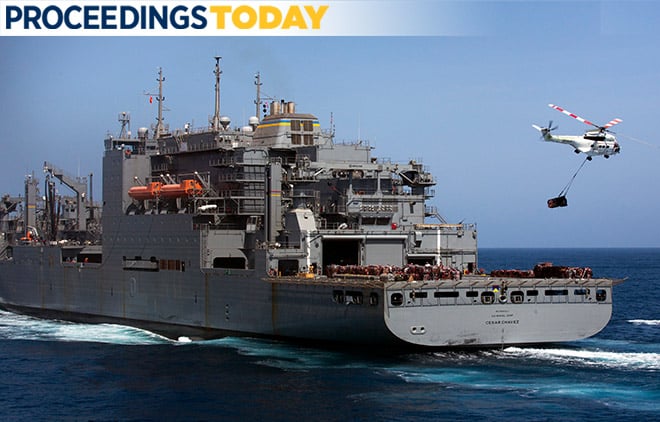 AUTHOR'S NOTE: The May Proceedings includes an excellent article by James Young—"We Must Change How We Name Ships"—about the politicization of naming Navy ships. My purpose is to be more blunt about the problem.
The Obama administration took politicizing ship names to a new level, naming ships after its political heroes. The Democratic administration even named ships that had not yet been authorized, trying to bind subsequent administrations. With a Republican administration now in office, the Navy is in danger of being whipsawed to the right in its ships' names. Politicization of the military already has gone far enough without adding this new dimension.
It is time to establish the naming conventions in law. A law would restrict unilateral actions by both Congress and the executive branch and force some bipartisanship. A law will not stop all politicalization, but it can establish some limits.
Mr. Young pointed out specific instances of the recent politicization. Let me expand on his list:
·      Cesar Chavez (T-AKE-14), named for the Hispanic labor leader. Chavez was in the Navy, but he described it as the worst two years of his life.
·      Harvey Milk (T-AO 206), named for the murdered gay activist and San Francisco politician. Milk was in the Navy but received an other than honorable discharge.
·      John Murtha (LPD-26), named for long-time Congressman John Murtha, a Marine officer and Vietnam veteran. Murtha was an unindicted conspirator in the 1980 "Abscam" bribery scandal and criticized for allegedly claiming to have medals that were unearned.
·      Gabrielle Giffords (LCS-10), named for the Arizona Democratic congresswoman who survived a gun attack. Giffords is not a veteran. Her shooting became the occasion of bitter political arguments about gun control.
The whole T-AO class seems named for social justice warriors:  
John Lewis (T-AO-205), civil rights leader and current member of Congress
Earl Warren (T-AO-207), liberal Chief Justice of the Supreme Court
Robert F. Kennedy (T-AO-208), Democratic senator and Navy veteran
Lucy Stone (T-AO-209), women's rights activist
Sojourner Truth (T-AO-210), abolitionist
Lest one think we should just accept the names and move on, think about the names a partisan Republican administration might inflict on the Navy:
USS William F. Buckley, conservative intellectual and World War II Army veteran
USS Barry Goldwater, conservative senator and World War II Army veteran and an Air Force veteran
USS Phil Gramm, former senator and conservative fiscal activist
USS Howard Jarvis, California antitax activist
USS Rudy Giuliani, mayor of New York City during the 9/11 attacks
USS Edwin Meese, President Ronald Reagan's attorney general and Army veteran
A Navy ship's name is important. One example makes the case. In 1988, the USS Samuel B. Roberts (FFG-58) hit a mine in the Persian Gulf while conducting escort operations during the Iran-Iraq War. The ship was in danger of sinking, and the crew worked desperately to keep her afloat. The Samuel B. Roberts had been named for a previous ship—DE-413—that had fought valiantly in the Battle of Leyte Gulf in 1944. The DE-413 had been named for Samuel B. Roberts, a Navy coxswain who was killed while evacuating Marines during the battle of Guadalcanal in 1942 and received the Medal of Honor. In one of the passageways of FFG-58 was a plaque dedicated to the DE-413. As crew members raced to save their ship, they would touch the plaque to connect themselves both to the previous Samuel B. Roberts and to the naval hero Roberts.
Future ship names should give embattled crews the kind of inspiration witnessed on the Samuel B. Roberts. To refine and expand on Mr. Young's excellent recommendations, I suggest:
Rename all the tankers. Find a neutral naming convention. Tankers used to be named for rivers, but maybe we could name them for past Chiefs of Naval Operations. Or ask the Naval History and Heritage Command to suggest something.
Do not name ships for enemies of the United States. So no more naming ships for Confederate heroes: Robert E Lee, Stonewall Jackson, Dixon, and Hunley. This also means not naming ships for Native American leaders who fought against the United States: Tecumseh and Kamehameha. These people—Confederate and Native Americans—fought for what they believed and for their ways of life, but they opposed the United States.
Stop naming ships for politically powerful congressional friends of the Navy. This means no more L. Mendel Rivers, Richard B. Russell, William H. Bates, Henry M. Jackson, John C. Stennis, or Carl Vinson. Ship names should not be patronage favors; the Navy can use assets less central to its mission, such as buildings. 
Name aircraft carriers after Presidents. Carriers are special, the largest warships on the planet, and most are named after Presidents already. They need names that symbolize the entire nation. For Democrats, Franklin D. Roosevelt is unused—CV-42 having been retired in 1977. For Republicans, there is Ulysses S. Grant. There should be an exception for Enterprise which has a distinguished pedigree; the Gerald R. Ford-class CVN-79 already has been named. 
Colonel Cancian is a senior advisor with the Center for Strategic and International Studies' International Security Program.