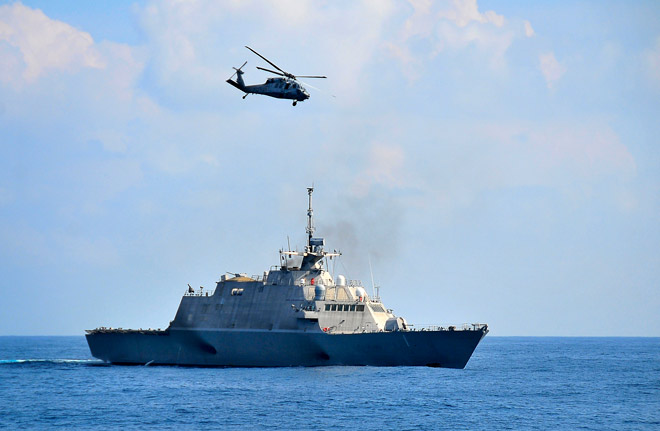 The littoral combat ship (LCS) program needs a venue where the Navy can develop, train, and refine the ship's roles and capabilities. The dynamic operating environment of Joint Interagency Task Force (JIATF) South could be just the place for LCS to achieve success.
In a recent operation, a U.S. Coast Guard cutter and a maritime patrol aircraft assigned to JIATF South tracked and interdicted an open-hull panga boat loaded with 600 kilograms of cocaine in the Caribbean. This operation could have been credited to a Navy LCS and its helicopter.
Based in Key West, Florida, JIATF South conducts detection and monitoring operations in international air and maritime domains to facilitate the interdiction of illicit trafficking. Its 42-million-square- mile joint operating area provides a perfect environment for training as well as for the testing and evaluation of developmental equipment against small targets.
From its inception in 1989 as Joint Task Force 4, JIATF South has been focused on counterdrug efforts in the Caribbean, and it initially was heavily resourced by the Navy. As Joint Task Force 4 transitioned in the early 1990s to JIATF East, and later to JIATF South, illicit trafficking increased. Unfortunately, Navy contributions to the effort have fallen off significantly.
Why the decline in Navy support? The first reason is the matter of priority. The Joint Staff establishes priorities for allocating resources, and JIATF South's mission often falls below the cut line. The second reason is the retirement of the Oliver Hazard Perry (FFG-7)-class frigates, which comprised the bulk of Navy surface forces allocated to JIATF South.
JIATF South has adapted to resource austerity over the decades, relying on a wide interagency and international network for information on illicit trafficking. The preponderance of surface forces now are provided by the U.S. Coast Guard and partner nations. JIATF South received only 39.5 percent of its total ship-day requirements in FY2016. Of the total ship-days received, 60 percent were provided by the Coast Guard, 30 percent by partner nations, and only 10 percent by the Navy.
Currently, the most frequent Navy contributions are Cyclone (PC-1)-class patrol coastal ships, which are aging platforms with significant limitations—such as the lack of a helicopter flight deck. When assigned to JIATF South, PCs are often in port because of sea state limitations or mechanical issues. While more-capable Navy ships regularly transit the joint operating area, the Navy rarely assigns them to JIATF control.
A force package—consisting of a maritime patrol aircraft, a ship with an over- the-horizon boat capability, and an airborne use-of-force (AUF)-capable aircraft—is JIATF South's most effective tool. The maritime patrol aircraft is the cueing mechanism that positively identifies a target. The surface ship is then vectored to the target and its boarding team is launched.
With its helicopter flight deck, an LCS would contribute greatly to JIATF South by employing AUF-capable helicopters. Coast Guard MH-60/65s or Navy MH-60s could increase the range for interdiction. Also, the LCS already incorporates unmanned vehicles, further increasing its mission reach.
An LCS could deploy Coast Guard tactical law enforcement teams or law enforcement detachments to conduct maritime law enforcement boardings. With its high speed and shallow draft, an LCS can operate in waters where fast smuggling boats transit.
While the survivability of the LCS has been criticized, JIATF South offers an environment where it can operate without being outgunned by hostile combatants. In current JIATF employment locations in the Caribbean or eastern Pacific, an LCS would only be a short transit from home base.
Finally, an LCS already has conducted successful counterdrug operations. As USS Freedom (LCS-1) was making its way to the Pacific in 2010, it operated under JIATF South's control for 45 days, intercepting three vessels and seizing 3,800 kilograms of cocaine.
JIATF South's mission is well suited for the LCS. Employing the LCS under JIATF South would allow the Navy to use the ship with positive effects while continuing to develop its combat roles. In addition, JIATF South would receive a needed boost with a capable asset, resulting in more interdictions and greater disruption to transregional and transnational trafficking networks.
Lieutenant Commander Chien is a 2001 graduate of the U.S. Coast Guard Academy and is currently stationed in Key West, Florida, as a member of JIATF South's strategic initiatives group.
Photo credit: U.S Navy (Daniel M. Young)