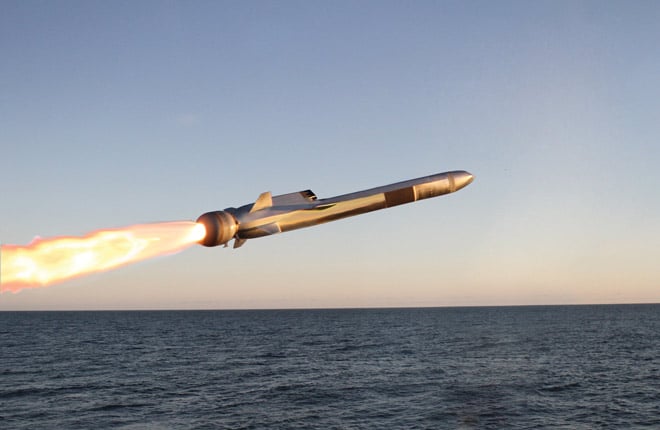 Until recently, conventional wisdom held that even in an increasingly dangerous world, the United States would prevail in any military showdown. Today, however, many influential people no longer believe U.S. victory is assured. Lee Kuan Yew—Singapore's first and longtime prime minister and internationally renowned thinker and statesman—in his 2012 book, One Man's View of the World, explained his belief that China would push U.S. forces beyond 200 nautical miles from China's shores, dominate the South China Sea, and eventually drive the U.S. Navy out to the middle of the Pacific. It is crucial that the United States act now to prevent future naval domination by China.
The best way to get back in the game is to rapidly upgrade the quality and quantity of our antiship cruise missiles (ASCMs). While the offensive antisurface warfare (OASuW) program is assessing three candidates to replace the Harpoon by 2024, the U.S. Navy needs to add a coastal defense cruise missile (CDCM) component to inexpensively present our competitors with an asymmetric threat. CDCMs are a critical force multiplier in confronting a near-peer competitor such as China because they compress an enemy's available sea space and can sink any naval forcesthat come within effective range.
The U.S. Navy is the best service to lead CDCM development because it is familiar with the complex requirements to defeat electronic warfare, shipboard self-defense systems, defense in depth, and hitting a maneuvering target far from the launch point. It is second nature for Navy personnel to find, fix, and produce a workable firing solution on an enemy combatant. Another reason the Navy should lead the CDCM effort is to leverage existing relationships with nations facing Chinese encroachment. Unlike a shipboard system, any CDCM deployment in the Far East would need host nation approval. The rapid, successful, and relatively inexpensive development of a CDCM capability would encourage others to do the same. An additional benefit of a U.S. Navy CDCM team would be the ability to exercise against it, improving both our littoral capabilities and the skills of our CDCM team.
There are three OASuW candidates, and all have merit. Raytheon's 900-pound, 100-nm, subsonic naval strike missile—in service with Norway since 2012, purchased by Poland and Malaysia, and successfully test fired by the USS Coronado (LCS-4)—would provide small truck-portable offensive antisurface warfare capability in austere environments. A pickup-truck-based CDCM would be a nice complement to the coastal surveillance network we have been working with the Philippines to fully leverage. Lockheed Martin's 500-nm, 2,250-pound long-range antiship missile (LRASM) is set for Air Force initial operation capability in 2018, has been successfully launched from a MK41 vertical launch system, and works with the Tomahawk's fire control system. Although it was recently withdrawn from completion, the Boeing extended range Harpoon, at 1,500 pounds, has a 134-nm range and would be a natural upgrade for U.S. forces. Australia, Indonesia, India, Japan, Malaysia, the Republic of Korea, Singapore, Taiwan, and Thailand already have integrated Harpoon into coastal defense systems. In addition to the OASuW candidates, the 200-nm antisurface capability of the SM-6 fired from Aegis Ashore must be respected by a ship, but it is not an ASCM.
Instead of a politically charged, winner-take-all competition for possible procurement in 2024, the OASuW program should procure and deploy these proven and mature systems now and begin working toward a supersonic follow-on capability. Deployments of CDCMs will require naval forces within the effective range of these missiles to constantly prepare to defend themselves, detracting from whatever mission they are conducting. Failure of the U.S. Navy to take the lead now and develop a shore-based CDCM system to complement its ships, aircraft, and submarines will deny the fleet critical shore-based fire support necessary to shape the battlespace and defeat the enemy.
Commander Brodie, a 1993 graduate of the U.S. Naval Academy, is a surface warfare officer who has served extensively at sea and ashore. He has been previously published in Proceedings.
Photo credit: U.S. Navy (Zachary D. Bell)
More from Proceedings Magazine:
Fitzgerald: When A Big Ocean Gets Small...Captain Kevin Eyer, U.S. Navy (Retired)
Make Navy Selection Boards Transparent … Lieutenant Commander Collin Fox 
End Piracy in the Gulf of Aden … Rear Admiral Terry McKnight, U.S. Navy
When Am I Committed to a Collision? … Lieutenant Jotham M. Myers, U.S. Navy Reserve