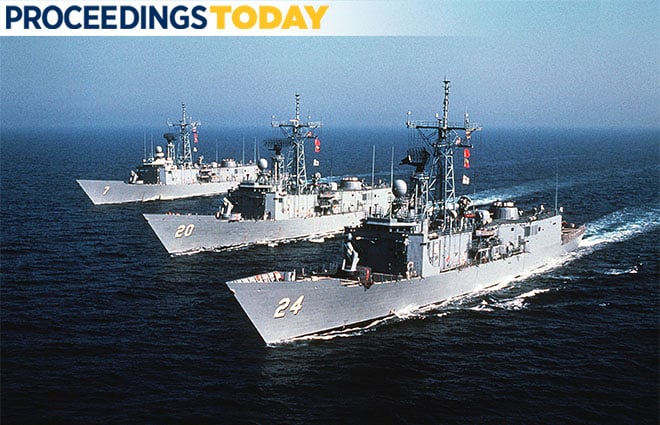 In an age when disruptive innovation has become the norm in the civilian sector, the U.S. Navy is handcuffed to processes that retard innovation afloat. 
Introducing new technologies in Navy ships requires time-consuming coordination, costly engineering effort, and original design work—even if the technology being installed is mature and the modifications to the platform are minimal. This cautious approach is fatal to rapid innovation, particularly in the fast-changing worlds of command-and-control and data systems. Changing these processes across the fleet would require challenging established assumptions and rethinking fundamental aspects of the acquisition process. Until cross-cutting reforms can be achieved, the U.S. Navy needs to create a "sandbox" for afloat innovation.
Enter the Oliver Hazard Perry (FFG-7)-class frigates. Speaking recently at the U.S. Naval War College, Chief of Naval Operations Admiral John Richardson said he is considering "every trick" to grow the fleet, including the potential reactivation of some of the seven Oliver Hazard Perry-class frigates that are now in the inactive reserve fleet. This effort offers potential to create the afloat innovation space the service needs.      
The essential elements are straightforward. First, two frigate hulls would need to be restored to their basic operating condition. The Oliver Hazard Perry-class frigates were designed for minimum manning, albeit with 1970s technology, and their engineering plants are simple and straightforward. Second, the Navy would need a modest budget for innovation. Third, policy and legal relief would be required to reclassify these vessels as "fast frigate-innovation" or "FFIs," allowing exceptions to current restrictions on modifying commissioned ships.
The FFI program would be a perfect opportunity for the Navy to partner with the Department of Defense's (DoD's) Defense Innovation Unit Experimental (DIUx). DIUx is chartered to increase DoD's access to innovative commercial technology. It aggressively exploits DoD's contracting authority for "Other Transaction for Prototype Projects," as well as its physical presence in centers of innovation across the United States.    
DIUx—leveraging its commercial solutions openings process—would hold a disruptive design contest, offering unconventional partners the chance to conduct modernization experiments on board the frigates. In much the same way that Space-X's faster development and launch processes forced reforms of entrenched procedures at NASA in 2010, the design contest could transform fleet modernization practices. 
Fitting out the FFIs, DIUx vendors and partners could compete against each other and against the normal refit process led by the Navy's systems commands. The goal would be to deliver a faster, more innovative, less expensive process, from design to deployment. Command, control, communications, computers, and intelligence (C4I) and engineering control systems—and the business practices that support the development, deployment, and upgrading of those systems—would be the focus, but the entire ship would be fair game. Control systems for engineering, navigation, and weapon systems could capitalize on a central neural network, using nanotechnology, radio frequency identification, and artificial intelligence. Cyber defense of these systems could be "baked in" starting in the design phase. The goal would be to simplify and reduce the bulk of shipboard systems design processes, while making ship systems scalable, interoperable and easier to refresh. 
FFIs also could drive human innovation as well. The two crews could be made up of volunteers, with officers and sailors applying for each billet on board each ship. Given latitude to pick the best qualified Navy professionals without regard to rate, rank, or career timing, the crews would become a case study in disruptive personnel practices, and, more important, partners in the innovation effort.
If the fleet must learn one thing in this age of disruptive businesses—from Apple to Amazon to Netflix—it is how to achieve a strategic end while challenging conventional thinking and processes. It would be easy to hand the frigate restoration project to Naval Sea Systems Command. The result would be reliable, predictable, and bureaucratically unimpeachable—and five years and half a billion dollars later, the fleet probably would receive four or five ships slightly better than those that left service years ago.  
We can do better. It is time to move out of our comfort zone and give the Navy and the nation's best innovators a chance to show what they can offer the fleet. 
Captain Butera is the Prospective Commander, U.S. Strategic Command Joint Intelligence Operations Center. 
Captain Rielage serves as Director for Intelligence and Information Operations for U.S. Pacific Fleet. 
More from Proceedings and Proceedings Today: 
Loss of Confidence: What I Learned... Captain John Cordle, U.S. Navy (Retired)
When Am I Committed to a Collision? … Lieutenant Jotham M. Myers, U.S. Navy Reserve 
Collision at Sea (Naval History) ... David W. Joy  
Make Navy Selection Boards Transparent … Lieutenant Commander Collin Fox  
End Piracy in the Gulf of Aden … Rear Admiral Terry McKnight, U.S. Navy