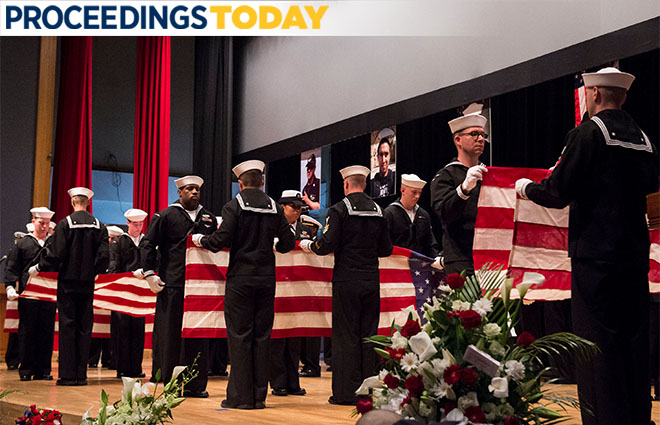 At 0130 Saturday, 17 June, the crew members onboard USS Fitzgerald (DDG-62) suddenly were awakened by crunching steel and the cold, dark ocean roaring into their home. The bulbous underwater bow of a 40,000-ton merchant ship had pierced the hull of the guided-missile destroyer, rapidly flooding a machinery room and two berthing compartments where dozens of Sailors slept. Young Americans quickly were plunged into impossibly difficult split second life-and-death decisions. Unsurprisingly, stories of pure heroism have emerged. In one reported instance, a senior Sailor forced his way into a rapidly flooding berthing compartment to pull shipmates to safety. His mission became a one-way trip, when his comrades were forced to secure the hatch behind him to prevent their ship from sinking. Seven Sailors ultimately perished.
Through nothing less than the courage and determination of Fitzgerald's crew, she is not resting on the bottom. The surface warfare community will study what happened, and the Navy family will mourn its fallen shipmates. For the rest of the country, however, the story will subside. What coverage remains likely will focus on the technical nature of what happened and how the Sailors perished, not what they gave their lives for.
As a nation, failing to focus on what these young Sailors died for tarnishes their sacrifice and their memory. So, what were roughly 300 young Americans doing in the middle of the night, alone and unafraid, thousands of miles from home, patrolling off the coast of Japan. What was the Fitzgerald accomplishing and what mission did these Americans give their lives for, in peaceful waters, far from a warzone? To properly honor the fallen, we should focus on these questions.
In the immediate aftermath of the attack on Pearl Harbor, the United States extraordinarily began constructing post-war plans for a new world order of stability, democracy, military alliances, and international organizations. The U.S. led liberal international world order initiated in 1945 fostered more than seven subsequent decades of unprecedented security worldwide and unmatched wealth and prosperity in the United States. The United States maintained disproportionate leverage within this system, and the nation benefited immensely. The United States can run deficits when necessary; the dollar is the world's reserve currency; the continent of Europe has been at peace; the greater Pacific economic zone has been prosperous; existential threats have been kept at arm's length across the oceans; and the United States experienced global hegemony. Despite recent economic shifts disadvantaging many at home, the system still produces enormous benefit.
This system does not come free. American taxpayers pay for the U.S. Navy to patrol the seas and guarantee unimpeded commerce across the global commons for the rest of the Free World. Young men and women serving at sea undertake an almost impossibly difficult lifestyle. The Fitzgerald crew served so the United States could continue to provide such benefits that result from their mission to deter and defeat those who would use intimidation and aggression to enforce their will upon their neighbors.  The Fitz's crew does so voluntarily, and with pride. Yet the government that tasked the Fitz' and the society which reaps the rewards appear ambiguous as to the worth of the mission.
The collision surely will be deemed an accident. But this designation does a disservice to the memory of the fallen seven. A sailor killed in a car while commuting to work is an accident. These sailors perished while executing their mission, a mission our government does not seem to support. Fitzgerald's mission—like thousands occurring around the world today—continue amidst a debate over whether the United States should step back from the world stage and suggestions that the overseas service of some of our youngest Americans is bad business for U.S. society. This is exacerbated by questions about the relevance of the alliances that uphold global stability and whether our allies are pulling their weight in this endeavor. The robust and impressive assistance immediately rendered by our Japanese comrades in arms should be noted. It sends a clear message of support for U.S. global leadership.
The Free World craves U.S. leadership, no less now than at any other time. Our leaders must recognize that words matter and that our commitment to global security and those who provide it must remain steadfast. We should never risk signaling that what these young men died for is unimportant.
Ship, shipmate, self, in that order, constitute the Sailors' mantra. While this order of priorities may be counterintuitive to outsiders, it was embraced with their lives by the crew members of the Fightin' Fitz. In the following weeks and months, culpability and responsibility for this tragedy will be determined. Yet political leaders in Washington seem to skirt a fundamental non-partisan responsibility to cease squabbling and come together—embrace the historical norm that politics end at the water's edge—to define the mission clearly and support young Americans prepared to sacrifice their lives. If the commanding officer of the Fitzgerald and her crew members can assume and embrace responsibility regardless of the outcome, our political leaders across Washington should do the same.
Life at sea for Sailors in the surface warfare community isn't glamorous. It's gritty, stressful and dull, and utterly exhausting. On occasion, mistakes happen, and terrible things happen to well-intentioned people. Our ships and their crews rarely are engaged in kinetic action worthy of television shows and movies. They patrol the seas, protect other ships, defend against enemy ballistic missiles, and they wait. Their impact is not measured in military metrics familiar to civilians at home such as terrorists captured, raids completed, or hostages rescued. Yet the impacts of their service undeniably touch every citizen at home; freedom of the seas, uninterrupted domestic consumption, and the ability of U.S. businesses to conduct business as usual in a world of globalized supply chains. The surface forces operate around the globe every night, with none of the fanfare U.S. society heaps on our outstanding special operations forces or its brave troops serving in Iraq and Afghanistan. However, as we saw on 17th of June, the sea is unforgiving.
Sailors at sea want more than hopes and prayers. They want to know that their work is important, their mission critical, and their purpose supported by their government and the citizens of the nation they voluntarily serve. They want to know what they are doing matters. In this respect, Washington owes them a coherent message and a strong keel. Despite tragedy, the Fitzgerald and her crew will take to sea again. They will do so with full hearts, facing forward, and taking the seas head on. In the worst moment of their lives, they sought responsibility and delivered on it. All Americans should heed their example.
The Fitz's captain, watch standers, and crew are unimaginably burdened now. Each of us owes them, and the memory of the fallen seven, a clear reaffirmation of their purpose and the value of their mission. We owe them a clear message—their service matters.
---
From 2009 to 2017, Mr. Keating served as a surface warfare officer in the U.S. Navy. He is currently earning a MA in International Relations at the Fletcher School of Law and Diplomacy at Tufts University and a MBA at the Tuck School of Business at Dartmouth College. 
Click Here For More From Proceedings Today