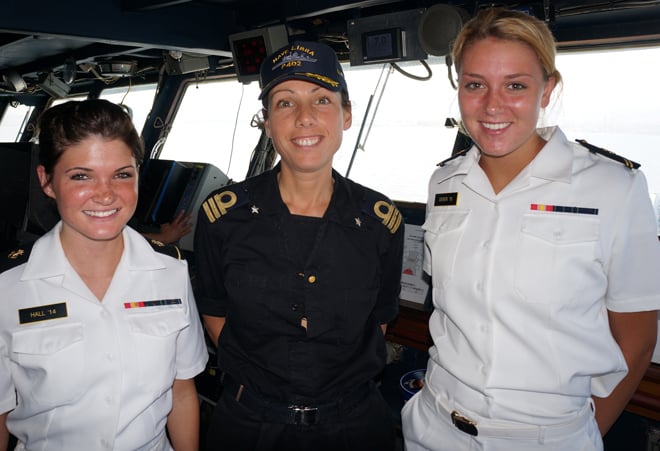 Years of war in Iraq and Afghanistan taught the U.S. military the importance of cross-cultural competence (3C). Current and future hybrid conflicts require an understanding of cultures different from our own for our military to excel across the full spectrum of operations. The "U.S. Navy Language Skills, Regional Expertise, and Cultural Awareness Strategy" states, "The number and variety of cultures and foreign languages the Navy faces in this new environment far and away exceeds the level faced in the Cold War."1 Proficiency in irregular warfare and humanitarian aid/disaster relief requires leaders who are culturally competent.
The services have opted for region-specific cultural training instead of focusing on the broader perspective, or what anthropologists refer to as culture-general (tools to understand other cultures in a more general way, especially their different worldviews and beliefs). Current efforts are short sighted and temporary, highlighting the need for long-term, non-context-specific cultural training and education.
Since the terrorist attacks of 11 September 2001, the Department of Defense (DoD) has appreciated the importance of cultural competence and language proficiency, as evidenced by its official guidance and strategy documents published in subsequent years. This effort continues to evolve but has slowed recently.
The "Defense Language Transformation Roadmap" was published during the height of the Iraqi insurgency and describes the essential link between cultural capabilities and mission success. "Robust foreign language and foreign area expertise are critical to sustaining coalitions, pursuing regional stability, and conducting multi-national missions, especially in post-conflict and other-than-combat, security, humanitarian, nation-building and stability operations."2 The roadmap specifies the importance of language training in particular, stating that the military needs a "significantly improved organic capability in emerging languages . . a greater competence in regional area skills and a surge capability to rapidly expand its language capabilities on short notice."3 Programs it espouses include study abroad opportunities, increased language training for junior officers, and a language proficiency requirement for all future flag-rank officers. According to the DoD white paper "Language and Culture: Changing Perspective," learning a second language also "aids in the development of general cognitive skills, e.g. it enhances one's ability to adapt in a complex, dynamic environment; improves one's analytical thinking and problem-solving skills, thus providing for more analytical, adaptive leaders."4
U.S. Navy and Marine Corps Cultural Strategies
The Navy emphasizes the importance of cross-cultural competence in its "Language Skills, Regional Expertise, and Cultural Awareness (LREC) Strategy," referring to 3C as a "critical capability" and "essential elements in the Navy's engagement in every phase of war" that are "rapidly becoming a part of our warrior ethos."5 Linking the "Defense Language Transformation Roadmap" to the Navy's overall mission, this strategy acknowledges that language skills are perishable and require lifelong learning and sustainment. This is in keeping with the 2010 Quadrennial Defense Review (QDR), which stated that "language and regional expertise require years, not weeks, of training and education, as well as a greater understanding of the factors that drive social change."6 While the 2014 QDR does not specifically discuss language and culture training, it does emphasize preparation for conflict along the entire spectrum, to include hybrid conflicts and to "preserve the expertise gained during the past ten years of counterinsurgency and stability operations."7 The QDR, along with the 2015 "National Military Strategy" and the 2015 "Cooperative Strategy for 21st Century Seapower," also discusses the importance of effective partnering with other nations and allies to help them prevent conflicts and acts of terrorism. Cultural competence is critical to success in these missions.
The Marine Corps also recognizes the importance of 3C but takes a more regional approach to its implementation in the "Marine Corps Language, Regional and Culture Strategy: 2011–2015." Realizing that Marines will continue to interact with indigenous cultures, both as enemies and as allies, the service recognizes that language, regional, and cultural skills (LRC) are essential elements of success in protecting the nation's interests, as "future conflicts are likely to take place in complex cultural environments."8 Like the Navy's LREC strategy, this document describes the initiatives the service is taking to carry out the directives from the "Defense Language Transformation Roadmap," including the recognition that LRC is an enduring requirement that needs to be institutionalized. It notes the applicability of 3C across the range of military operations, emphasizing that irregular warfare is "the most likely type of conflict the United States will fight in the foreseeable future."9
Cultural Efforts at USNA
The U.S. Naval Academy (USNA) has taken meaningful steps to increase 3C among midshipmen. In its "Strategic Plan 2020: Leaders to Serve the Nation," no fewer than three of the school's ten strategic imperatives involve 3C, including the directive to "expand opportunities to develop language skills, cultural awareness, and regional expertise."10 These strategic goals encompass many academic disciplines and require the involvement of several entities at the academy. Coordinating this mission across all departments is the International Programs Office (IPO), established in 2005.
The IPO focuses on one of the seven midshipmen attributes, that of being adaptable, or being able to "understand and appreciate global and cross-cultural dynamics."11 In pursuit of this goal, the IPO organizes several key programs designed to expose midshipmen to other cultures in the most effective way—through hands-on experience overseas. Traditionally, the academy has hosted international students for the entirety of its four-year curriculum (56 during the 2016–17 academic year) and sent qualified language students abroad to study a foreign language during summer four- to six-week training blocks; however, in recent years, midshipmen have been able to access greater opportunities to engage with other cultures. For example, during the 2016–17 academic year, 300 midshipmen participated in one of four international programs in 34 countries: the semester study abroad program, the language studies abroad program, faculty-led cultural programs, and various professional training programs involving foreign navies. The long-term goal was 500 midshipmen enrolled in one of the programs by 2016. The high-water mark occurred during the 2015–16 academic year, when 450 midshipmen participated in programs in 40 countries. The goal is to give approximately 50 percent of each graduating class of 1,000 officers a meaningful, immersive experience abroad. However, given current fiscal constraints, only 125 midshipmen are scheduled for 2017–18 and beyond. In 2005, before the financial crisis, 90 percent of the IPO's operating budget came from appropriated funds. Currently, only 15 percent is appropriated, with the remaining 85 percent provided through philanthropy.
The benefits of the semester abroad program are quantifiable, as evidenced by a 30 percent increase in foreign language minors among these students and better than national average gains in the defense language proficiency test. The less quantifiable benefits in cross-cultural competence differ by student, but the overseas experience forces all of them to function and study in a different culture, some radically different from our own. Midshipmen have now attended university classes in areas as diverse as Chile and Peru; Turkey, Jordan, and Senegal; and Ukraine, Taiwan, and Singapore, among others. Senior leaders in the Navy and Marine Corps realize that on-the-job training after midshipmen graduate and become officers is often too late, risking damaging attitudes and behaviors with negative consequences on military strategy in the future.
The Future of Cultural Leadership Education at USNA
Immersive overseas language and culture experiences are only one component of the Naval Academy's efforts to increase adaptability and cross-cultural competence among midshipmen. Included in the core curriculum for every midshipman is a four-year leadership education syllabus provided by the civilian and military professors of the Leadership Education and Development Division. One initiative in particular began in 2014 for two sections of the plebe leadership course. Led by Captain David Smith, PhD, they beta-tested a new syllabus featuring an emphasis on culture. Beginning with the 2014–15 academic year, each subsequent leadership class has built on this foundation, creating by 2018 a four-year leadership program with strong foundations in 3C.
Other key leaders at the academy actively teach cross-cultural competence. One is Dr. Clementine Fujimura, a former chair of the Languages and Cultures Department. She has taught Russian for more than 20 years and cultural anthropology courses since 2004. She is the only anthropologist assigned to the academy, and she describes the need for a stronger anthropological and sociological presence among professors. Cultural competence should be a key element in the core curriculum, combined with a two-year language requirement for all students, not just humanities majors. Overall, culture-general should occupy a larger role at the undergraduate level. In addition, 3C needs to be maintained throughout an individual's career via the military education system.
A summer school elective, Culture and Leadership, provides an immersive experience for students while teaching them qualitative research methods in participant observation. This experience provides the opportunity for intensive work in and out of the classroom as students develop their 3C skillsets. The course includes a two-week LREC trip. Students spend a week in class learning about cultural competence and designing their research projects, followed by two weeks immersed in a different culture collecting data, and then a week at USNA finalizing their presentations. Recent classes have lived with a Mohawk (Akwesasne) Native American tribe in Canada and Bavarian farmers in Germany. This innovative course design is being replicated, and was employed by Commander Deborah Fermo and Lieutenant Commander Kelly Welsh in the summer of 2016, as they took students to Greece and Sweden to study different cultures' perspectives related to gender.
The U.S. Congress encourages these endeavors, as the House Armed Services Committee recommended a broader language requirement for all midshipmen. Their "Building Language Skills and Cultural Competencies in the Military: Bridging the Gap" document discusses the importance of increasing language education in grade school through high school, as well as requiring mandatory language training for all Reserve Officer Training Corps and service academy cadets and midshipmen, regardless of major, stating that the college years represent "the last realistic opportunity for officers to develop higher levels of proficiency, especially in the more difficult languages."12
Indeed, engineering majors are just as likely as humanities and social science majors to encounter cultural situations and experiences during their military careers.
Recent conflicts highlight the need for the naval services to educate and train their leaders for the more complex and nuanced requirements of irregular warfare as well as conventional warfare. Although irregular warfare is nothing new, only in the past decade has the military realized the critical importance of permanently entrenching language and cultural expertise within strategy and doctrine. The "Defense Language Transformation Roadmap" initiated the effort with a strategic overview for the services to follow. The Navy and the Marine Corps followed up this intent with their own directives, and the U.S. Naval Academy has instilled this mandate throughout its four-year curriculum.
More midshipmen are now exposed to a wider variety of cultural education and training opportunities that will educate them on the deepest levels of cultural understanding through immersive experiences abroad. These experiences prepare them for their careers working alongside and within often vastly different cultures. Adapting well to these cultures requires empathy, a sense of humor, and the ability to negotiate and be comfortable in the gray areas of human interaction. The academy hopes to grow these programs even more in coming years. Cross-cultural understanding will remain essential to mission success in future conflicts and operations across the entire range of military operations, and the Navy and Marine Corps will continue to play critical roles.
---
Using Cross-Cultural Experience in the Field
By Callon Nichols

In the fall of 2006 I was one of the first two midshipmen to spend a semester abroad at the Colombian Naval Academy. My grammar was a little rough, but I felt confident talking to Colombians about any subject. It was only years later, though—when I was put into a position to interact with military personnel from Latin America again—that I truly understood the depth and value of the lessons that I had learned in Colombia.
After graduating in 2008, I was commissioned in the U.S. Marine Corps and spent two years at 1st Marine Division in Camp Pendleton, CA. As that tour ended, I started looking for a way to return to Latin America. When I heard about Marine Corps Security Cooperation Group (MCSCG), I jumped at the chance to be a part of that organization.
MCSCG is a small unit of roughly 170 Marines located in Virginia Beach VA. I was assigned to the U.S. Northern Command/U.S. Southern Command Coordination, Liaison and Assessment Team. Our mission, as the name implies, included running mobile training teams, performing assessments of Latin American units' capabilities, and serving as a liaison between U.S. military personnel operating in the region and the host-nation military and the U.S. embassy. From October to December 2011, I was deployed to Panama and Honduras in support of Southern Partnership Station (SPS) 12 and the Special Purpose Marine Air Ground Task Force (SPMAGTF) deployed to the region.
In Honduras, I was the liaison between the SPMAGTF commander and the Honduran base commander. I was able to contact a Colombian classmate who was stationed on the same base where the SPMAGTF was working. He introduced me to all the junior officers on the base. Anytime I needed anything, all I had to do was ask. I spoke in Spanish every morning with the base commander, followed by a meeting with the SPMAGTF commander to ensure that the engineering projects being completed were in line with the desires of the Hondurans, and that any new projects they requested were feasible given our capabilities.
Most important, I was able to use my relationship with the Hondurans to help the Marines more efficiently accomplish their mission. If we needed an armed escort or access to a space, I knew who to call. If the Hondurans wanted to add a project or some sort of training to the list, they called me. By the end of our month on the ground, the Marines from SPS-12 had trained 30 Honduran military personnel, built a new shooting range, fixed the air conditioner for the barracks, improved the plumbing for the dive school, and helped fix the electricity in the command building.
Reprinted with permission from the Fall 2012 issue of Shipmate magazine.
 
---

1. Chief of Naval Operations, "U.S. Navy Language Skills, Regional Expertise, and Cultural Awareness Strategy," Washington, D.C., January 2008.
2. Department of Defense, "Defense Language Transformation Road Map." Washington, D.C.,
January 2005.
3. Ibid.
4. Undersecretary of Defense for Personnel and Readiness, "Language and culture: changing perspective. Proceedings from the Department of Defense Language and Culture Summit: A Strategic Imperative," Washington, D.C., February 2011.
5. U.S. Navy "Language Skills, Regional Expertise, and Cultural Awareness Strategy." Washington, D.C., 2008.
6. House Armed Services Committee, "Building Language Skills and Cultural Competencies in the Military: Bridging the Gap," Washington, D.C., December 2010.
7. Quadrennial Defense Review 2014. Washington, D.C., 2014.
8. U.S. Marine Corps, "Marine Corps Language, Regional, and Culture Strategy, 2011-2015." Washington, D.C., 2010.
9. Ibid.
10. U.S. Naval Academy, "Strategic Plan 2020: Leaders to Serve the Nation," Annapolis, MD, 2010.
11. Ibid.
12. House Armed Services Committee.
The author would like to thank Tim Disher and CAPT David Smith, U.S. Navy, for their help with this article.
Colonel Pallotta
is a 1994 graduate of the U.S. Naval Academy who served twice in Iraq with the 4th Marine Logistics Group. She is now the Experiential Leadership Development Program director at the Naval Academy.