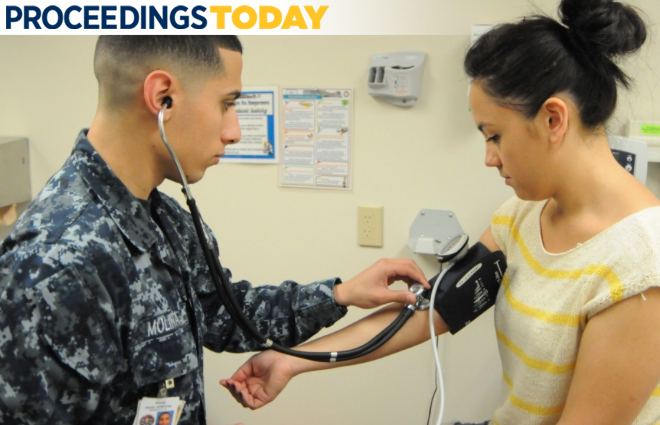 Military members know the value of affordable health care. I have watched the debate on the Affordable Care Act (ACA, or Obamacare) with interest but with some detachment because my coverage under Tricare is one of the benefits that I enjoyed as an active-duty service member and as now a retiree. It occurs to me that perhaps this puts military service members and families in a glass house, tempted to throw rocks at the ACA.
As I look back over my years of service, Tricare gave me peace of mind to focus on my career, despite my spouse having several severe illnesses and preexisting conditions. My mother's eligibility for Tricare for Life after my retired military father's death was also a great comfort. In the end, it strikes me that Tricare is essentially Obamacare. A big ask: forget politics for a moment and read on.
The systems are similar in that both include a mandate to carry health insurance and focus on preventive care. Tricare offers flexibility to choose among different plans—including both military and civilian providers—and has low premiums and low deductibles. It also is accepting of preexisting conditions.
"Wait," you may be thinking, "we earned that medical benefit in service to our country." That is true; military personnel take risks and make sacrifices that others do not. But lots of good American workers make similar sacrifices—police officers and firefighters take great risks, merchant mariners and oil platform workers endure long family separations. My uncles were sawmillers and my mother was a teacher. Their hard work and sacrifice contributed to the success of the United States as much as anything I did. Many others cannot contribute as much because of age, physical limitations, or educational shortcomings. I spent about half of my career, despite being a surface line officer with nine seagoing tours, in school or in a staff job where paper cuts or traffic accidents were the biggest dangers I faced. My point is service members receive solid health care irrespective of the nature of their service, and our society would benefit if U.S. citizens could receive the same.
Tricare for Life and Medicare/Medicaid share other similarities. The Veteran's Administration system and Tricare for Life provide health care for elderly and disabled veterans, the cost of which is born by Tricare premiums and taxpayer dollars. These programs are indispensable to older veterans as they face the inevitable effects of aging and the increasing likelihood of serious illness.
During a tour in Germany I learned about that nation's health-care system. German citizens are required to pay relatively high insurance fees throughout their working lives in exchange for comprehensive health care for all. As a commanding officer, I would have hated having to help my young Sailors deal with the financial burden of a $1,000/month premium or a $10,000 deductible bill on a junior enlisted professional's salary. The Tricare system provides health care that allows everyone in uniform to focus on the job at hand. For millions of Americans, the ACA—with some badly needed improvements—could do the same thing.
Granted, there also are some significant differences in the details of Tricare and the ACA. A funded, reliable health care system nevertheless contributes significantly to the effectiveness of the military, which is largely made up of young healthy Americans. In the ongoing political debate about health care, the underlying rationale and proven the benefits of the military method—investments in preventive care while providing dependable long-term health solutions—should be part of the discussion.